Optimal skin health can be achieved once you learn what type of skin you have and tailor your products to your specific skin type. What works amazingly for one person may not have the same effects for someone else who has different skin and therefore different needs. Your skin's needs will also change through life and through the seasons.
But there are five daily steps that every skin type can benefit from, whether your skin is oily, dry or in between. I've created a how-to guide to find the perfect skincare routine for you, but first thing's first: what is your skin type?
How to determine your skin type
Oily Skin
Do you see large pores when you look in the mirror? Do you have shine on your face most times of day regardless of the weather--not just on your T-zone, but on your cheeks too? These are common issues for oily skin types.
Combination Skin/Normal
This is the most common skin type, part oily and part dry. The T-zone (nose, forehead, and chin) is oily most of the day, with occasional clogging, while the cheeks feel dry. The oily parts of the face may contain blackheads or blemishes while the perimeter of the face is usually clear.
Dry Skin
If you have very small pores, feel your skin tighten immediately after cleansing, and are prone to fine lines, then you most likely have dry skin.
Mature Skin
As we age our skin tends to get more dry, so mature skin sometimes overlaps with dry skin types, however there are some specific issues that tend to pop up in mature skin types only. Lack of elasticity, crows feet, pigmentation from age or sun spots to name a few.
Note that you can have sensitive skin in addition to any of the above skin types, often accompanied by redness and/or irritation caused by certain ingredients or heat. If you have sensitive skin you'll want to pay attention to your products and keep careful record of what causes any adverse reactions. Treat the sensitivity first, then the skin type second.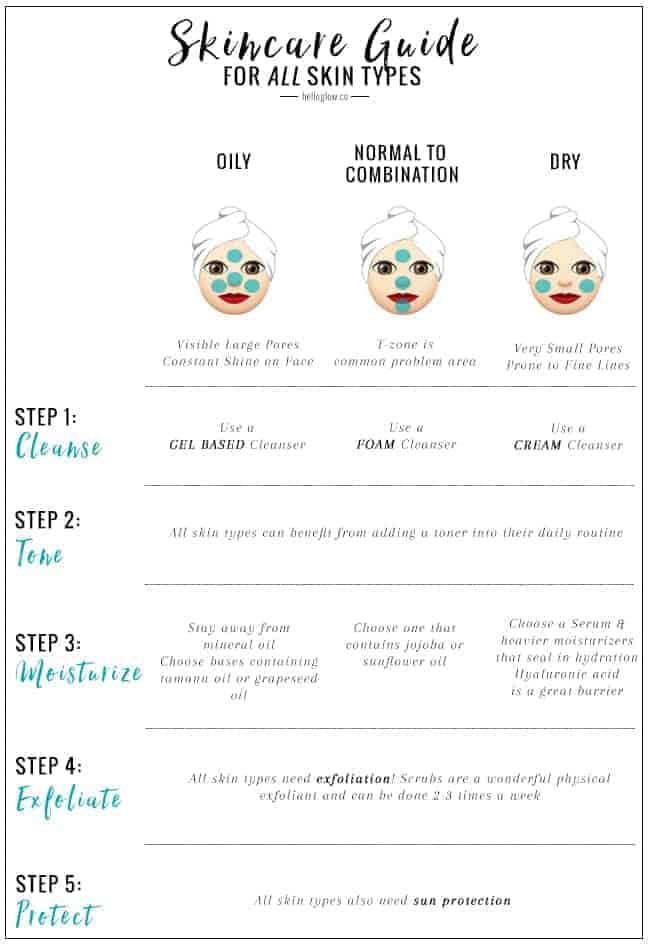 Now that you've figured out your skin type, here's how to choose the right products for your skincare routine.
Step 1: Cleanse
Oily Skin
Cleansers that are gel-based and lather well are the best cleansers to remove oil and debris in the pores. Try: Burt's Bees Purifying Gel Cleanser.
Combination Skin/Normal
Foam cleansers are a great solution to cleansing different areas of the skin. They are effective at cleaning oily skin without drying out other parts of the face. Try: Jurlique Foaming Cleanser.
Dry Skin
Cream cleansers are the best choice for dry skin as they won't strip the skin of natural oils, and won't leave your skin feeling tight. Try: Burt's Bees Cream Cleanser.
Mature Skin
Oil cleansers work beautifully for mature skin to remove makeup and debris while still hydrating your skin. Try: Klairs Black Deep Cleansing Oil.
Step 2: Tone
All skin types
Everyone can benefit from adding a toner into their daily routine. Some cleansers are on the acidic side, which is more in line with our skin's natural pH, but soaps tend to lean alkaline on the pH scale. The end result can be an out of balance pH that could take your skin hours to recalibrate back to its natural state.
A toner spritzed on the face or applied with a cotton round after cleansing can rebalance our skin back to the desired 5.0-5.5 pH, which helps fight bacteria, maintain a healthy skin barrier, and prevent premature aging.
[show_shopthepost_widget id="2653320"]
Step 3: Moisturize
Oily Skin
A common misconception is that oily skin does not need moisturizer. Wrong!
Be sure to pick a lightweight moisturizer that won't clog your pores, stay away from mineral oil, and choose bases with hyaluronic acid, oil-free, or that contain only tamanu oil or grapeseed oil. Try: Aura Cacia Soothing Tamanu Facial Serum.
Combination Skin/Normal
Take note: it's OK to apply two different moisturizers to different sections of your face if you can't find the right moisturizer to meet the needs of your whole face.
During the day a moisturizer with sunscreen is a good choice, while at night you will most likely want something more hydrating for the dryer areas, like jojoba or sunflower oil. Try: The Jojoba Company Golden Jojoba Oil.
Dry Skin
Serums are great at combating fine lines that often plague dry skin. At night choose heavier moisturizers that seal in hydration.
Hyaluronic acid is a wonderful protective barrier to add to your moisturizer to draw in water for an added boost, especially during the winter months. Feel free to add a few drops of oil to your moisturizer to boost hydration, especially at night. Try: Youth to the People Age Prevention Moisture Cream.
Mature Skin
Facial oils that penetrate the epidermis and nourish skin while restoring elasticity is an ideal way to hydrate and moisturize mature skin. Try: Sea Buckthorn Seed Oil
Step 4: Exfoliate
All skin types
Don't skip exfoliation! Face scrubs are a wonderful physical exfoliant and can be done 2-3 times a week.
Chemical exfoliants such as alpha or beta hydroxy acids are found in many ingredients and masks. Be careful of overdoing a chemical exfoliant, as it can dry out the skin and cause peeling and dehydration.
Avoid mechanical scrubs with pits and seeds as these may cause micro-tears in your skin and harm your skin barrier. Aim for consistent gentle exfoliation a couple times a week for maximum long-term benefits. If your skin is red and irritated afterwards, you are using the wrong product or being too aggressive.
[show_shopthepost_widget id="2653466"]
Step 5: Protect
All skin types
You also need sun protection. If you have oily skin you'll want to go with an oil-free lightweight SPF. Generally the higher the SPF, the heavier the sunscreen feels and the more likely it is to clog.
I recommend hats if at all possible when you're in the sun for an extended period of time. Sunglasses are a great option for protecting that delicate under-eye area, and many lip balms today have SPF built in them as well.
[show_shopthepost_widget id="2653495"]
This post was medically reviewed by Dr. Jennifer Haley, a board-certified dermatologist with extensive experience in medical, cosmetic and surgical dermatology. Learn more about Hello Glow's medical reviewers here. As always, this is not personal medical advice and we recommend that you talk with your doctor.
190