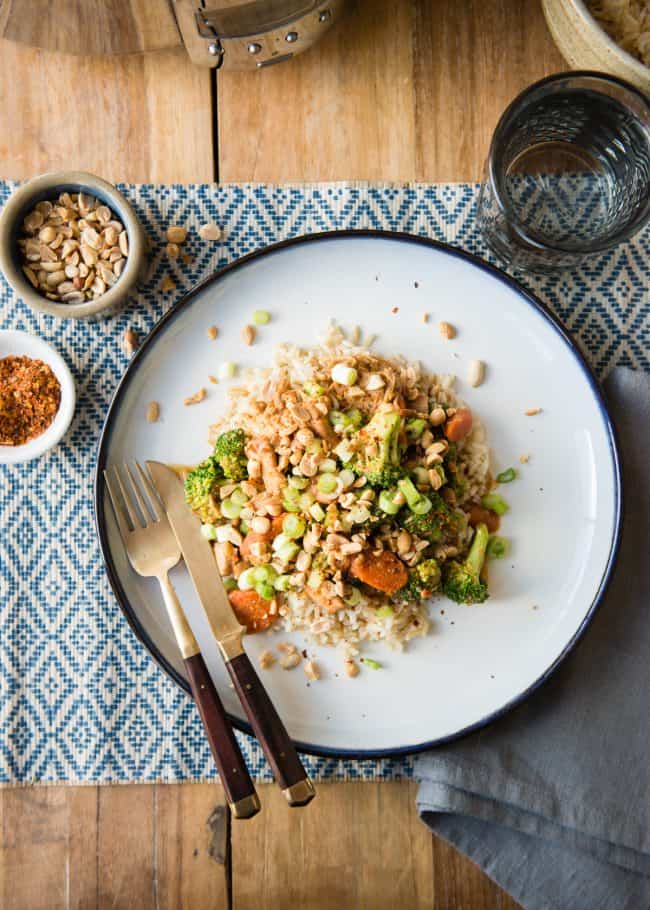 Curry is life to me. Seriously! I was a child when I tasted my first curry and it was a memorable moment. A moment of culinary awakening. I immediately loved the unique blend of spices and sought out curry of any kind anywhere I could find it. Fast forward to several decades later and curry is still my BFF.
Luckily my family loves it just as much as I do. My husband and I have worked our way through every Indian and Thai restaurant in every city we've lived. (Those are our two favorite kinds of curry–there are plenty more out there too.) My slow cooker is a big part of my weekly curry intake.
This recipe for Slow Cooker Thai Peanut Chicken Curry is a great one whether you're new to Thai curries or you're a seasoned pro.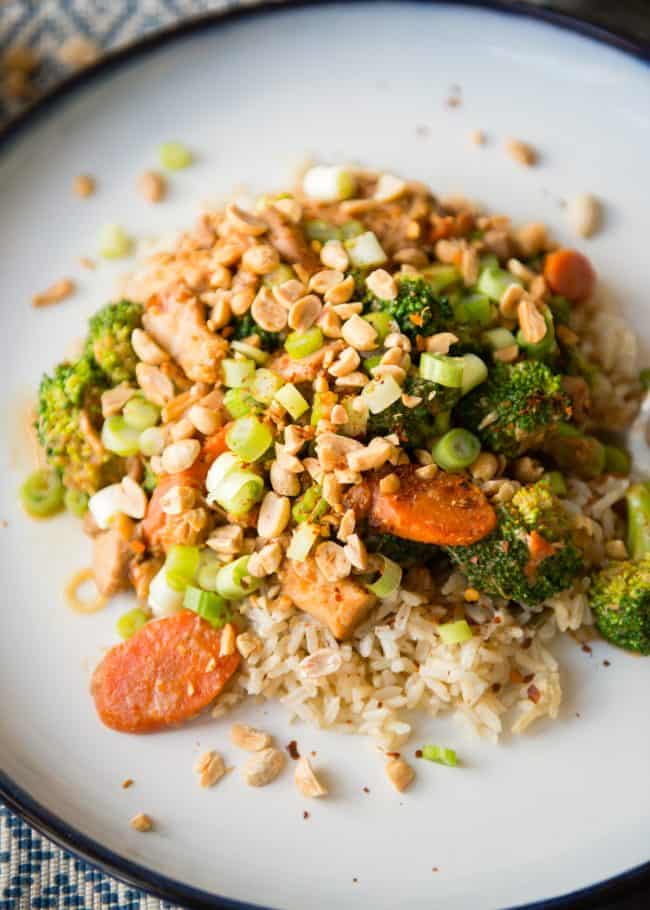 The benefit of slow cooking a curry is that the longer cooking time allows the flavors to really penetrate the veggies and protein you use. This recipe calls for chicken thighs, but I've also made a version with tofu as a vegetarian option. And many other times, I've used it for veggies alone too.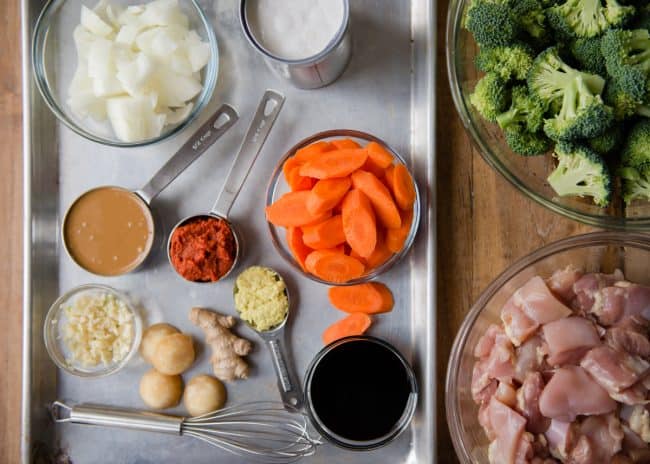 Chicken thighs can tolerate a longer cooking time without becoming too tough or dry. Cooking them in a flavorful sauce doesn't hurt either, of course. Our favorite veggies to add to curries are carrots and either broccoli or cauliflower.
Broccoli, as you might suspect, doesn't always fare so well in the slow cooker. To maintain the best flavor and texture, it needs to be added at the very end of cooking time. But the carrots become meltingly tender and delicious.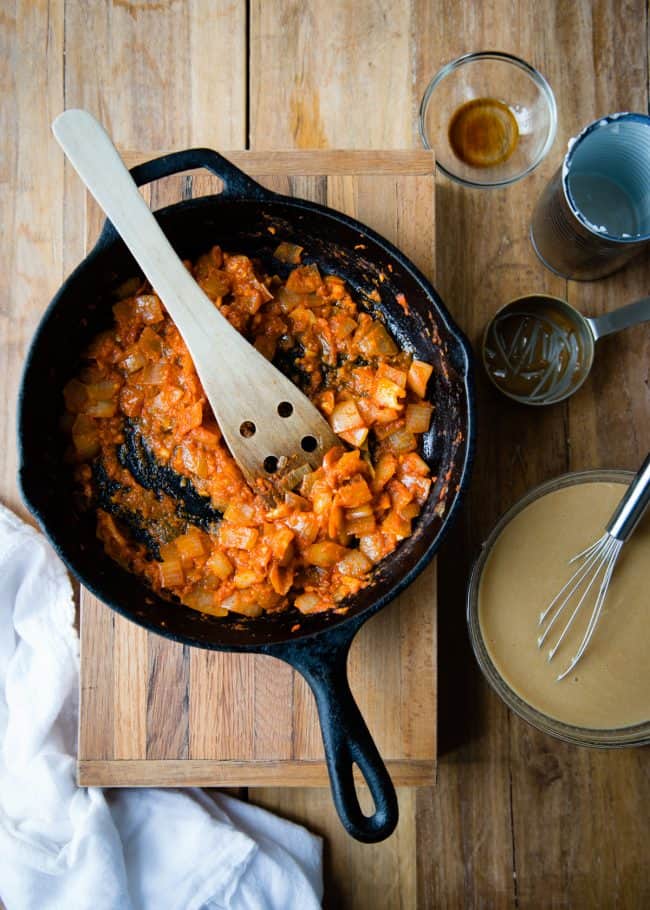 This sauce is a take on a classic Thai peanut curry. I tend to steer towards red or yellow curry paste for this recipe. I cook the paste briefly before adding it to the slow cooker. The rest of the sauce is comprised of coconut milk, peanut butter, tamari (or soy sauce), and palm sugar.
If you've never tried palm sugar, or if you can't find it, any sweetener you like can be substituted. Brown sugar or coconut sugar are going to be the most similar to the palm sugar.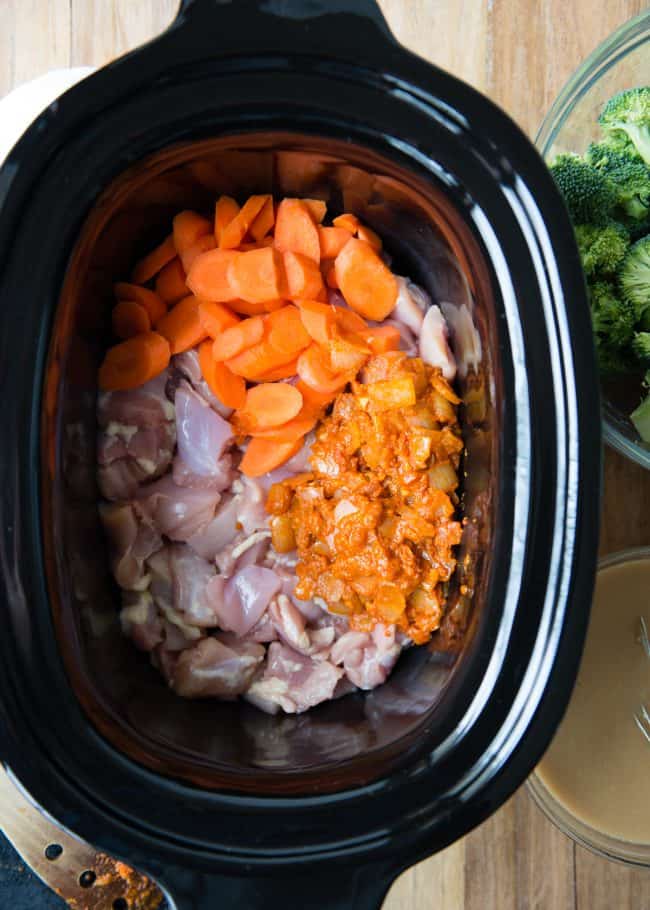 In my opinion, a good Thai curry has the perfect balance of sweet, salty, hot, and depending on the type of curry, a little tang or tart component. Because this curry recipe uses peanut butter and is a little sweeter than other Thai curries, I don't add lime juice, tamarind paste, or rice vinegar to the sauce. I do like to add a little extra ginger and garlic though.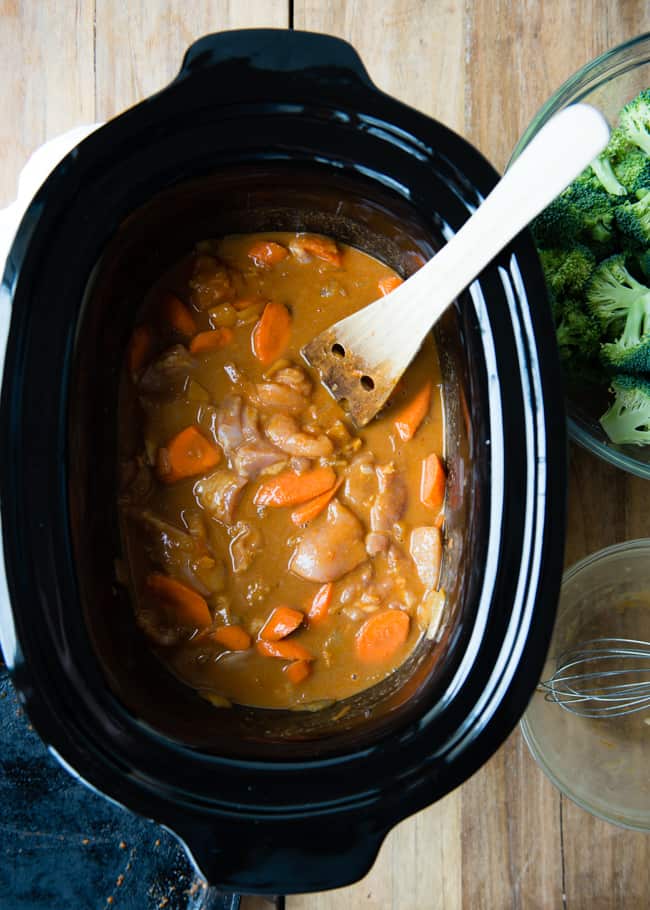 Everything except for the broccoli goes into the slow cooker. You can set it to cook longer on low heat, or for a quicker version, use the high setting. Depending on how long it cooks, the chicken may even become so tender it shreds. Not a bad thing by any means–just not as pretty.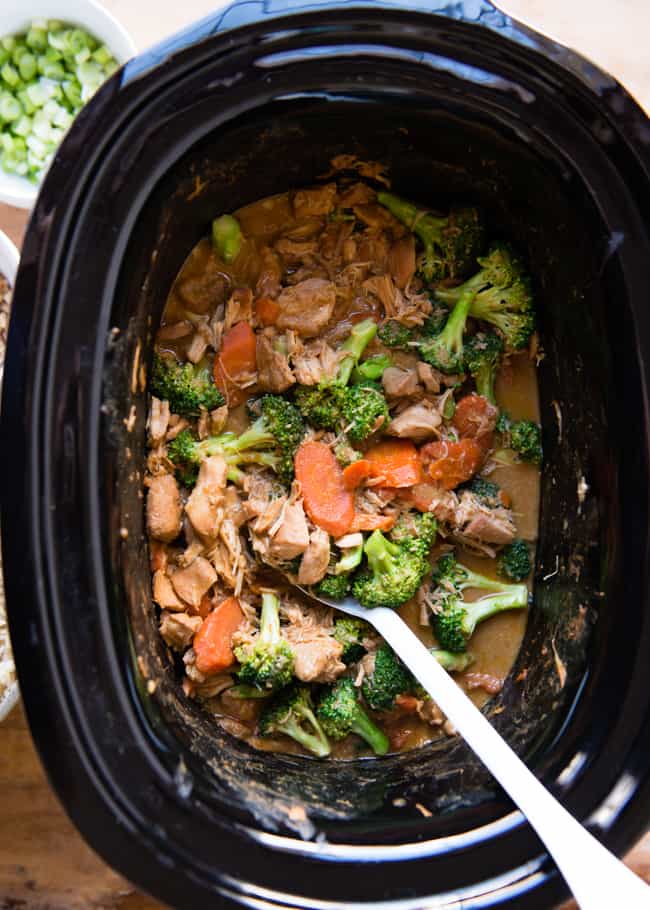 As I said before, add the broccoli very last. If you're picky about you prefer your broccoli cooked, you can also lightly steam it, then stir it into the chicken and sauce right before serving. But the 30 minutes (on high) or 60 minutes (on low) in the slow cooker yields pretty good results, I've found.
We typically serve Thai curries over brown Jasmine rice. But you can certainly serve it on top of rice noodles, quinoa, or another type of rice. A good sprinkle of green onions add a little freshness, and you definitely can't go wrong with some chopped peanuts. And if you're like me, you need some extra red pepper flakes too!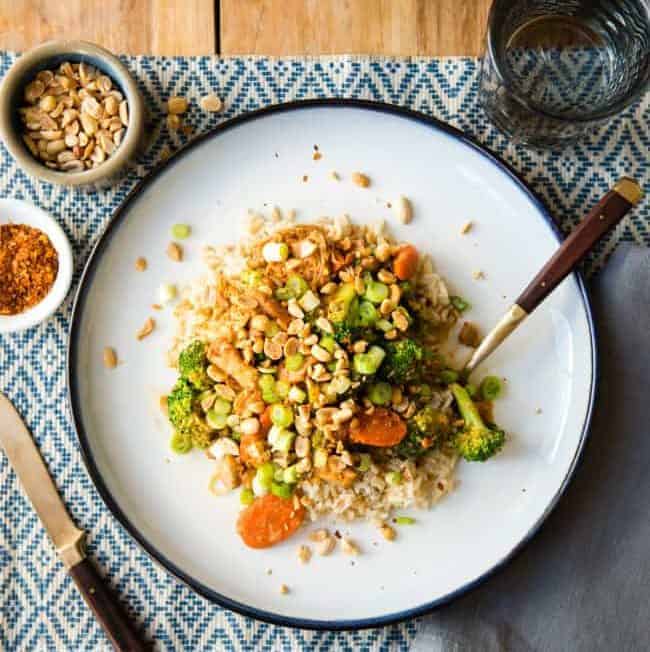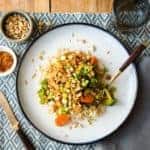 Print Recipe
Slow Cooker Thai Peanut Chicken Curry
Easy slow cooker Thai peanut curry with chicken with carrots and broccoli. Perfect for a weeknight meal.
Ingredients
1

tablespoon

coconut or other oil

1

medium onion

diced

3

garlic cloves

minced

1

tablespoon

fresh ginger

grated

2.5

pounds

boneless

skinless chicken thighs, cut into 1" dice

3

carrots

peeled and cut into thick slices

1

14-ounce can coconut milk

1/2

cup

natural peanut butter

1/4

cup

Thai red curry paste

1/4

cup

tamari or soy sauce

2

ounces

4 tablespoons palm sugar, coconut sugar or brown sugar, to taste (add more if you prefer a sweeter curry)

6

cups

broccoli florets
For serving:
Hot cooked

brown or white Jasmine rice, quinoa, or noodles

1

bunch scallions

green onions, thinly sliced

1/2

cup

roasted or raw peanuts

roughly chopped
Instructions
Heat the oil in a large skillet set over medium-high heat. Add the onion. Cook, stirring often, for 5-6 minutes, or until it starts to become translucent. Add the garlic and ginger. Continue cooking for another 1-2 minutes, until fragrant. Remove from heat and set aside.

Place the diced chicken thighs, carrots, and onion mixture into a 4-6 quart slow cooker.

In a bowl, stir together coconut milk, peanut butter, curry paste, tamari, and coconut sugar. Pour the mixture over the chicken and veggies. Gently stir to combine. Cook on LOW for 6 hours or HIGH for 3 hours.

After the 3-6 hour mark, depending on the setting used, open slow cooker. Spoon off any extra oil or rendered fat, if desired. Add the broccoli florets. Gently stir. Replace lid and cook for another 30 minutes on HIGH or 60 minutes on LOW, or until the broccoli is just cooked through and tender.

Serve the curry over hot, cooked rice or quinoa, and top with a sprinkling of green onions and peanuts.
Notes
Light or full-fat coconut milk can be used.If sauce is too thick after cooking, add a tiny bit of water to thin the sauce.Substitute cashew or almond butter for peanut butter, if needed.Two 14-ounce packages of firm or extra-firm tofu can be used in place of the chicken. Cube tofu and lightly fry in a pan before placing in slow cooker. Reduce cooking time by 1-2 hours, or tofu may crumble into the sauce.Boneless, skinless chicken breasts can also be substituted for the chicken thighs.
10