Alright, so you need a breakfast on the go, a quick snack, or mess-free work lunch. What you don't need is a bunch of refined sugar and empty calories packaged in plastic. You want the energy and the pick-me-up, but not the sugar crash. And you guessed it: you can make your own energy bars at home, while being in complete control over the things you put inside. That means healthy, nutritious ingredients that suit your dietary needs and can be easily customized. Here are some of our favorites!
25 Healthy Energy Bar Recipes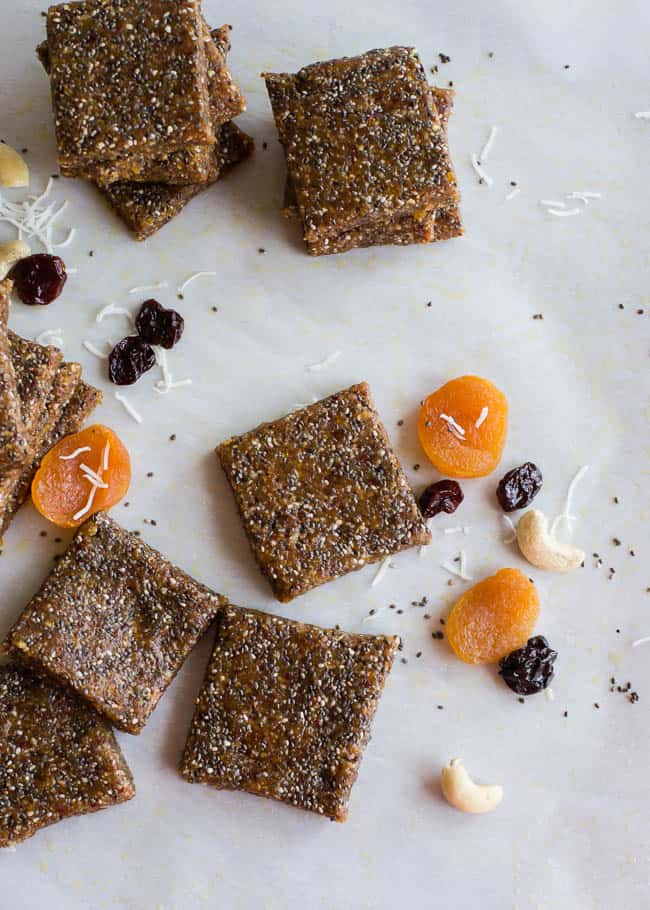 1. Apricot cherry energy bars by Hello Glow. These are easy to make, they're balanced in taste, and feature tons of protein from chia seeds and nuts.
2. Protein granola energy bars by Chew Out Loud. Chew on these bars whenever hunger strikes, without any of the guilt.
3. Three-ingredient energy bars by Sheri Silver. Nuts. Dried fruit. Dates. Done.
4. Homemade energy bars by Turmeric n'Spice. The most amazing ingredient in these bars? Green tea. Antioxidants at their best!
5. Chocolate dipped peanut butter protein bars by Gringalicious. The decadent taste of chocolate and peanut butter, without any of the unhealthy ingredients found it store-bought energy bars.
6. Not your average energy bars by Reaching for Greens. Puffed quinoa is the key ingredient to these deliciously energizing bars.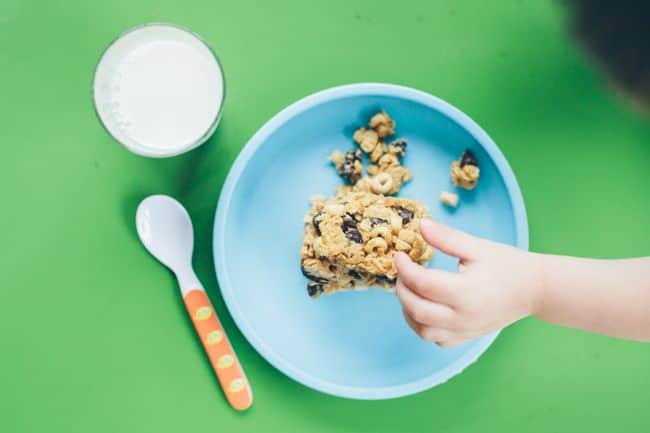 7. No bake energy bars by Hello Glow. We all love no-bake recipes. Your little ones will love eating these bars.
8. Peach coconut energy bars by PicNic. Tropical tasting and easy to make, snack on these bars to feel energized for hours.
9. Healthy energy bars by My Food Passion. All the ingredients and benefits of energy bars, baked into cookies to be even more desirable.
10. No bake almond oat bars by Neil's Healthy Meals. Oats and almonds make a great pair in this easy energy bar recipe.
11. Everyday energy bars by Nikki's Plate. Feel fuller for longer with these natural, nicely balanced ingredients packed with protein and healthy fats.
12. Chia seed energy bars by Wildzest. Blend, refrigerate and eat. That's all you have to do.
13. Raw sesame coconut bars by Edibly Educated. Protein, fiber, blood pressure reducing – now you know you want to try these!
14. No bake peanut butter chocolate bars by Joyful Healthy Eats. Ready in no time and perfectly suitable for breakfast or a snack!
15. 3 easy vegan energy balls by Hello Glow. You know what's even easier to eat that energy bars? Bite-sized energy balls.
16. Endlessly adaptable energy bars by Avocado a Day Nutrition. Don't you just love a recipe that's easy to adapt? Use what you have on hand to make delicious energy bars every time.
17. Chocolate cherry hazelnut bars by One Lovely Life. Filling and healthy, the snack you're craving and that's also good for you.
18. Slow cooker quinoa energy bar recipe by Food Faith Fitness. Why didn't we think of this? An energy bar that's practically making itself, in the slow cooker.
19. Gingerbread energy bars by A Balance of Tastes. Just what you need with the upcoming holidays: a raw, vegan and energizing version of gingerbread.
20. Raw energy bars by Sea Salt With Food. The fantastic combination of chocolate and orange is turned into a healthy snack to eat anytime.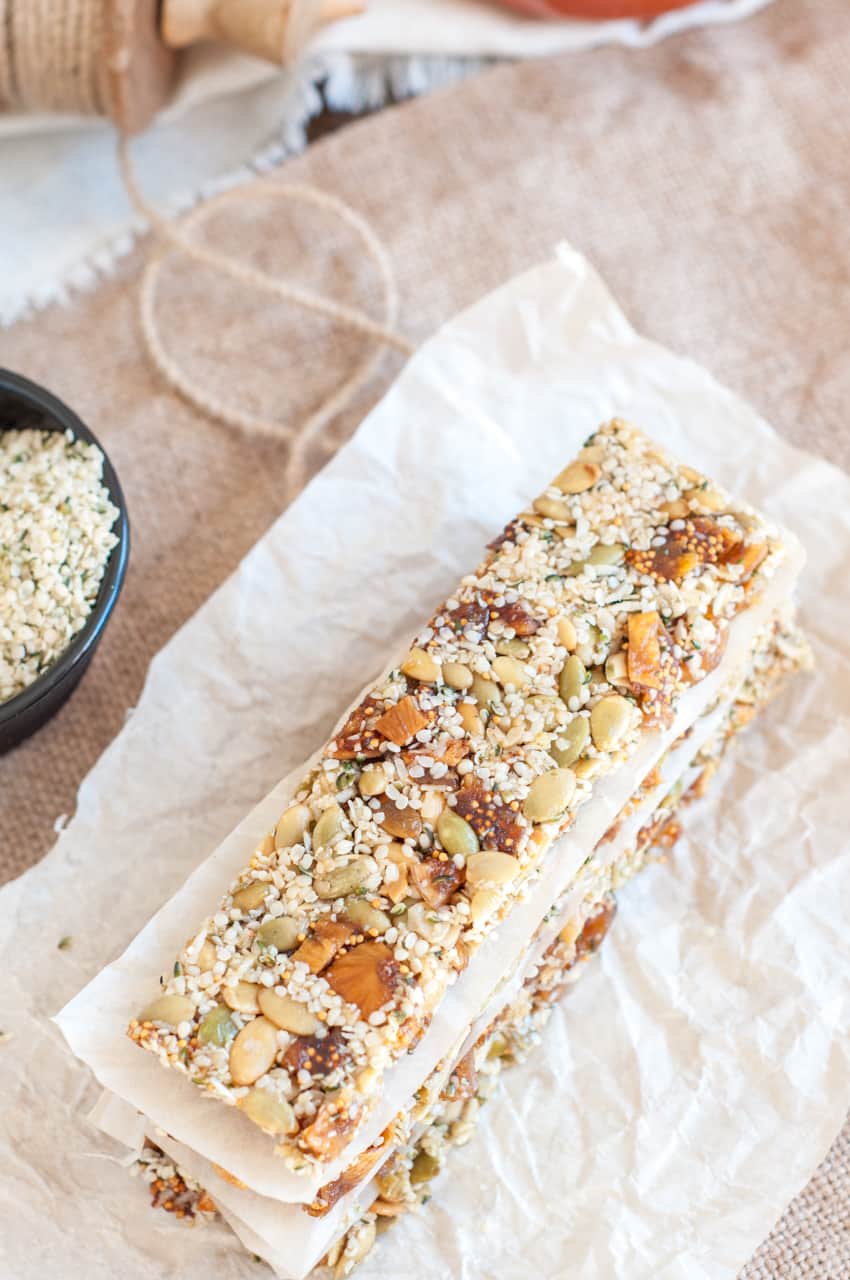 21. No bake energy bars by Gastro Senses. Lose the nuts, sugar, grains and baking! Make these instead.
22. Homemade vegan protein energy bar by Food Porn Vegan Style. These bars have an extra dose of protein powder, to make sure you're satisfied and energized for longer.
23. Chocolate quinoa snack bars by Loose Leaf Vegan. These vegan bars are plenty satisfying and delicious, not to mention easy to make.
24. Chocolate flax energy bar by Culinary Therapy. Tasty enough for chocoholics, healthy enough for breakfast. If that's not a perfect combo, I don't know what is.
25. Almond butter cranberry fudge bites by Yes, I Am Vegan. Healthy like a protein bar, decadently tasting like a piece of fudge.
2