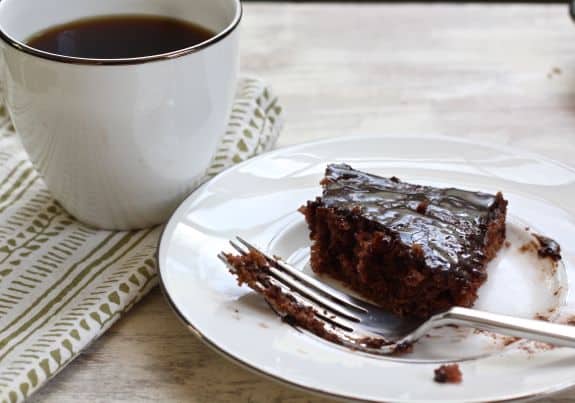 This is what I'm having for breakfast today: birthday cake. It is my birthday so don't judge! I'm officially closer to 40 than to 30 – and I think that calls for some cake. :)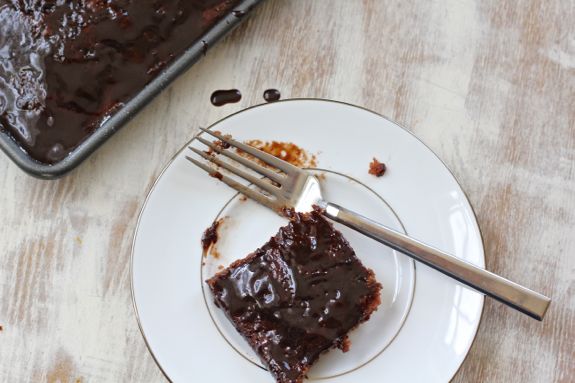 I dug up my mom's famous cake recipe and tried to duplicate the chocolate cookie sheet cake she would make for each of our birthdays. Have you ever had a cake baked on a cookie sheet? It is so crazy good. Kind of like cake but also kind of like a brownie. Mainly just hard to stop eating.
The icing is what makes the cake for me. I love the thin chocolate frosting that's not too sweet. Read on for the recipe!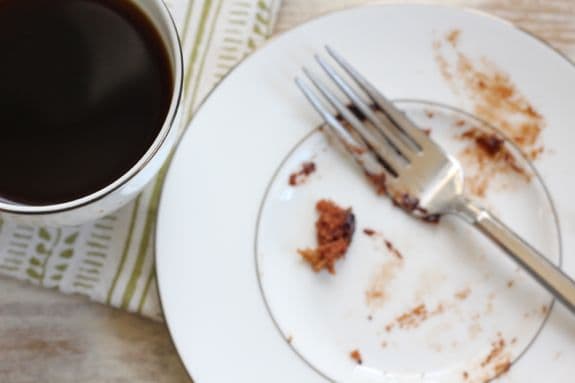 Ahh, now I feel better! Ready to face my mid 30's!
Chocolate Cookie Sheet Cake
2 cups sifted flour
2 cups sugar
1/2 teaspoon salt
1 stick butter
1/2 cup oil
1 cup water
3 or 4 teaspoons cocoa
2 eggs (well beaten)
1 teaspoon baking soda
1/2 cup milk (use buttermilk if you have it)
1 teaspoon vanilla
Resift flour with sugar and salt. In a saucepan, put butter, oil, water and cocoa. Bring to a boil and pour over flour and sugar mixture. In another bowl put eggs, soda, milk and vanilla. Add to first mixture and mix well. Pour in greased and floured cookie sheet pan. Bake 20-25 minutes at 350 degrees.
For frosting
1 stick butter
3 Tablespoons cocoa
6 tablespoons milk
1 box confectioner's sugar
1 teaspoon vanilla
1 cup chopped pecans These are optional. Mom always included them but I left them out.)
Mix butter, cocoa, and milk in a saucepan. Heat over low heat but do not boil. Remove from heat and add sugar, pecans and vanilla. Mix well. Pour over cake when it comes out of the oven (yes, it's ok that the cake is hot).
0