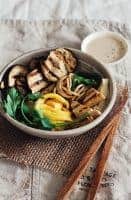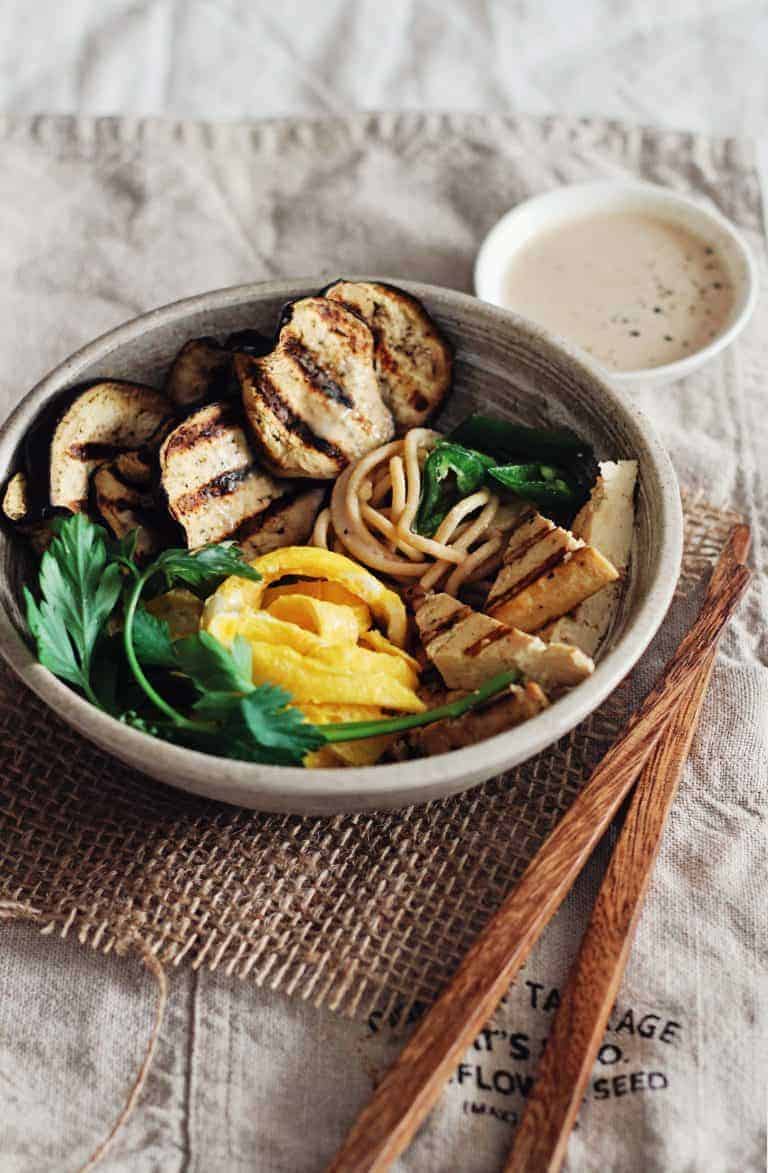 Soba Protein Bowl with Grilled Eggplant, Tofu & Spicy Almond Butter Sauce
Ingredients
For the grilled eggplant and tofu:
1 small eggplant, thinly sliced
1 (15-ounce) package extra-firm tofu, pressed for at least 30 minutes and sliced
2 tablespoons low sodium soy sauce
2 tablespoons grapeseed or avocado oil
For the omelet:
For the spicy almond butter sauce:
1/2 cup coconut milk
Juice from 2 small limes
2 tablespoons almond butter
1 tablespoon low sodium soy sauce
1 garlic clove, minced
1/2-inch piece ginger, peeled and grated
A pinch of red pepper flakes or sriracha to taste
For assembling:
1 ounce soba noodles, cooked according to package directions
Fresh cilantro, for serving
Instructions
Heat your grill or a grill pan to medium. Brush the tofu and eggplant slices with oil; drizzle with soy sauce and grill on each side, or until the tofu is warmed through and the eggplant is tender. Set aside.
Heat a non-stick (or well-oiled) skillet over medium heat. Add the eggs and cook until firm. Transfer the omelet to a plate and slice into ribbons.
Combine all of the sauce ingredients in a blender and blend until smooth. Taste and adjust as needed—more almond butter for a richer sauce, additional soy sauce for more umami, etc.
To assemble, divide the grilled eggplant, tofu, soba, and omelet into 2 bowls and drizzle with the sauce. Garnish with cilantro and serve.
Recipe by Hello Glow at https://helloglow.co/soba-protein-bowl/