This is a sponsored post written on behalf of Traditional Medicinals. All opinions are 100% my own.
Is it just me or does the arrival of spring make you want to spend every waking moment outside? After hibernating for months, as soon as the temperature climbs above 60 you'll find me clambering to get outdoors.
With this newfound energy comes an intense desire to be active, get in shape and check things off my to-do list. But it also comes with things like sore joints, tense muscles and a few extra aches and pains. That's because when we exercise stress hormones get released into the blood stream. And even if we don't feel stressed, we're often left with a weakened immune response, sleeplessness and joint inflammation.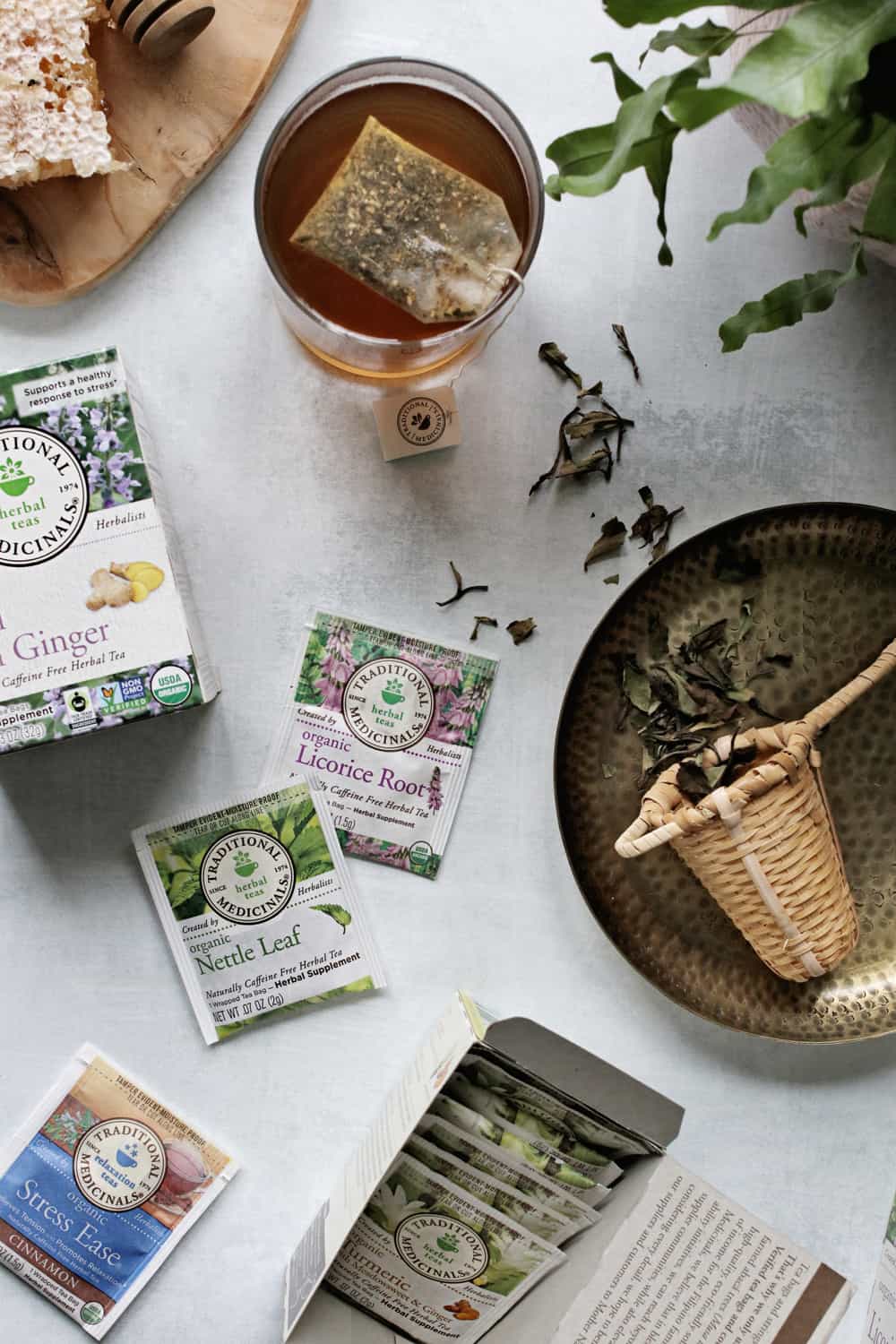 That's why spring is such a great time to incorporate adaptogens and other soothing herbs into your diet. Not only do they support the nervous system and calm the mind, over time they will help your body handle stress naturally.* But rather than reach for the vitamin bottle, my favorite way to get these body-soothing benefits is with herbal teas. Tea is a natural way to replenish the body both before or after a tough workout so stress is kept at bay.
But not all teas are created equal – ingredient quality and purity is super important. I always keep several boxes of Traditional Medicinals on hand because they are the only brand to guarantee their teas are made from pharmacopoeial grade herbs. This means the herbs in each tea bag contain the right balance of active compounds to be effective. Plus they rely on a team of herbalists to formulate their different blends, ensuring that they are both effective and soothing.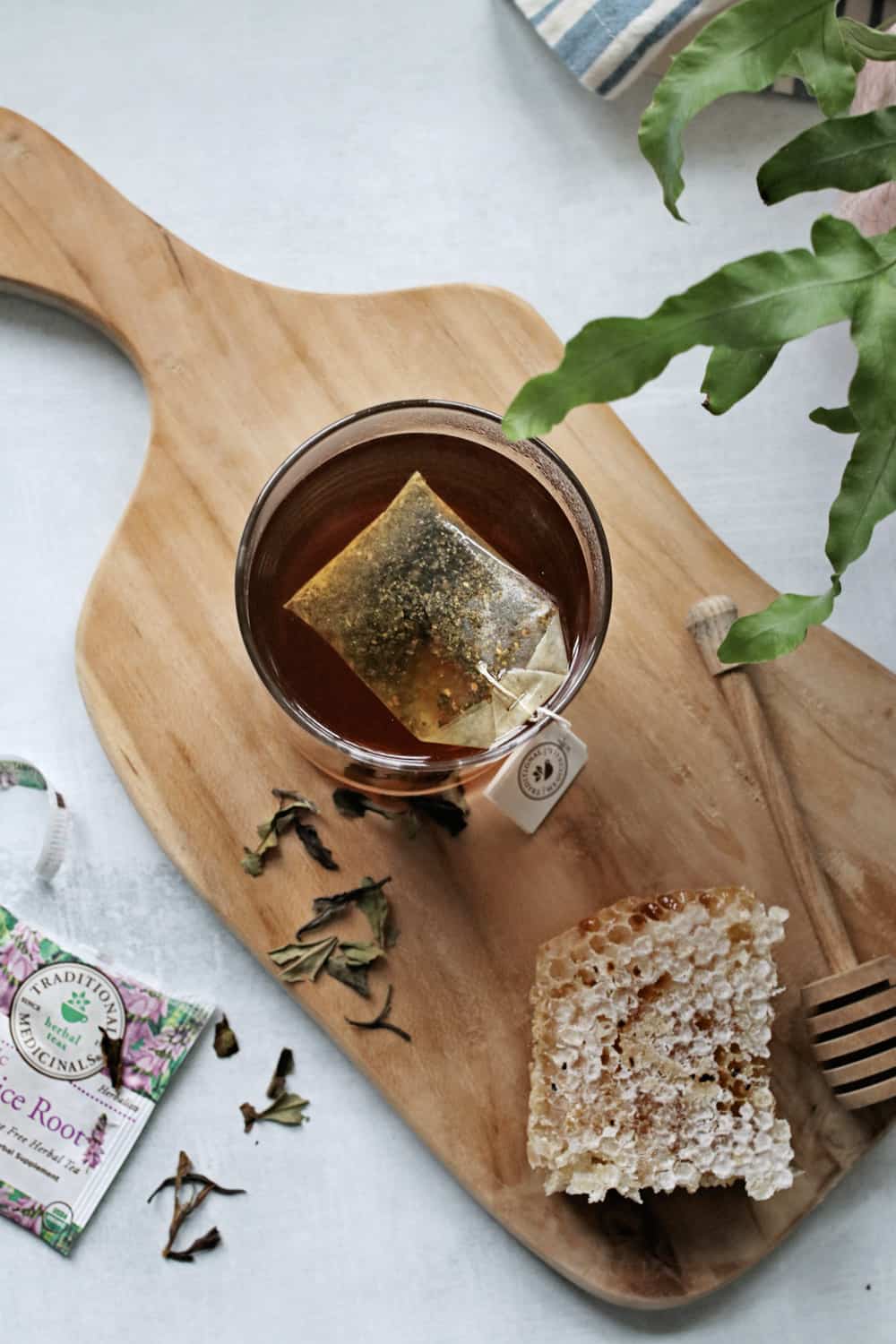 Whether you're an athlete or simply a little more active than usual now that the weather's warming up, here are 4 teas to support your body and help you better cope with stress.
Tulsi is an adaptogenic herb from India that is said to help our bodies better handle stress. Drinking it regularly provides a calming influence over the body, making it easier to adapt to physical stressors without slowing you down.* It also includes ginger's digestive and warming benefits.*

The main ingredient in this tea is a nervine called skullcap. While technically not an adaptogen, nervines help support the nervous system and are often used to relieve tension and stress, helping to calm the mind.* I love drinking a cup after an especially strenuous run or the day after a tough workout when I'm recovering. You can use it throughout the day to relieve irritability or at night before bed to promote relaxation.*
Turmeric has long been used to address inflammation associated with exercise.* If you're a runner or simply prone to aches and pains associated with strenuous activity, turmeric tea should be added to your post-workout repertoire. Reinforced with meadowsweet, the trio of herbs in this formula creates a combined soothing effect that's greater than the sum of its parts. This tea also has a warm, spicy flavor that feels invigorating after a workout.

Nettle is often used as a traditional spring tonic to support joint health and overall wellness, making it perfect for drinking regularly to support an active lifestyle.* When eaten, this plant is a good source of vitamin A and calcium. This nurturing tea features an earthy green taste reminiscent of springtime and the outdoors.
*These statements have not been evaluated by the Food and Drug Administration. This product is not intended to diagnose, treat, cure, or prevent any disease.
2