Around this time every year I start to go a little stir crazy. While most people are embracing cooler temperatures and changing leaves, I'm clinging desperately to every last little bit of summer I can find. The warm nights! Dinner on the patio! The sun on my skin!
I'm a summer girl through and through but there is one teeny part of fall I can really get behind. The figs. My love of figs is borderline obsessive at times, but it's for good reason. Not only are figs skin-soothing, anti-aging miracle workers, but they also make the perfect addition to a flavor-packed, fizzy fall cocktail that doubles as a skin-clearing elixir.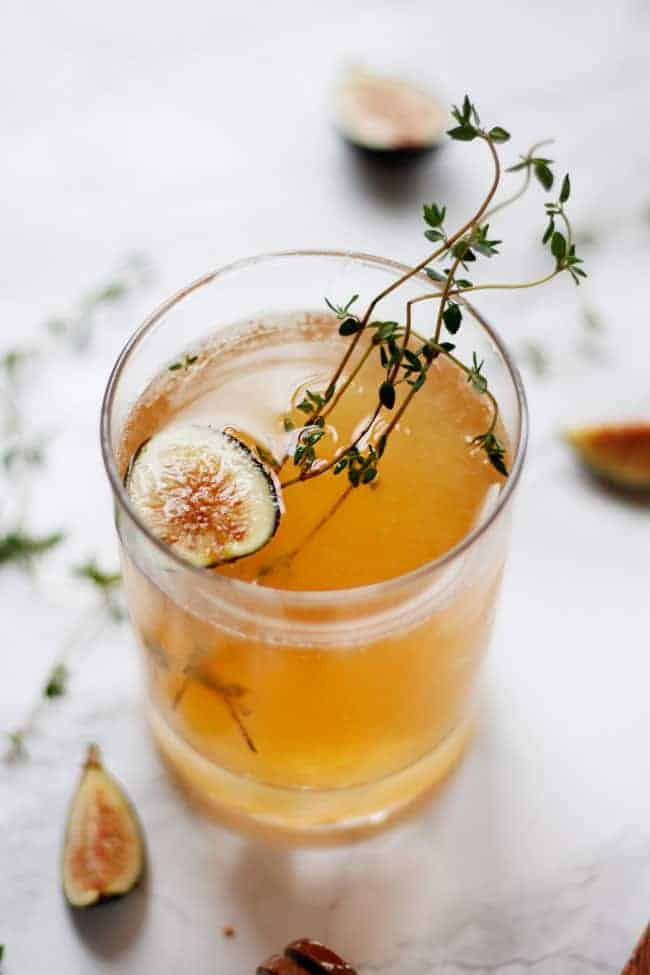 Sparkling Fig & Honey Cocktail
Loaded with antioxidants and beneficial nutrients like B vitamins, calcium and potassium, figs are nutritional powerhouses. They have long been used to treat everything from stomach troubles to high blood pressure, most likely due to high amounts of Vitamin B5, also known as panthethonic acid, which also happens to be amazing for skin.
Studies have shown that Vitamin B5 causes the body to create more Coenzyme-A, which in turn encourages skin cells to reduce oil production. Less oil means fewer clogged pores and less acne. Due to their high water content, they also help to flush out toxins and waste from the body, keeping skin glowing and radiant.
While you can eat them raw and obtain the same skin-brightening benefits, I prefer to add mine to a cocktail, because, let's be honest, everything is better in cocktail form.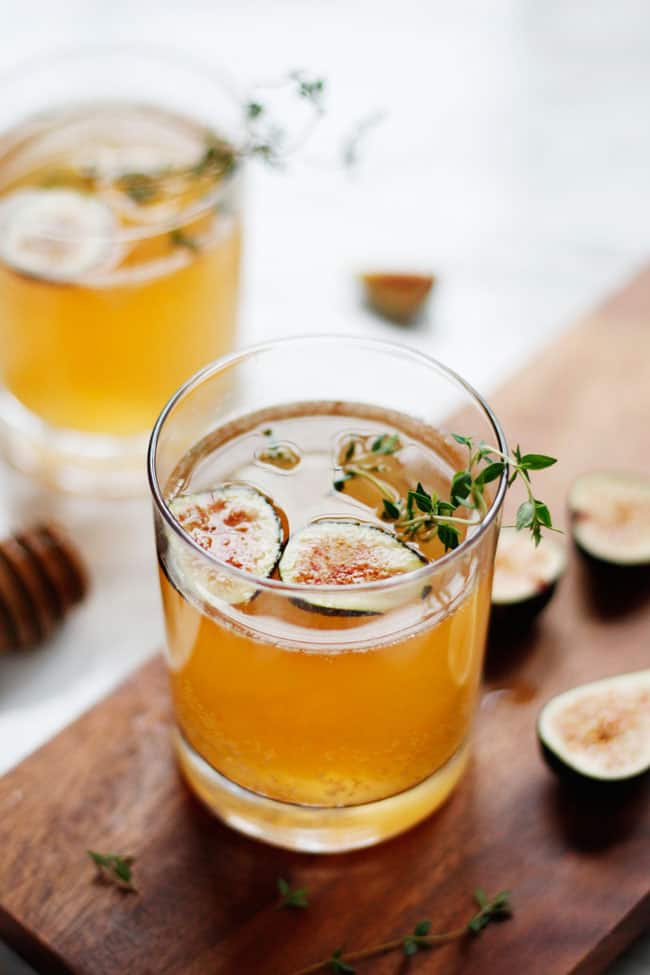 This cocktail recipes is super versatile so you can dress it up or down in any way you like. Since figs are usually only available during the early fall when temperatures are still relatively warm, they pair best with a light, dry champagne and a smidge of raw honey for sweetness.
I think figs have a somewhat woody flavor that pairs really well with hearty herbs, so feel free to swap out the thyme for rosemary or sage if you have it on hand. Then top it all off with champagne and orange liquor, or use plain soda water for an alcohol-free mocktail.
Just make sure to choose the ripest, juiciest figs you can find. The juice is what helps give your cocktail flavor, and those cold, hard figs often found at your local grocery store don't really cut it.
If you live in Texas, Utah or Oregon, head to a local farmer's market and talk to your neighborhood fruit farmers to find the best figs. Otherwise, just let your figs ripen on the kitchen counter for a few days before using them in cocktails. It's worth it.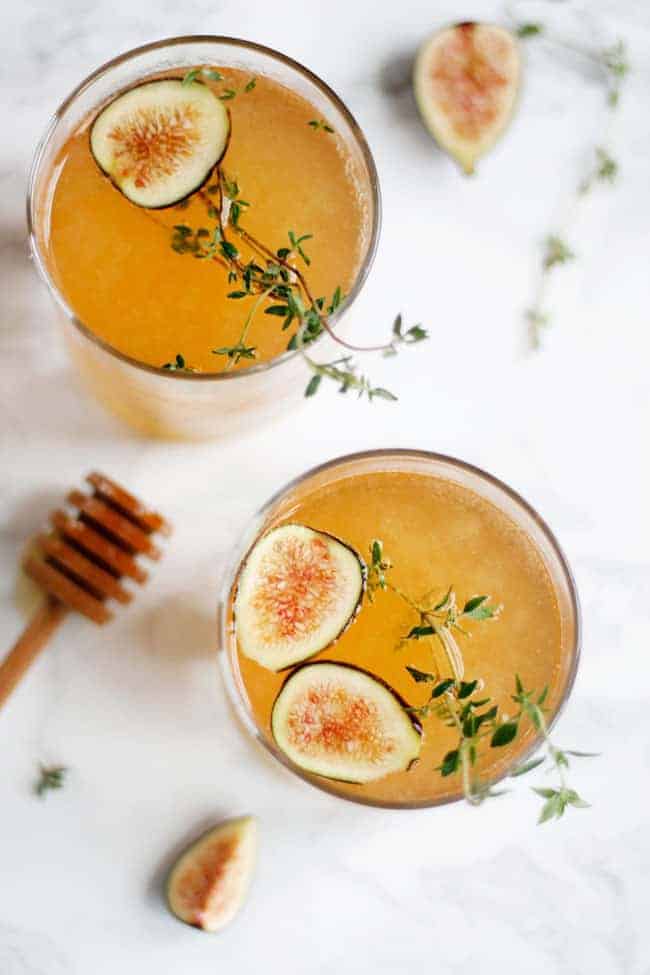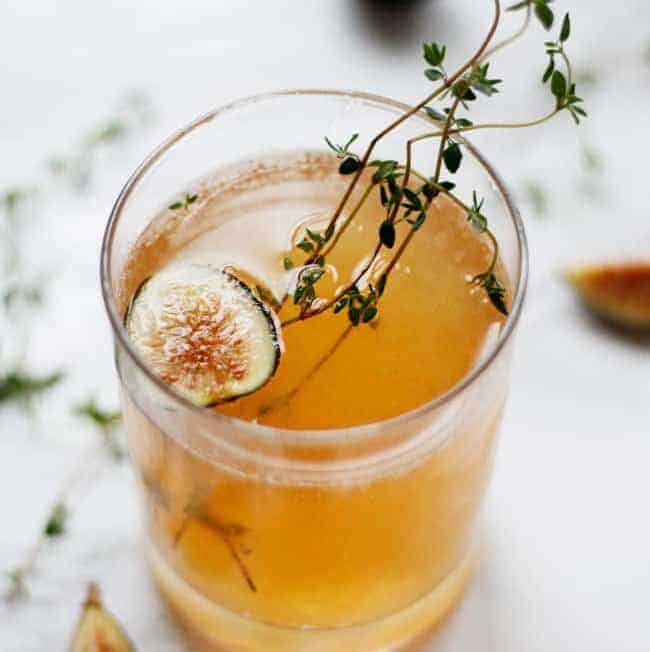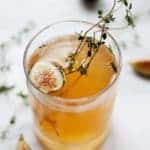 Print Recipe
Sparkling Fig & Honey Cocktail
A homemade thyme-infused fig syrup is combined with champagne and apple cider to make this Sparkling Fig & Honey Cocktail.
Ingredients
1/4

cup

honey

1/4

cup

filtered water

6

figs cut into quarters

2

sprigs thyme

1

cup

champagne

1/2

cup

high quality apple cider

1

ounce

orange liquor
Instructions
Combine the honey, water and figs in a small saucepan. Bring to a simmer over low heat and whisk continuously until the honey is melted and the figs begin to soften. Add the thyme and let simmer for an additional 10 minutes, stirring often.

Remove from heat and let the mixture sit for a few minutes. Remove the thyme sprigs from the honey mixture and use a food processor or immersion blender to blend the honey and figs into a smooth syrup.

In a small pitcher, combine the champagne, apple cider and orange liquor. Add two tablespoons of the fig syrup and stir. Pour into two glasses and garnish with extra thyme and fig slices.
Notes
Feel free to scale the recipe up to make enough for a crowd.
87