Beauty smoothies are all the rage these days and it's easy to see why. It's long been known that fruits and vegetables can help eliminate wrinkles, improve skin tone, heal your digestion and even help you sleep better.
But most people don't realize that they can also help improve your skin's ability to tolerate sun exposure without burning. Yep!
One little SPF Smoothie, loaded with vitamins and free-radical fighting antioxidants, can act as an internal sunscreen and help protect your skin from harmful UV rays.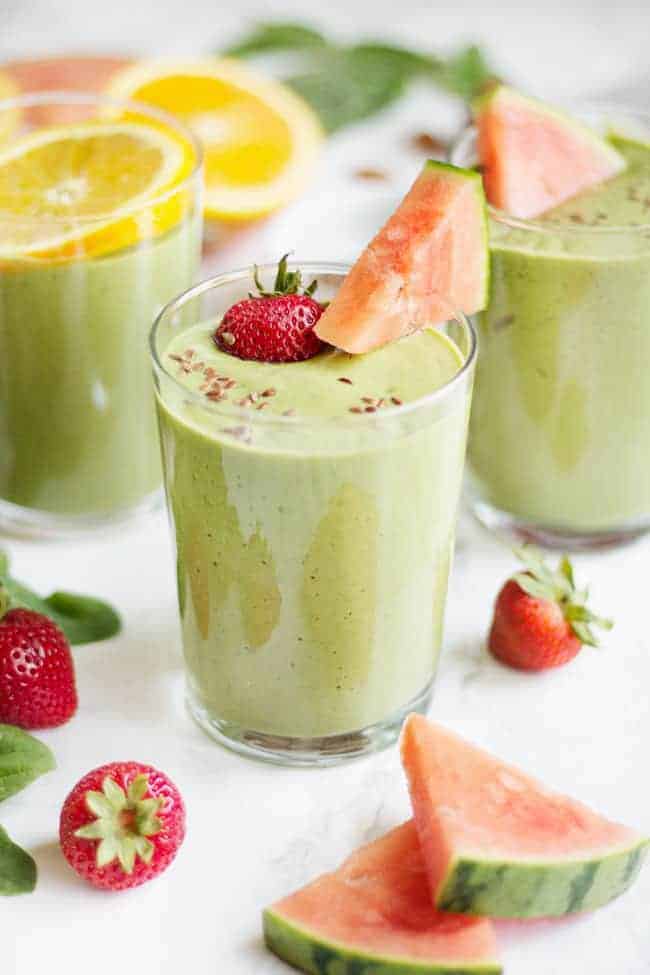 SPF Boosting Superfoods
A large part of natural sun protection simply comes down to eating an anti-inflammatory diet and improving your body's ability to heal sun damage. By eating foods rich in vitamins, minerals, healthy fats and antioxidants, you can do far more to protect your skin from the sun–and improve your health at the same time–than simply by slathering on sunscreen.
Here's a closer look at how sun-fighting foods can help boost your skin's natural SPF: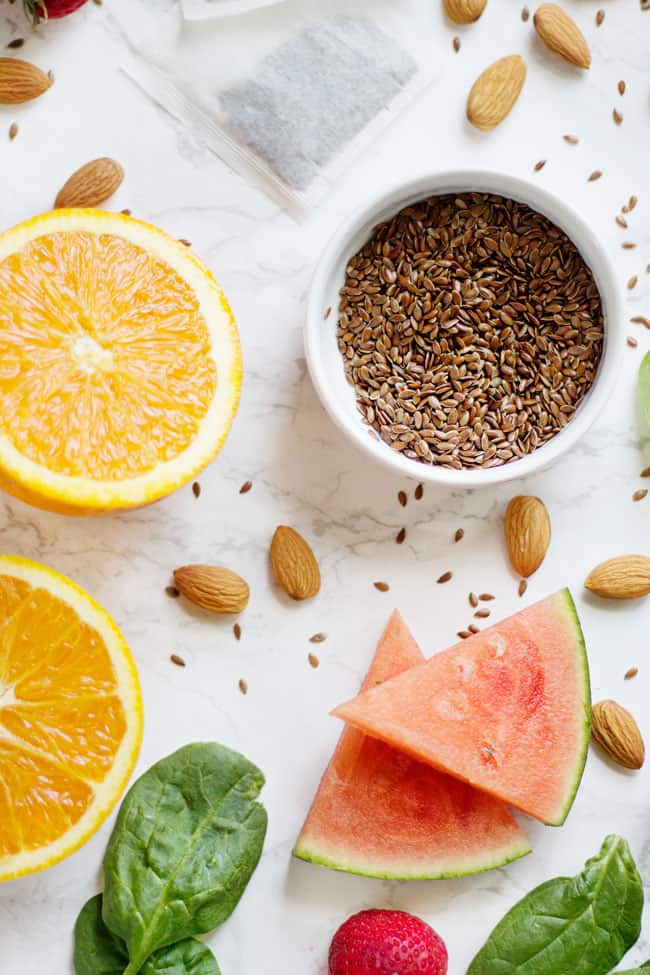 Oranges
Loaded with Vitamin C, oranges help stimulate your body to quickly repair damaged skin cells. Vitamin C also helps build collagen and strengthen capillaries, improving the tone and texture of skin after extended sun exposure.
Watermelon and Strawberries
Lycopene, one of the best known antioxidants for improving sun tolerance, is what gives bright red fruits and vegetables their vibrant color. When skin is exposed to excessive amounts of sunlight it causes free radicals to form, but Lycopene neutralizes free radicals and minimizes your body's inflammatory response to UV damage.
Green Tea
Green tea is especially high in polyphenols and catechins, two potent flavonoids that can protect your skin from UV rays. Polyphenols also possess antioxidant, anti-inflammatory and anti-carcinogenic properties which can help repair sun damage and improve skin's overall appearance.
Almonds
Almonds are one of the best sources of bio-available Vitamin E, which helps protect your skin from sun exposure and rebuild damaged skin cells. Almonds also contain high amounts of quercetin, a potent collagen-boosting flavonoid which helps stop the collagen breakdown caused by too much UV radiation.
Flax Seeds
High in Omega-3s, fiber and lignans, as little as half a teaspoon of flax seeds a day can keep skin hydrated, supple and smooth, preventing drying and reducing the look of fine lines and wrinkles. The lignans in flax seeds are especially helpful in reversing the signs of aging and encouraging healing.
Spinach
Leafy greens are great at preventing and even repairing sun damage. They're chock full of beta-carotene, folic acid and vitamins A, C and E, all of which help reduce the risk of skin cancer and repair the skin following sun exposure.
Now, while we're huge fans of using nature to improve your body's natural SPF, we still recommend using a good sunscreen. Even with all the sun-fighting superfoods in the world it's still possible to incur sun damage, so be sure to lather up with a quality sunscreen if you plan on being outdoors for long periods of time.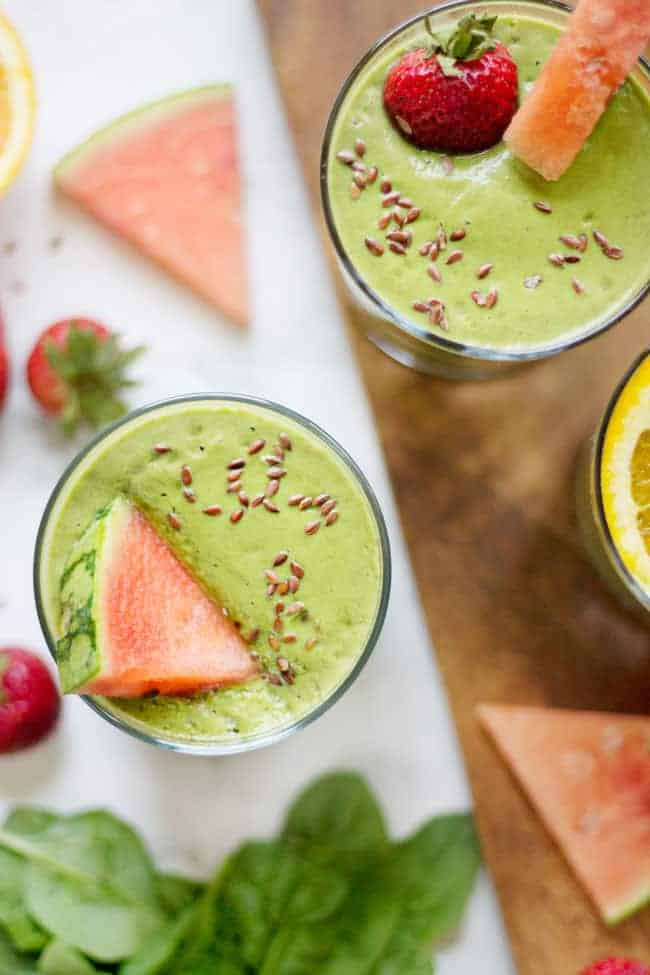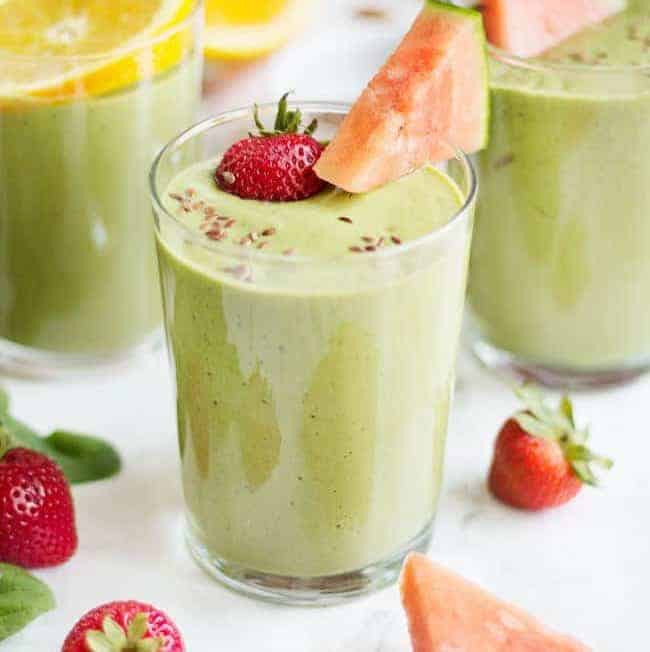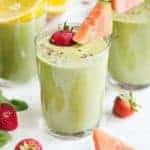 Print Recipe
SPF Smoothie
Loaded with free-radical fighting fruits and veggies, this smoothie will help boost your skin's natural SPF.
Ingredients
1

c.

watermelon

1

c.

strawberries

1

whole orange

peeled

¼

c.

almonds

1

tbsp.

flax seeds

¾

c.

brewed green tea

add more if needed

1

large handful spinach

6

ice cubes
Instructions
Blend all ingredients until smooth and serve immediately.
Notes
While this smoothie can help boost your body's natural SPF, you should still be safe and wear plenty of sunscreen whenever you go outside. 
Store leftovers in the refrigerator for 2-3 days.
7