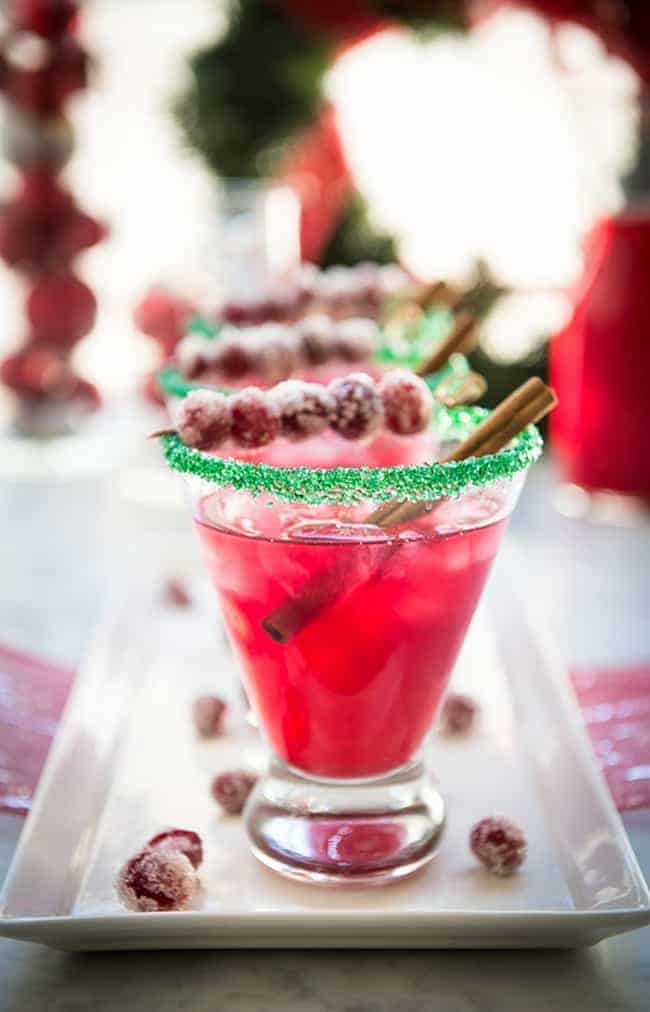 Bare Organic Mixers is spicing up the holidays and decking the halls with their naturally low-calorie, flavorful, organic and light tasting cocktail mixers. Created by Natalie Susi, these mixers combine fresh organic fruit juices with agave nectar. Bare comes in a variety of mixers such as margarita, lemon drop, and pomegranate cranberry cosmo. All 3 blend well with nearly any liquor, and can be enjoyed straight up or on the rocks. Unlike other brands on the market, all of Bare's mixers make great tasting clean cocktails using half the calories and no fillers.
Spiced Cranberry Pomegranate Margarita cocktail recipe
For Margaritas
¼ c Spiced Cranberry Simple Syrup

¾ c Bare Mixer's Pomegranate Cranberry Cosmo
¼ c Bare Mixer's Margarita

¾ c Silver Tequila

½ c Patron Citronage or Grand Marnier

Cinnamon Sticks
Sugared Cranberries

Green sugar for rimming glasses
For Spiced Cranberry Simple Syrup
3/4 c water
2/3 c agave nectar
2 Tbsp whole allspice
2 Tbsp whole cloves
4 cinnamon sticks

One 2″ fresh nob of ginger, peeled and sliced

2 c fresh cranberries, rinsed
For Simple Syrup
Combine all the ingredients in a saucepan and stir over low heat until combined. Raise heat and simmer the mixture for about 5-6 minutes or until the cranberries start to split. Once most have split remove the pan from the heat and cover with a lid. Let sit for 2 hours for the flavors to infuse. After the two hours strain the mixture into a jar using a mesh strainer, pressing the mixture against the strainer to extract all of the flavor. Keep in a resealable container and chill completely until ready to use.
For Margaritas
Dip the rim of the glasses in a shallow bowl of the simple syrup and then immediately into a shallow bowl of green dyed sugar. Let dry completely. Once dry fill the glasses with ice. In a cocktail shaker with ice add 4 Tbsp of the spiced cranberry simple syrup, the tequila, orange liqueur, Bare Mixer's Pomegranate Cranberry Cosmo and Bare Mixer's Margarita. Cover and shake well then strain into the 4 glasses. Taste and add more simple syrup if desired. Garnish with cinnamon sticks and sugared cranberry skewers.
0