Spring break! It's almost time. And if you're not traveling anywhere this spring, odds are you'll probably be planning a summer getaway sometime soon—personally, as soon as the weather got a little warm I started researching vacation rentals like it was my job. While that part of planning a trip is fun, I find the packing part tedious and usually find myself scrambling to get things together at the last minute—and inevitably forgetting a bunch of stuff I needed. (Like the time I forgot my contacts. YOU GUYS! Never forget your contacts!)
Anyway! We've put together a list of travel essentials for spring break to make packing a little bit easier—some you've probably thought of (toothpaste!) and some you might not have (a water bottle with a filter inside? genius!).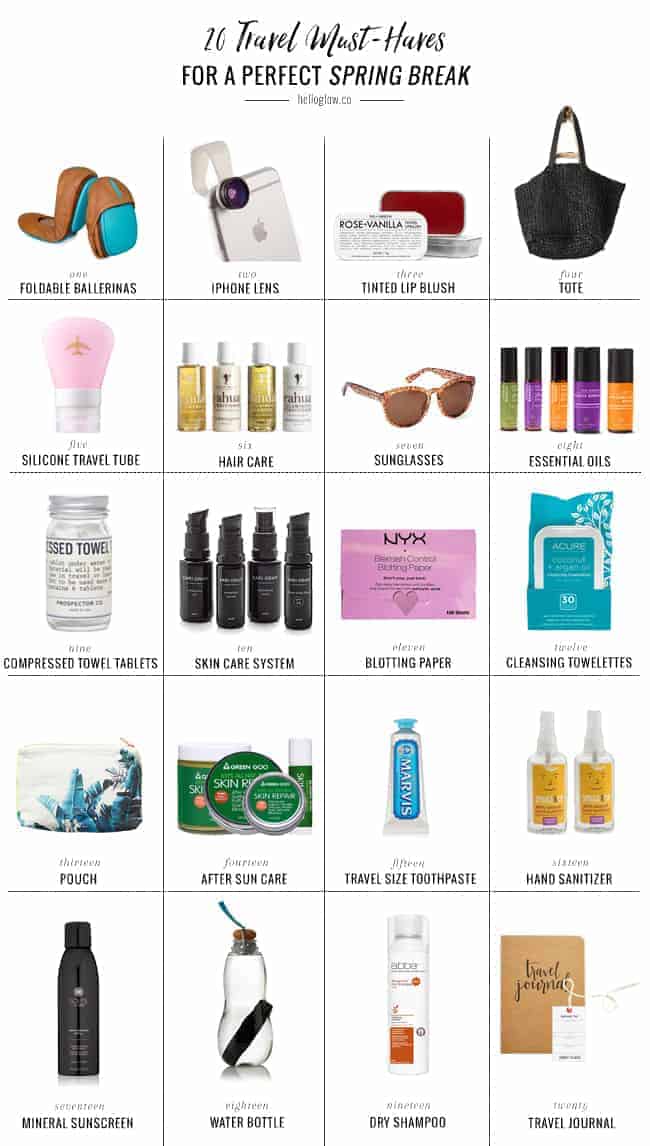 1. Tieks Folding Flats // These flats are super comfortable and they fold up! Perfect for running through an airport to catch a flight.
2. Wide Angle iPhone Lens // No need to travel with a bulky DSLR when you can buy one of these lenses.
3. Fig + Yarrow Rose + Vanilla Tinted Lip Blush // The worst thing about flying is how dried out it leaves you. Keep your lips smooth with this tinted balm.
4. Lotte Weekender // This bag couldn't be any more perfect for a beach getaway.
5. Far & Away Silicone Travel Tube // If you can't find travel-size versions of your faves, these silicone TSA-approved tubes are the perfect solution.
6. Rahua Travel Set // Hotel haircare products are pretty much universally terrible. Bring your own!
7. Gap Tortoise Sunglasses // These retro-inspired sunglasses are made for the beach.
8. H. Gillerman Organics Travel Remedy Essential Oil Blend // This lemony blend will help you get over jet lag and exhaustion quickly. And if all that traveling has you feeling tense, try their Tension Remedy too.
9. Prospector Co. Pressed Towel Tablets // Towels! In tablet form! I can think of several toddler-related travel emergencies we had when these would have come in handy.
10. Kari Gran Mini Kit // There's no need to skimp on your skincare routine just because you're traveling. This travel kit comes with cleansing oil, serum, hydrating tonic, and sunscreen.
11. Nyx Cosmetics Blemish Control Blotting Paper // Blotting paper that fights acne too? Love this!
12. ACURE Organics Coconut + Argan Oil Cleansing Towelettes // For those times when you're too exhausted to wash your face, but you need to get your makeup off. These are the best.
13. Summertime Pouch // Keep all your cosmetics organized in this fun pouch.
14. Green Goo Skin Repair // Get a little too much sun? It happens to the best of us. Bring a tin of Green Goo with you to soothe the burn.
15. Travel Size Marvis Toothpaste // Classic Strong Mint will have your mouth feeling sparkling fresh even after a long flight.
16. Spruce & Co. Natural Hand Sanitizer // Traditional hand sanitizers are made with harsh chemicals and dry out your skin, which is why we love this natural moisturizing version from Spruce & Co.
17. Soleil Toujours Mineral Sunscreen Mist // It's easy to make sure you've applied your sunscreen without missing any spots with this mineral-based mist.
18. Eau Good Water Bottle // The charcoal filter in this bottle means you can drink water from even the sketchiest rest stops!
19. ABBA Always Fresh Dry Shampoo // Dry shampoo is a great way to freshen up between washes.
20. Print Stitch & Paste Travel Journal // Don't forget all the fun things you did on vacation!
2