While you're taking out the sandals and t-shirts from the back of your closet and tucking the boots and sweaters in their place, you should also consider a nail polish refresh. Gone are the short, dark days of winter, and gone are the dark, moody polishes on your nails! This spring, opt for soft pastels and primary colors, but always keep it safe with non-toxic, natural brands.
Here are some of our favorite spring nail polish colors: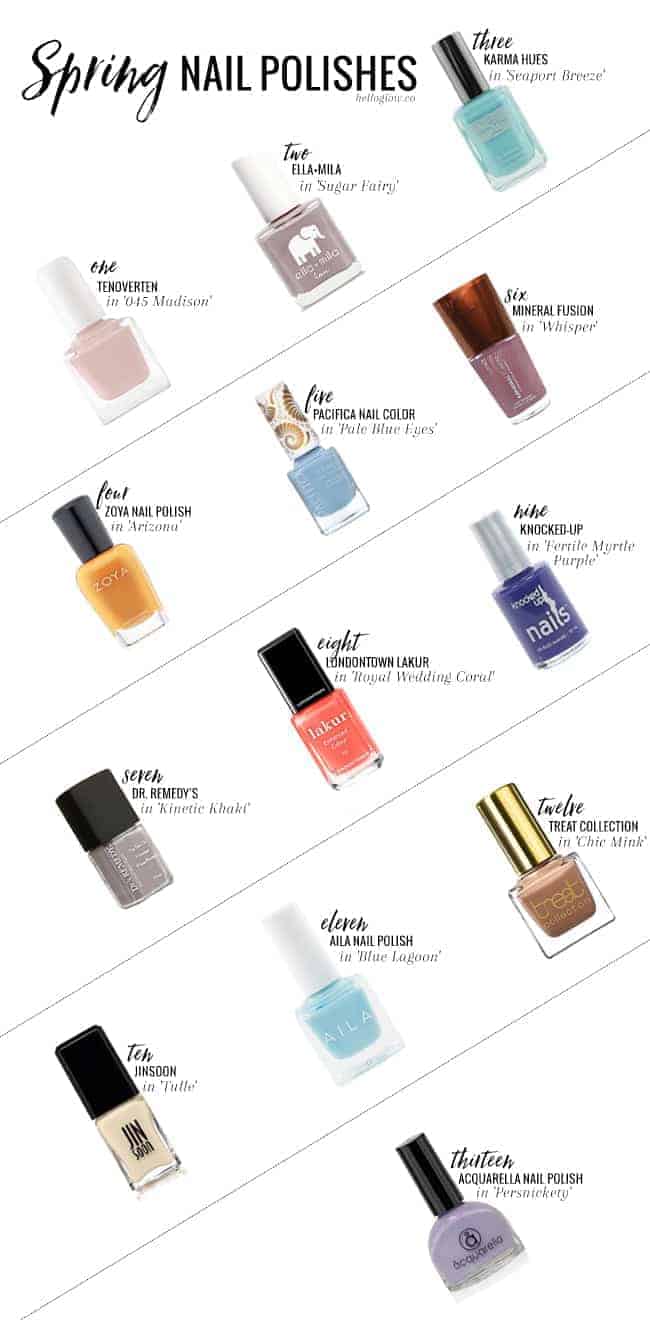 1.  Tenoverten in '045 Madison' // Cruelty-free, vegan, US-made nail polish free of nasty chemicals. We're partial to this wonderfully soft shade of pink which reminds us of spring blooms.
2. ella+mila Nail Polish in 'Sugar Fairy' // Just a hint of color to make you look put together in no time! ella + mila nail polish is cruelty-free and free of formaldehyde, toluene, dibutyl phthalate (DBP), formaldehyde resin and camphor.
3. Karma Hues in 'Seaport Breeze' // No harsh chemicals will bother your nails when you apply this breezy matte polish. Odorless and hypoallergenic.
4. Zoya Nail Polish in 'Arizona' // Add some sunshine on your hands with this brightly color polish. Long-wearing, toxin-free and all around amazing.
5. Pacifica Nail Color in 'Pale Blue Eyes' // Vibrant baby-blue color that stays put for a long time. The polish is formulated free of toxins and it features a wide vegan brush for easy application.
6. Mineral Fusion in 'Whisper' // Dusty lavender color with a semi-sheer finish for beautiful spring nails. 100% vegan and free of toluene, camphor, DPB, and Formaldehyde.
7. Dr. Remedy's Enriched Nail Polish in 'Kinetic Khaki' // Long lasting, brilliant taupe color, enriched with garlic bulb extract, tea tree oil, wheat protein and Vitamins C and E.
8. LONDONTOWN Lakur Nail Polish in 'Royal Wedding Coral' // 5-free nail polish enriched with a unique blend of minerals and vitamins. Gorgeous warm color worthy of a royal wedding.
9. Knocked-Up Nails in 'Fertile Myrtle Purple' // This label makes nail polish especially for pregnant women! 5-free, safe for allergy sufferers, cancer patients & children, in a stellar bright shade of purple.
10. JINsoon Nail Lacquer in 'Tulle' // The 5-free formula that delivers a lasting manicure with bold, brilliant color, smooth application and the ultimate high gloss finish.
11. AILA Nail Polish in 'Blue Lagoon' // Free of parabens, gluten, TPHP, formaldehyde, formaldehyde resin, DBT, camphor and sulfates, but full of beautiful, long-lasting color.
12. treat Collection Nail Polish in 'Chic Mink' // A neutral nail color has never looked this chic! At the same time, it's safe for your health, being 5-free and vegan.
13. Acquarella Nail Polish in 'Persnickety' // This non-toxic nail polish is water based and has virtually no scent, which makes it safe for sharing with young daughters. The lilac hue is just what your nails need after winter!
1