While the rest of the year our green thumb may be a little numb, it's definitely awake in the spring! We've already shared our favorite spring garden projects and now we're sharing our favorite gardening tools and equipment. Here's everything you need to get you started on the journey to a beautiful garden: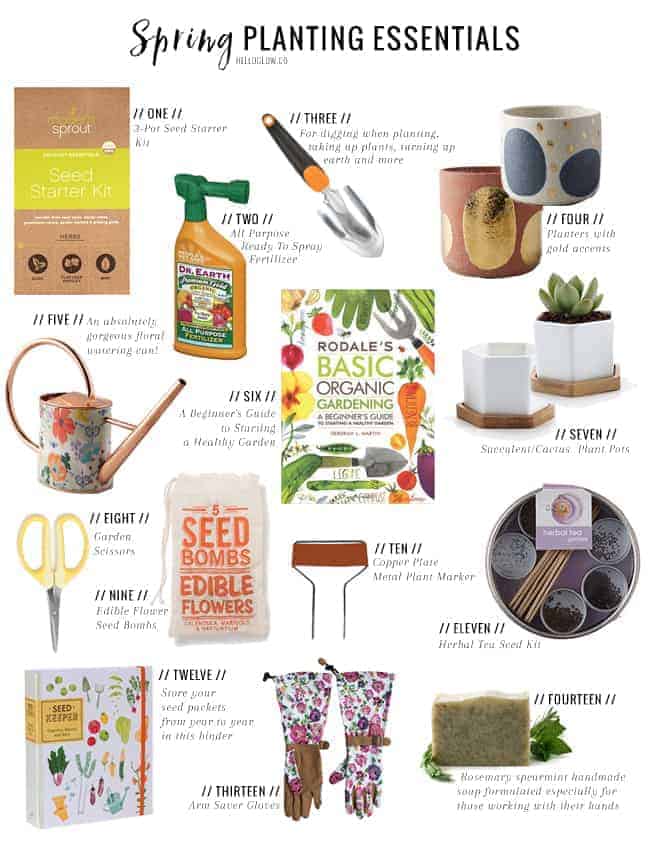 1. Modern Sprout 3-Pot Seed Starter, Culinary Herbs // Start the herb garden you've always wanted with this seed starter kit, which includes mint, parsley and basil.
2. Dr. Earth Premium Gold All-Purpose Ready To Spray Fertilizer // 100% natural and organic, non-GMO fertilizer that's child- and pet-friendly.
3. FISKARS Ergo Trowel // Easy to use and durable, this is the only trowel you'll ever need to buy.
4. Glowing Arbor Pot // This beautiful planter with gold accents is the perfect addition to your home or patio.
5. Jardin Watering Can // You won't feel the need to hide this absolutely gorgeous floral watering can!
6. Rodale's Basic Organic Gardening: A Beginner's Guide to Starting a Healthy Garden // Learn the basics of cultivating your own organic garden. 
7. Succulent planter // Keep succulents happy in this hexagonal ceramic planter featuring a bamboo tray for drainage.
8. Garden scissors // Cheerful scissors, ideal for countless chores around the house and garden. For both right and left-handed gardeners!
9. Edible flowers seed bombs // Bomb your yard with these seeds and enjoy calendula, marigold, and nasturtium come summer.
10. Copper Plate Metal Plant Marker Set // A set of 20 copper plates to help you remember what you planted. 
11. Herbal Tea Seed Kit // Grow all the ingredients for a calming, herbal tea with help from this giftable seed kit.
12. Seed keeper // Store seed packets from year to year with this handy, beautifully illustrated binder by Maria Finn.
13. Floral garden gloves // Long, comfortable garden gloves in a pretty floral plant that will make playing in the dirt more fun.
14. Rosemary spearmint hand soap // This handmade soap is formulated especially for those working with their hands, cleansing thoroughly and gently exfoliating.
1