Being mindful of the ingredients in your skincare products is a responsible habit to cultivate. But given the vast amount of vitamins, minerals, antioxidants, chemicals, and formulas lurking around in everything from moisturizers to serums, you may find yourself scratching your head when a new one comes along.
Though it has been used (and studied) for years, squalane oil is starting to make its viral rounds as more experts and dermatologists explore its effectiveness. If you're behind the curve on this one (don't worry, we were too!), consider this your guide to this interesting, all-natural substance.
Meet the experts

Dr. Ellen Marmur, a board-certified dermatologist

Medically reviewed by Dr. Jennifer Haley, a board-certified dermatologist

So
,
what is squalane oil
?
We're going to get a little nit-picky with spelling here, so bear with us: squalane oil is the hydrogenated byproduct of squalene oil. That vowel switch is important since squalene is a natural substance that's produced within your body, and it works to maintain moisture and hydration within your skin. Squalene is an effective antioxidant that scavenges and reduces free radicals [source].
It is a superstar for the skin because it neutralizes environmental damage and serves as an effective anti-aging ingredient. Research has shown that squalene also works in topical applications of vitamin C, helping it to better penetrate the skin and improve collagen production [source].
Squalene is found in the sebum that our skin's sebaceous glands produce [source]. The amount of squalene made and retained by our bodies naturally declines by the time we reach our 30s. That's why it is beneficial to use products containing squalane oil as we age.
Chemists hydrogenate squalene to produce squalane oil that can be used on its own or within everyday products applied topically to prevent fine lines and wrinkles. Manufacturers will typically use the natural squalene found in olives, sugarcane, wheat germ, rice bran, or palm trees [source] to create the cosmetic squalane oil, making it one of the leading organic ways to fight the aging process, according to board-certified dermatologist Dr. Ellen Marmur.
What are the benefits of squalane oil
?
While some people are into injectables and chemical-laden anti-aging products, others choose the all-natural route. If you're in the latter group, there are multiple ways to incorporate squalane into your routine, as advised by experts. However, it is important to note that this oil is still being researched, so not all claims are fully backed by science.
Even so, dermatologists still rave about this oil—and it could be worth a try if you're looking for any of these perks:
It's lightweight and non-greasy
.
Though you know how important it is to ensure your pores are quenched, no matter your skin type, those thick, greasy moisturizers can wreak havoc for some. If you are typically oily on your t-zone, or you would classify yourself in the sensitive category, squalane oil could be a game-changer.
That's because it isn't overly heavy like some formulas, and it doesn't have those greasy properties either. Because of this, it's not only versatile but safe to use on all skin types—mostly. If you're prone to breakouts, it's important to chat with your dermatologist before starting squalane since it mimics the oils we already have and could pose a threat for breakouts.
It absorbs fast
.
If you've been exploring the wide world of oils for a while now, you know that no two droplets are created equally. And your pores have various reactions, depending on the ingredients and texture of the liquid. If you prefer oils that don't sit on the top of your skin barrier, as many do, it might be good to try squalane oil since it's a quick-absorbing alternative.
It is multi-use
.
Because squalane oil is a super-strong lipid, it works double-time to lock in moisture on your skin. But while most people will use it to fight aging or serve as their daily moisturizer, it is also appropriate for many other uses. This includes adding some conditioning to split ends, soothing inflammation, and more.
It fights skin damage
.
As a highly-effective emollient and natural antioxidant, many people use squalane oil to reverse damage to their skin. As Dr. Marmur explains, over time, squalane can reduce wrinkles, eliminate scars, cure UV damage, lighten freckles, and even erase skin pigmentation. Some people will use squalane as a spot treatment on a specific problem area, too.
Ready to try squalane oil
?
Ready to give it a go? Here, we have a handful of squalane oil-rich products to test in your skincare routine.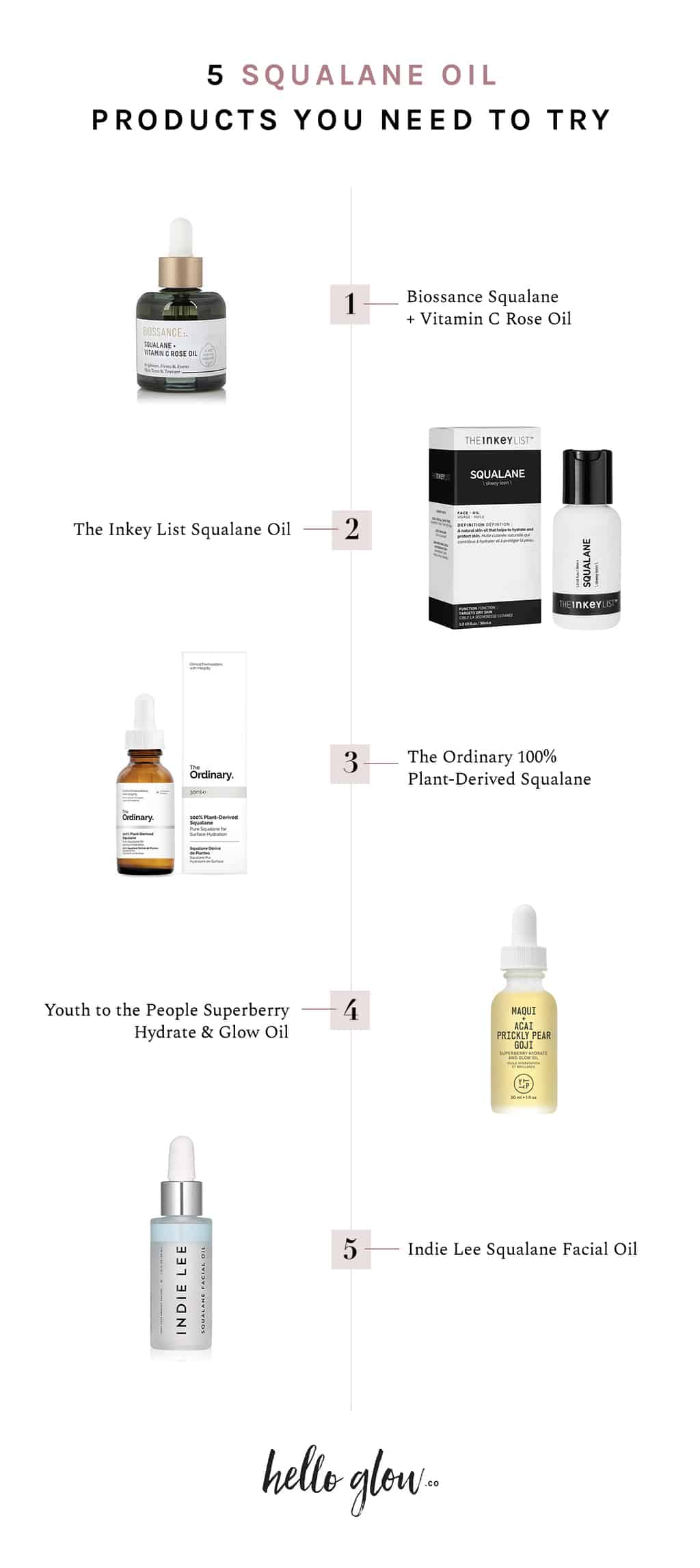 Biossance Squalane + Vitamin C Rose Oil
Take advantage of the research showing how well squalene works with vitamin C. Luxe to the touch but full of an impressive concoction of vitamin C, rose, and squalane oil, a drop or two of this daily will make a difference in your skin's texture, brightness, and tone. It also receives praise for its soft fragrance and silky feel.
If you haven't heard of The Inkey List, you're in for a treat. This company produces affordable oils that are natural and to the point. In fact, each of their products just contains one thing, and in this case, it's squalane oil. This way, you can mix and match, depending on what you need. Ideal for normal, dry, combination, or oily pores, this lightweight, affordable option is great for first-timers.
The Ordinary 100% Plant-Derived Squalane
This plant-derived solution will ensure that your pores are quenched to perfection. It's free of sulfates SLS and SLES, as well as parabens, formaldehyde, and other no-good ingredients. Instead, you're left with pure squalane, and that works wonders all by its bad self.
Youth to the People Superberry Hydrate & Glow Oil
Fight against wrinkles? Add H20 to your thirsty pores? Give your skin a killer glow? Check, check, and check! Ideal for those frustrated with dryness, a dull texture, and other skin issues, this product uses maqui, vitamin C, prickly pear, acai, goji, and squalane oil to get you Instagram-ready.
Derived from olives, this squalane oil is often given five-star reviews due to its no-BS ingredients and soft feel. When you use it daily, you'll notice a youthful glow, a dewy complexion, and an even skin tone. As a bonus perk, it's also a Leaping Bunny-certified cruelty-free and vegan-friendly product.
This post was medically reviewed by Dr. Jennifer Haley, a board-certified dermatologist with extensive experience in medical, cosmetic, and surgical dermatology. Learn more about Hello Glow's medical reviewers here. As always, this is not personal medical advice, and we recommend that you talk with your doctor.
39