Salads don't get nearly enough cred in the food world, but they should! Just add a few crunchy and/or creamy ingredients, and you can upgrade your greens to crave-worthy status any day. Here are two brilliant, beauty-boosting salads that will make you actually want to eat salad for lunch or dinner—or maybe both!
Gorgeous Glow Salad
Full of hydrating cucumber and antioxidant-filled carrots, herbs and avocado, this salad will keep you glowing. To get even more hydration, mix romaine lettuce in with your greens. A creamy tahini-based dressing would work wonderfully here.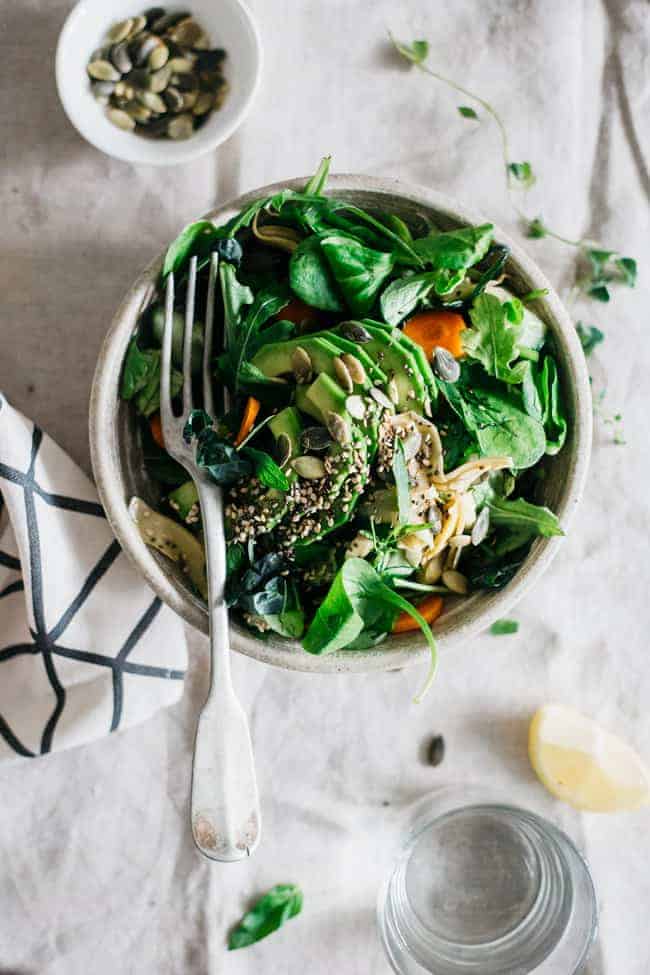 Hemp seeds are a complete protein, which makes this easy salad a great choice for vegans or vegetarians.
Ingredients
2 cups mixed greens or spinach chopped
½ cup carrot chopped
½ cup cucumber chopped
1 cup artichokes BPA free, canned in water
1 avocado cubed
¼ cup hemp seeds or seed of your choice
Handful parsley chopped
Handful basil chopped
Instructions
Chop vegetables and mix in a large bowl. Top your salad with avocado and hemp seeds. Drizzle with dressing of choice.
Gorgeous Detox Salad
Just about everything in this texturally diverse salad is great for detoxing—and the salad itself is gorgeous, too! Beets, celery and cucumber will help your body flush out toxins, and the simple lemon juice-olive oil dressing provides pH-balancing support and healthy fats.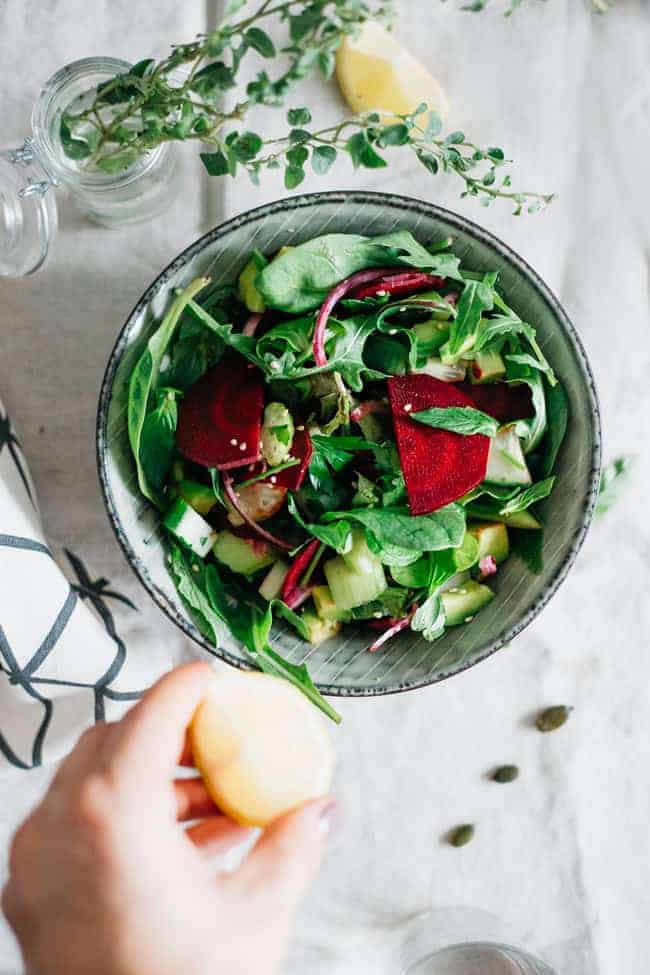 Beets, lemon juice, cucumber and greens are all detox staples, and this salad has them all!
Ingredients
2 cups baby arugula mixed greens, spinach or greens of your choice (dandelion, watercress and endive are great for detoxing)
2 small raw beets chopped
4 celery stalks diced
1 cucumber seeded and chopped
½ cup red onions diced
½ avocado diced
2 tablespoons extra virgin olive oil or flax oil
2 tablespoons lemon juice
Sea salt and freshly ground black pepper
Instructions
In a large bowl, toss greens of choice with beets, celery, cucumber, onions and avocado. In a small bowl mix together lemon juice and oil and toss into salad. Season with salt and pepper and serve.
For more creative salad ideas, consult our guide to non-boring salads!
9