I travel pretty regularly for work (and occasionally for fun), and there's always one thing that freaks me out more than hotel sheets and Customs combined: how to keep up with healthy habits when I'm in an unfamiliar location. Luckily, I have developed some great healthy travel tips.
As you know, traveling is stressful enough on its own. (Yay, close quarters with the in-laws for a week in the middle of winter!) But when you're trying to stay healthy—especially if you're a control freak like me—it's even harder when you realize you might not have a say over when, what and where you get to eat. Nor will you be able to hit the gym or a yoga class whenever you feel like it.
12 Healthy Travel Tips and Tricks
I recently came back from a two-week trip to Denmark and the Netherlands (with a stop in Iceland on the way there and back), and nearly had an existential crisis over how I'd maintain my gluten-, soy- and dairy-free diet while traveling in countries where I spoke about three words of the language. I've traveled to rural North Carolina while on a strict cleanse before, so I was prepared to subsist on apples for two weeks if need be. But with some research, planning ahead, creative packing and letting go of expectations, it was actually not hard at all. And the jet lag didn't kill me, either. Here are 12 easy remedies and healthy travel tips to help you stay well and still go with the flow, whether you're road-tripping to a relative's house or jet-setting around the globe.
1. Water
Dehydration is the fastest route to crankiness, fatigue and feeling gross, so make sure to drink water whenever you have the opportunity—especially if flying. The effects of water on wellness and short- and long-term health are well established. Water in plastic bottles isn't necessarily the greatest choice for you or the environment (definitely don't refill them), but it's better than getting sick.
If you're traveling abroad, research before you go and drink bottled water if water quality is an issue. You can also buy a travel water bottle with a filter. Pro-tip: Scandinavian countries have amazing water quality, so drink up straight from the tap while you're there!
2. Magnesium
Even if you don't regularly take magnesium, you may want to bring some with you on your trip. It helps ease insomnia (sleeping in a strange bed is never fun!), loosen tight muscles (helpful if your legs have been cooped up in a car or plane), rehydrate, and beat constipation.
3. Antioxidants
Travel has a way of wearing down your immune system, and airports, rest stops and planes are notorious breeding grounds for germs. An easy healthy travel tip is to keep up with your antioxidant intake. That way your body will be better prepared to protect itself. Travel packets of Emergen-C or Amazing Grass—a green powder you can mix with water or juice—will help keep your immunity up.
4. Kombucha
You may not have access to organic fermented veggies or coconut-water kefir while en route to Cleveland or Tucson (a girl can dream, right?), but many airport kiosks—and even some gas stations!—sell at least one flavor of kombucha. Probiotics are especially important if you experience tummy trouble while traveling, and a kombucha a day will help keep them in check.
5. Essential Oils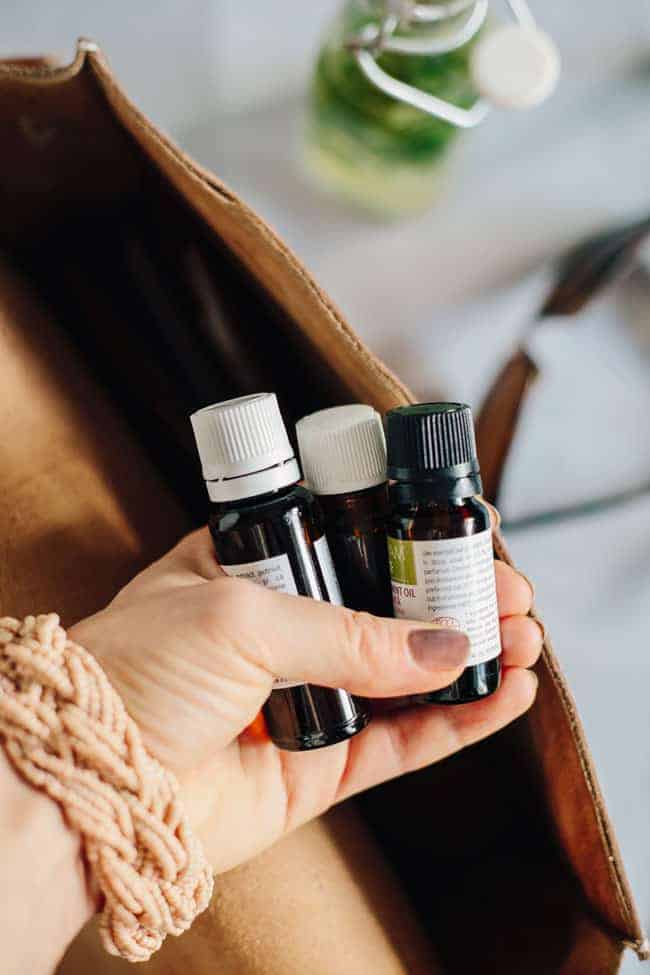 Another great healthy travel tip is to invest in some essential oils. Many essential oils have antibiotic and antibacterial properties. Some will also help you sleep so you get the rest you need and keep your body healthy while traveling. To boost immunity while you're gone, bring a small bottle of lemon, Thieves, peppermint, lavender, frankincense, sage, or cinnamon leaf oil to sniff. Tea tree is an effective antiseptic and anti fungal oil that can be applied topically. Bring a small bottle if you're prone to travel breakouts, because it works like a charm on zits, too!
6. Natural Hand Sanitizer
Who knows how many door handles, credit card machines and TSA trays you'll touch on your trip? Put down the industrial-strength sanitizer and bring along a travel-size natural version that's gentler and relies on naturally antibacterial ingredients instead of harsh chemicals.
7. Spend Time Outside—or Wear Sunglasses Inside
The amount of light you take in affects your circadian rhythm and helps your body adjust to a new time zone. Depending on which direction you're headed, exposing yourself to the sun outdoors, or wearing shades inside (to keep your eyes from detecting too much indoor light), will help avoid jet lag and reset your inner clock.
8. Nap!
Rest is another essential healthy travel tip. A catnap can be a lifesaver while traveling, especially if you're crossing many time zones. Sleep in the car or on a plane isn't necessarily the best quality, but a quick snooze (followed by a big glass of water) when you get to your destination can help you feel refreshed and not so stressed. Pack an eye pillow if you can!
9. Tea Bags
Packing some tea is a must, and it will take up hardly any space in your suitcase. The tea selection while traveling isn't always reliable, so I try to bring an assortment including chamomile and green. They serve double duty, too: Not only does it boost your immune system, but placing a warm green tea bag on a pimple is sure to make it go away (or at least make it subside to a manageable level). Chamomile will help you relax and sleep while traveling, and the tea bags can also be used as a tired-eye remedy!
10. Exercise
Exercise is vital to staying healthy while traveling. You may not be able to drag your elliptical or your favorite yoga teacher with you, but research ahead of time to see if there's a gym at your hotel or a drop-in yoga studio or bike rental near your AirBnB. Online gyms keep you accountable as long as there's Wi-Fi—even from a hotel or your aunt's tiny guest room.
If all else fails, just go for a walk outside. The movement and fresh air will help you sleep better and stay in a good mood (especially important during those long family visits).
11. Book a Kitchen, or At Least a Fridge
That ill-fated traveling-while-cleansing visit to rural North Carolina taught me an important lesson: ALWAYS book a hotel room with a fridge. I didn't, which is why I was stuck eating apples and bananas—or driving an hour to the nearest Whole Foods every time I was hungry.
If you're staying in an AirBnB-type situation, you'll probably be covered with an entire kitchen. With hotels, look for ones that have a refrigerator so you can stash fresh produce, yogurt, cold-pressed juices and other healthy essentials. I've known people who use their hotel-room coffeemaker to steam greens, although I'm not sure I'd recommend it.
If you have access to a kitchen, cook some of your own meals to offset costs and avoid overeating at restaurants. Bonus: If you're in a foreign country, grocery shopping and cooking your own meal is one of the best ways to get to know the culture.
12. Research Restaurant and Supermarket Options
Chances are you'll eat out while traveling. Whether you're in a completely new country, the big city, or stuck in the 'burbs without a vehicle, restaurant and tourism blogs and apps like Yelp are your friend. I was having a panic attack over staying gluten free in Denmark (the national dish is an open-face sandwich, after all), but with a lot of research and planning I ended up finding a paleo restaurant, farmers market and gluten-free bakery, and had some of the best healthy/GF meals of my life.
Look for a mom-and-pop natural foods co-op to track down healthier fare (I've found miso in the woods of Michigan's Upper Peninsula, so it's possible!). If you're in a city, chain supermarkets will have some better-for-you options, too. Even 7-11 might surprise you.
What are your surefire ways to stay healthy while traveling?
This post was medically reviewed by Dr. Holly Smith, a board certified physician in nephrology and internal medicine with a background in nutrition. Learn more about Hello Glow's medical review board here. As always, this is not personal medical advice and we recommend that you talk with your doctor.
4