We partnered with Thrive! to create this post. Thank you for supporting our sponsors!
Getting sick is especially annoying during the holidays. Who has the time to nurse a cold? There are parties to attend! Gifts to buy! Presents to wrap! But all that go-go-going is one of the biggest reasons our immune system gets overtaxed.
Over Thanksgiving I caught a cold, and looking back it's easy to see why (too much travel, too much sugar, too much alcohol). Even as you celebrate with friends and family, don't forget to take care of yourself. And if you have kids coming home from school with runny noses, extra precautions are in order!
Wellness doesn't need to take a complete hiatus over the holidays. Here's my simple everyday action plan for getting and staying healthy over the holidays.
How I eat healthy (& in moderation)

We know, this is soooo when you're surrounded by treats. Keep everything in moderation – and sneak these keep-you-healthy habits into your diet as often as possible.
1. Start the day with a smoothie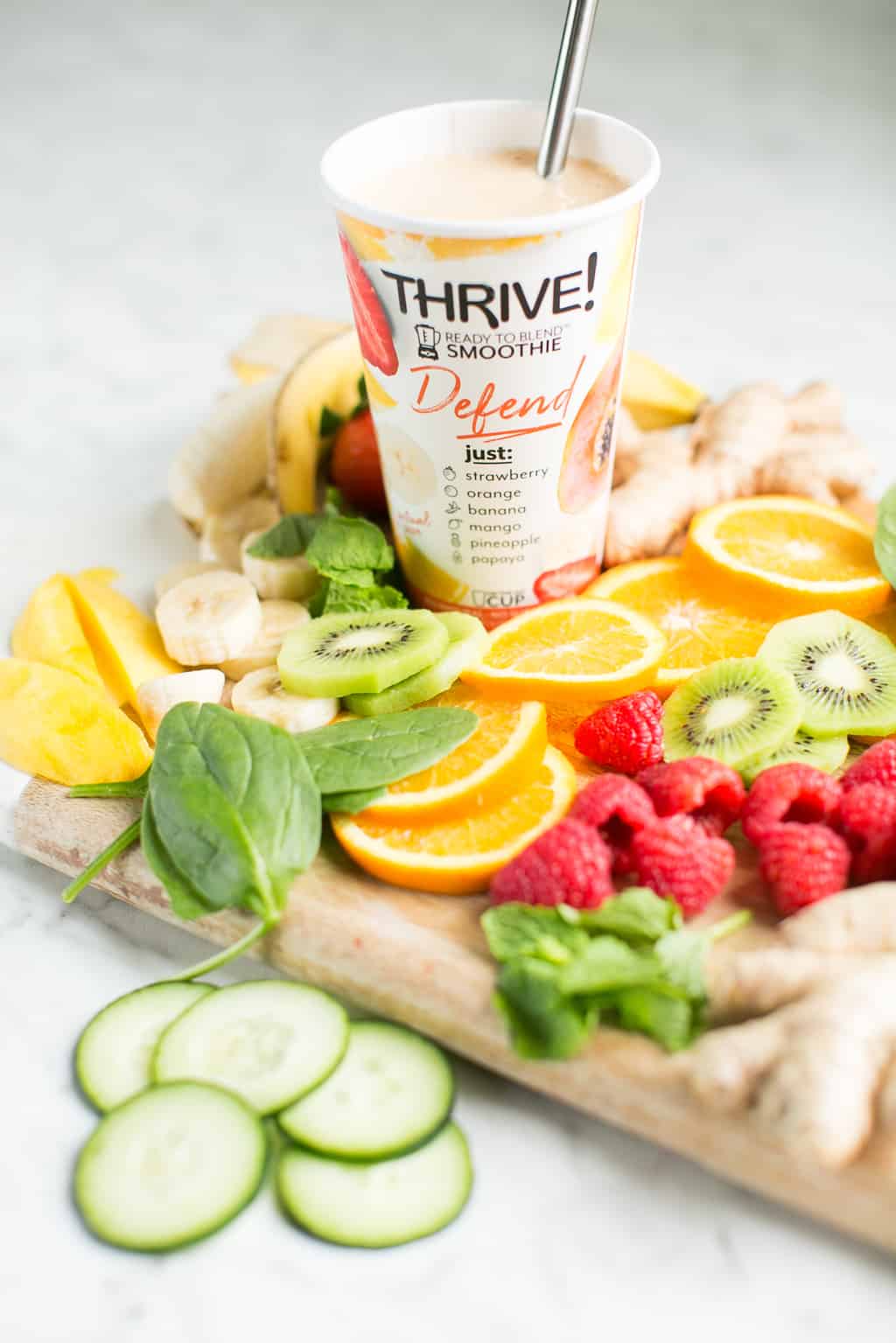 At the end of the day when I'm tired, cranky and making poor food choices, it's often because I started the day with an empty breakfast or skipped it altogether. That changed when I became a smoothie addict; packing all those nutrients into an easy-to-carry-around beverage fills me up and gives me energy.
When I'm rushed for time, I have a few smoothie hacks to avoid making poor food choices that leave me running on fumes.Thrive! Ready To Blend Smoothies are little lifesavers in a cup and make healthy eating simple and delicious. Frozen fruit and vegetables make an immune-boosting, cold-fighting smoothie  that is not only super tasty but convenient for those with an on-the-go lifestyle. With no prepping, cutting, or measuring of any ingredients, Thrive! Ready to Blend Smoothies take the hassle out of making great-tasting smoothies at home, just add your favorite liquid, blend and pour the smoothie back into the cup and take it with you! You can find them at your local Target.
2. Load up on citrus
Fresh, sweet kiwifruits, mandarins and oranges are heavenly in the winter. And they're loaded with vitamin C, which helps boost your immune system. Skip the juice and eat the whole fruit or blend up a Thrive! Defend Smoothie, which has 100% daily amount of vitamin C thanks to oranges and strawberries.
3. Eat immune-boosting foods
Winter is the perfect time to add immune-boosting foods like mushrooms, garlic and kale to soups and stews. Ginger is another winter wellness winner. The spicy herb is known for calming upset stomachs, but its warming action also helps the body fight infection and clear out the the lungs and sinuses. Get a dose of ginger with the Thrive! Glow Smoothie, which also has tummy soothing mint and anti-inflammatory cucumber.
4. Avoid dehydration
If you're tired and feeling sluggish, ask yourself if you're dehydrated. Drinking more water goes without saying, but for a tastier alternative, try coconut water, which can help restore electrolytes and minerals (a bonus if you're regretting that second glass of wine).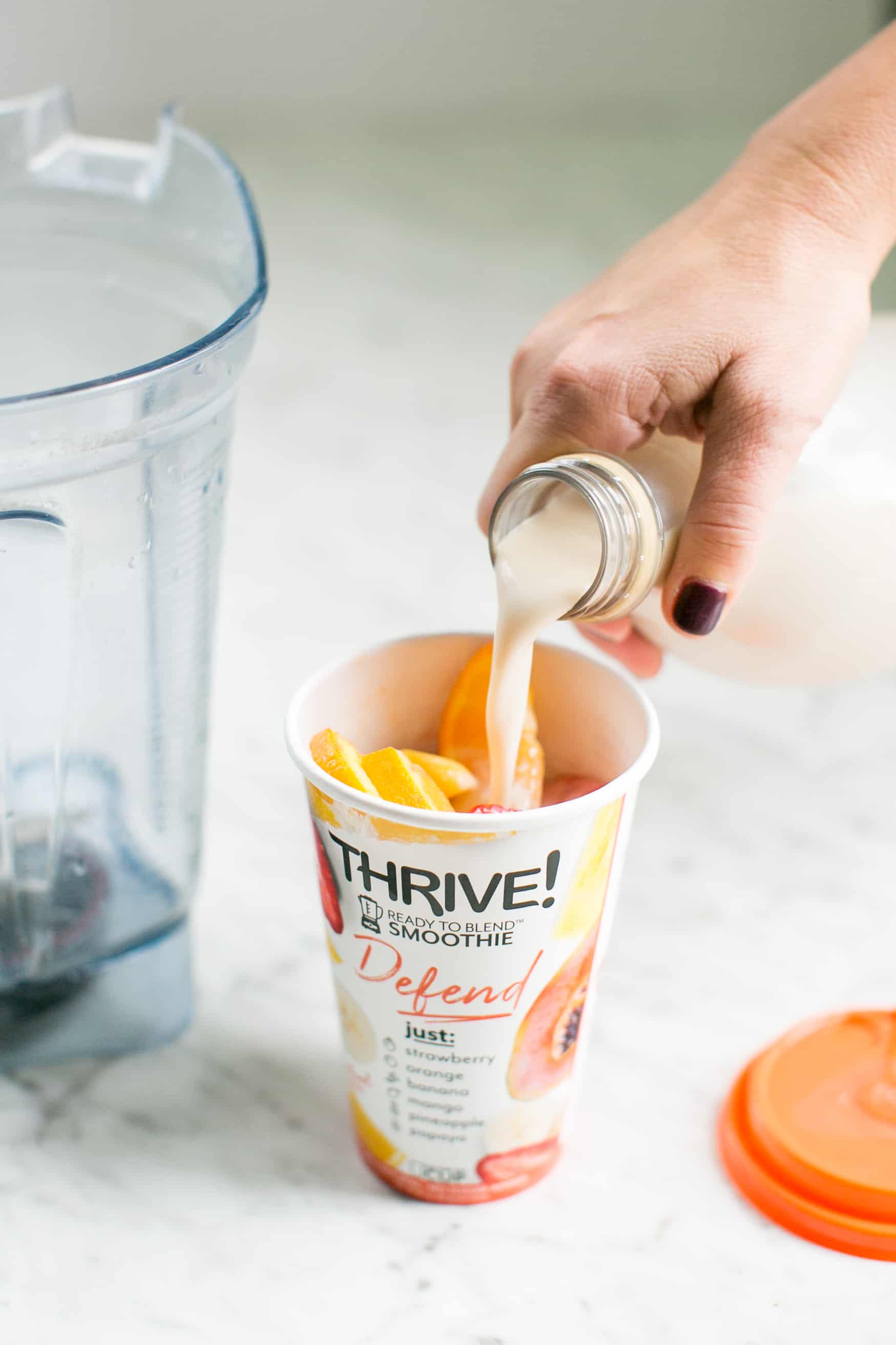 For smoothies, trade in cow's milk for almond milk, which is rich in added B vitamins and iron. For Thrive! smoothies, you don't even have to measure.
Supplements I'm taking

Prevention is everything when you're trying to stay well.
5. A multivitamin

Even when you try to eat well, a multivitamin can make sure you're getting recommended levels of vitamins and minerals. Look for one with 100% of the recommended daily values of vitamins A, B6, B12, C, and D and the minerals chromium, copper, folic acid, selenium, calcium, and zinc.
6. Elderberry syrup
Elderberry syrup is a great thing to keep in your fridge during cold and flu season. If taken as soon as flu symptoms appear, it can shorten the duration of the flu by 3-4 days. We like this syrup made with raw honey and propolis. Just make sure you're getting elderberry extract – jams, jellies and juices won't have the same effect.
7. Melatonin
Lack of sleep wreaks havoc on the immune system. If you're jet-lagged or too stressed to sleep, try melatonin, which can help regulate sleep cycles.
8. Tea
I love a warm cup of tea during cold season. Green tea is full of antioxidants that help keep your immune system strong, and herbal teas like lemon balm, rooibos, mint can soothe a sore throat, tame an annoying cough, and help you sleep.
How I keep stress in check

Stress is exhausting – for the body and mind. And the holidays certainly come with a big dose of stress and anxiety. Instead of beating yourself up for being stressed out, find ways to relax.
9. Find a distraction

Stress drains your immune system, making you more susceptible to winter's most common illnesses. I love to escape the kids (a common source of stress, let's be honest) with a long soak in the tub where I read or just zone out. That distraction is important. Whether you bathe, meditate, or do yoga, the key is relaxing enough to lower your heart and breathing rates.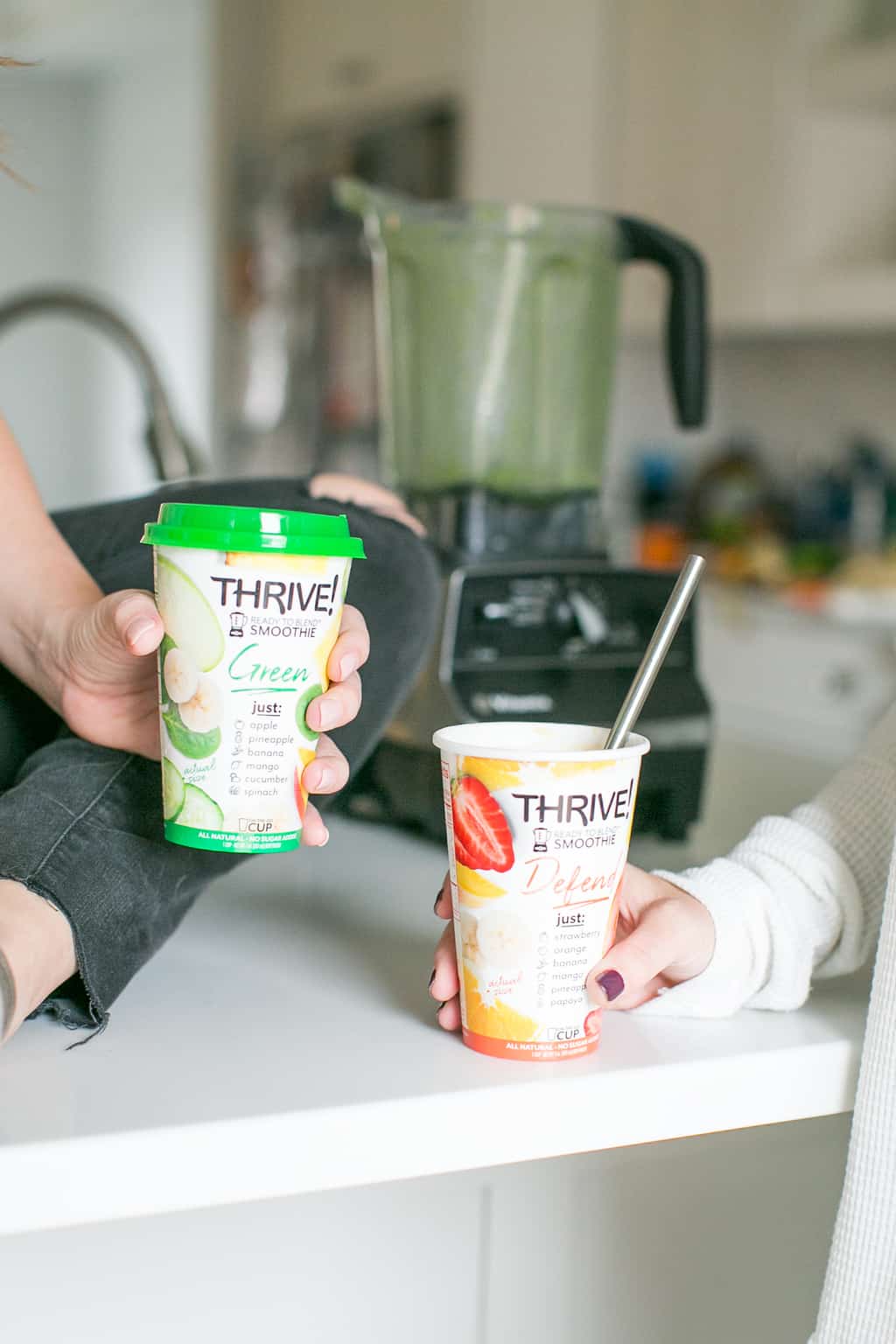 Spending time with friends can be a stress-reliever. Skip meeting for cocktails or coffee and have smoothie breakfast dates instead.
10. Go to sleep early

It's tempting to binge watch that awesome new show, but not getting enough sleep can lead to higher levels of stress and inflammation. To stay regular on sleep, keep a consistent bedtime and turn off all electronics at least an hour before bed. If insomnia has you staring at the ceiling, try one of these natural sleep remedies.
11. Diffuse essential oils
My essential oil diffuser has been in regular use since cough and cold season, taking full advantage of oils' immune-boosting and stress-relieving effects. Breathe in these oils if you need emotional stability, calmness, or relaxation, or try these immune-support aromatherapy blends to purify the air or help relieve congestion.
9