When the kids have been talking about this or that toy for the past 3 months, and you know your mom could really use a slow cooker, you might think that the hardest part of Christmas shopping is over. Wrong! Tackling the big gifts is not the hardest part. Gifts for colleagues, hosts, that distant cousin or last minute guest can be pretty tough, too! Better be prepared, with these small gifts and stocking stuffers that work for pretty much anyone: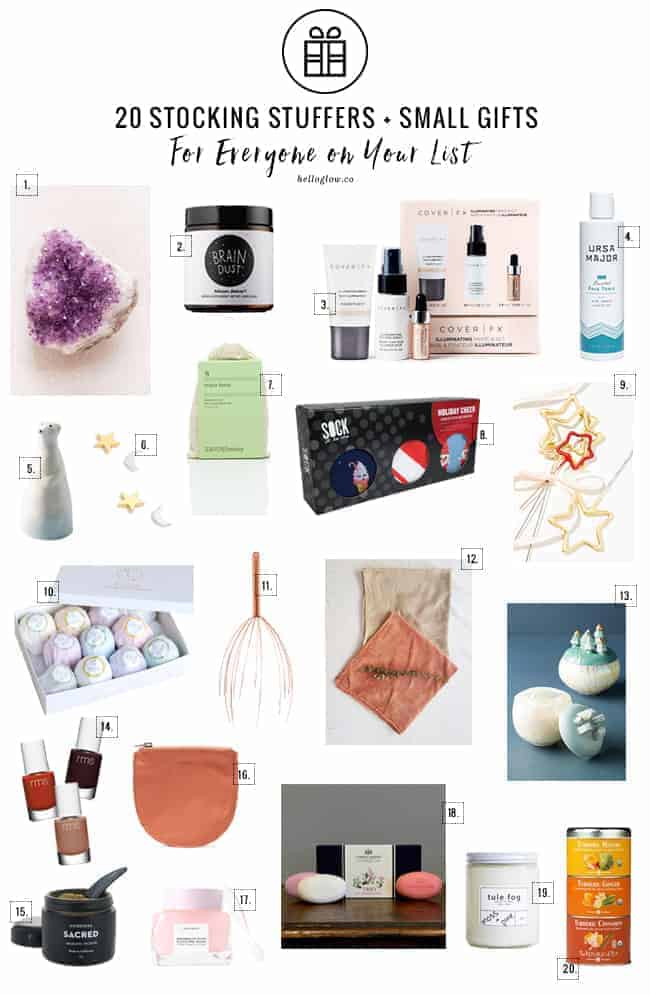 1. Amethyst Crystal Cluster // A stunning natural decor piece which is also used in meditation to promote calmness and balance.
2. Moon Juice Brain Dust // Combat the effect of stress and sharpen concentration with this blend of super herbs and mushrooms. Midterms, anyone?
3. Cover FX Illuminating Prime & Set Kit // This convenient mini kit is perfect for traveling and your beauty-obsessed pal will be smitten!
4. Ursa Major 4-in-1 Face Tonic for Him // Naturally, the guys in your life deserve some pampering over the holidays! And this 4-in-1 tonic is just that.
5. Arctic Ring Holder // Polar bear or penguin? Whichever one you choose will make the receiver smile over and over.
6. Galaxy Stud Earrings Set // Women of any age will enjoy this subtle earring set, which they can mix and match.
7. SAVOR Beauty Bamboo Rice Face Cake Mask // DIY beauty lovers will enjoy making their own "cake" mask that rejuvenates and exfoliates—what everyone needs after the holidays!
8. Sock It to Me Holiday Cheer Box // Festive socks are fun for everyone! This set of assorted knee highs will get lots of wear over the holidays. We're giving away a $120 gift card to Sock It to Me right now—enter to win!
9. Celebration Sparklers // Star-shaped sparklers for old school celebration!
10. Lizush Natural Herbal Bath Bomb Set // Who doesn't love bath bombs? Especially when they're natural, handmade and beautifully scented!
11. Copper Head Massager // Totally relaxing massage has never been this affordable! The simple copper tool reduces tension by stimulating the nerves of the scalp.
12. Botanically Dyed Floursack Tea Towel Set // One can never have too many tea towels, so they make a great hostess gift! This set is 100% cotton and dyed with plants.
13. Reversed Snowglobe Candle // A grown-up snowglobe, which is not just pretty to display, but also works as a cozy candle. Plus it's made by artisans in Mississippi!
14. RMS Beauty Nail Polish // Killer Red is stunning for the holidays and Honest is perfect for everyday. But then again, Diabolique looks so chic! Which one to choose?
15. Sandoval Sacred Incense // This natural incense is made with sandalwood, rosewood and palo santo, to purify the space, calm and captivate. No funky perfume-y smells here!
16. Baggu Small Pouch // A stylish unisex pouch made of natural leather, which zips up and comes along wherever you need it to.
17. Watermelon Glow Sleeping Mask // Baby soft, bright skin in the morning, with an overnight Korean beauty mask that smells absolutely divine.
18. New York Botanical Garden Trio of Florals 3 Bar Soap Set // Lilac, gardenia and honeysuckle aren't only for summer. This Caswell-Massey soap set in delicate floral fragrances is the perfect hostess gift.
19. Tule Fog Moss + Pine Soy Candle // It's like a cabin in the woods, in candle form! Warm spices, pine, and musk notes blend perfectly in this hand-poured soy wax candle.
20. The Republic of Tea Organic Turmeric Stackable Tea Tin // The benefits of turmeric and the flavor of cinnamon, matcha or ginger can't fail with the wellness lover in your life.
1