So many of us spend our days hunched over a desk, head reaching towards a screen, or tense behind a wheel; we carry our children, heavy bags or backpacks over our shoulders, or slump into chairs in front of the TV in addition to so many other habits that wear away at our postural health. Incorporating some basic movements and stretches into your daily routine can help reduce the body's accumulated responses to these repetitive patterns, which is an essential part of any aging-well agenda!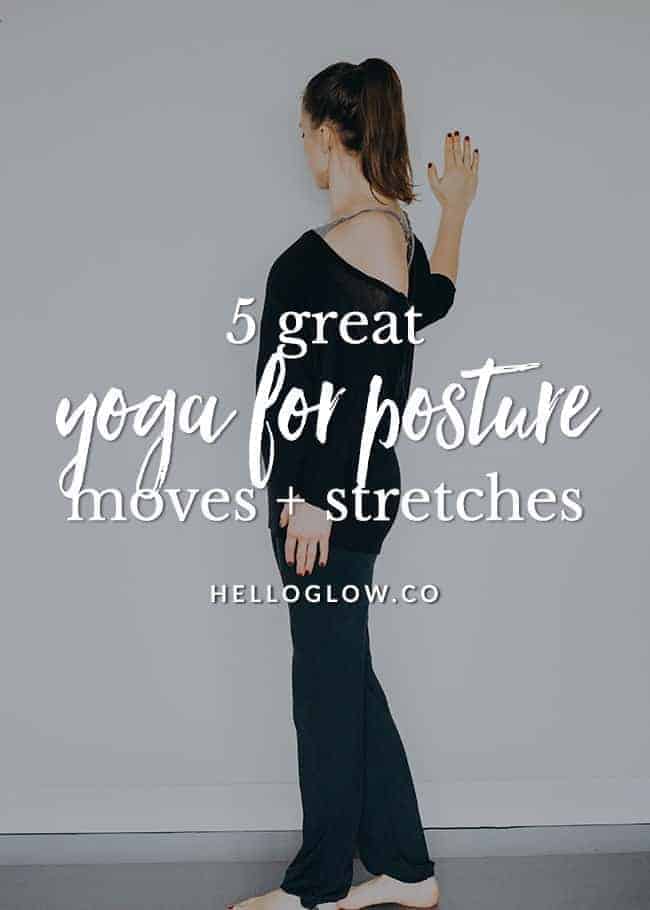 1. Shoulder stretch/chest stretch at the wall
This move is a great way to counteract the tightening and shortening that can happen to the muscles in the front of the shoulder and the chest, which leads to the upper body to rounding inwards over time.
Stand facing the wall and place your right arm straight out from the shoulder, palm to the wall. Begin to turn your torso and hips to the left just until you feel a stretch. Hold for 5-10 deep breaths, and switch sides. Next, return to your first side. Bend your elbow so the arm forms a 90 degree angle. See how your elbow is pointing to three o'clock? Turn it upward slightly to two o'clock, but keep the 90 degree angle of the arm. Step your body gently towards the left and hold, again, for five to ten deep breaths.
2. Cobra Float
In addition to stretching the chest, we also need to work more on stabilizing the core body which includes much more than the abdominals. Having a strong back body will help you to sit and stand in a more upright and balanced, neutral position. This is extra important if you tend to work abdominal strengthening postures and tend to neglect the muscles along the spine.
Lay on your belly, and draw your legs together, hands resting lightly beneath your shoulders. Firm up the muscles of the legs and begin to lift your breast bone off of the floor. See if you can float your hands beneath your shoulders. Keep the back of the neck long so as not to create additional tension and hold for 30 seconds, breathing steadily. Be sure to keep the legs active and see if you can root your pelvis down strongly, as if you're lengthening your tail bone. If you feel any aching in your low back, try not to lift so high. Press your hips back over your heels into child's pose as a counterpose.
3. Plank
Plank is one of the best ways to develop strength for postural health. All at once, plank strengthens the chest, shoulders and arms, back body and abdominals, as well as the legs.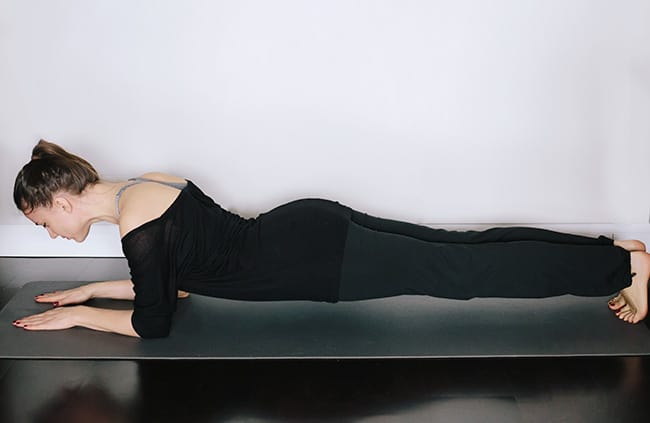 Begin on hands and knees. Place your wrists beneath your shoulders, and lift up into a plank shape, keeping your hips in line with the rest of the body. If you feel your weight pulling down into your low back, it is best to allow the knees to rest on the floor and continue your hold, isolating the core from here. Try to keep your upper back (the space between your shoulder blades) neutral rather than allowing your shoulder blades to collapse in towards one another. Feel the tail bone lengthening, and hold for as long as you can without losing shoulder stability and core integrity. If you time yourself, you'll notice your ability to hold this pose in strength will grow by the week, which can be a great motivator to keep with it!
4. Staff pose
Staff pose (dandasana, for yogis!), looks easy and effortless, but when you get into the work of the shape you'll understand why it can feel like one of the most challenging poses in yoga. It calls upon many different posture-stabilizing muscles and is also an opportunity to work a core-awakening breath.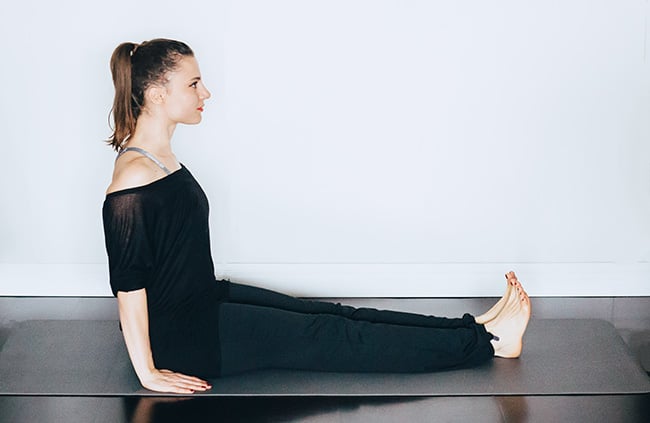 Begin by sitting on your mat as tall as you can with your legs extended outward. If you feel like your low back is rounding or your weight is resting back towards the tail bone, prop yourself up on a folded blanket. Flex your feet, keeping knees slightly bent if you feel tightness in your hamstrings. Place your palms to the floor at your sides (or on your support if you're propped) and begin to press down through the hands. Reach your spine as tall as you can, imagining your crown lifting upward, and press forward through your heels. On your inhale, let your belly be soft, and on your exhale, release the air slowly through pursed lips until you've squeezed out every last drop of air. This is a great way to engage your transverse abdominals, a deep core supporting set of muscles. Depending on how challenging this feels for you, you might begin with five to ten breath cycles and increase from there, keeping your body fully engaged and upright.
5. Shoulder blade slides
One muscle group that is often weak and neglected and can result in poor posture is the serratus anterior, which moves from the ribs to the shoulder blades, across the side body. Working the actions of the shoulder blades is a great way to wake up and tone these muscles, bringing more balance between the front body/back body relationship.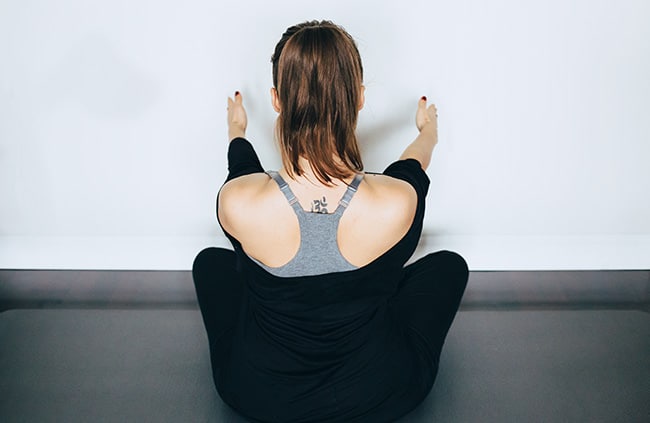 Begin seated in a chair with your arms out in front of you at shoulder height. Keeping your arms straight, press your palms forward, drawing your shoulder blades apart. Then imagine you want to squeeze a pencil between your shoulder blades, and draw them together as much as you can, without bending your arms. Try for 10 reps here, developing your ability to find retraction (drawing together) and protraction (moving apart) of your shoulder blades.
When you've really got the hang of this, try adding some body weight by moving onto your hands and knees. Press down through your hands, spreading out your upper back, and then keeping the arms straight (this is key!), draw your shoulder blades together, again thinking about squeezing that imaginary pencil. Either variation will help you to isolate the right muscles and will lead to increased strength over time.
Collectively, we have developed a similar range of dysfunctions in our bodies due to similar habits and so we can begin our journey towards balanced postural health in the same direction. But this is only a start! Be curious about the places you may need extra attention—stretch where you are caving in or tight, and strengthen what is rounding or stretched out. One of the best things you can do for your alignment is to notice where your daily habits are creating imbalances, and to choose poses and movements that help to bring your body back into a place of muscular harmony.
Photos by Ana Stanciu
Save
0