If you read our guide to seeds, you know I love chia seeds and put them in almost everything. But my love for seeds doesn't stop there. In fact, this strawberry smoothie bowl recipe also includes both hemp and flaxseeds, my other favorite seeds. They make this smoothie extra creamy and delicious, plus it's packed full of healthy proteins and fats to give you energy and help you stay full longer. I always sprinkle extra on top for a little crunch. The chia does thicken up to more of a pudding consistency if it sits for too long, so it should be eaten right away. Use frozen strawberries to make it nice and cold.
Strawberry Smoothie Bowl Recipe
As a self-proclaimed seed snob, I usually choose my seeds based on their superfood status (just kidding, kind of…).
Chia Seeds
Chia seeds are an amazing superfood loaded with omega-3 fatty acids as well as fiber, antioxidants and iron. They're said to help raise HDL cholesterol, aka. the "good" cholesterol that protects against heart attack and stroke, and improve energy levels in the body. Athletes often eat chia seeds to boost the nutritional content of foods and improve performance, although this hasn't been scientifically proven.
Hemp Seeds
Hemp seeds are exceptionally nutritious and rich in healthy fats, protein and various minerals. They contain over 20 amino acids, are easy to digest and, thanks to their high fat content, add creaminess to smoothies. The high amounts of gamma-linolenic acid found in hemp seeds has also been shown to reduce inflammation, which may decrease your risk of inflammatory diseases like heart disease, autoimmunity and arthritis.
Flaxseeds
I've also included flaxseeds, one of the best sources of omega-3 fatty acids, in this smoothie. Flaxseeds recently came to my attention because they're often used in Seed Cycling, a natural method of balancing hormones, boosting fertility, and easing PMS and menopause symptoms using phytonutrients in seeds.
By coordinating seed intake with your cycle, it's said that you can help improve hormone balance naturally over time. I haven't noticed much difference yet, but either way, you can't go wrong with adding flaxseeds to your smoothies!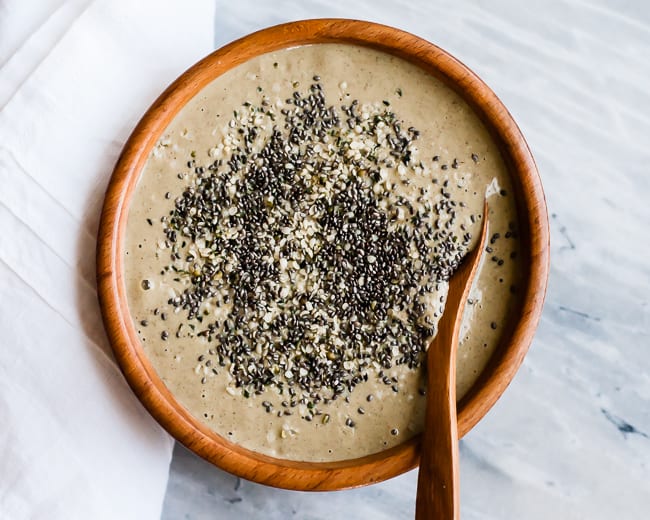 As far as fruits and veggies are concerned, I like to add things like bananas and strawberries to keep sugar low. Spinach adds a boost of green phytonutrients and helps boost veggie intake for the day. And unsweetened almond milk adds creaminess without adding extra sugars or potential allergens such as cow's milk. Vanilla extract, while optional, complements the heartiness of this smooth and gives it a ton of extra flavor.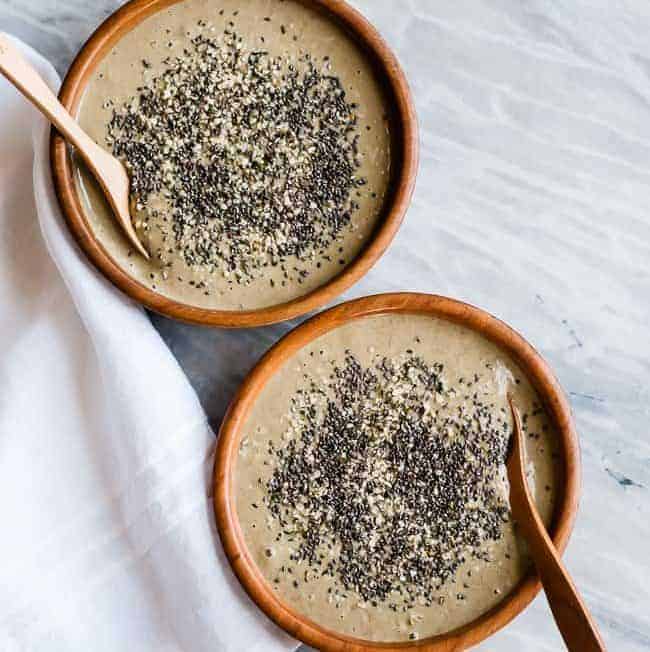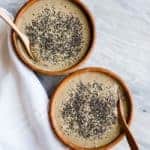 Print Recipe
Strawberries n' Cream Smoothie Bowl
A delicious smoothie bowl made with strawberries, almond milk, seeds and baby spinach.
Ingredients
1

cup

unsweetened almond milk

1

large ripe banana

2

heaping cups frozen strawberries

2

cups

baby spinach

1

teaspoon

pure vanilla extract

1

tablespoon

chia seeds

plus extra for sprinkling

1

tablespoon

flax seeds

plus extra for sprinkling

1

tablespoon

hemp seeds

plus extra for sprinkling
Instructions
Put all ingredients in the blender and blend until smooth.
26