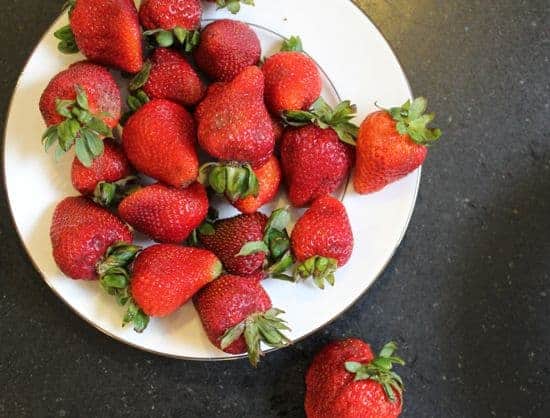 I love cooking on the weekends. It's my only time to experiment with kitchen concoctions slightly more exotic than mac & cheese. Since my strawberry obsession drove me to buy 10 pounds of strawberries we've been eating them at every meal. But this weekend it was time to freeze or get creative.
After an amazing watermelon soup on Saturday, Mark suggested strawberry gazpacho. Sounds yummy. Caroline loves her nightly after-dinner treat and asked for a popsicle. Done!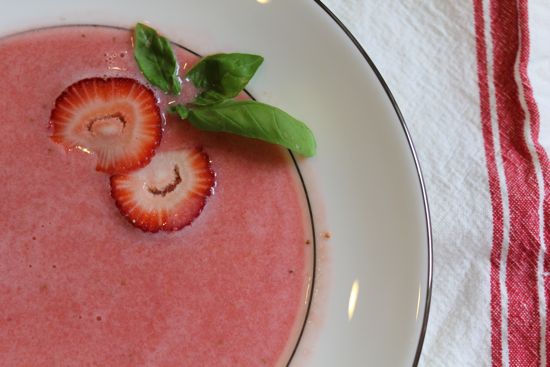 Can I just say how much taking food pictures cracks me up? Everyone makes their food look so yummy, and I'm lucky to find a clean kitchen towel. I have about 30 seconds to get something on a plate and a picture snapped before someone sticks their finger in my bowl. How do people do it?
The soup, however, was creamy and delicious. I expected it to taste like a smoothie in a bowl, but the texture was different – not thick and meal-replacement like. But smooth and lovely and perfect for an appetizer. And how perfect is that pink?
Strawberry Soup
Adapted from Food Network
3 cups hulled and sliced fresh or (thawed) frozen strawberries
1 small orange, peeled
1/2 cup plain yogurt
1/4 cup sugar
1 1/2 cups water
1/2 Rose wine
Fresh basil sprigs, optional
Put everything in a blender and puree thoroughly. Chill in the refrigerator for at least an hour. Pour through a fine mesh strainer and garnish with sliced strawberries and basil.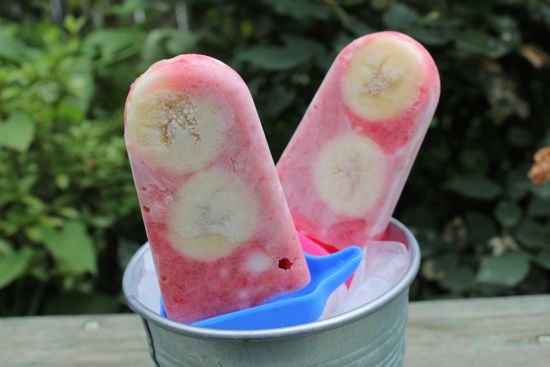 Popsicles have been pretty popular in our house this summer. I've been trying to find a good one that's made with actual fruit and not too sweet. As usual, nothing has compared to this homemade version.
Strawberry Banana Popsicles
Recipe adapted from Williams Sonoma
1 cup pureed strawberries
4 oz. plain yogurt
1 1/2 TB honey
1 large banana, sliced
Puree strawberries and pour into small bowl. Stir in yogurt and honey until dissolved. Place banana slices in popsicle mold – I had a plastic popsicle mold from Target and the bananas stuck to the sides pretty easily. I could fit two slices on each side. Then spoon in strawberry mixture and insert popsicle stick. Freeze for at least an hour.
0