Fermented drinks are my jam. Kombucha? You betcha! Tepache? Why not, eh? Kvass? Okay, maybe not kvass. I mean: beets.
My tinfoil hat theory is that after having many, many antibiotic prescriptions as a child, my body just craves that healthy bacteria to boost my biome.
Only problem? Fermented drinks are expensive, y'all. I don't know how many times I've wondered why I spent so much on groceries that week and then I realize that buying 10 bottles of kombucha added like $30 to my budget. Oops! It's definitely time to roll up my sleeves and try making this stuff myself.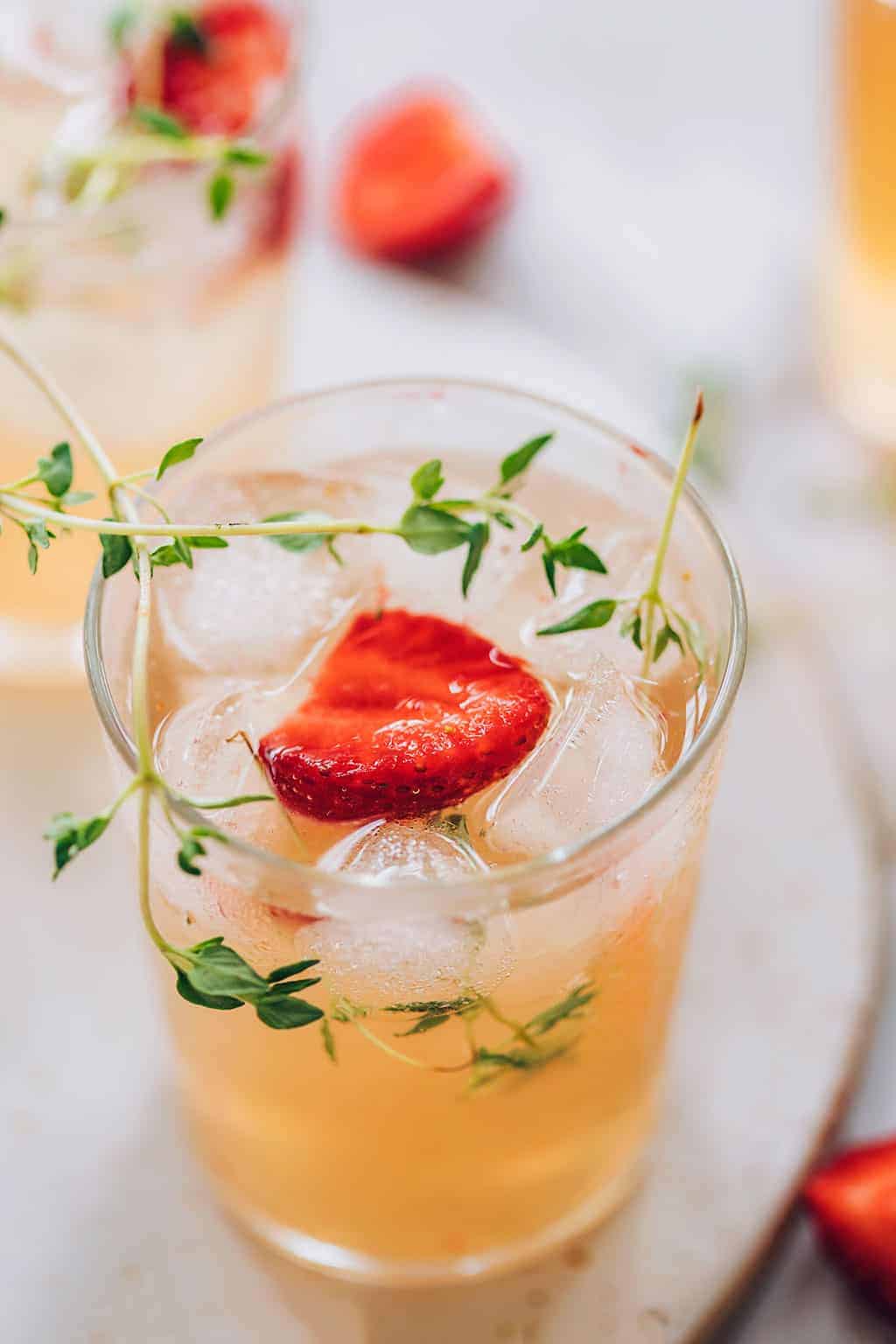 So! Naturally, I was pretty psyched to get Felicity Evans' Fermented Probiotic Drinks at Home. Yes! This is what I need!
The book isn't just an encyclopedic resource on how to brew your own fizzy probiotic drinks, it's also beautifully photographed and full of flavor combinations that are sure to inspire.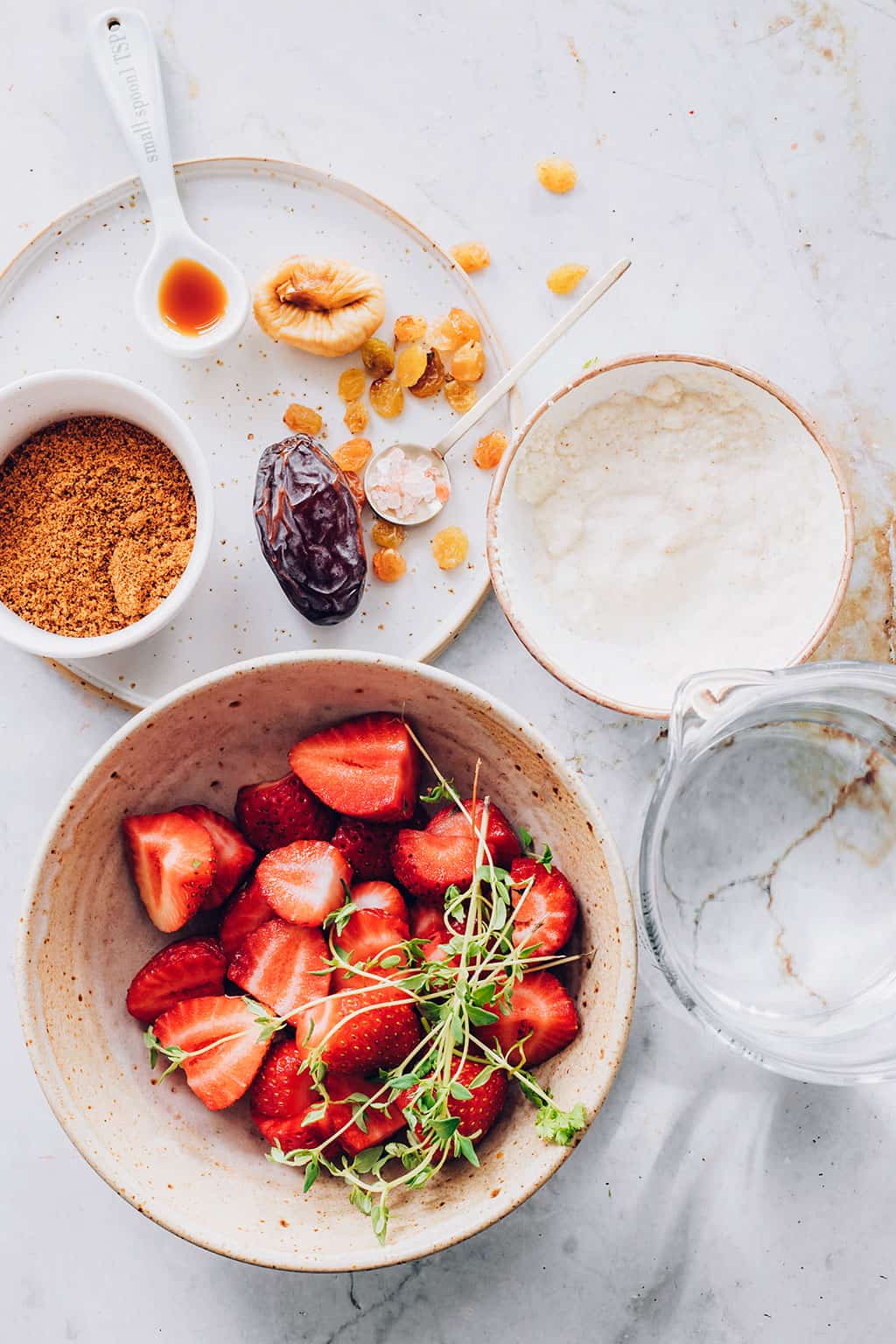 How to make water kefir
While the book covers just about any fermented drink you can imagine (or brew up!), including mead, jun, kvass and more, it starts with water kefir, which seems perfect: it isn't too intimidating and other than the water kefir grains, you can buy everything you need to make it at your local grocery store.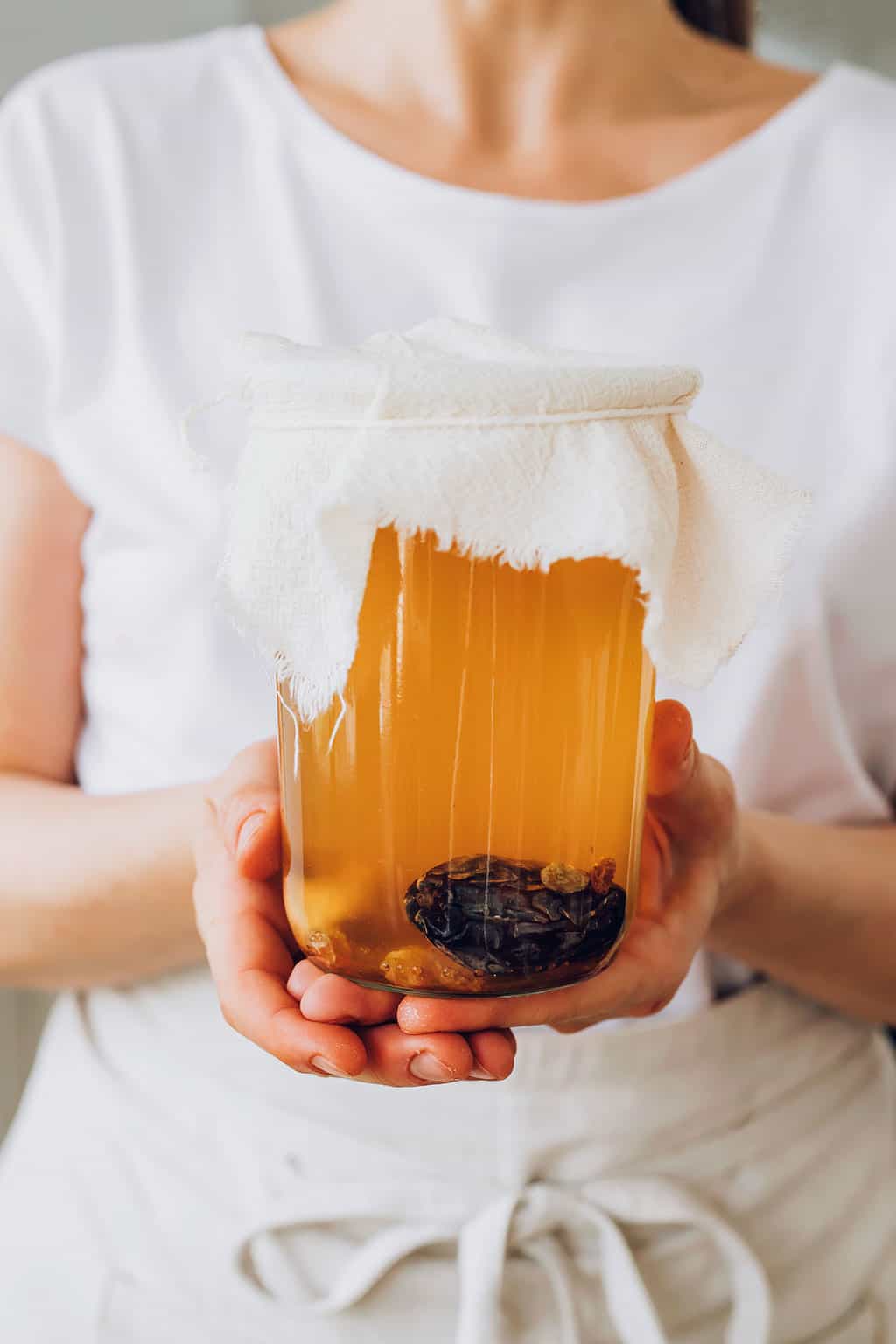 Once you've brewed your water kefir base, you'll add additional ingredients for flavor and let the mixture undergo a secondary fermentation. For this recipe, it's strawberries and fresh thyme, which is pretty much the perfect summer elixir if you ask me.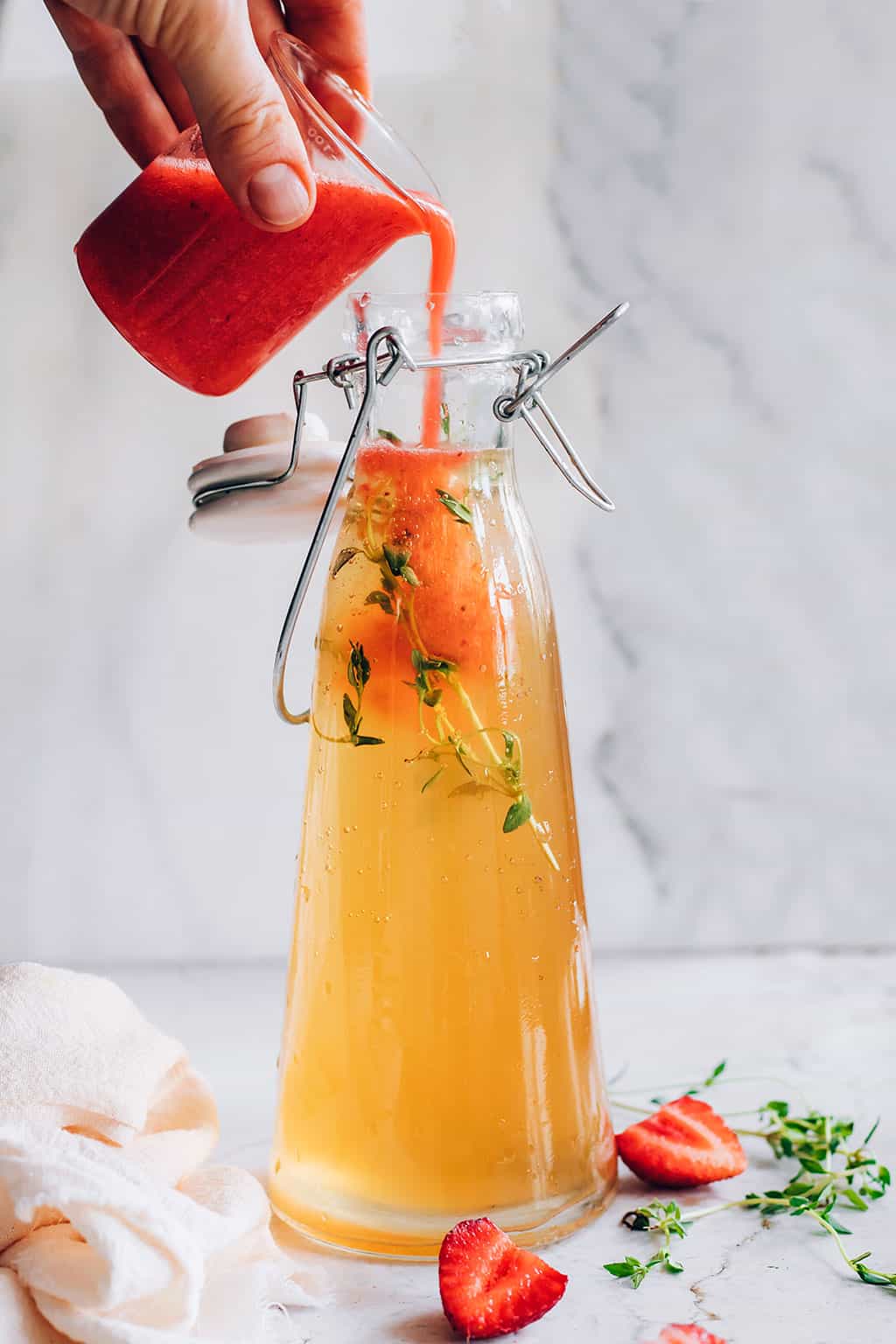 Purchase Fermented Probiotic Drinks at Home: Make Your Own Kombucha, Kefir, Ginger Bug, Jun, Pineapple Tepache, Honey Mead, Beet Kvass, and More on Amazon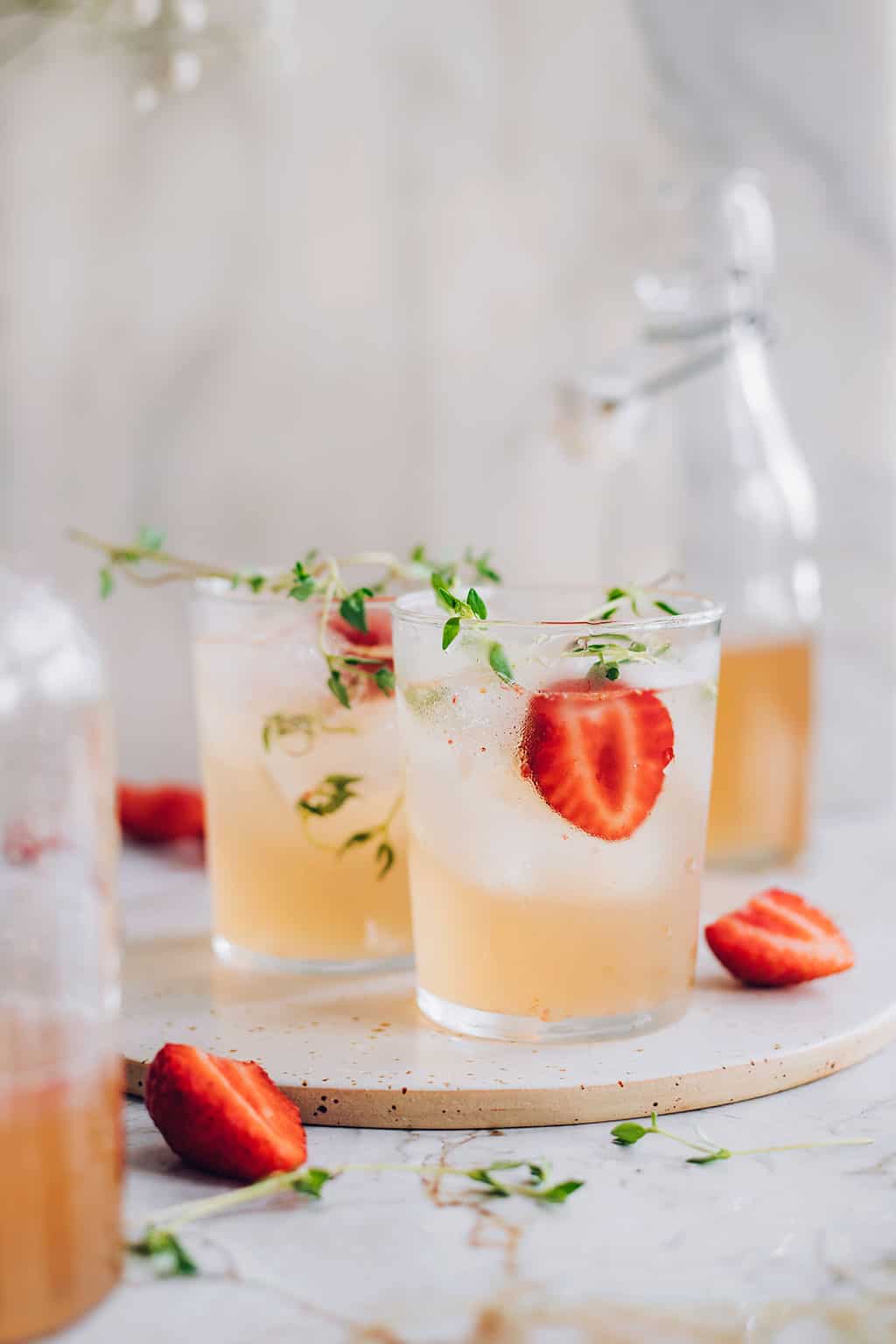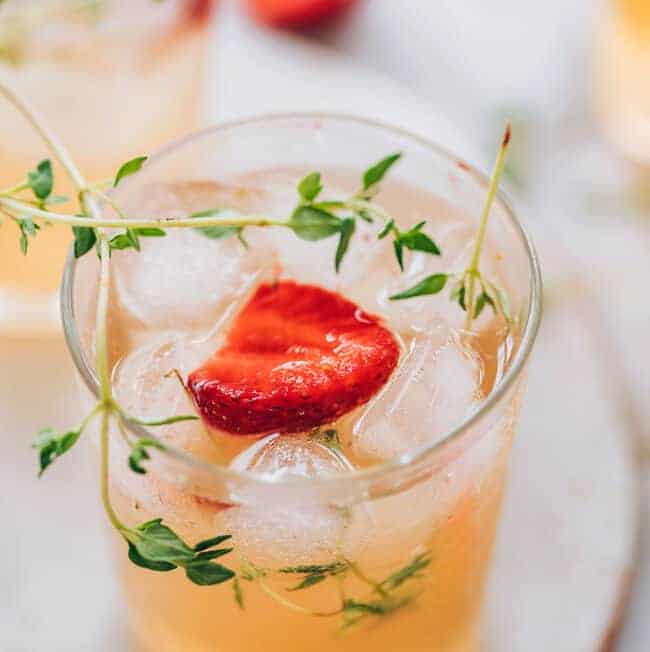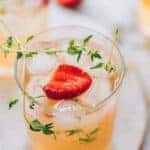 Print Recipe
Strawberry and Thyme Water Kefir
Recipe from Fermented Probiotic Drinks at Home: Make Your Own Kombucha, Kefir, Ginger Bug, Jun, Pineapple Tepache, Honey Mead, Beet Kvass, and More © Felicity Evans, 2017. Photography © Rob Palmer, 2017. Reprinted by permission of the publisher, The Experiment.
Equipment
1.5 liter wide-mouth glass jar

Cheesecloth

Rubber band

Funnel

1 liter glass battle (for secondary ferment)
Ingredients
1

recipe basic water kefir

see below

1

handful fresh strawberries

3

thyme sprigs
Basic Water Kefir
1/4

cup

raw sugar

1/4

cup

hot water

1

quart

filtered water or spring water

pinch

sea salt

1

dried fig

1

dried date

10

golden raisins

¼

teaspoon

molasses

1/4

cup

water kefir grains
Instructions
PRIMARY FERMENTATION (BASIC WATER KEFIR)
Put the sugar in a 6-cup (1.5 liter) wide-mouth glass jar. Add the hot water and stir to dissolve the sugar. Add the filtered water, sea salt, dried fruit and molasses and stir well to combine.

Add the water kefir grains to the jar. Cover the jar with a piece of cheesecloth and secure with a rubber band.

Place the jar out of direct sunlight at room temperature and leave the liquid to ferment for 1 to 3 days, depending on the temperature.
BOTTLING
Scoop out and discard the dried fruit from the liquid.

Put a funnel in the opening of a 1-quart (1 liter) glass bottle with a tight-fitting lid and put a strainer on top of the funnel. Pour the water kefir liquid into the bottle through the strainer. Set aside the water kefir grains in the strainer to reuse or rest.

Purée or chop the strawberries and add them to the bottle with the thyme sprigs.
SECONDARY FERMENTATION
Tightly seal the bottle lid and leave the bottle in a warm place to build carbonation. This could take anywhere from 12 to 72 hours, depending on the temperature. "Burp" the water kefir daily to release some pressure by opening the lid slightly and then tightening it again.
DRINK UP
When the water kefir is as fizzy as you like (this could range from a small spritz to a ferocious fizz), store it in the fridge to slow the fermentation process, and enjoy cold.
Notes
Feel free to choose any other fruit and herbs to flavor your kefir during the secondary ferment.
Store leftover kefir in the refrigerator and drink within 2-3 weeks. 
Photos by Ana Stanciu
23