Sugar in your diet won't do you any favors, but sugar in your beauty products? Well, that's a totally different story. Sugar is a naturally gentle abrasive, so it's perfect for polishing sensitive areas like your face and lips. When your skin starts acting up, just whip up this simple sugar scrub for your face to buff away flakes, clear pores, and lock in moisture.
When it comes to our bodies, we're often told to avoid sugar or we run the risk of developing everything from insulin resistance to heart disease (eek). But incorporating it into your beauty routine can actually be good for you, and what better way to do that than with this sugar scrub for the face.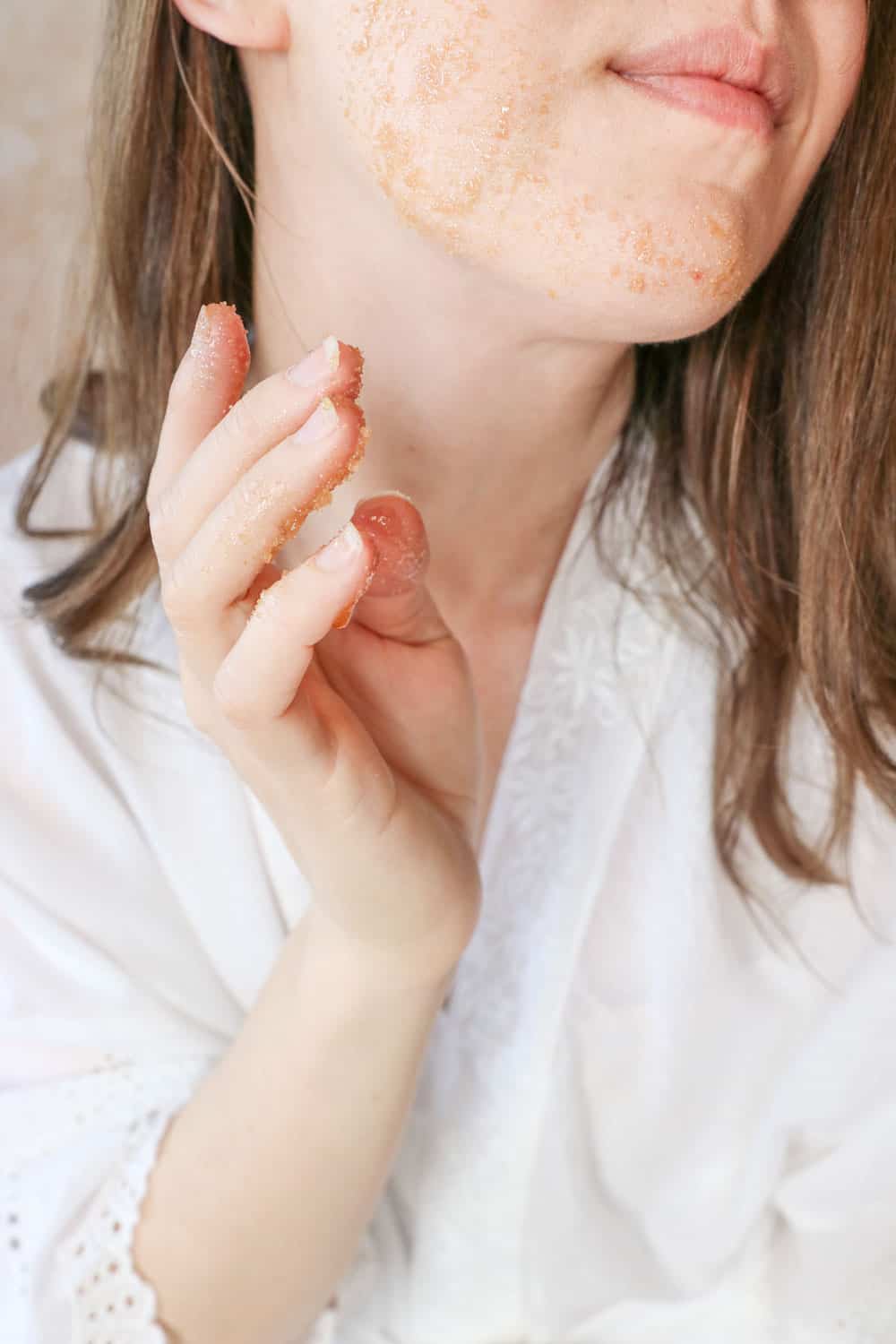 Sugar
+
Honey Exfoliator for Glowing Skin
Everything from hormones to diet can wreak havoc on your skin. And once skin issues crop up, they can be made worse by exposure to the environment of harsh elements.
Dry skin is more sensitive than hydrated skin, so until you slough away dead skin cells and replenish moisture, you may be plagued by pimples, redness, and rashes.
That's where this gentle sugar face scrub for the face comes in. Sugar gently removes dry skin cells and brightens dullness. And using it regularly can remove oily buildup, keep pores clean, and allow your skin to breathe.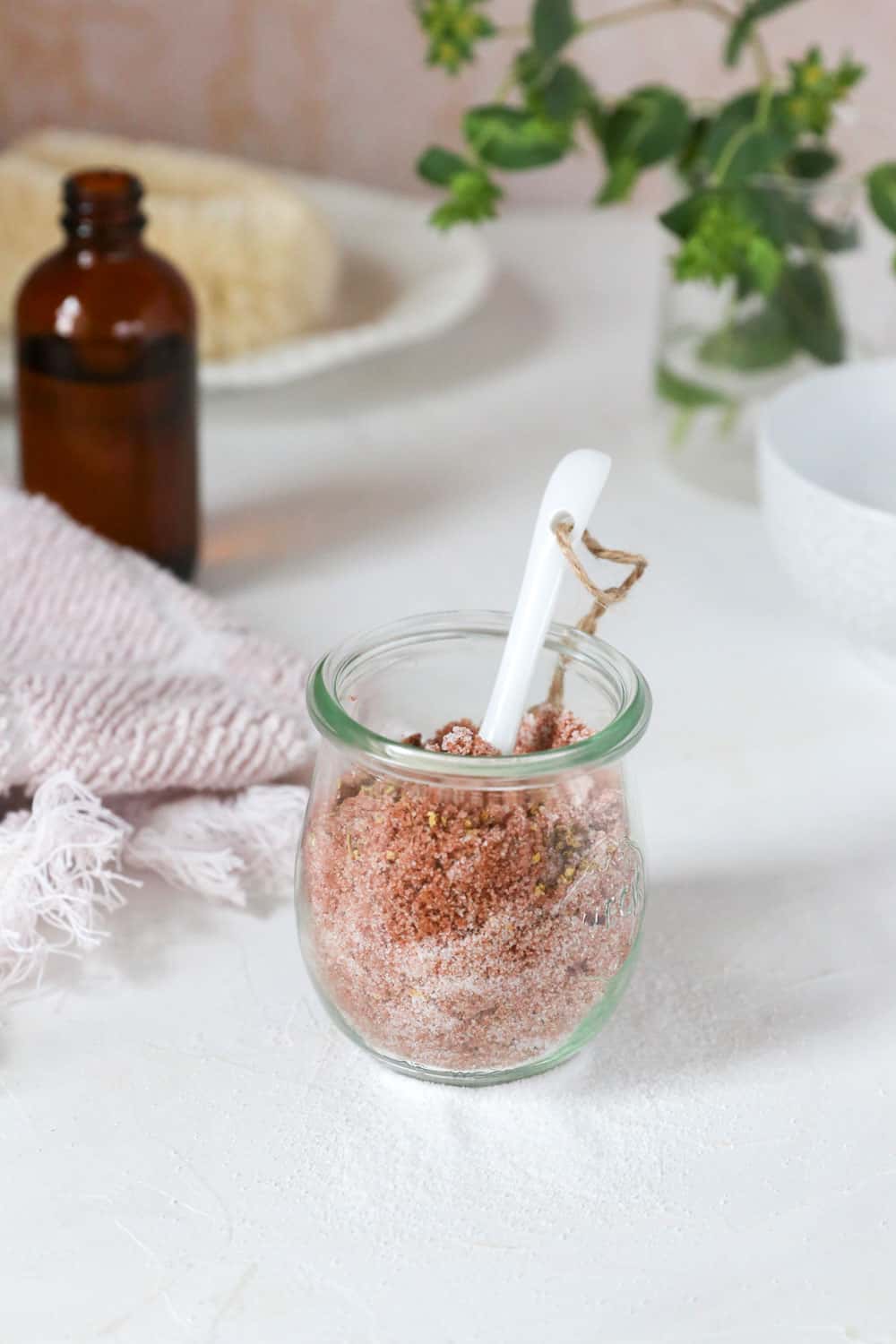 Benefits of Sugar for Skin
:
It draws in moisture
.
As a natural humectant, sugar draws moisture into the skin's layers so they stay supple and healthy.
It's gentle on sensitive skin
.
Not surprisingly, sugar dissolves slightly when mixed with oil, making it ideal for delicate skin. Just make sure to stick with fine-grain sugars, such as caster or brown sugar, which can gently buff away skin cells without exacerbating sensitivity.
It's a good source of glycolic acid
.
Sugar is a natural source of glycolic acid, which helps to break down dead skin cells and support cell turnover. In fact, it's one of the most effective rapid exfoliators available. Glycolic acid is often used to treat irritation, inflammation, and even skin discoloration [source].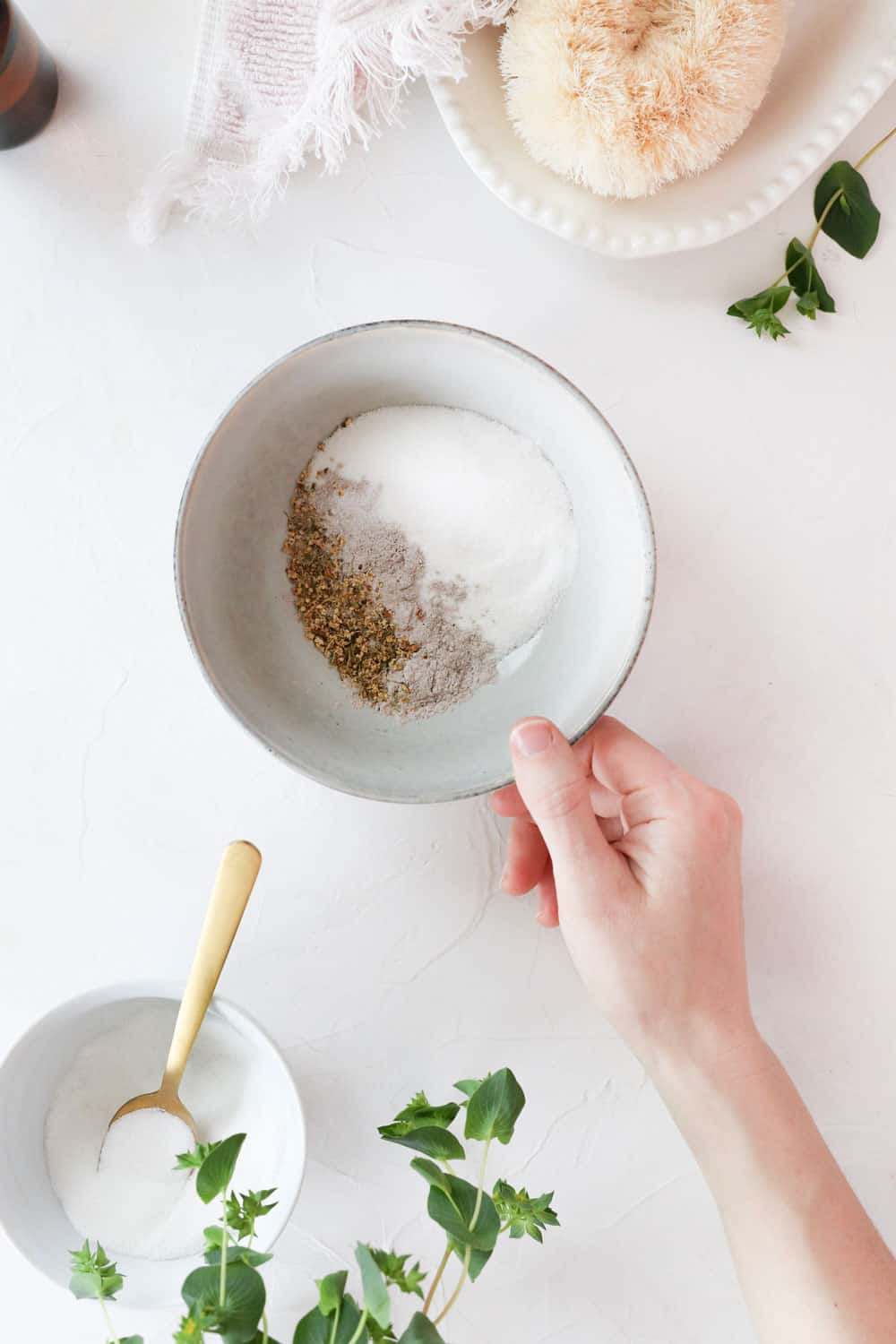 How to Make a Sugar Scrub for the Face
This homemade sugar scrub is formulated especially for sensitive skin, like that of the face, neck, and chest. In addition to caster sugar, it's loaded with raw honey to fight bacteria and super-fine bentonite clay to polish away dead skin cells. Vitamin E oil encourages healing and fights free radicals [source]. And chamomile essential oil is excellent for soothing inflammation [source] in the form of redness, hives, and eczema.
You only need to use this face scrub about twice a week or you run the risk of overdoing it. There's a fine line between not enough exfoliation and too much, so try to take it easy and listen to your skin.
In the winter, use it to remove adherent dead skin cells so moisturizers can penetrate more deeply and hydrate longer. And in summer, use it as a post-sun refresher and skin soother.
Materials
Instructions
Combine all ingredients in a small bowl and mix well. If you prefer a looser scrub, just add more oil.
To use, apply a quarter-sized amount of scrub to clean skin. Using gentle circular motions, massage into the skin for 60 seconds. Rinse with warm water and pat dry.

Super Simple Honey Face Scrub
Honey face scrubs are a great way to exfoliate and nourish your skin, and they're also easy to make at home with just a few simple ingredients. One popular type of honey face scrub is a honey sugar scrub, which combines the moisturizing benefits of honey with the gentle exfoliation of sugar.
To make your own honey sugar scrub, you'll need some raw honey, brown sugar, and a few drops of your favorite essential oil. Mix equal parts honey and brown sugar together in a small bowl, then add a few drops of essential oil to create a delicious scent. Lavender, peppermint, and eucalyptus are all great choices for essential oils.
Apply the honey sugar scrub to your face using gentle, circular motions, then rinse off with warm water. You'll be left with soft, smooth, glowing skin. And if you have any leftover scrub, it also works great as a body scrub!
Another option for a honey face scrub is to combine honey with other natural ingredients like oatmeal or coconut oil. You can experiment with different recipes to find the perfect combination for your skin type.
Honey face scrubs are a fantastic addition to any skincare routine. They're easy to make at home, they're gentle on your skin, and they provide amazing benefits for your complexion. Give them a try and see for yourself!
Sugar Face Scrub FAQs
Is there an alternative to bentonite clay I can use
?
Any cosmetic clay will work. Or you can leave it out entirely.
My sugar scrub came out dry and crumbly
.
What gives
?
Just add more oil to loosen things up. When you're ready to use your sugar scrub, place a small scoopful in the palm of your hand, and add a bit of water to create a more spreadable consistency. Just make sure not to get any water in the leftover scrub, or it will spoil within a matter of days.
Are DIY face scrubs safe?
Yes, definitely! Just make sure to stick with gentle exfoliants that are super-fine in texture, such as caster sugar and bentonite clay. And don't scrub too hard, or you might create micro-tears in the skin, which can make any inflamed areas worse.
I have pretty sensitive skin
;
what can I use in place of sugar
?
I recommend using colloidal oats in place of sugar. Not only will they actually soothe the skin, but colloidal oats don't have any sharp edges that might cause further irritation. You can make your own by placing ¼ cup of old-fashioned oats in a coffee grinder and grinding until you get a super-fine powder. Use your oatmeal scrub like you would a traditional sugar scrub.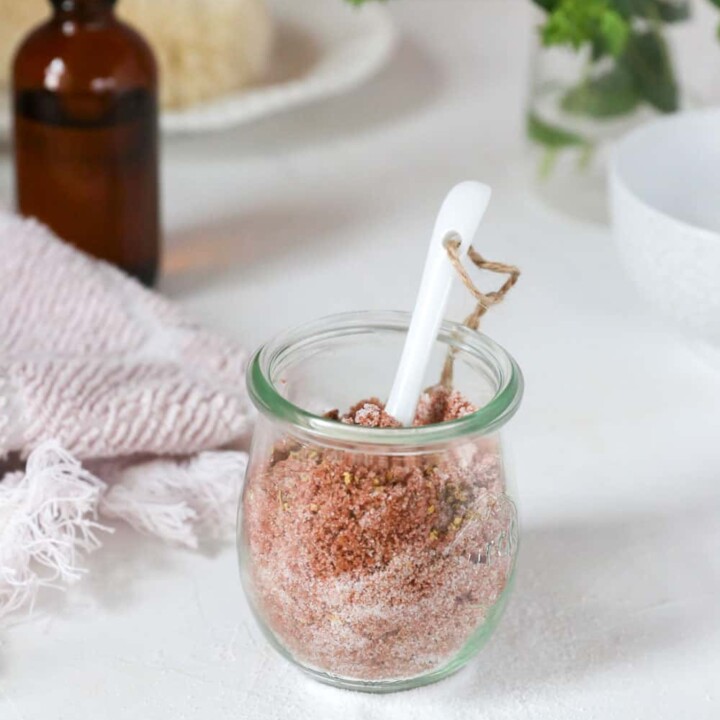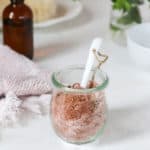 Print
Honey + Sugar Scrub for Glowing Skin
This easy DIY sugar scrub for the face gently removes dry skin cells, keeps pores clean, and brightens dullness to keep your skin glowing.
Equipment
An 8-ounce glass jar with lid
Instructions
Combine all ingredients in a small bowl and mix well.

To use, apply a quarter-sized amount of scrub to clean skin. Using gentle circular motions, massage into skin for 60 seconds. Rinse with warm water and pat dry.
Notes
This recipe makes a great basic sugar scrub for all skin types, but feel free to tweak the ingredients to include things you already have at home.
Store any remaining scrub in the refrigerator for up to 2 weeks.
This post was medically reviewed by Dr. Jennifer Haley, a board-certified dermatologist with extensive experience in medical, cosmetic, and surgical dermatology. Learn more about Hello Glow's medical reviewers here. As always, this is not personal medical advice, and we recommend that you talk with your doctor.
345