We tend to think more about lip care in winter when we're applying lip balm 20 times a day for dry, chapped lips. But after a day at the beach last year I came home with a nasty sunburn – on my lips. Having bright red, painful lips for a couple of days was a good reminder to pay more attention to that often neglected part of my skincare routine.
Aside from not using sunscreen, the biggest mistake we make with our lips is forgetting to exfoliate. Getting rid of dead skin makes moisturizing balms and lip masks more effective because the ingredients can penetrate into the skin. And if you haven't noticed, lip masks that soften, repair and plump your lips are super trendy!
Two DIY Lip Masks For Summer
Here are two easy ways to make your own lip mask at home. Mix up one to soften and exfoliate your lips and another to moisturize and plump your lips.
Exfoliating Kiwi Lip Mask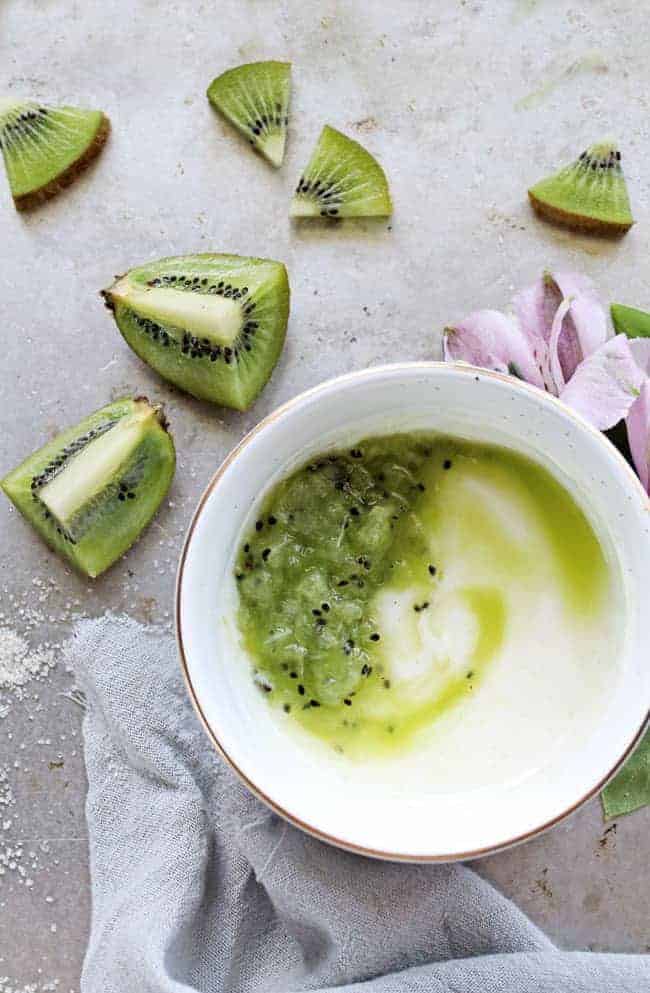 If your lips are tender, exfoliating with a scrub can hurt. This lip peel uses the natural alpha hydroxy acids in yogurt (lactic acid), cane sugar (glycolic acid), and kiwi (citric acid) to get rid of dead skin.
The acids help break down the bonds that hold our dead skin cells together, releasing them without any manual scrubbing. Think of this mask as a kind of 'peel' because the exfoliation is more chemical than physical. But it's still gentle, don't worry!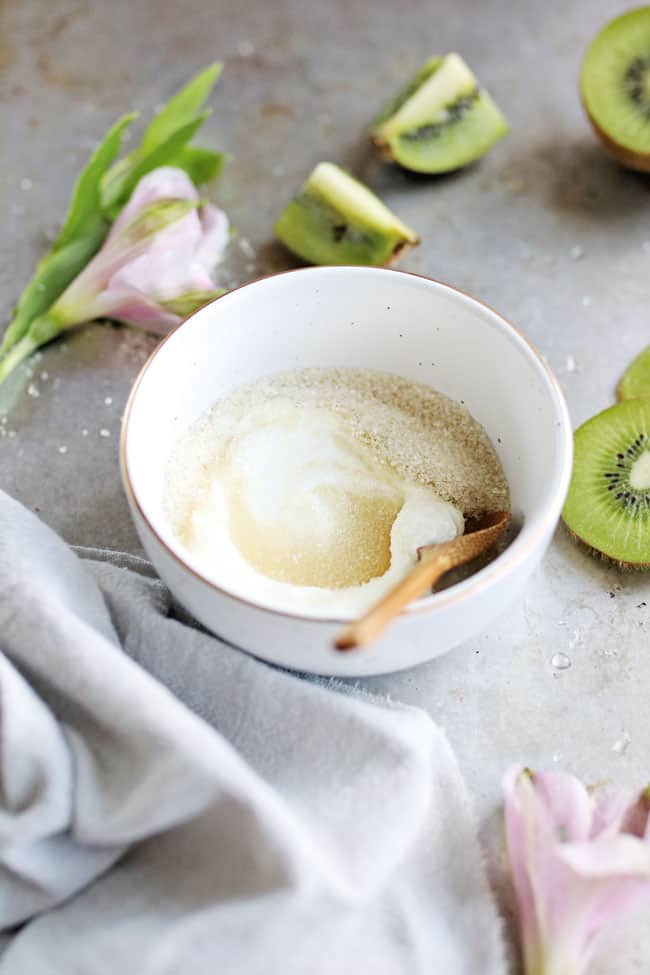 Combine the yogurt and sugar and let the mixture sit for a few minutes so that the sugar dissolves into the yogurt. Then mash in a bit of kiwi. The bright green fruit is a fun addition that brings a hefty dose of vitamin C (five times as much as an orange!) along with vitamins A, K and E. Kiwi makes a great face mask ingredient for its gentle exfoliation and skin-lightening effects.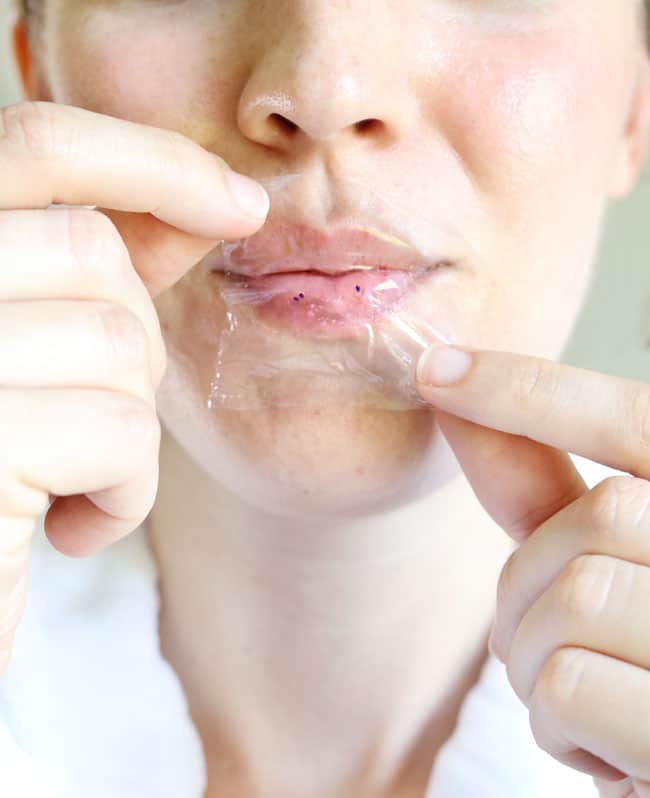 Apply the mask all over your lips then cover them with a small piece of plastic wrap. The wrap helps lock in the heat and intensifies the mask's effectiveness. It might look little silly, but you'll feel it heat up!
Honey plumping lip mask
Celebs are often spotted on Instagram using collagen-infused lip masks to plump their lips. You can get the same effect at home with a couple of mega moisturizing ingredients.
Sunflower (or safflower) oil contains linoleic acid, an omega 6 fatty acid. Our bodies can't manufacture this essential fatty acid which moisturizes and helps restore and plump up the uppermost layer of skin, the lipid layer, which acts as a barrier. Add in raw honey, which acts as a humectant to draw in moisture and has antibacterial and anti-inflammatory properties to nourish lips.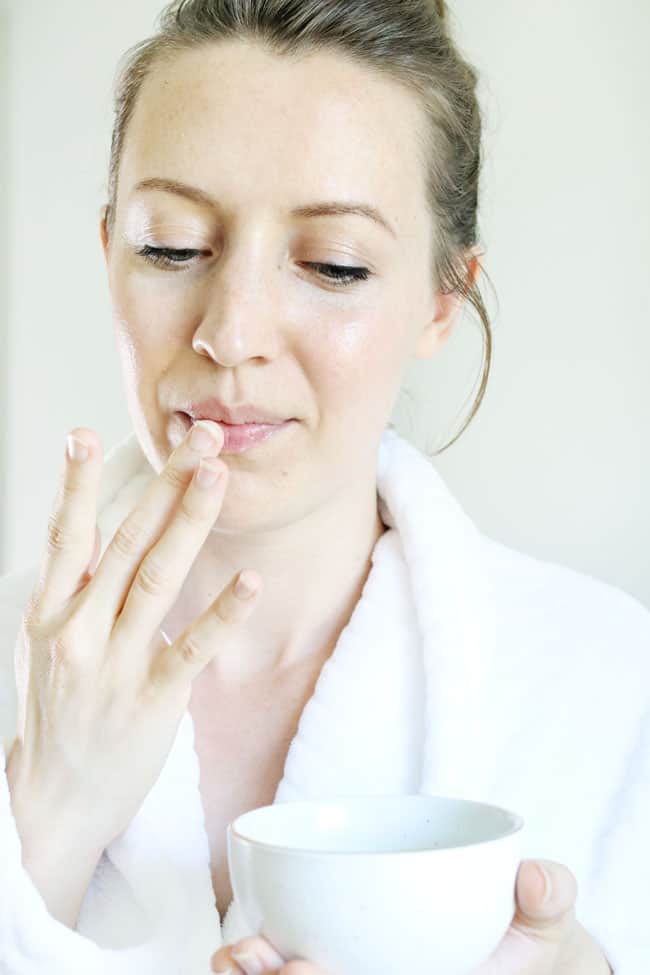 If you want to add in exfoliation, add a pinch of brown sugar to the oil and honey mixture. The massage gently into the lips to loosen any dead, dry skin.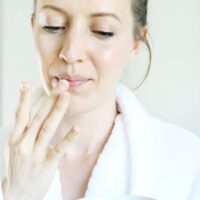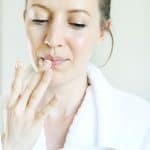 Print
Plumping Lip Mask
Treat dry lips with an exfoliating mask and a honey plumping DIY lip mask that will leave you with a perfect pout.
Materials
Exfoliating Lip Mask
1

teaspoon

Greek yogurt

1/4

teaspoon

cane sugar

1

slice

kiwi, about 1 to 1/2 teaspoons
Instructions
Plumping Lip Mask
Combine ingredients in a small bowl.

Apply all over and around lips. Cover with a small piece of plastic wrap.

Leave on for 5 minutes then remove with warm water.
Exfoliating Lip Mask
Combine the sugar with the yogurt and let it sit for a few minutes to dissolve the sugar.

Apply liberally to lips and cover with a small square of plastic wrap.

Let sit for 5 minutes and then rinse with warm water.
Notes
Store any leftover mask in the refrigerator for up to 3 days.
Photos by Stephanie Pollard
61