This post is sponsored by Pete and Gerry's Organic Eggs. All opinions are my own.
I used to think my skin problems were limited to the usual winter woes: dryness, peeling, itchy flakes and the like. But as I get older, I've realized that summer can be just as tough, if not more so, on skin.
We hear it all the time — slather on the SPF — but it's important to keep other skin-care tips in mind when you're outside in the sun. Sun damage isn't just limited to painful burns. Oiliness, acne and eczema can all be aggravated by too much sun, so it's vital that you give your skin the nourishment it needs. And one of my favorite ways to do that is with egg white masks.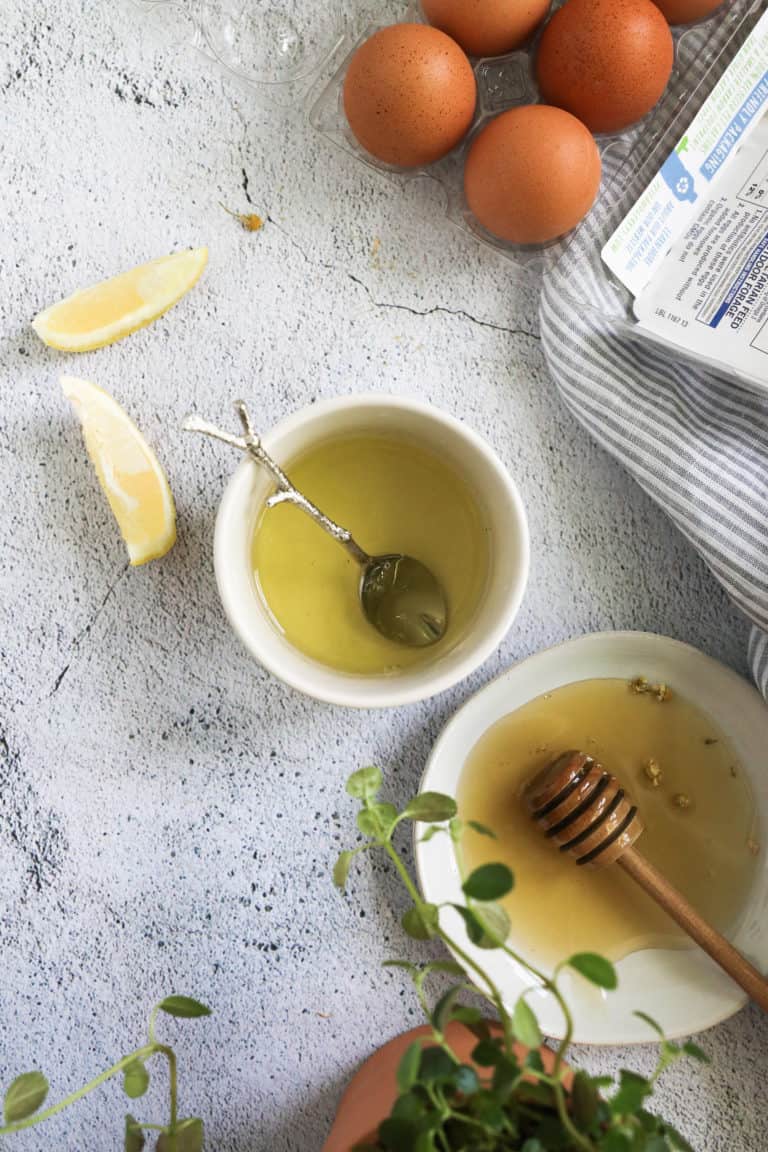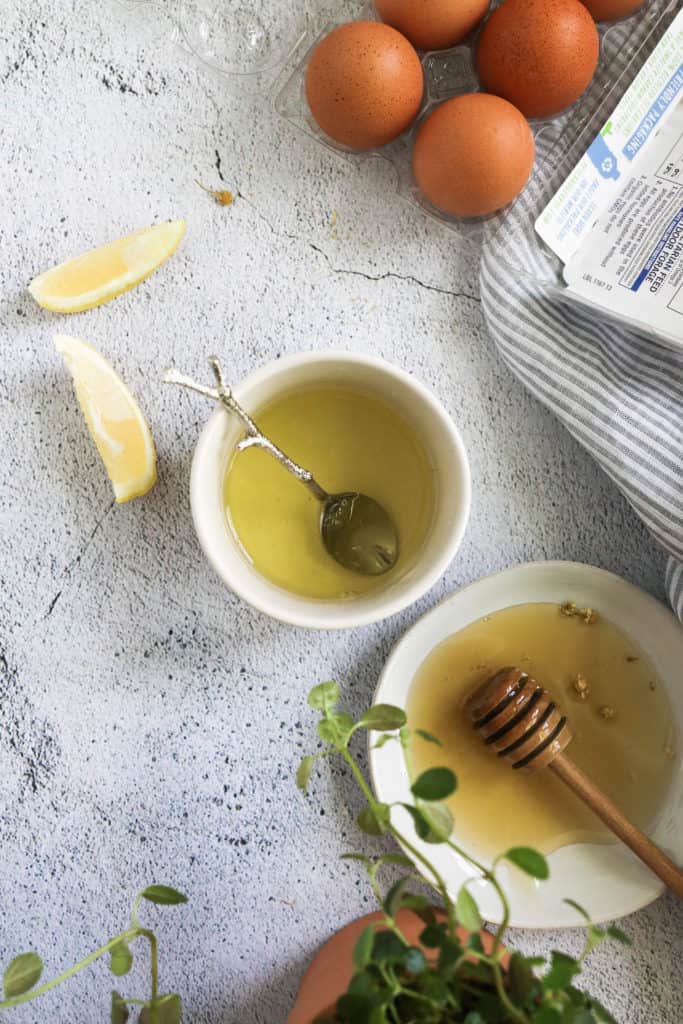 Eggs are nutritional powerhouses and have been used in beauty products for centuries. Just one egg white contains almost 4 grams of protein and a plethora of vitamins and minerals, like calcium, magnesium and folate.
And it's these nutrients that are especially beneficial for skin of all types. For aging skin, egg whites can help tighten and firm. If you have large pores or acne-prone skin, egg whites help close pores and get rid of buildup.
And if your skin is oily, egg whites are said to clarify pores and hair follicles that make too much sebum.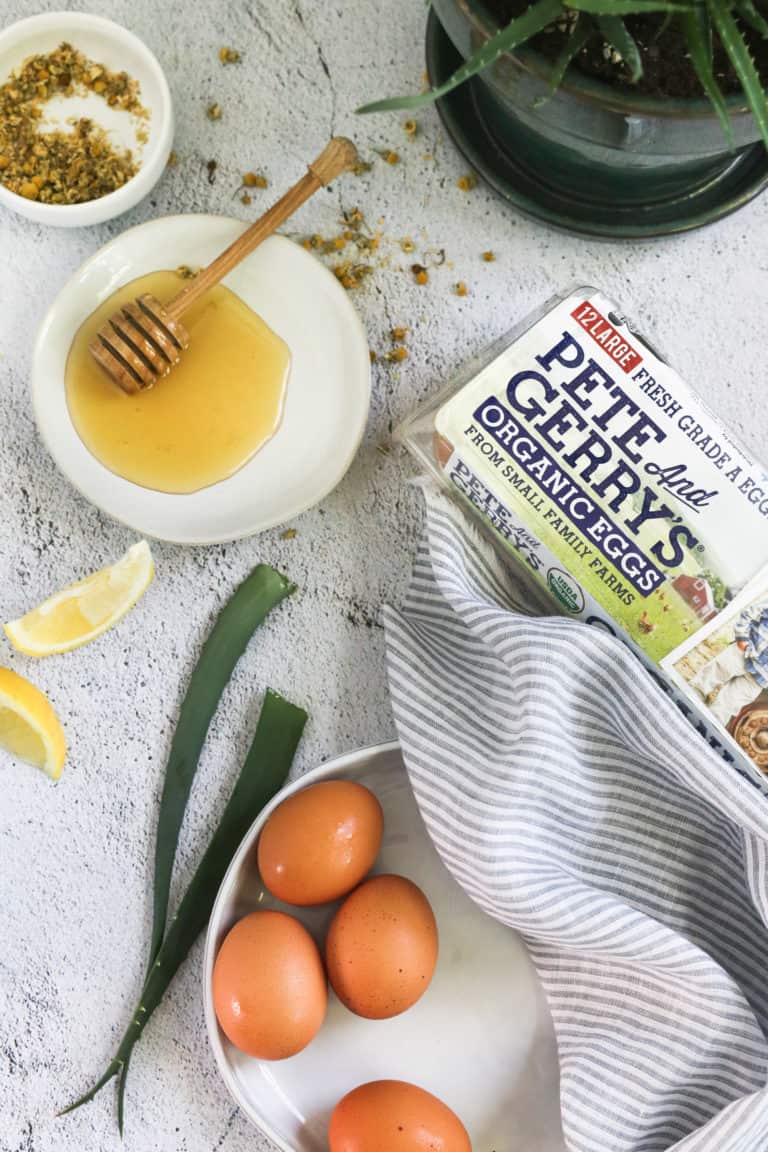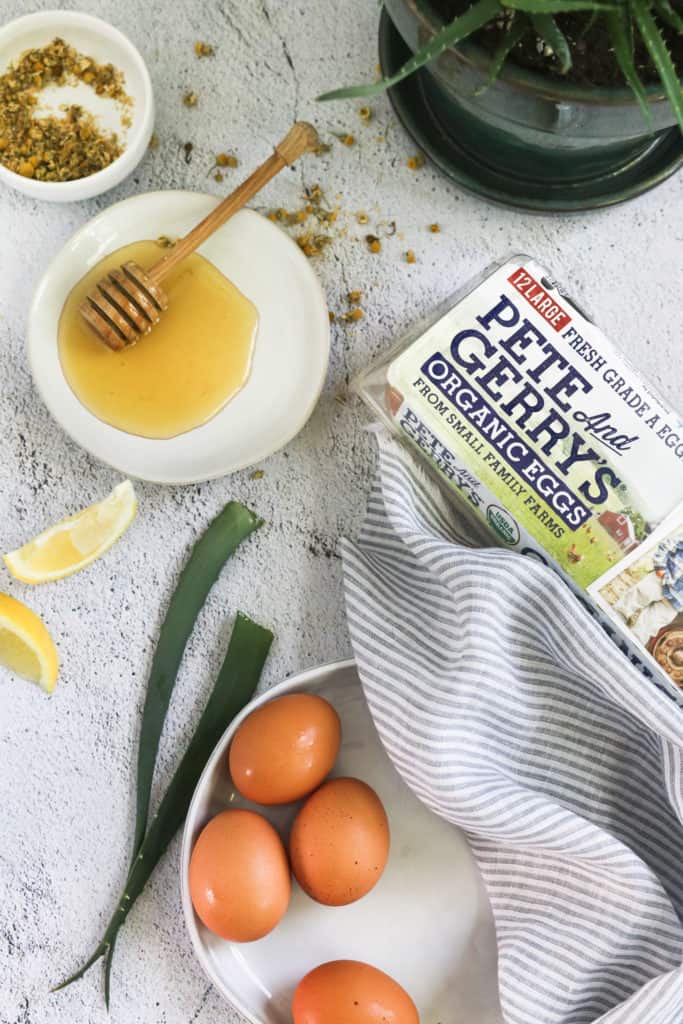 Egg white masks are also super versatile. Things like essential oils, herbs and aloe vera can easily be added to treat everything from oily skin to puffiness.
You might wonder why we like to whip up our own beauty treatments when there are hundreds — maybe even thousands! — of store-bought options out there, but using simple organic ingredients gives us control over what we're putting on our skin.
And remember: The skin is the largest organ of the body! It absorbs what we put on it, so opting for homemade beauty products made with organic ingredients means we're not exposing ourselves to pesticides, antibiotics and irritating chemicals.
But like all homemade beauty products, the effectiveness of your mask will only be as good as the quality of your eggs. Pete and Gerry's Organic Eggs puts quality above all else. Their eggs are 100% USDA Certified Organic, Certified Humane free range, and non-GMO. Plus they're always refrigerated right out of the nest to ensure freshness from farm to store.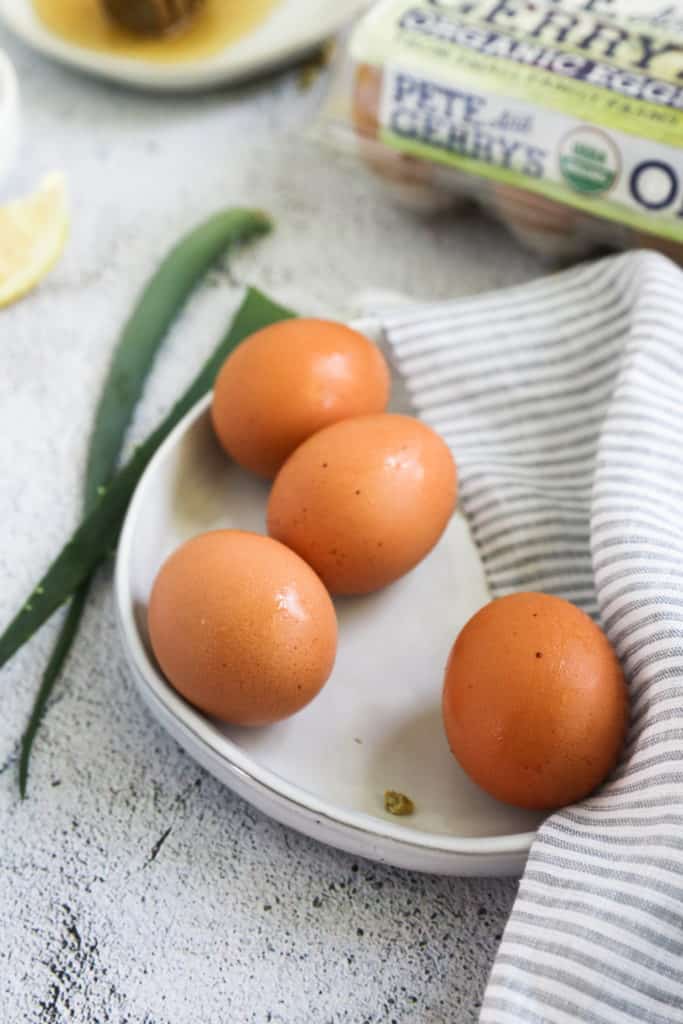 One of the things I like most about Pete and Gerry's is that their eggs come from a collection of small, family-owned farms across the country, not factory farms. I believe that the quality of the egg is directly related to the quality of the life of the chicken.
And with easy access to pasture, their free-range hens get all the sunshine, bugs and grass they need to thrive and create nutrient-packed eggs.
Oh, and did I mention they value environmentally sustainable farming practices that help reduce pollution, maintain healthy soil and conserve water? They're seriously the best.
3 Egg White Masks for Summertime
Just crack open a couple of eggs and read on to learn how to make three different egg white masks to soothe your summer skin.
Oily Skin Mask
1 Pete and Gerry's Organic Egg white

½ lemon, juiced
1 teaspoon raw honey
Mix ingredients together and apply to face. Let dry for 15 to 20 minutes, then rinse with warm water. Lemon juice acts as a natural lightening agent and cuts through oil, while honey is naturally antibacterial and soothes acne-prone skin.
Pore Cleansing Mask
1 Pete and Gerry's Organic Egg white

1 tablespoon white sugar
2 teaspoons cornstarch
Mix ingredients together and apply to face. Let dry for 15 to 20 minutes, then peel off the mask really slowly. Rinse with warm water. The egg white will nourish and tighten the skin on your face for a younger appearance while the extra-fine sugar will exfoliate your pores and the cornstarch will absorb any dirt and grime. Afterward, apply aloe vera to any sensitive areas.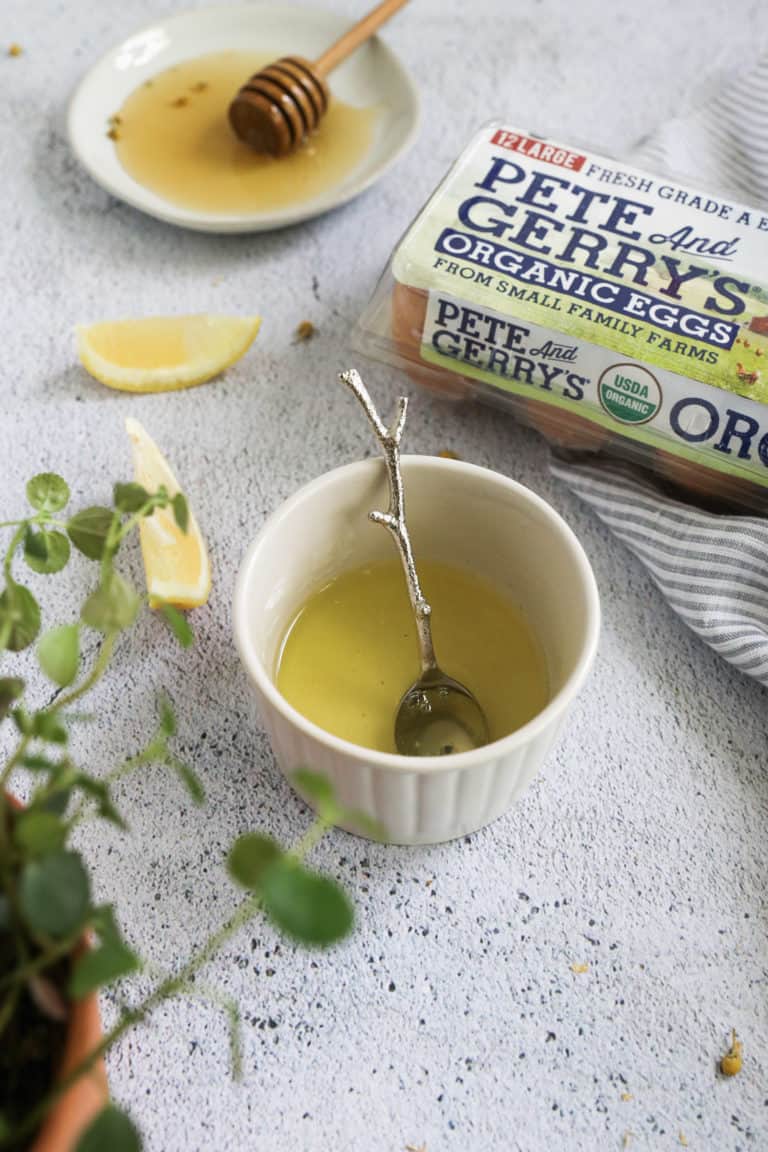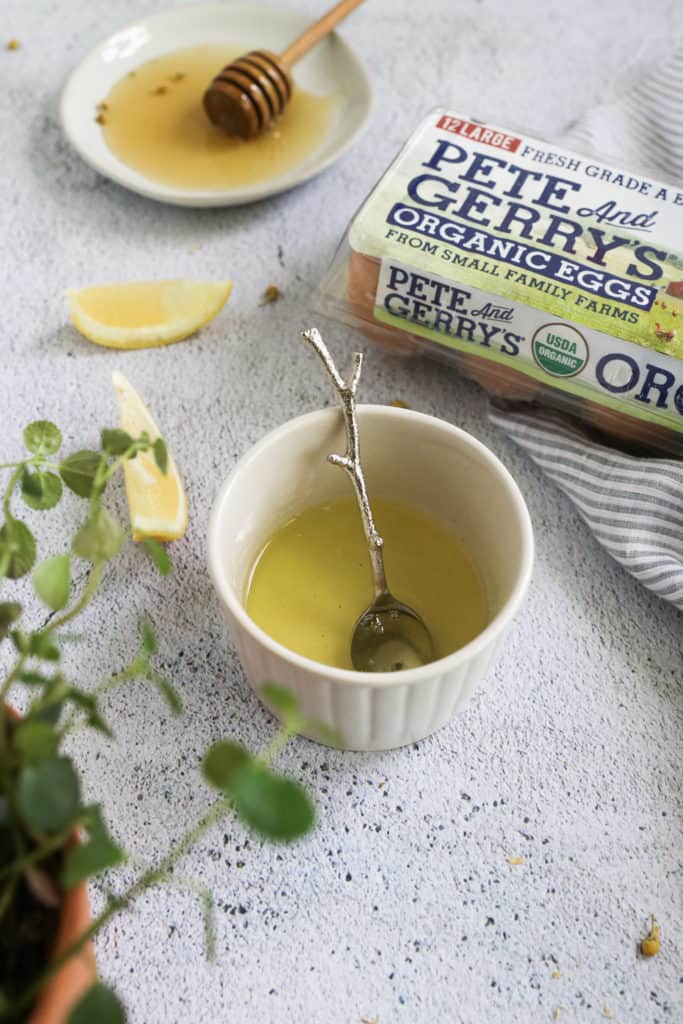 Soothing Mask
1 Pete and Gerry's Organic Egg white

1 teaspoon aloe vera gel
1 teaspoon chamomile tea
Combine ingredients in a small bowl and whisk well. Apply to clean skin, and let dry for 20 minutes before rinsing with cool water. The aloe vera gel and chamomile tea soothe inflammation and redness. Note: Do not use this mask on sunburned skin. Only use it on slight irritation or heat-induced inflammation.
41