Stumbling upon great pieces is always exciting, and it's even more so when they have an affordable price tag that doesn't break the bank, right? I think we all agree on this! So here are some terrific summer essentials under $50. Hope you like them!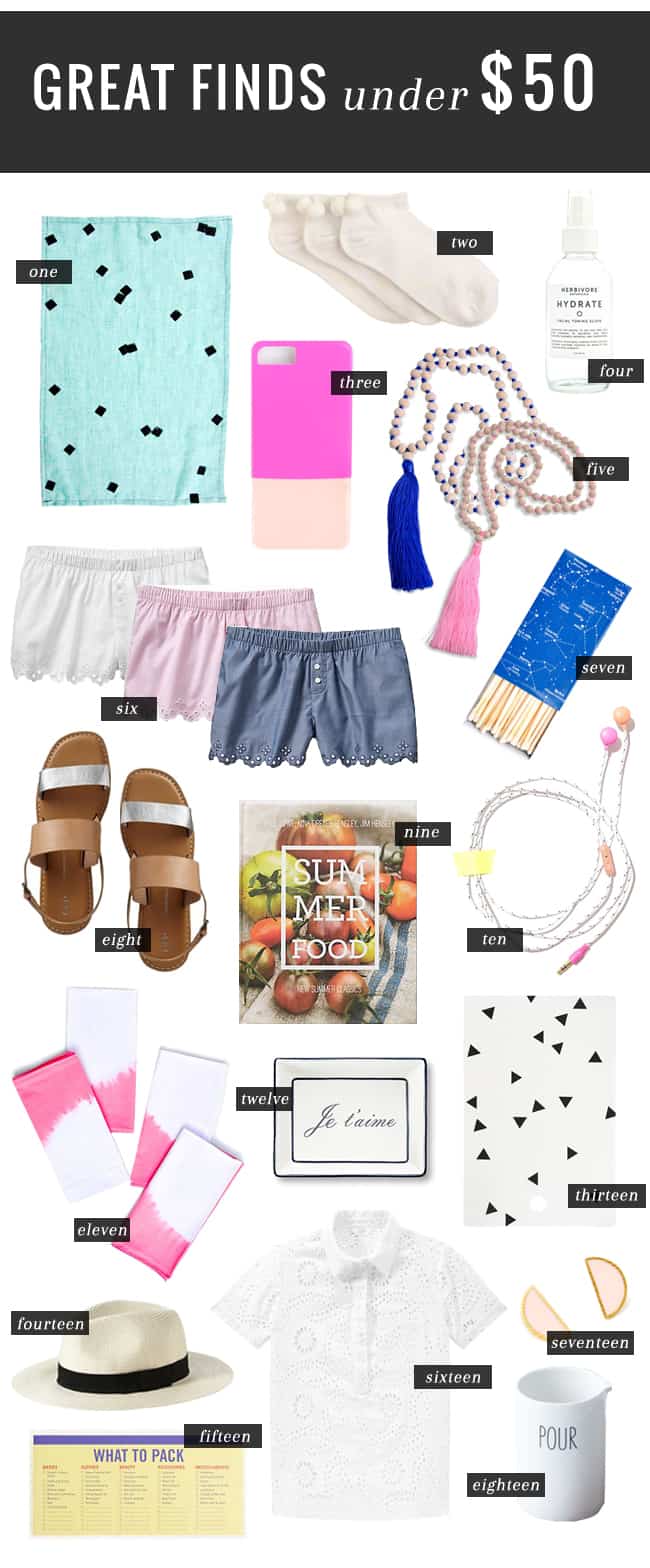 One: Leif Floating Confetti Tea Towel – A graphic tea towel in a pretty summery color.
Two: J.Crew Pom-pom ankle socks – Because cute pom-poms are always fun!
Three: Ban.do iPhone Case – A beautiful combo that makes a great pop of color.
Four: Hydrate Facial Toner – A 100% natural toner that has great ingredients such as aloe vera and balancing oils.
Five: Furbish Studio Boho Tassel in cobalt and pink – A great way to incorporate just a touch of boho to your look.
Six: Old Navy Eyelet Hem Lounge Shorts – Cute little numbers for warm nights.
Seven: Leif Constellation Matches – For just $4 this is great little matchbox to have around to light up candles or just hand out as a small gift.
Eight: Gap Two-band Sandals – Neutral flat sandals with just a hint of metallic that are perfect for summer!
Nine: Summer Food – Well, isn't this season appropriate?
Ten: Ban.do Ear Buddies Earphones – One word to describe these: FUN.
Eleven: Leif Dip Dye Ombre Napkin Set – Beautiful napkins that add a bit of color to your table!
Twelve: C.Wonder Porcelain Word Plate – A nautical vibe with a sweet word.
Thirteen: Ferm Living Mini Triangle Cutting Board – A graphic cutting board that it's a bit unexpected.
Fourteen: Joe Fresh Straw Fedora – A summer staple for just $14!
Fifteen: Knock Knock for J.Crew Packing List – Keep track of everything you need to get in that weekender or suitcase with this handy note pad.
Sixteen: Joe Fresh Eyelet Popover – Lace and eyelet always make a statement during summer, and this top is a classic shirt that can easily be dressed up and down.
Seventeen: Leif Half Moon Stud Earrings – Subtle studs that come in 4 different colors, great for everyday wear!
Eighteen: West Elm Labeled Kitchen Mini Pitcher – Great for keeping messes at bay, this is ideal for syrups and sauces.
0