I love when I have to transition my wardrobe from the cold season to the warm one! I like welcoming back all the sandals I forgot I owned, putting away the beanies and taking out the sun hats, and of course, digging out the lighter, more fun bags for summer.
The trend of straw bags and baskets continues this year, and I'm honestly psyched! If you're on the lookout for the perfect summer bag, one which you know can fit your beach towel or picnic essentials with ease, then check out these pretty and functional options we love: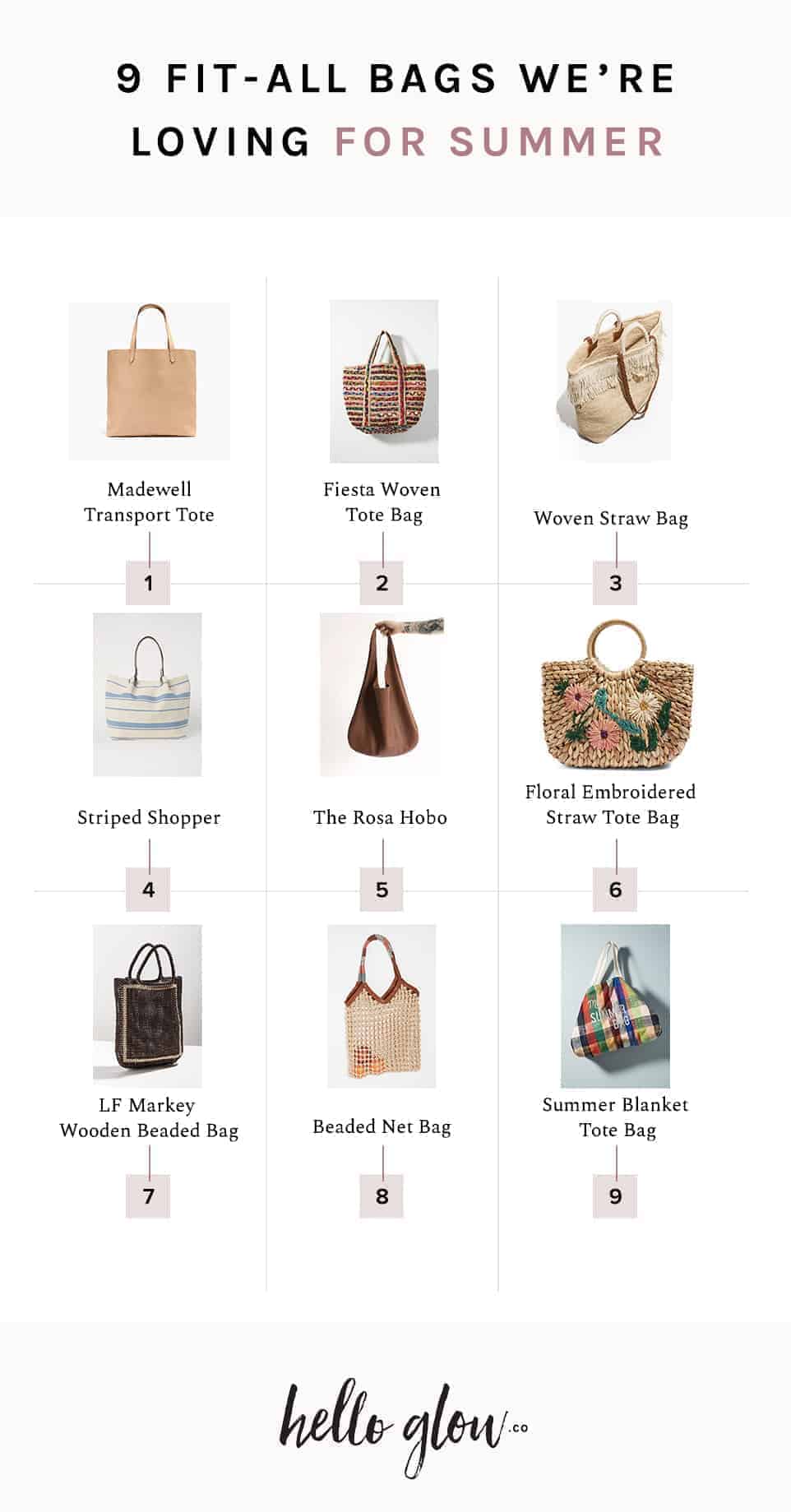 1. Madewell Transport Tote // Even the name says it: this leather tote bag is made for transport! To make it even better, Madewell allows you to customize it with a monogram.
2. Fiesta Woven Tote Bag // Made from burlap and raffia, this tote bag is perfect for a day at the beach, but cute enough for heading to a restaurant after.
3. Woven Straw Bag // This stylish straw bag is the epitome of summer! It features fringe detailing all around as well as long braided leather straps.
4. Striped Shopper // Subtle nautical vibes make this shopper bag perfect for summer! Plus it will fit everything you need for a long day or errands or shopping.
5. The Rosa Hobo // The soft leather is lightweight and it looks beautiful, while the large size of the bag make it suitable for everyday wear.
6. Floral Embroidered Straw Tote Bag // The embroidered floral motifs give this carry-all bag tons of charm! And it's such a cute way to complement your summer looks.
7. LF Markey Wooden Beaded Bag // Anyone with 70s nostalgia will love this wooden bead tote bag! Adorably retro and super cute with wide leg jeans.
8.  Beaded Net Bag // This bohemian bag features beaded handles, leather-like edges and knotted cord, a combination that makes you feel you're on an exotic island.
9. Summer Blanket Tote Bag // Perfect for picnics, this bag adds plenty of color to a simple, white summer outfit.
4