It's summer reading time! I so love stocking up on books to devour at the beach. I asked my friend Julie to share her favorite books for some inspiration. Julie is a pretty fantastic writer herself,  check out her blog Under the Ginkgo Tree. If you want more book picks,  check out Lynn's or Claire's. Welcome,  Julie!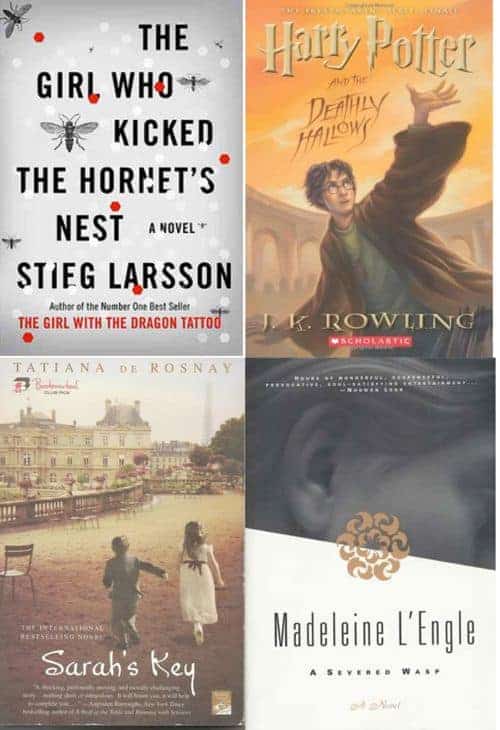 What's on your bedside table now:  The Girl Who Kicked the Hornet's Nest
Book you can't wait to read next:  Oh gosh –  no idea –  whatever I get inspired by? I read at least a book a week. Is that freaky?!?
Last book you recommended to a friend:  Sarah's Key –  fabulous!
Favorite authors:  Madeleine L' Engle,  Andrew Greeley,  Wendell Berry,  Silas House,  Pat Conroy
Last book that made you neglect everything else to finish:  Harry Potter and the Deathly Hallows
Favorite book you read with a book club:  No book clubs for me. Mostly because I haven't had time! Maybe we could start one?!?
Favorite book as a child:  A Wrinkle in Time by L'Engle. My all-time favorite book is also by L' Engle,  A Severed Wasp
Favorite book to give as a gift:  Goodnight Moon to newborn babies
Magazines you love to subscribe to:  I don't … therefore,  I splurge at the grocery on…
Magazine you love to splurge on at the grocery:  Real Simple,  anything that has a favorite author or actor on the front with something important/slightly meaningful to say!
Thank you,  Julie! Tell us what's on your summer reading list …  what books have you loved recently?
0