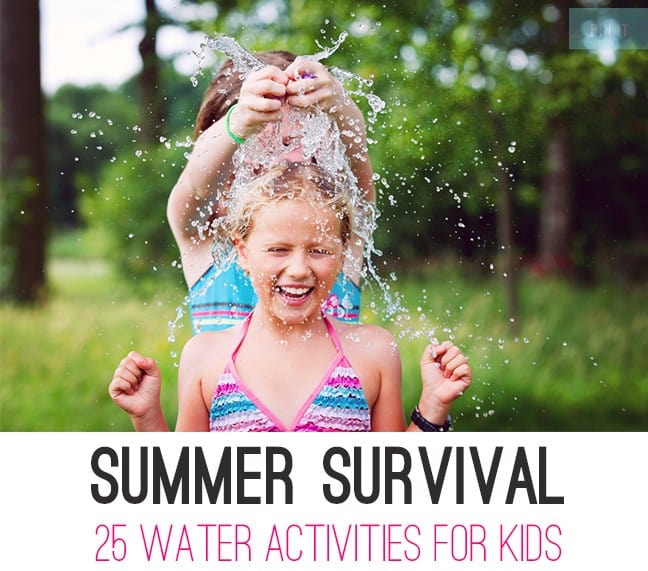 I can hear it in my head: "Schools! Out! For summer!" And oh my, it has only been 2 weeks in the Gerber house, and I'm already scrambling for things to do. This is a departure from my the usual fashion/DIY posts but after searching (rather frantically) for fun activities, I thought I would share! I'm calling it Summer Survival Series. And since the sprinkler is already our toy of choice, the first of the series is focusing on WATER. Is there anything kids love more than playing and splashing in sprinklers, fountains and pools? I am so exited to try out some of the ideas (especially #18 and #25). Which ones are your favorites?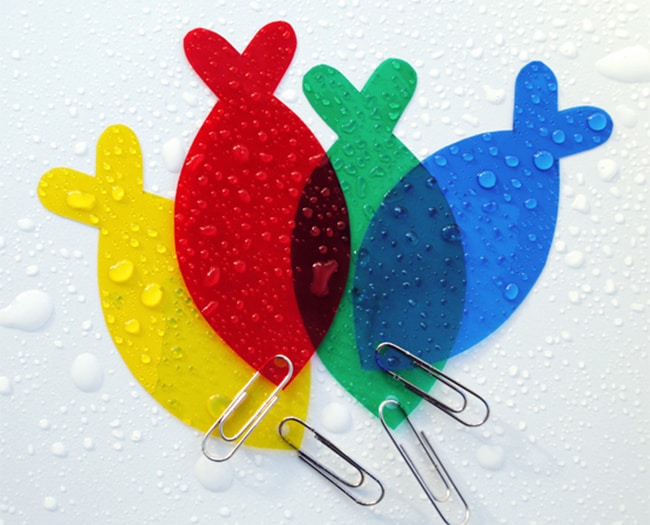 1. Here fishy, fishy – Minieco. Make fishing poles out of sticks and magnetic plastic fish for a fun game of fishing. Great for indoors or outdoors.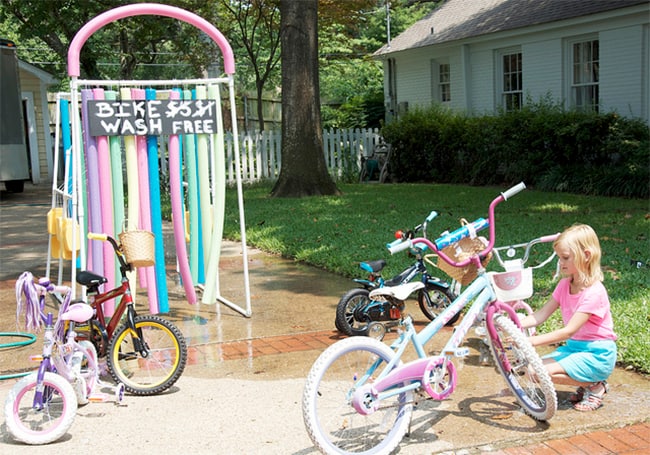 2. Bicycle party – Lullaby Lubbock. Improvise a small car wash, only make it for the kids' bikes. They will surely get in there themselves!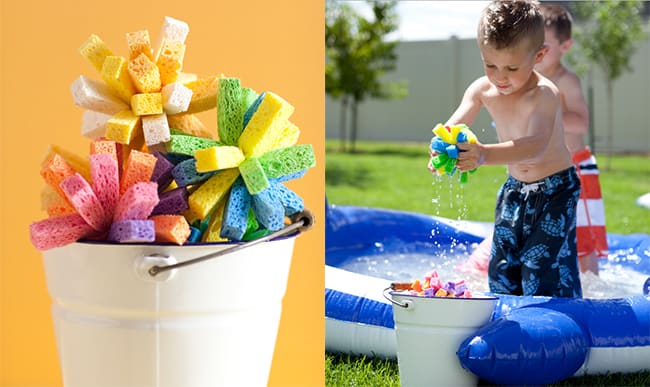 3. Sponge bob tutorial – One Charming Party. Cut some colorful sponges to make these fun balls – they're perfect for playing in the pool and even in the tub!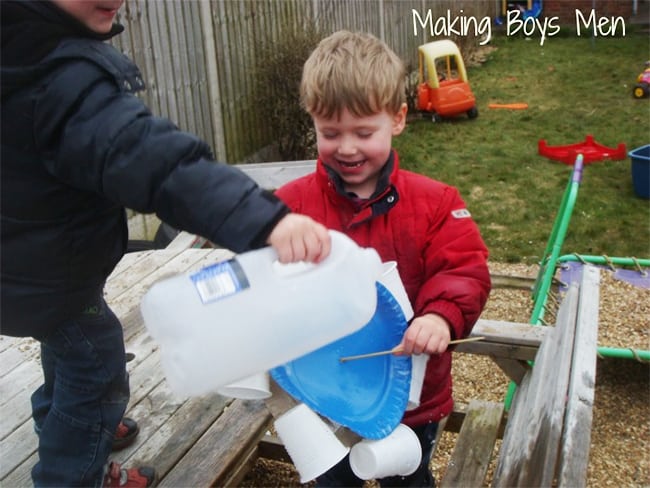 4. How to make a water wheel – Making Boys Men. Use paper plates, skewers and plastic cups to make an exciting water wheel. The water pushes the wheel round, and each cup fills in turn.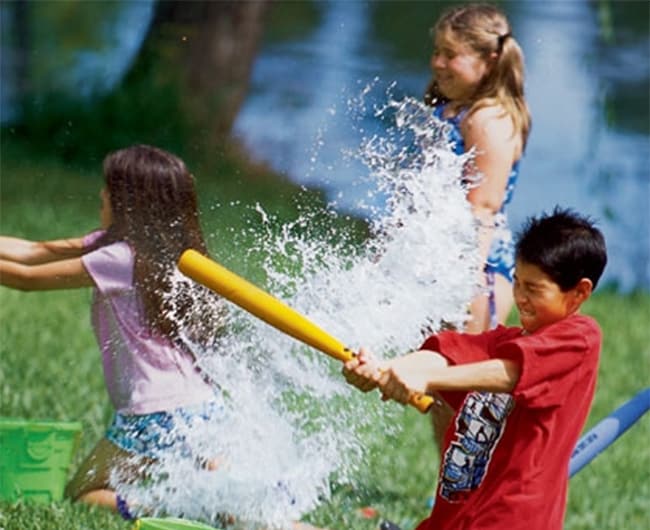 5. Splash and score – Spoonful. This is just like baseball, but with water! Use water balloons and plastic bats, and may the best thrower win!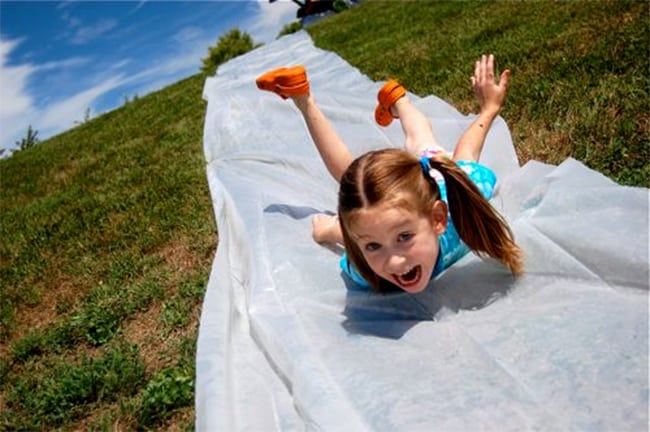 6. DIY Slip & Slide – Inner Child Fun. You just need a hill and some drop cloth to make this slide. Leave the rest to the kids!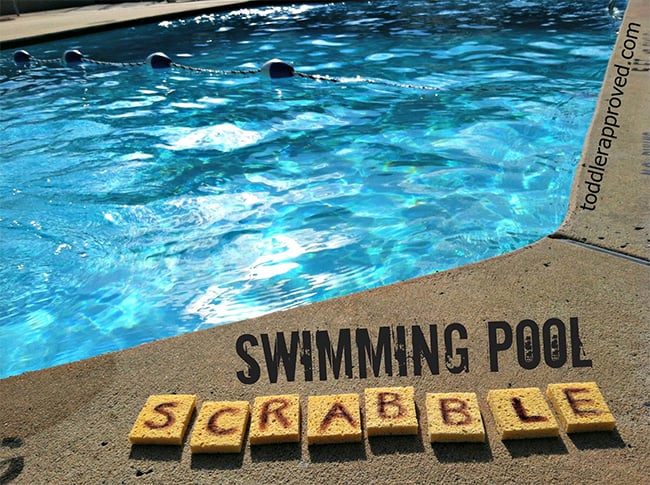 7. Swimming pool scrabble – Toddler Approved. Just write the letters of the alphabet on sponges, and throw them in the pool. The kids have to collect them and then spell out words.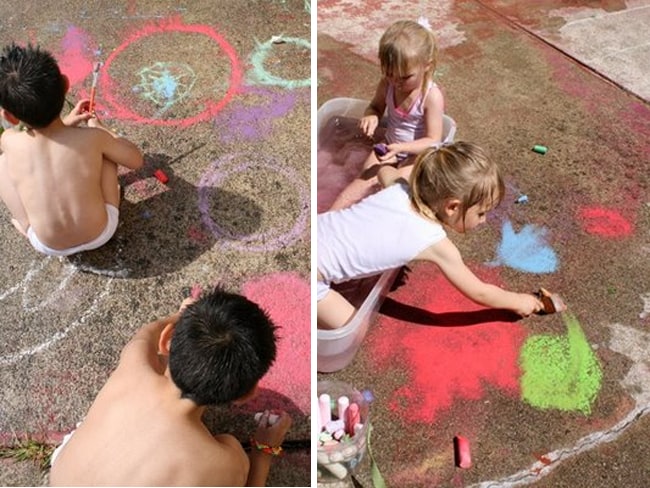 8. Chalk and water painting – Filth Wizardry. Instead of simple chalk drawing on the sidewalk, make it more exciting with water. The colors get more vibrant and it's very easy to clean out.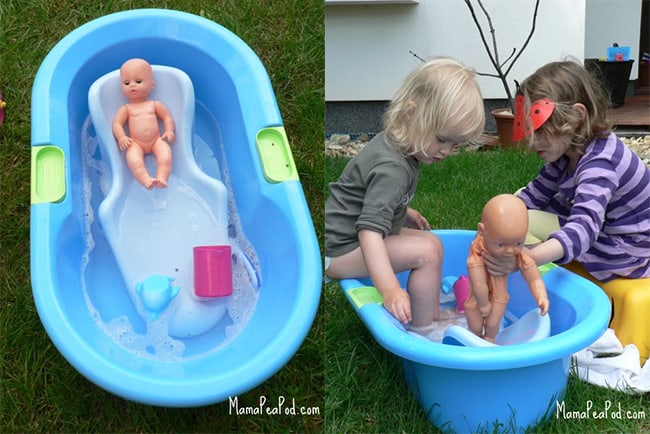 9. Bathing dolls – Mama Pea Pod. Little girls will love bathing their dolls in a baby bath, and they can use real supplies from the bathroom.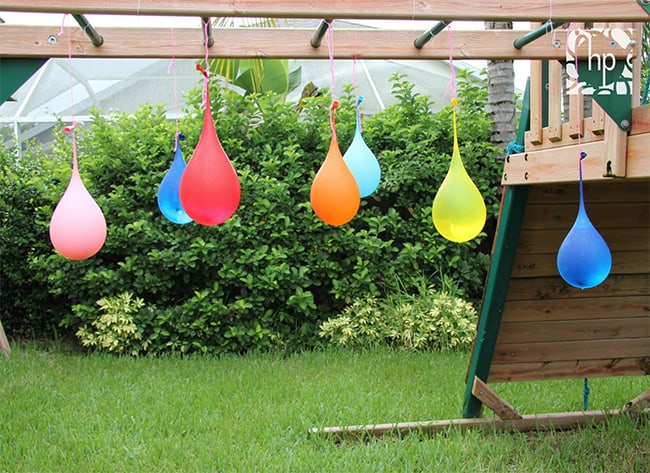 10. Water balloon pinata – Scrap Happy Heather. Fill some balloons with water and hang them up high, then let the kids enjoy some soaking as they pop them with a bat.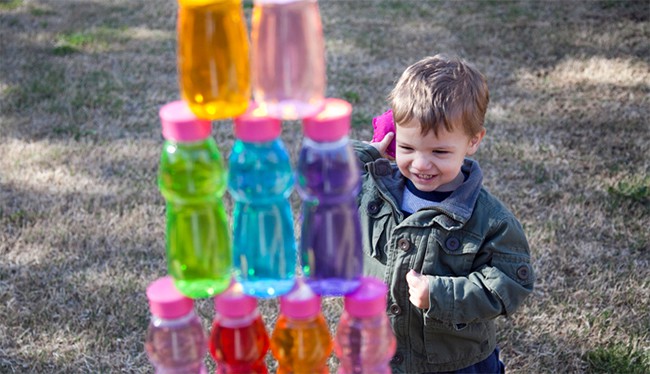 11. Knock 'em down – Prudent Baby. With recycled plastic bottles, water and some food coloring, you have all the supplies to make a fun knock'em down game for the kids.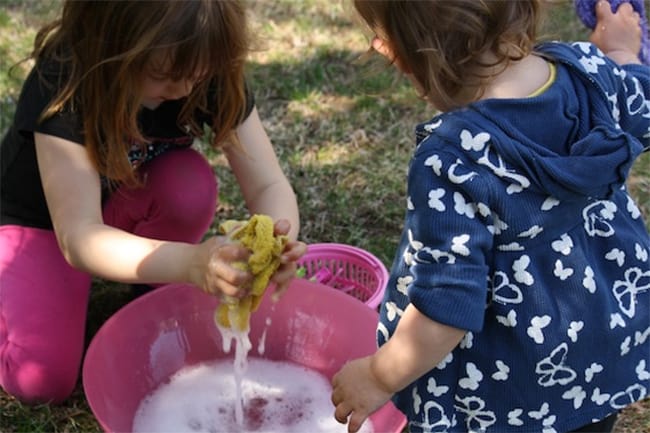 12. Clothesline activity – Happy Hooligans. Let the little ones play with water by soaking some cloth, squeezing and hanging them out to dry with pretty clothespins.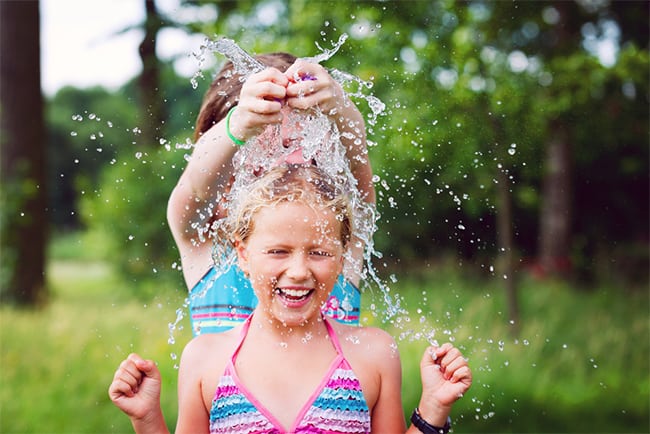 13. Backyard mini Olympics – Gogo Squeez. From wheelbarrow races to water balloon fights, everything can be an Olympic game in the backyard.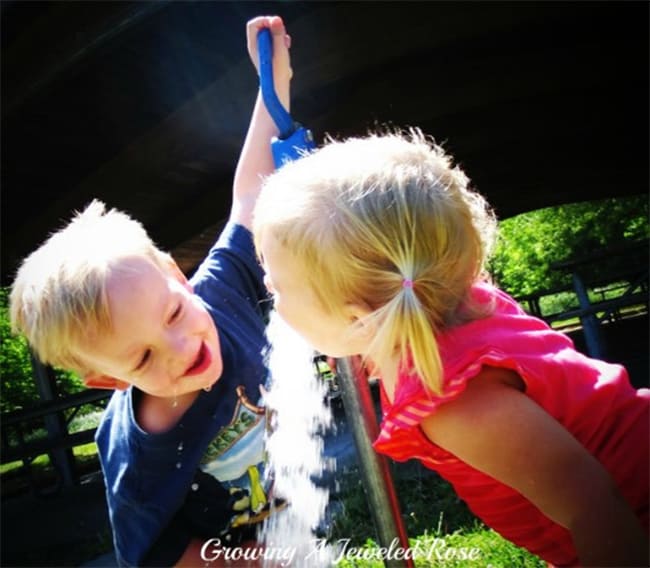 14. Fantastic fun with a water pump – Growing A Jeweled Rose. A water pump by itself can become a super fun toy for summer play.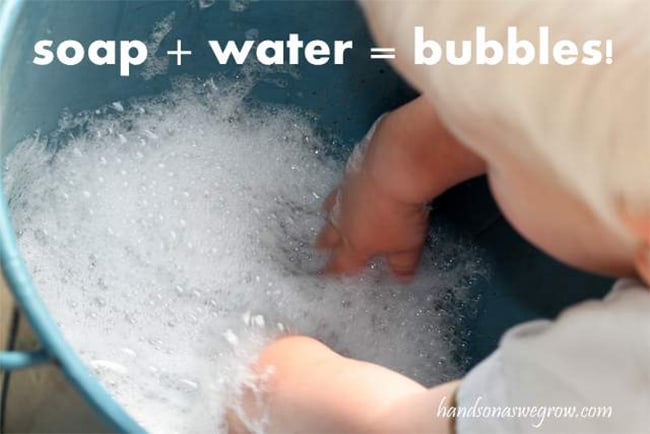 15. Toddler bubbles sensory activity – Hands On As We Grow. When have water and soap together not been fun? Never.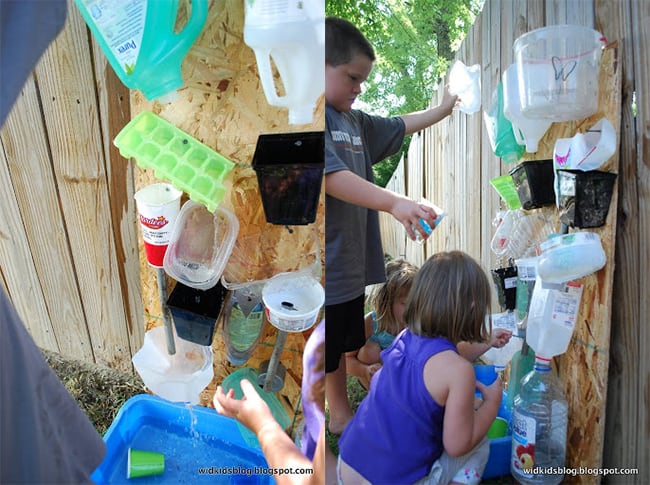 16. Water wall – Wid Kids. Use a bunch of plastic jugs and buckets to make a fountain of water fun.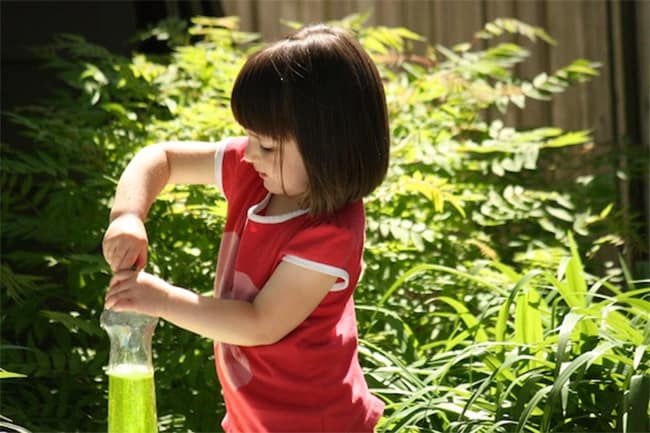 17. Colored water activity – Happy Hooligans. Let the kids experiment with colors and mixing them, using plastic bottles and food coloring.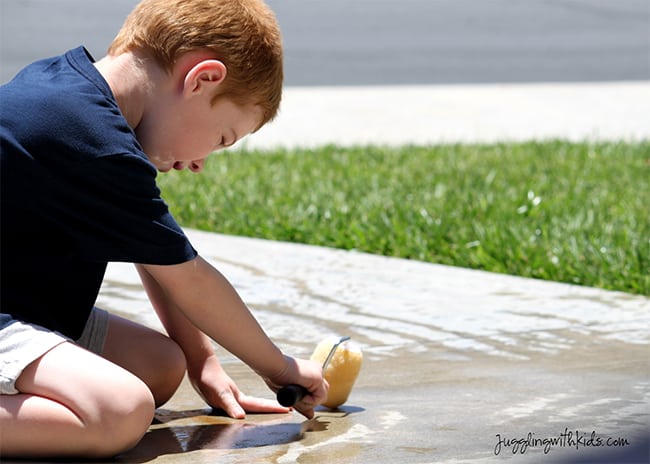 18. Painting with water – Juggling with Kids. Who needs paint, when they can use water to express their creativity?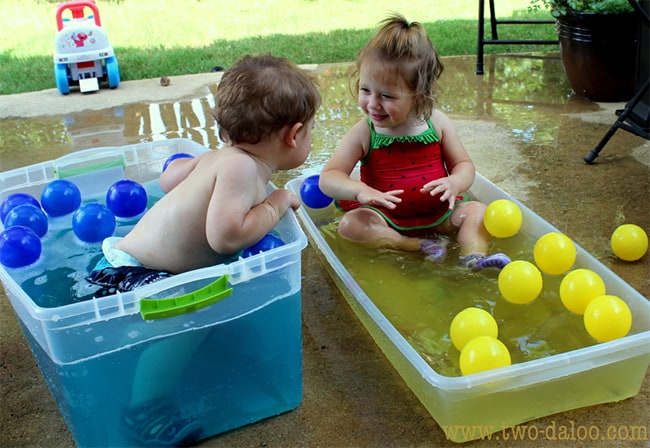 19. Color tubs – Two Daloo. Bath color tabs and plastic balls are irresistible to toddlers!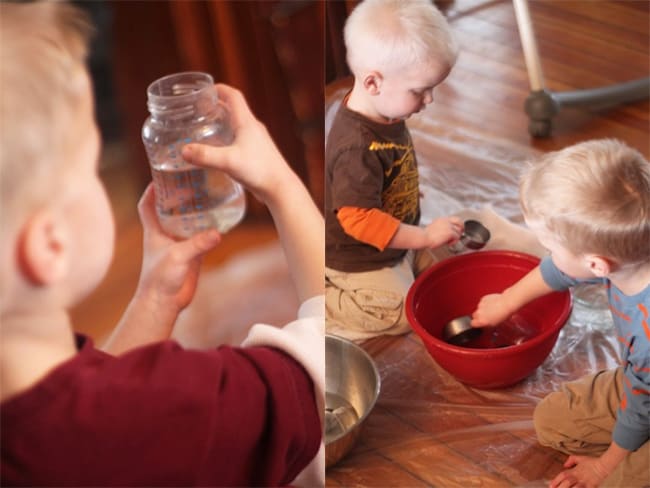 20. Added measuring tools – Hands On As We Grow. Set out bowls of water, measuring cups, teaspoons and baby bottles and let the kids transfer the water back and forth.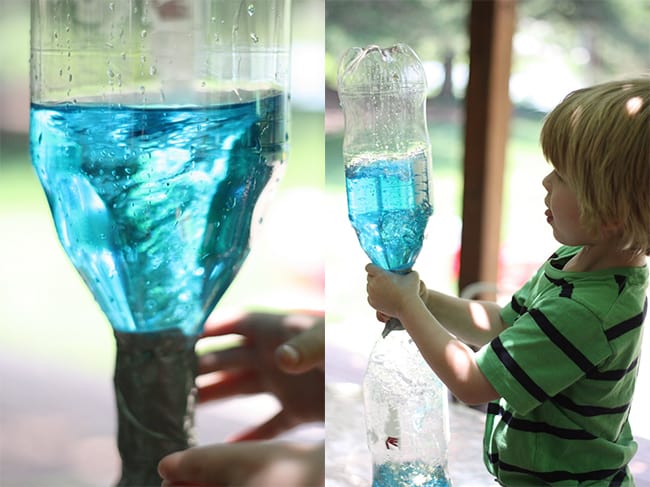 21. Make your own tornado – I Can Teach My Child. Learn about nature while having fun with colored water.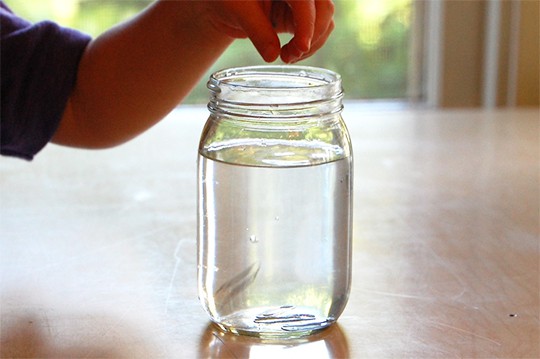 22. Traveling magnets – Tinker Lab. Throw paper clips into a jar full of water, and then see how the kids take them out with a magnet.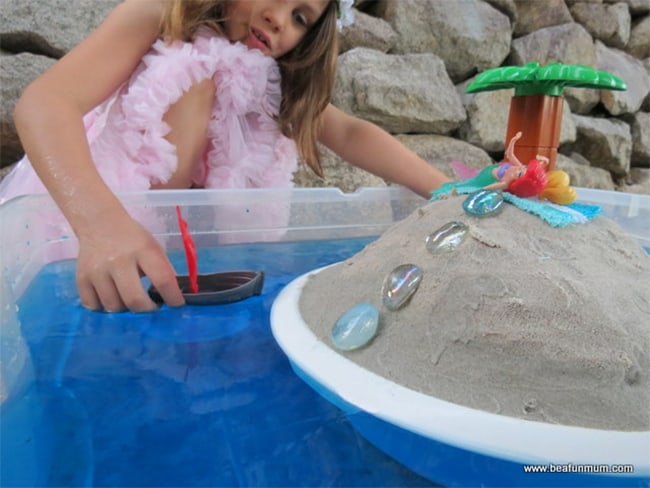 23. Desert island – Be a Fun Mom. Sand, water and some plastic recipients make the setting, while pebbles and seashells are the decorations for this imaginative activity.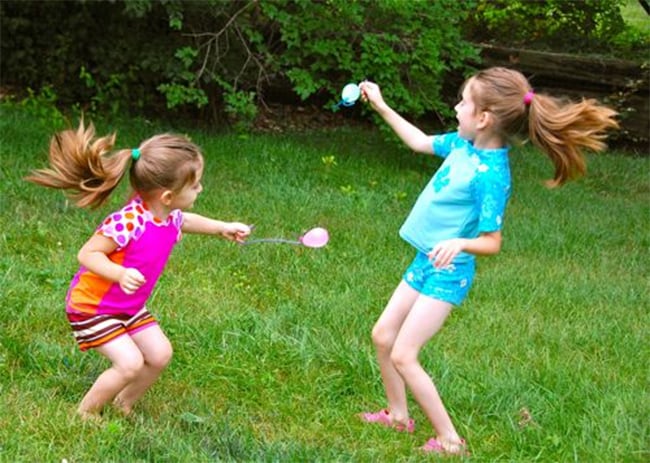 24. Water balloon yo-yos – What To Do With Kids. Water balloons and rubber bands are the only things you need to make this happen.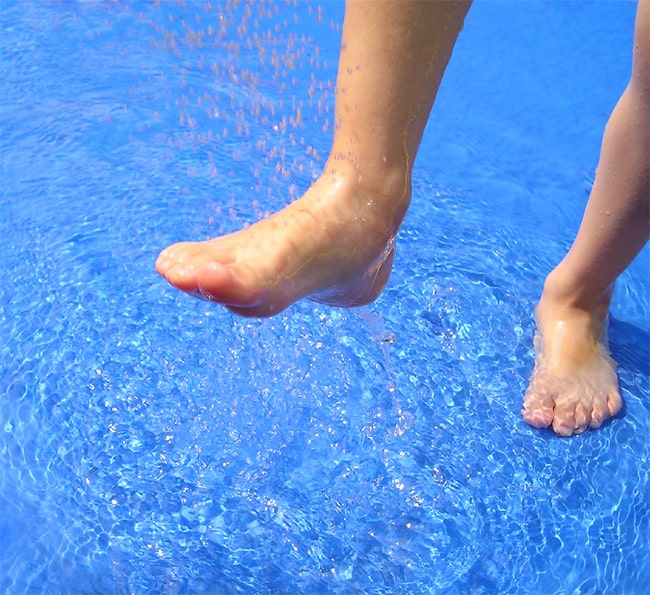 25. Feet-y, freeze out – GoGo Squeez. The players have to remove the ice cubes from the kiddies pool using only their feet.
I love having more ideas than I know what to do with! Next up: activities for the car ride. Because you can only take "are we there yet?" so many times….
14