Some people crave pumpkin in the fall, but for me the season is more about apples. My parents live on a sprawling prairie about an hour south of Minneapolis, and last time I was there I was tasked with picking all the apples from their trees—and then schlepping them home with me because they were about to leave for vacation.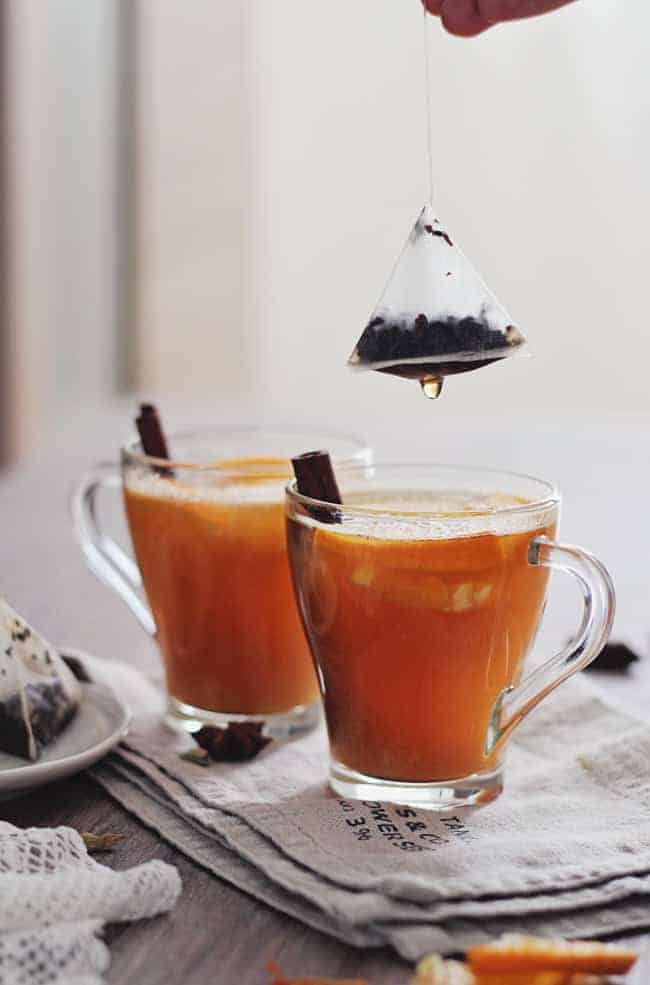 I planned to make cider using this tutorial from Bon Appetit. But before I had a chance to, I ended up using all the apples in salads, grilled cheese sandwiches, quesadillas and as a vehicle for peanut butter. So I was out of apples and had no cider to show for it, which made me want it even more; then I read two fellow contributors' posts—Lindsey Johnson's uber-pretty DIY Chai Candle and Ana Stanciu's yummy Honey Bourbon Apple Cider—and remembered that when I was vegan, I used to make a chai "latte" with apple cider in place of the milk. (I'm not a fan of soy milk, and this was back in the late '90s before coconut and almond milk were all the rage.)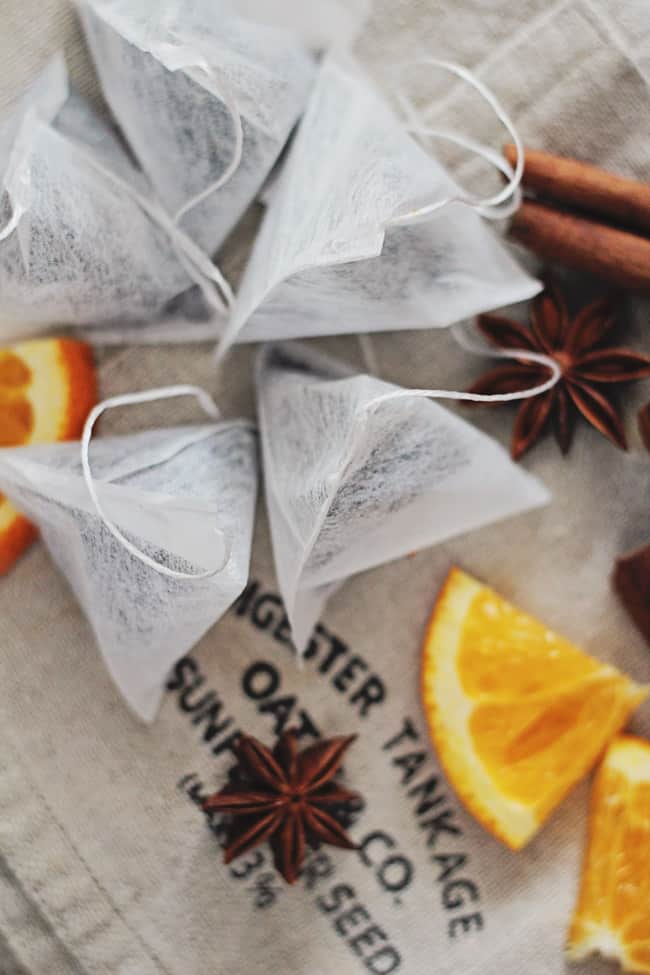 This combo seemed ripe for the cocktail-making, so I added some rum and voila. Fall in a cup. It's enough to make you want to jump in a pile of leaves. (Take that, pumpkin spice latte!)
You can use either your favorite chai tea bags or a liquid chai concentrate. (Store-bought chai concentrate can be very sweet; if you prefer a less-sweet version, make your own with this tutorial from Gimme Some Oven.) Chai tea bags will add flavor without extra sugar—it's not traditional chai, but I like Good Earth's Sweet & Spicy tea blend; it's got a good initial bite that warms you up, then mellows to a cinnamon-y finish. An orange slice garnish adds a bright citrus scent as you're drinking, which complements the richness and depth of the chai spices.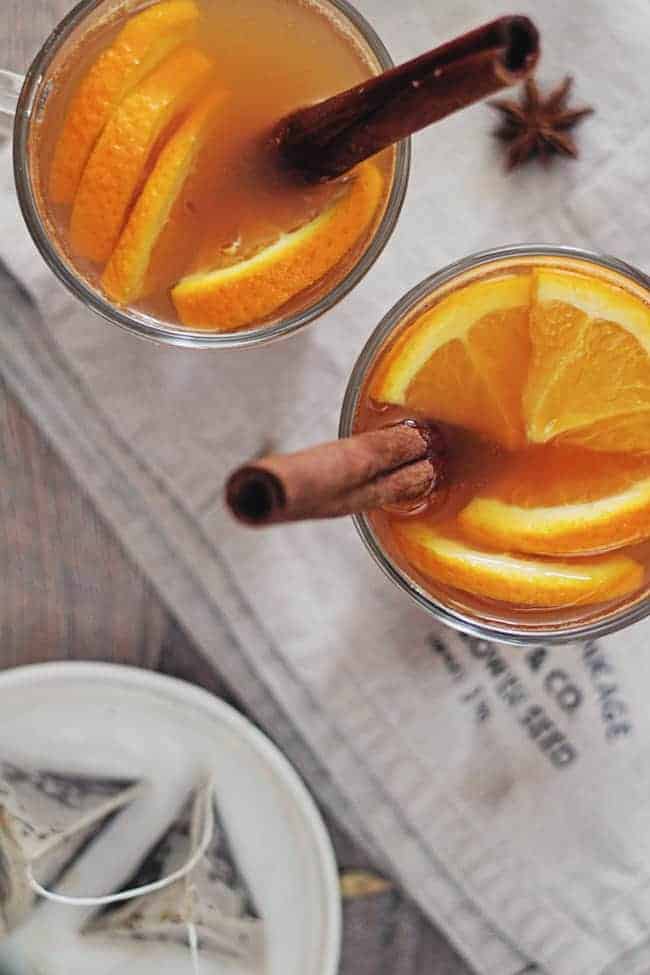 The cocktail can easily be made for a crowd; simmer a pot of it at a Halloween or Thanksgiving get-together to make your house smell great—and keep your guests incredibly happy. The recipe below is for one serving; to make a big batch, use a half-gallon of cider and 8 ounces of chai concentrate or 10-12 chai tea bags, simmer and leave covered on the stove on the lowest setting. You'll want to have guests add the rum to their glasses, though, as the alcohol will burn off if it's on the stove too long.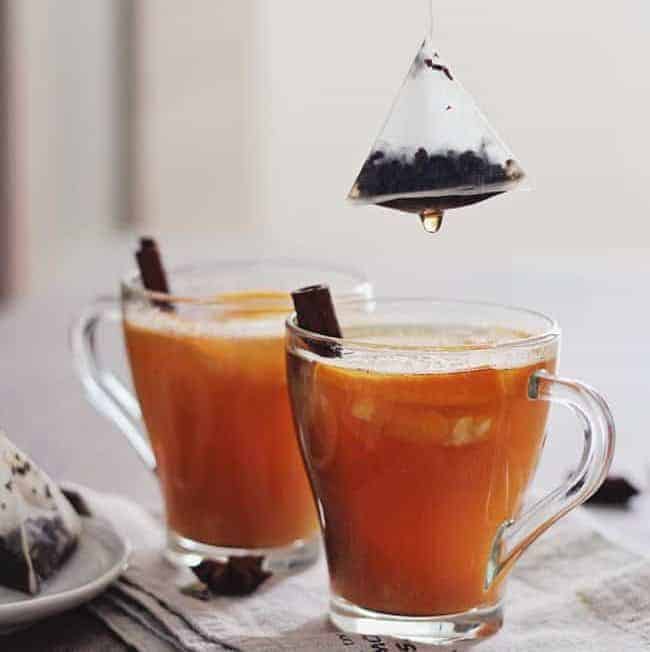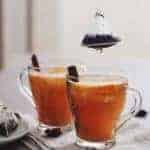 Print Recipe
Sweet + Spicy Cider-Chai Tea Cocktail
Move over, pumpkin spice latte. There's a new fall drink in town. This one combines the spiciness and warmth of chai with smooth rum and fresh apple cider.
Ingredients
2

chai tea bags

or 1 ounce chai concentrate

1

cup

fresh apple cider

see the Bon Appetit link above if you'd like to make your own—use 7 ounces cider if you're using chai concentrate

2

ounces

gold rum

spiced if you wish

Orange slices and cinnamon sticks for garnish
Instructions
If using tea bags:
Heat apple cider on the stove just until boiling, then immediately turn to lowest setting (just hot enough to keep the cider warm). Place tea bags in cider and let steep for 3-5 minutes. Stir in rum to heat, then pour into a mug or heat-safe glass and let sit until cool enough to sip. Garnish with an orange slice or cinnamon stick.
If using chai concentrate:
Warm chai concentrate and cider on the stove just until heated through (do not boil). Stir in rum to heat, then pour into a mug or heat-safe glass and let sit until cool enough to sip. Garnish with an orange slice or cinnamon stick.
What fall drinks are you loving?
Photos by Ana Stanciu
6