This is a sponsored post written by me on behalf of iHerb. All opinions are 100% my own.
Typically when we think about living a healthier lifestyle, we think of ways to limit what we put in our bodies. But what we put on our bodies is just as important–all those lotions and cosmetics that we slather on get absorbed into our skin. And if your makeup is loaded with impurities like lead, endocrine disrupting phthalates, and other gunk, that gets absorbed into your body too.
But it's not just about your physical health. Natural makeup is better for the planet and our animal friends as well. If you're thinking of going green, here are 5 reasons to make the switch to a green makeup brand.
5 Reasons to Choose Natural Makeup

No Harsh Chemicals
Many of the chemicals used in non-organic makeup are downright hazardous to the endocrine system. The most well-known offenders are parabens and phthalates, two substances that have been linked to cancer, type II diabetes and infertility.
But there are still thousands of ingredients used in makeup that haven't been thoroughly tested. Thanks to "trade secret" laws in the U.S., certain ingredients do not need to be listed on cosmetic labels if they potentially give away a "trade secret." This means that companies can use any ingredients they want and they don't have to list them on the label.
Heavy metals, talc, asbestos, artificial colors and fragrances and genetically modified ingredients have been used in traditional makeup over the years—and they have the potential to wreak havoc on your body. That's why it's so important to choose a natural brand that proudly uses non-toxic ingredients in place of hidden chemicals. Azelique is one such brand that prides itself on creating makeup free of talc, synthetic colors and fragrances, parabens, petroleum and pthalates.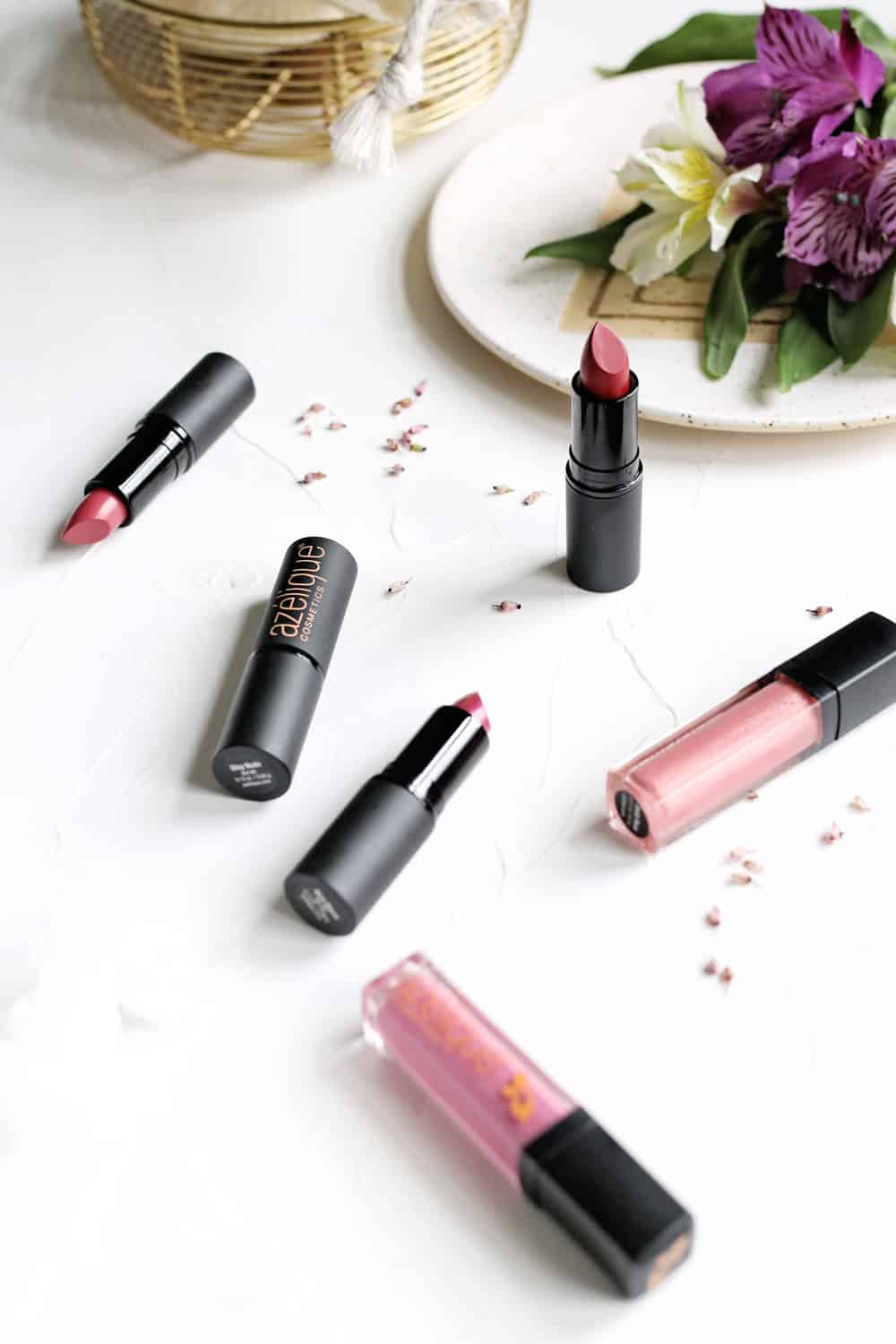 I must admit that when I first tried their products I was a little skeptical. I have tried natural makeup in the past that just didn't look or feel like the makeup I'm used to. Either it had an oily sheen, it drew attention to my lines and wrinkles or it simply wore off too quickly. But Azelique is pretty amazing in that it covers just like non-organic makeup and it lasts all day–without the harsh chemicals.
Plus, since it's sold exclusively at iHerb, you can take advantage of their low prices, free 3-day shipping (once you reach the minimum order size) on over 35,000 products that can be send to over 160 countries, and a Customer Service team that provides support in 10 languages.
With lipstick being one of the most toxic cosmetics (and they say that we eat a tube of it each year!), I always keep a few tubes of my favorite Azelique lipsticks and glosses in my bag. They're super soft and they smell amazing. Plus they're vegan, cruelty-free and loaded with minerals and phyto-nutrients.
Less Irritation
As we get older our skin has a tendency to become more sensitive. Maybe it's a buildup of gunk in our products or maybe our bodies have just learned what to react to, but rashes, redness and general irritation can become common.
Without the petrolatum, propylene glycol and sodium lauryl sulphate, natural makeup simply won't irritate your skin like chemical-laden cosmetics. Plus the phytonutrients in natural makeup will help soothe existing irritation, making your skin look and feel more radiant.
Your Skin Will Look Younger
The chemicals in traditional makeup don't just affect your insides, they can actually damage your skin and lead to premature aging. Not only do they increase oxidative damage of the skin, but by coating your face in a layer of harsh chemicals, you can dry out your skin and starve cells of oxygen.
On the other hand, most natural beauty products contain food-grade and organic ingredients that actually rejuvenate skin and make it look younger. I love that the main ingredient in Azelique's Illuminating Tinted Moisturizer is aloe vera, followed closely by water and coconut oil. Aloe vera is chock full of vitamins, minerals and phytonutrients that help decrease inflammation and nourish cells.
It's especially amazing at soothing skin conditions like psoriasis, acne and eczema, and I love how soft it makes my skin feel. It's like a vitamin-rich cream that I look forward to slathering on day after day because it leaves my skin practically glowing.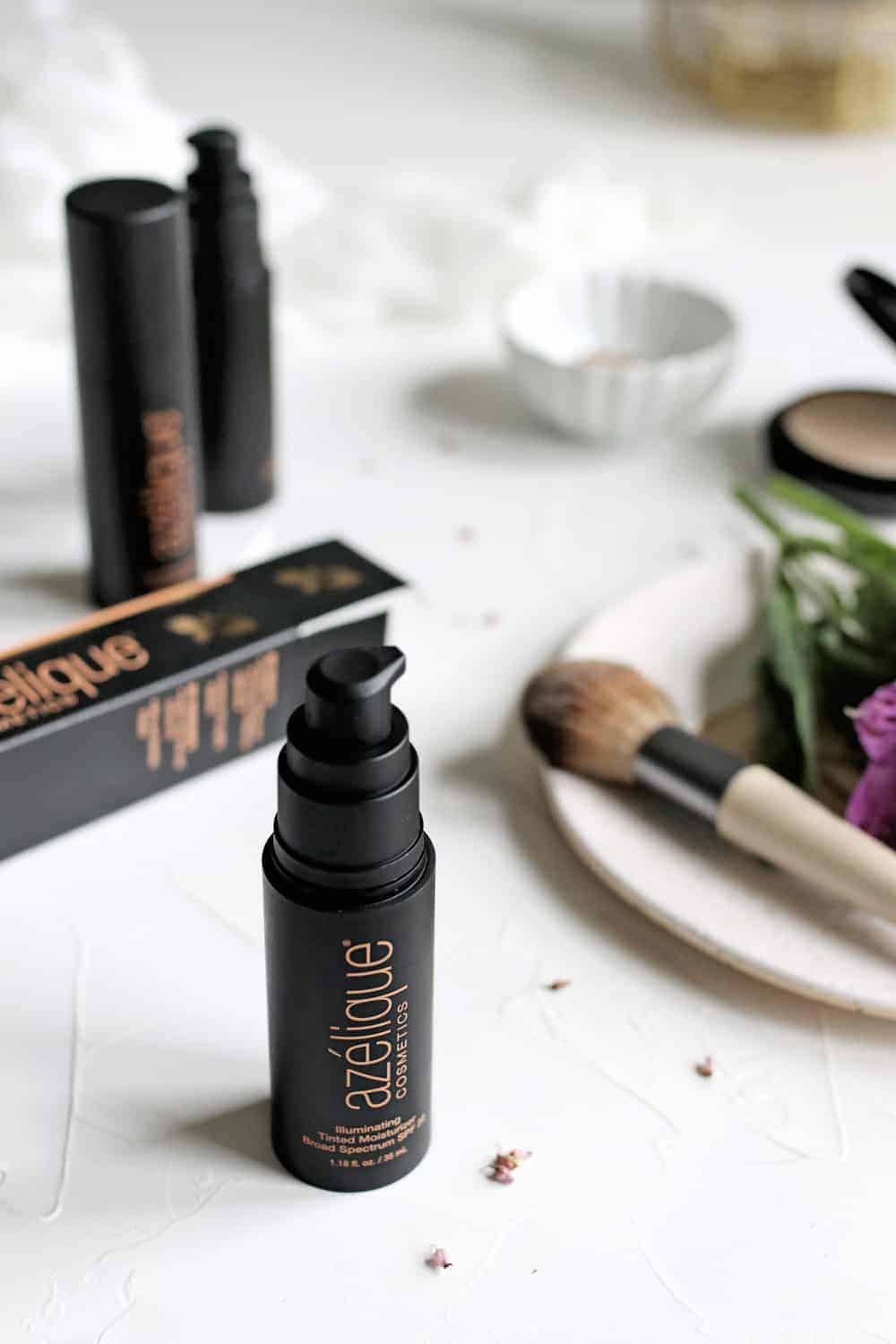 Nontoxic Sun Protection
Thanks to the minerals in non-toxic cosmetics, you're typically guaranteed a certain level of natural sun protection. Plus many organic products also contain antioxidants like vitamin C, which can help lessen the effects of sun damage. While I definitely wouldn't rely on makeup for sun protection alone, a mineral-rich powder like this Pressed Powder Satin Foundation can provide light SPF coverage in a pinch.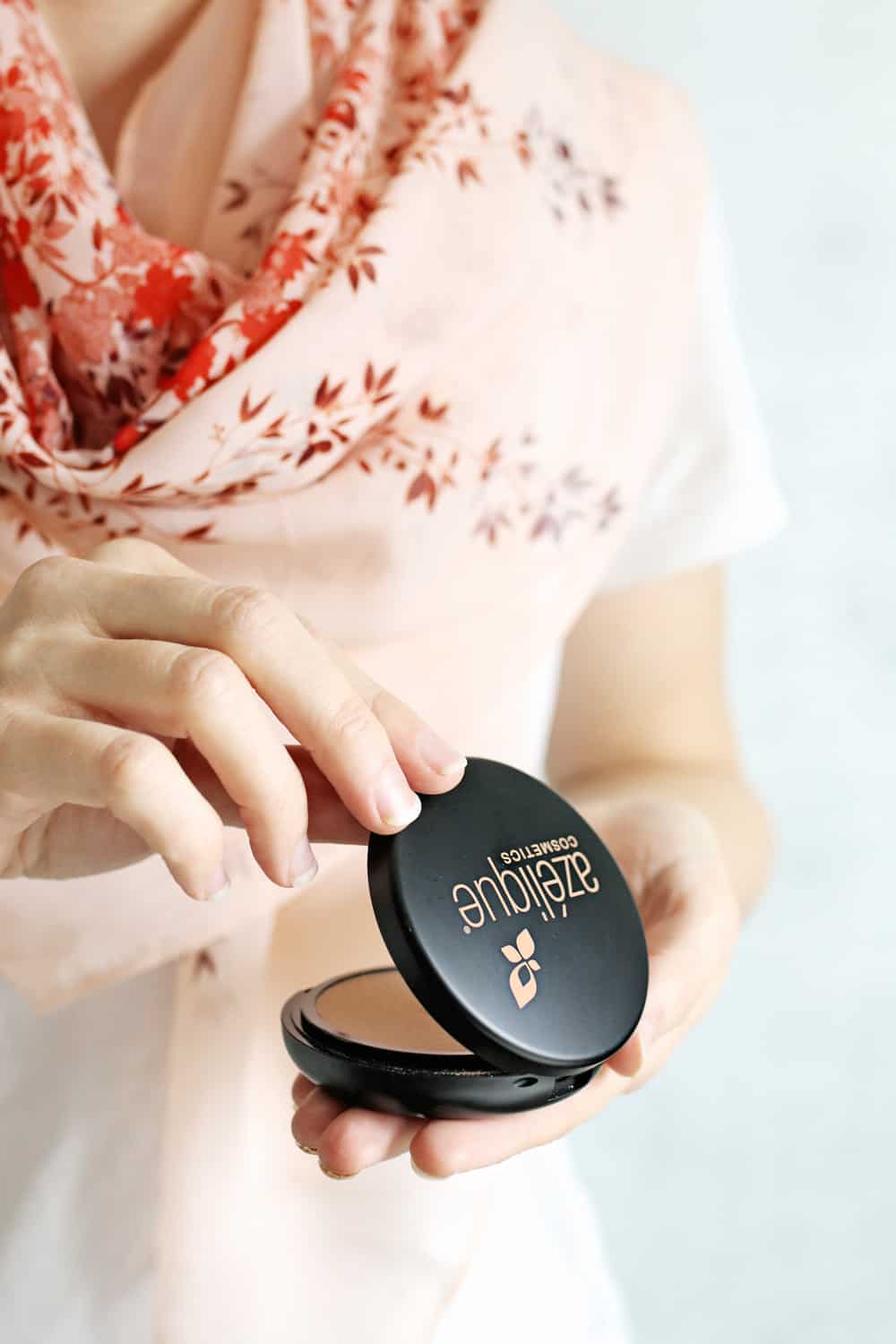 No Animal Testing
Animal testing is one of the uglier sides of the makeup industry. But thankfully when you go green, you're not only being kind to your skin, you're also being kind to animals. Azelique products are all cruelty-free and vegan so you can rest easy knowing that no animals were harmed in the making of your cosmetics.
Get a Discount on Your Azelique Order
Azelique Cosmetics are currently on sale, so it's the perfect time to give them a try. Sale ends 02/14 at 10am PT! You can shop at this link. New customers can use Promo Code, WELCOME5, to get an additional $5 off their new order of $40 or more.
16