Hands up if you love getting lost between the aisles at Target! Whether it's to pick up a prescription, grab some school supplies or groceries, it's hard not to stop in whenever you have a chance (or an excuse!).
We all joke about going there for a carton of milk and finding ourselves spending $200 instead–and the fact that their natural beauty selection seems to be getting better and better with each visit definitely doesn't help. Here are our tried-and-true beauty picks to add to your cart next time you find yourself at Target: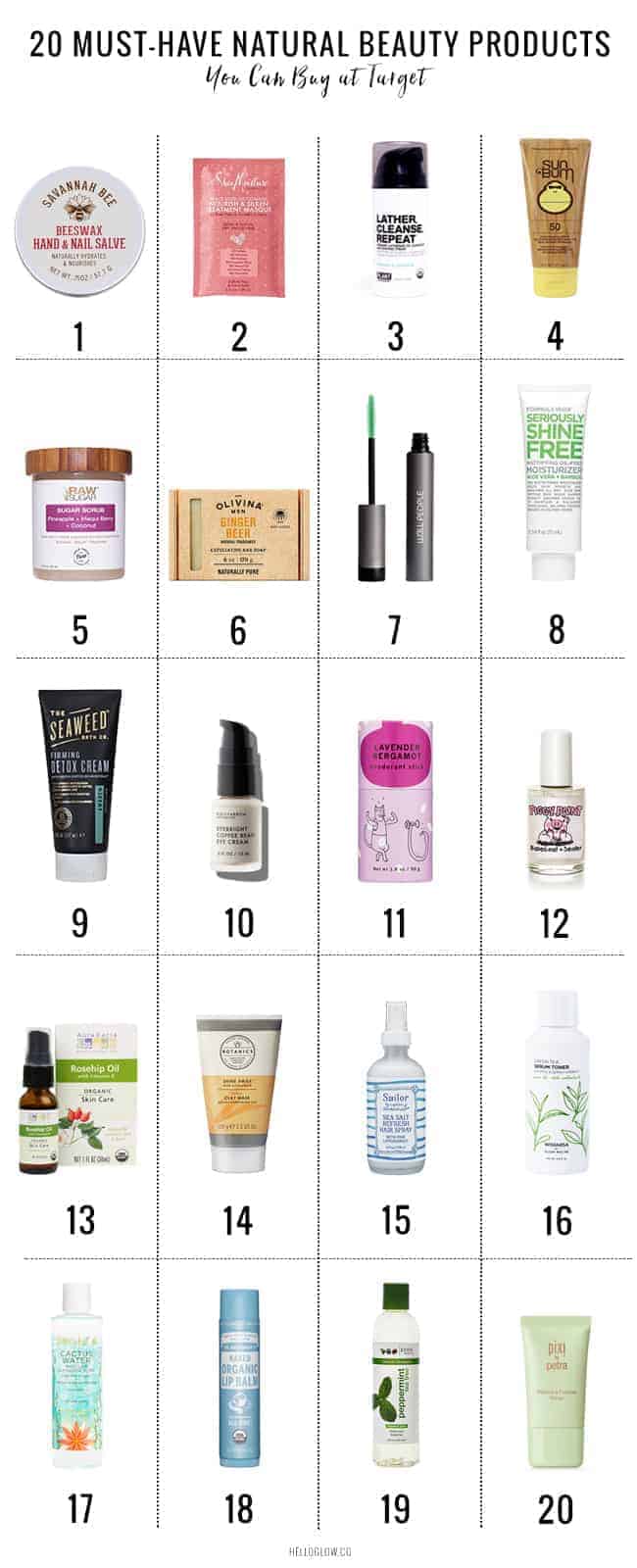 1. Savannah Bee Beeswax Salve Mini // Beeswax, Vitamin E, olive and sunflower oil are combined in an intensely hydrating salve that's perfect for winter hands and nails.
2. SheaMoisture Peace Rose Hair Mask // Treat yourself to a nourishing mask to hydrate dry hair – and it's only $2.49!
3. PLANT Apothecary Lather Cleanse Repeat // If you want the benefits of an oil cleanser, but hate the way they feel on your face, this is the cleanser for you–it rinses off! We love that it doubles as a shaving cream too.
4. Sun Bum Original Sunscreen Lotion // Ready for spring? Not without sunscreen! This Sun Bun bestseller protects from UVA/UVB rays and enriches the skin with Vitamin E.
5. Raw Sugar Pineapple, Maqui Berry and Coconut Body Scrub // Now that it's time to start shaving your legs regularly again (the one downside of warmer weather!), a good scrub is a must – and this one smells good enough to eat.
6. Olivina Men Ginger Beer Exfoliating Bar Soap // Who cares if it's made for men? The invigorating scent of this scrubby bar of soap makes us want to use it ourselves.
7. W3LL PEOPLE Expressionist Pro Mascara // Does conventional mascara leave your eyes feeling irritated and red? Pick up a tube of this one next time you're at Target.
8. Formula 10.0.6 Seriously Shine Free Moisturizer // This mattifying moisturizer, made with aloe and bamboo, is a total steal.
9. The Seaweed Bath Co. Detox Cellulite Cream // Seaweed and green coffee bean extract help smooth the appearance of cellulite.
10. FIG+YARROW Eyebright Coffee Bean Eye Cream // Coffee extract wakes up tired eyes, while shea butter and aloe soothe and hydrate delicate under-eye skin.
11. Meow Meow Tweet Lavender Bergamot Deodorant // It's always exciting to see a long-time favorite indie brand on the shelves at Target. This deodorant smells amazing and it comes in the most fun packaging.
12. Piggy Paint Nail Prep & Finish Coat // Gotta love non-toxic nail lacquer, especially one that looks this cute! You want have to worry if your daughter wants to use it as well.
13. Aura Cacia Organic Rosehip Seed Skin Care Oil // The Vitamin A in rosehip seed oil replenishes and restores mature, sun-damaged skin. Use it after cleaning your face in the morning and evening.
14. Botanics Shine Away Iconic Clay Mask Willowbark // This mineral rich clay mask leaves your skin clear, soft and smooth, due to the negative electric charge that acts like a magnet in drawing our impurities.
15. Sailor Sea Salt Refresh Hair Spray // We adore Captain Blankenship, so naturally we are over-the-moon for their new Sailor line at Target. This texturizing spray is essential for perfect beachy waves. (Bonus: we're giving away the entire Sailor lineup – enter to win here!)
16. Whamisa by Glow Recipe Green Tea Serum Toner // This toner is K-beauty at its best! Made with kale, broccoli and green tea, it's a power combo for your skin.
17. Pacifica Cactus Water Micellar Cleansing Tonic // Pacifica is one of our favorite Target natural beauty brands. Also check out their Kale Charcoal Detox Mask, Coconut Probiotic Water Rehab Cream, and Coconut Water Cleansing Wipes.
18. Dr. Bronner's Organic Lip Balm Naked // Organic beeswax protects and soothes your lips without any synthetic ingredients! Just what your chapped wintertime lips need.
19. EDEN BodyWorks Peppermint Tea Tree Shampoo // Cleanse and clarify your hair with this refreshing peppermint and tea tree shampoo. Follow with conditioner from the same range!
20. Pixi By Petra Flawless & Poreless Primer Translucent // This cult primer minimizes shine and pores immediately, and for a long time. You'll love the velvety finish that hydrates the skin while applied.
41