Over the last few years, I've been diving pretty deeply into tarot reading. While I read the cards only for myself at first, I've been sharing my intuitive offerings with others lately, as well as leading introductory workshops. The most important piece of advice that I can offer to anyone interested in learning tarot is simply to practice—lean in to the knowledge base that's already out there through websites, books, forums, YouTube readings, and see how other people use and interpret the cards.
It can be overwhelming at first to consider mastering the meanings and symbolism of 78 different cards, but with an overall understanding of how the system is structured, you can get started on short readings pretty quickly while also allowing and encouraging your intuition to help you out.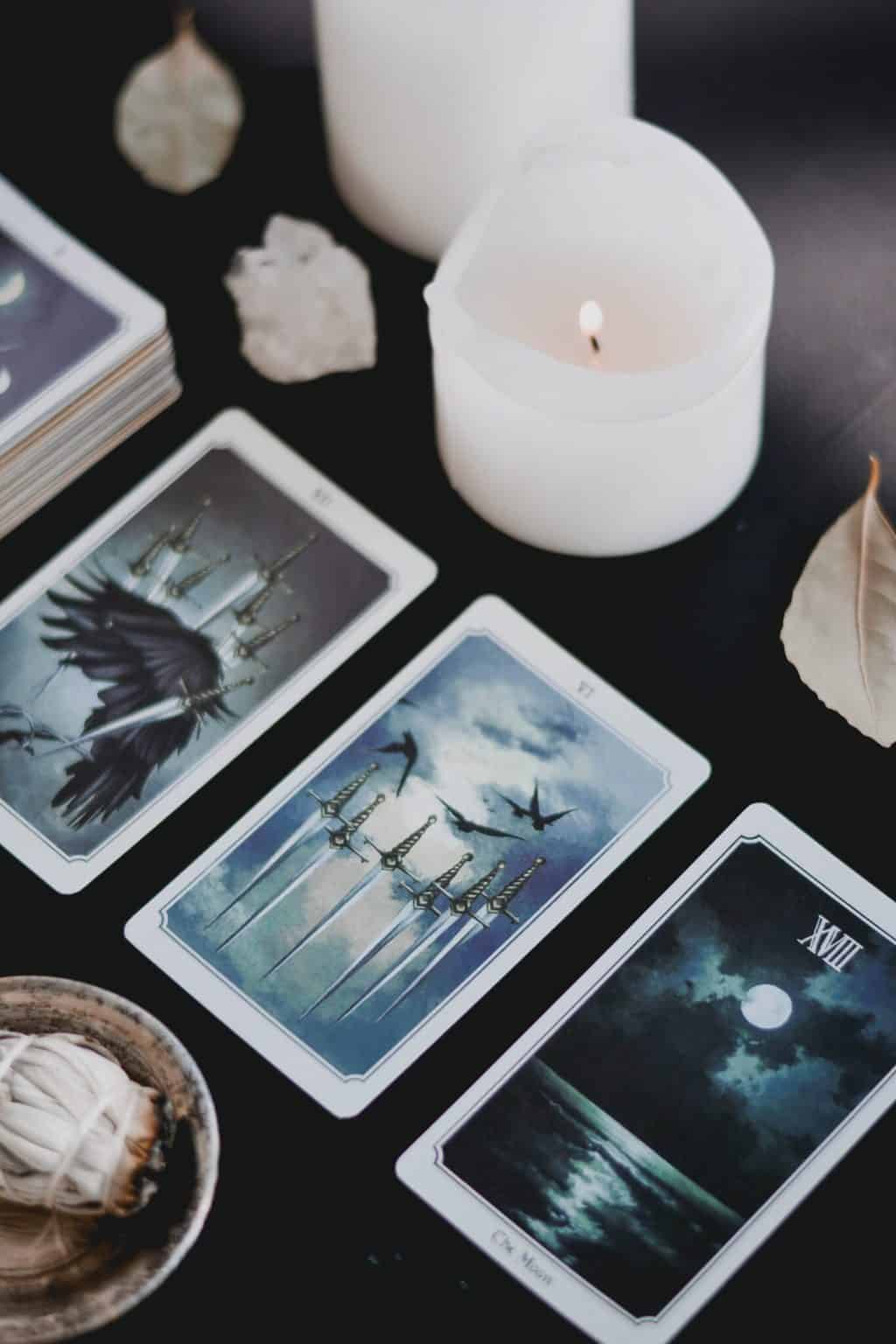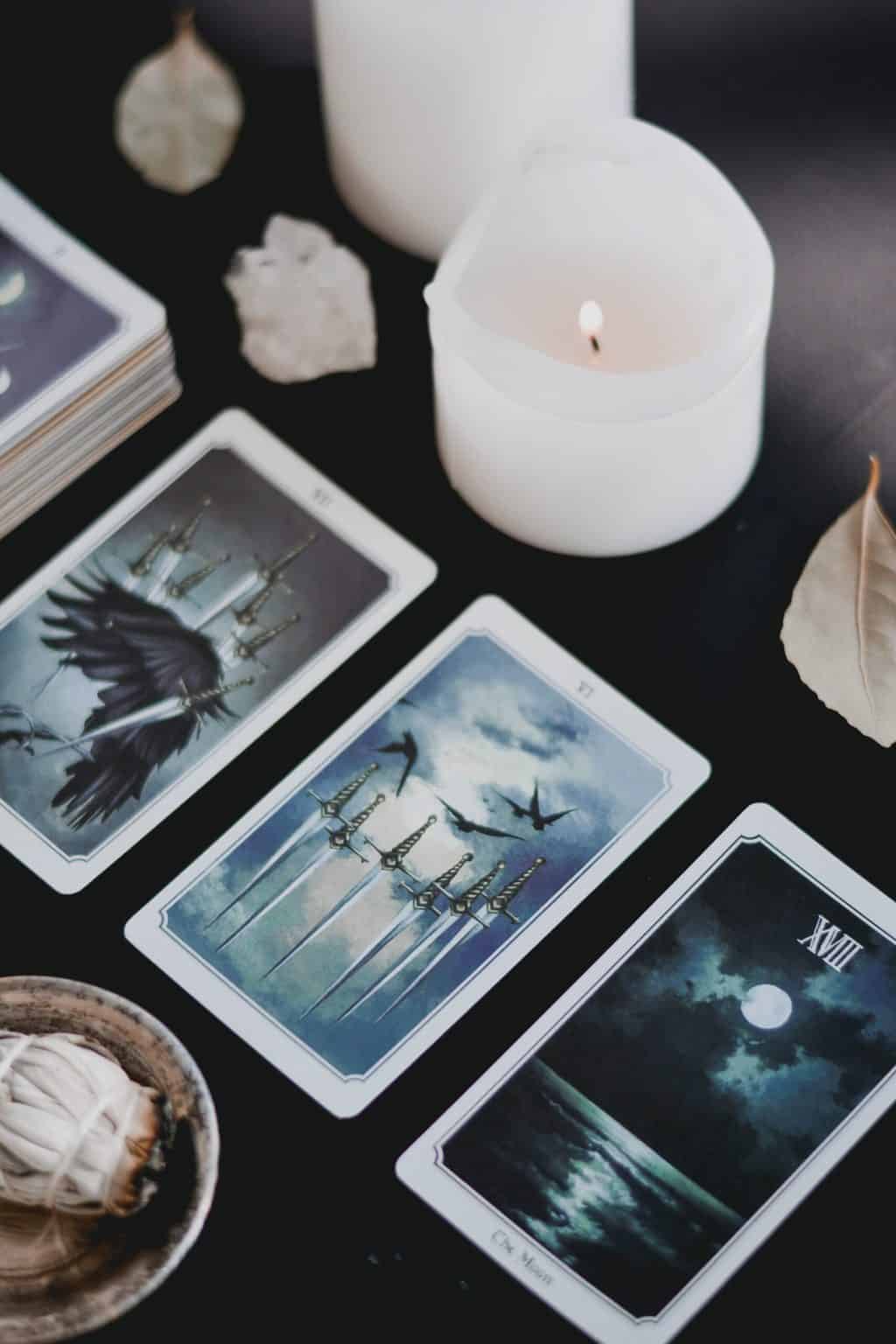 Tarot Card Reading for Beginners

Before reading, set the scene for quiet contemplation, as the energy in your space can influence how well you tune in. Choose a quiet space, bring in any crystals that feel right, set out a tablecloth or work on a clean surface, light a candle or burn incense, and incorporate any elements that help you to shift into a more intentional, clear, and attuned state of mind.
The Decks
The first thing you'll need to consider is which deck of cards to start with. I recommend working either with the traditional Rider-Waite deck or a related deck that has similar imagery. A few decks have the Rider-Waite images plus some added key words, which can be helpful for beginners.
While I really appreciate the more inventive decks and creators that pour their imagination into the cards, I recommend saving those until after you've really learned and gotten your head around the original suits and symbols.
Using Spreads
Next, you'll need to think about what kind of conversation you'd like to have with the cards. I definitely went through a predictions phase, where I was asking the cards about future outcomes. But then I quickly realized that, since the present moment is full of opportunity for choices and driven by free will, futures can be fluid and fleeting. This approach can also lead to a lot of fear—both due to what you think you see coming in the future and to the fear of making a wrong choice and messing it all up.
As such, in the last few years, I've shifted my readings away from divination and towards empowerment, which means that my readings are now focused on the actions I can take to create the sort of life I want for myself. I think about it more like a conversation with my higher self so that I can relax and trust what my intuition takes from the readings.
Reading the cards in this way is really about interpreting symbols from within a structured system as a way of understanding what you already know and intuit deep down. This can be a real gateway to developing a deeper sense of self-awareness and self-trust. Choosing a spread that focuses your energy on possibility, growth, and learning is a great exercise in self-development and strengthening your ability to follow your own inner guidance.
The One Card Reading
One card readings are perfect for beginners as they are as simple as asking a question, shuffling your cards, and pulling the card that feels right. Trust that there are no mistakes in tarot—the one that shows up is the one that's meant to be seen, no matter how far off it may seem.
I also enjoy the card-a-day reading, where you pull a card each morning, asking, "what energy is most helpful for me to focus on today?" Or, at the end of the day, I ask, "what lesson from my day could use some deeper reflection or contemplation?"
Writing your thoughts and ideas down in a journal is a great way to dive in deeper, and it gives you a sense of any patterns and the bigger picture. If you get a card repeatedly, you may notice that it's showing up when certain things happen in your day.
The Three Card Spread
Rather than working with outcome-focused, future-based readings, such as the traditional past/present/future spreads, it can be empowering instead to work with an energy advice spread.
First, think of a situation, problem, or area of your life around which you'd like to seek more clarity. Keep this in mind as you shuffle your deck.
When you feel focused and ready, pull one card to represent the energy your higher self is advising you to let go of or release, a second card to represent the energy you're being called on to amplify or strengthen, and take a third card to represent the overall guidance from your higher self. Again, working with a journal here is helpful when unpacking the messages and contemplating their meaning.
Symbolism and Meaning
Now that you've got your cards and you're ready to pull a card or lay a spread, you'll need to have some way of deciphering their meaning. Each deck typically comes with a small reference guide to help you understand the cards, and this is one way to approach it. Another way is to see the overall system as a sort of skeleton and then allow your intuition to flesh out deeper meanings based on the images you see.
How Tarot System Works
Here's an overview of the tarot system in a nutshell:
The Major Arcana and Archetypes
The Major Arcana is a 22-card subset of the deck. These are archetypal cards representing major themes, changes, and influences in your life. Beginning with The Fool and ending with The World, nearly every opportunity or challenge that could happen in a life are expressed in these cards.
If you draw a Major Arcana card, you'll know it is speaking to something that has significant weight in your life. Here is a great online resource you can reference to understand each card's meaning.
The Minor Arcana and Suits
Minor Arcana cards are less weighty and speak more to our day-to-day activities and interactions. They are organized by four suits—swords, cups, disks/pentacles, wands—and range from Ace to 10, followed by the Page, Knight, Queen, and King.
The four suits represent different elemental energies:
Cups are water and symbolize feelings and emotions
Swords are air and represent the rational mind, thoughts, and communication
Pentacles are earth and govern the physical and material realm (your health, body, money, resources)
Wands are fire and are all about motivation, passion, and actions.
The Court Cards
A good way to start with court cards—Pages, Knights, Queens, and Kings—is to read them as representing people with qualities relating to the four suits. If there are others involved in your query, you may find them represented by these cards. Otherwise, they could be referring to you, the energy you bring to a situation, or how you're seen by others.
Page energy is young/new and often relates to messages or opportunities, Knight energy is about movement and taking action, Queen energy refers to work happening internally, while the King is the most experienced and has strong external influence.
Like yin and yang, everyone has archetypically feminine and masculine aspects, so the cards you pull are not necessarily gendered but relate more to dominant energy. In readings, you'll combine the court position and suit element together, e.g., the Knight of Pentacles could refer to someone taking steady action towards building their finances.
The Numbers
The numbers Ace (1) through to 10 are also systematized. Aces mean beginnings or opportunities; 2s relate to balancing, decisions, or partnership; 3s are about planning and teamwork; 4s refer to stability and stasis; 5s cover conflict or change; 6s pertain to harmony and peace after challenge; 7s cover integrating, learning, and clarification; 8s are about working or moving forward; 9s mean abundance and near completion; and 10s indicate endings or closures.
Reading Your Cards

Now it's time to put all of these ideas together! If you pull a Major Arcana card, you'll know the message is speaking to a significant theme. A Minor Arcana card would be more about your daily activities, actions, or interactions.
Take the essence of the number's meaning, put it together with that of the suit, and see what comes up. The 2 of cups, for example, can refer to an emotional choice or possible romantic partnership.
Adding in your own ideas arising from your intuition is important to further contextualize the reading. What symbols do you see on the card? How many people are on it? What are their expressions like? What are the environments like? Does it look calm or chaotic? What emotions are evoked from the scene? Are there animals or objects on the card that mean something to you?
Brainstorm everything that comes up around what you see, and think about how this could add depth or personalize your basic understanding.
When first getting into reading, it's important to let go of any fear you have around particular cards (especially The Tower, The Devil, and Death), as there truly is no "bad card" in tarot. Remember that life is full of changes, challenges, and mistakes—big and small; it is impossible to live a human existence and avoid these entirely.
The key is to soften our edges around these tougher spots and begin to see them as opportunities for growth, learning, and self-development. Open your mind to the practice of intuitive guidance. Explore, experiment, and most of all, have fun!
Photo by Content Pixie on Unsplash
4