We hear it over and over again in the summer—SPF, SPF, SPF. But summer skin care is more than just slathering yourself in sunscreen every hour. That's certainly step one, and hard enough to keep up with, but it's essential to keep other skincare tips and tricks in mind while you're out in the sun.
The sun's damaging ultraviolet rays can do more than just burn you. Did you know that UVA radiation can even hit you through glass when you're indoors [source]? It seems like you really do need sun protection wherever you go.
As our body's largest organ, we must protect our skin, and it all starts with prevention and daily steps to keep skin hydrated and healthy. Good news is, you can easily make DIY summer skin care a reality. We've pulled together some of our favorite homemade recipes to help you not just get through the summer sun but also enjoy your time in the sun!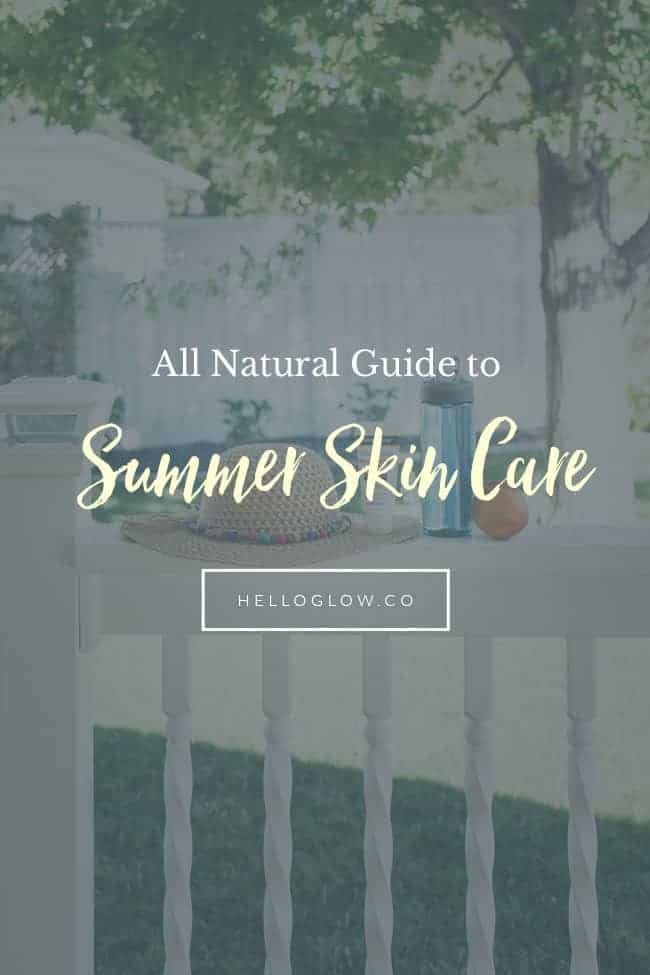 It seems like there's so much to remember, but with this guide, you'll have everything you need in one place. And as we already know, the fewer ingredients, the better…so we've kept it healthy, effective, and easy to make.
20 Homemade Summer Skin Care Tips
SUNSCREEN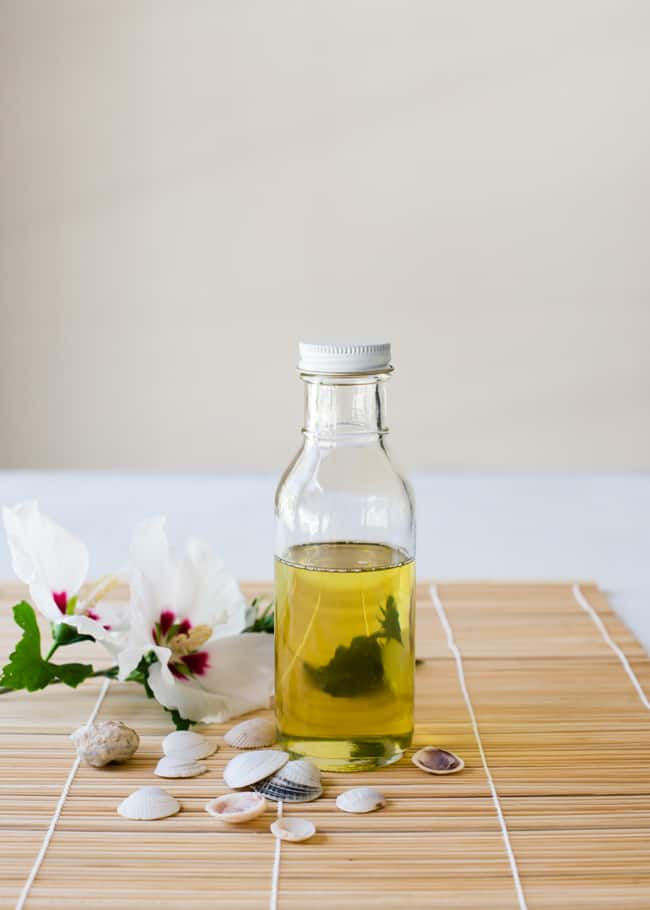 SPF Coconut Body Oil. Not only does this body oil give you just enough moisture to get through the summer, but it also has a dose of SPF included! You only need 5 ingredients, and with scents like jasmine, vanilla, and coconut, you'll smell fresh wherever summer takes you.
Whipped Homemade Natural Sunscreen. Store-bought sunscreens often contain harsh chemicals that many experts believe can lead to health issues. Oxybenzone and octinoxate are two of the most common ingredients in sunscreens, and many now believe these can mess with our hormones and endocrine system [source].
Besides removing these potentially harmful ingredients, this recipe tackles another topic—consistency. Many sunscreens can leave nasty, sticky residues, but since the main SPF ingredients here are red raspberry seed oil and zinc oxide, along with creamy shea butter and coconut oil, gunkiness won't be a problem!
Green Tea SPF Lip Balm. It's so easy to forget about SPF on our lips, but it's just as important. Spending too much time in the sun without proper lip protection can lead to dry, chapped lips, and who wants that? It works great under lip gloss, too.
SCRUBS
Pina Colada Pre-Tan Scrub. There's a lot of great self-tanners out there (OK, I love Jergens), but it's key to exfoliate your skin properly before applying tanning lotion if you want its effects to be even and long-lasting. Our pre-tan scrub, inspired by the creator of Pur-Lisse skin care, only takes ground rice, coconut milk, brown sugar, and grated ginger. Not only will your skin be ready for your tanner, but you'll smell like an exotic vacation.
Paradise Mango DIY Body Scrub. This is a great tropical scrub if you're heading to the beach (or simply fantasizing about the tropics). It creates the feeling of an amazing summer oasis, even if you're just keeping it in your bathroom. The combination of raw sugar, coconut oil, raw mango, and sweet orange essential oil creates a refreshing smell and looks bright and beautiful in a glass jar.
SUMMER MOISTURIZERS
Whipped Coconut + Green Tea Moisturizer. What's easier than making a moisturizer with only 2 ingredients? Green tea is especially awesome in summer skincare products because it can actually reverse sun damage and protect skin from the effects of aging [source]. And since it's whipped, it's a great lightweight option in the heat of the summer, rather than a heavy cream to weigh you down.
Cooling Cucumber Lotion. Since cucumbers are all over the place in the summer, why not make a light lotion out of them? It only takes three ingredients: 1 cucumber, 1/4 cup coconut milk, and 1/4 cup aloe vera juice. It's a great option to keep your skin hydrated and cool in the heat, especially if you spend a lot of time out in the sun.
SELF-TANNERS
Black Tea Tan Spray. It may sound pretty radical at first, but you can totally make your own self-tanner from black tea! Literally, all you need to do is brew up the tea, let it cool, and pour it into a spray bottle. It couldn't be any easier. Plus, black tea has many health and skin benefits [source], so this tanner is actually working double time.
All-Natural DIY Bronzer Lotion. Need a temporary bronzed look for the beach? This recipe has you covered—literally. Best of all, it's made from ingredients you may already have in your kitchen! It's also super soft and silky since the base is plain hydrating lotion. All you need to add is cinnamon, cocoa powder, and starch—and ta-da!
Bronzing Caffeine Butter Bar. Not only does this butter bar give you a little color, thanks to cinnamon and cocoa, but it also helps fight cellulite—talk about the perfect combination for summer! [source]. Besides the multiple benefits this butter bar gives you, it can last up to a year!
SUNBURN RELIEF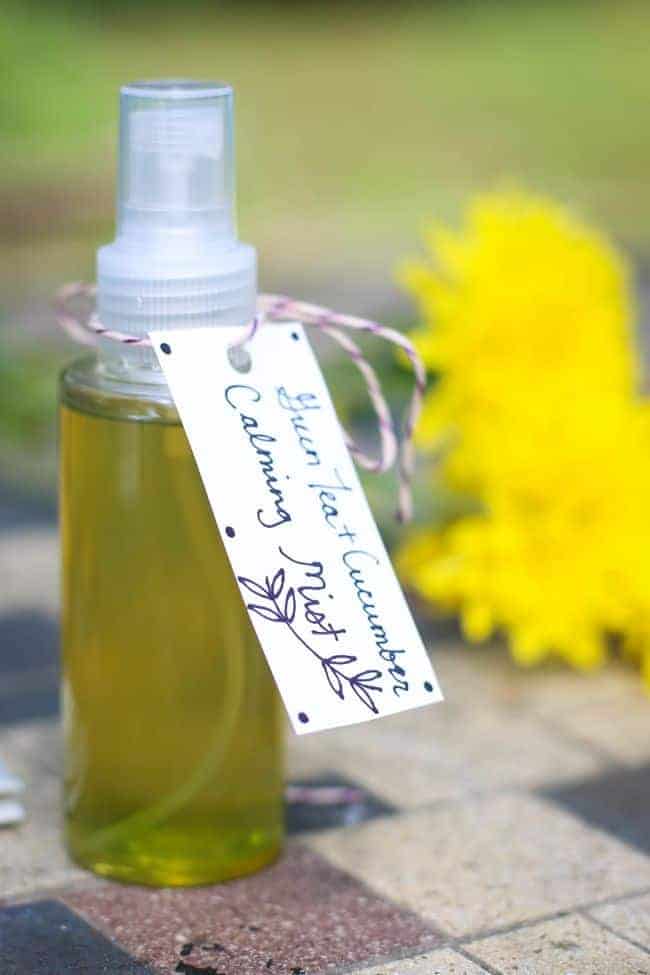 Cucumber + Green Tea Body Spray. Applying this spray just out of the fridge feels fantastic on hot, parched skin. Green tea and cucumber soothe and help heal tender skin while the peppermint provides cooling relief. It can last up to 2 weeks in the fridge, making this a super handy DIY to keep on hand in the summer.
Cooling Handmade Lotion with Whipped Coconut Oil. Got a little too burned in the sun? This lotion contains aloe vera gel, which, as we know, is an excellent treatment for sunburns. It also has coconut oil (a must in a good hydrating lotion), and essential oils. Keeping a recipe simple is best for burns, and you'll feel cool and moisturized in no time at all.
After Sun Aloe Face Mask. Burned cheeks and nose? Aloe shines here again in this face mask with raw honey. Both are natural healers [source], and aloe, in particular, is an anti-inflammatory [source]. You heard right. Only two ingredients, and you'll feel relief from that time in the sun.
Sunburn Soothing Oatmeal Bath. Pain all over from too much sun? Take an oatmeal bath! Simply add ground oats, baking soda, and apple cider vinegar to lukewarm water. Applying aloe or coconut oil post-bath is a great idea for adding extra moisture to your skin. Just make sure your water is not too hot, as hot water can further irritate your skin.
BLEMISH HELP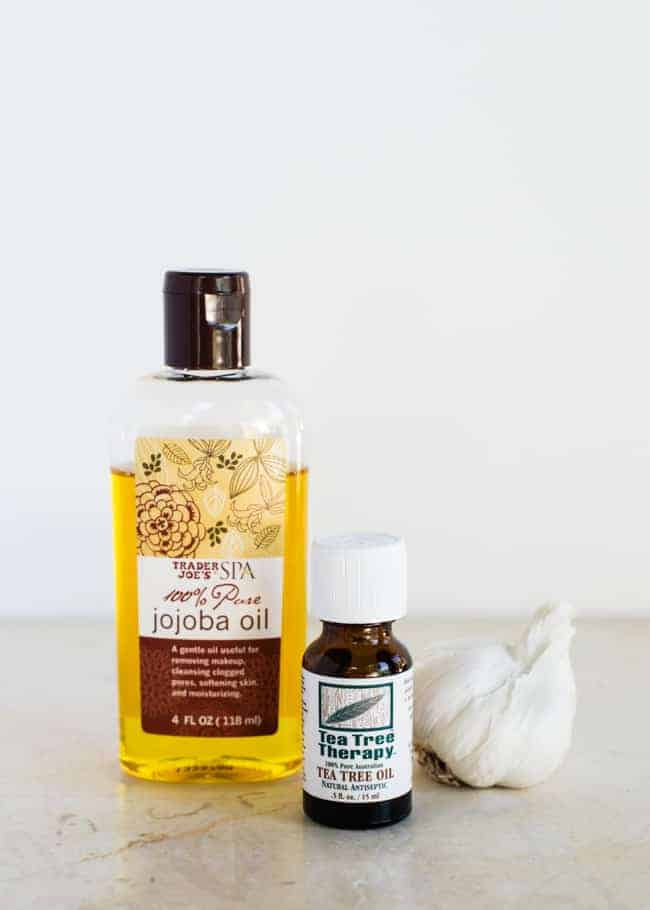 Summer Zit Treatment + Tricks. Many of us love the hot weather, but let's face it, our skin doesn't love it quite as much as we do. As temperatures rise, so does our oil and sweat gland activity. They essentially work overtime to keep our body temperatures cool.
Add in extra sunscreen applications and longer days spent outside in the elements, and you've got yourself a recipe for a summer breakout. Check out our 6 tips for avoiding summer breakouts, along with a super-easy DIY zit treatment using just garlic, jojoba oil, and tea tree oil.
Age Spot Remover. As the weather warms up in the summer, you naturally show more skin. And summer can really bring out age spots, whether you already have them or not. Age spots are due to extended time in the sun, causing pigmentation in the skin—typically on the hands and face. Try our all-natural age spot remover that lightens, hydrates, and exfoliates the top layer of skin. All you need is cooked rice, agave nectar, and lemon juice!
Underarm Lightener + Arm Bump Treatment. The underarms can be a tricky place to keep pretty. If you're looking to lighten up a bit under there in preparation for tank top season, try this recipe with lemon, hydrogen peroxide, and baking soda. And while you're working on your underarms, this post has some ideas for arm bumps (keratosis pilaris) using apple cider vinegar.
BUG BITE TREATMENT
Bug Bite Balm. This bug bite balm is made with essential oils + beeswax (heals bites), calendula (takes care of swelling), and shea butter + avocado oil (gives your skin an awesome dose of moisture). And as a bonus, it smells great.
Epsom Salt Bath. Bee stings and poison ivy are almost inevitable in the summer and can definitely throw off our glowing summer skin. Luckily, an easy relief option is a soothing Epsom salt bath. You can also make an Epsom salt compress by mixing 2 tablespoons of Epsom salt with 1 cup of cold water. Soak a cotton washcloth in the solution and apply.
Homemade Calamine Lotion. If you'd rather opt for a non-bath option, try out this lotion to treat pesky bites. It uses sea salt, baking soda, bentonite clay, water, and essential oils. Keeping the recipe simple reduces the risk of irritation that you may find with store-bought products.
P.S. We've got everything you need for summer hair care too!
This article was medically reviewed by Dr. Gina Jansheski, a licensed, board-certified physician who has been practicing for more than 20 years. Learn more about Hello Glow's medical review board here. As always, this is not personal medical advice and we recommend that you talk with your doctor.
22