There are two things I think of when I think of gelatin: One is the neon-colored Jell-O salads that frequent family gatherings here in the Midwest; the other is how when I was vegan, I would have to explain what gelatin was—and why I couldn't eat it—to the relatives pushing said neon salads.
But recently natural-health crusaders have been touting this powder as an anti-inflammatory wonder, and it's been popping up everywhere. (Gelatin is found in bone broth, which is the hot wellness trend right now.)
And there's definitely more to gelatin than Jell-O. Here's the real deal on gelatin's uses and benefits.
What is gelatin?
Gelatin is a flavorless compound derived from collagen, which is sourced from animal skins, bones and hides—basically any part of the animal with cartilage (which is why vegans and vegetarians don't partake). The most common sources are pigs, cows, fish and horses. Cartilage is hydrolyzed to form raw gelatin, which is then processed, filtered, sterilized and dried into the fine powder we see in the supermarket.
Gelatin works to create that trademark, well, gelatinous texture in gummy candy, jelly beans, candy corn, marshmallows and gelatin desserts like Jell-O. It's also used as a stabilizer in some soft dairy products like cream cheese. Those who don't use animal products can get a similar textural effect from using agar agar, pectin or carrageenan, although they won't get gelatin's health benefits.
Gelatin has a lot of non-food uses, too: You'll find it in many supplement capsules, in old-school film and photo processing, and in some cosmetics.
The health benefits of gelatin
A good source of amino acids that help support skin, nail and hair health by increasing the production of collagen. Ingesting gelatin may also protect against the aging effects of the sun, and can help prevent wrinkles and battle stretch marks. (source)
Eases digestion by keeping fluid in the digestive tract and restoring the gut's lining (source)
It's said to help balance estrogen and serotonin, which results in lowered inflammation in the body (source)
Helps heal wounds faster when taken internally or applied right to the wound (source)
Helps boost Human Growth Hormone, which can result in faster muscle recovery and in some cases, weight loss (source)
Glycine, one of the amino acids in gelatin, can be a side effect-free treatment for insomnia (source)
Types of Gelatin
For gut health or making gelatin snacks: Whole Protein Gelatin
Whole protein gelatin helps send fluid through (and protects the lining of) the intestines. This type needs to be dissolved in hot water. Use it to make gummy candy or other snacks.
For skin + joint health or insomnia: Hydrolyzed Gelatin
The proteins in the gelatin are broken down into individual amino acids. This makes the acids easier to absorb. This type of gelatin doesn't need to be dissolved in hot water, which makes it perfect for smoothies or juices.
Since gelatin comes from animals (technically animal byproducts), it's a highly regulated process, and the FDA ensures strict sanitation procedures are followed. Still, just like with the meat you buy, it's important to look for a high-quality gelatin, preferably where the animals were pasture raised and treated humanely.
Some recommended brands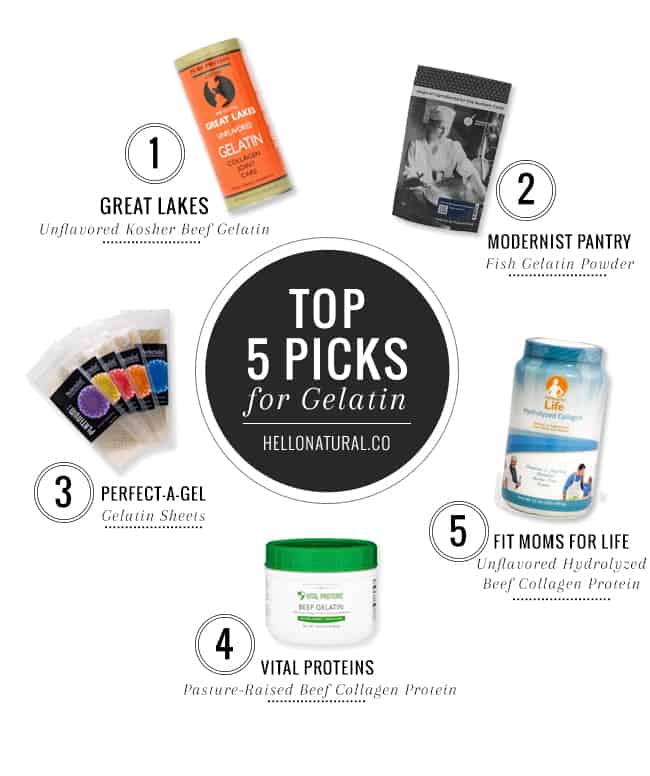 1. Great Lakes Unflavored Kosher Beef Gelatin | 2. Modernist Pantry Fish Gelatin Powder (for those who don't consume pork or beef) | 3. Perfect-a-Gel Gelatin Sheets | 4. Vital Proteins Pasture-Raised Beef Collagen Protein | 5. Fit Moms for Life Unflavored Hydrolyzed Beef Collagen Protein
7 Ways to Use Gelatin
How anyone thought to combine it with fruit flavoring and mandarin oranges is beyond me, but gelatin has a ton of culinary applications beyond Jell-O—and even some beauty uses. Note that pineapple, kiwi, mango, ginger, papaya, figs and guava can make it harder for gelatin to set, so combine with these ingredients with caution (or use small amounts).
1. Skin Mask
Collagen is best absorbed internally, but external applications definitely work too. Follow Wellness Mama's lead and dissolve 1 tablespoon gelatin with 2 tablespoons warm water and 1 tablespoon fresh lemon juice. Apply to face for 15 minutes and rinse off with warm water.
Add peppermint for an instant hot-cocoa upgrade.
3. Insomnia Remedy
Add 1 tablespoon gelatin into chamomile tea for a soothing before-bed beverage—with no grogginess the next day.
A comforting way to get collagen straight from the source, and to boost your immune system.
Juice + gelatin + hot water = a childhood favorite—but way healthier.
Make trays of these to have on hand when a fruity snack attack strikes.
7. Thickening Shampoo
Add 1 to 2 teaspoons of gelatin to your shampoo bottle to thicken and make hair more voluminous.
43