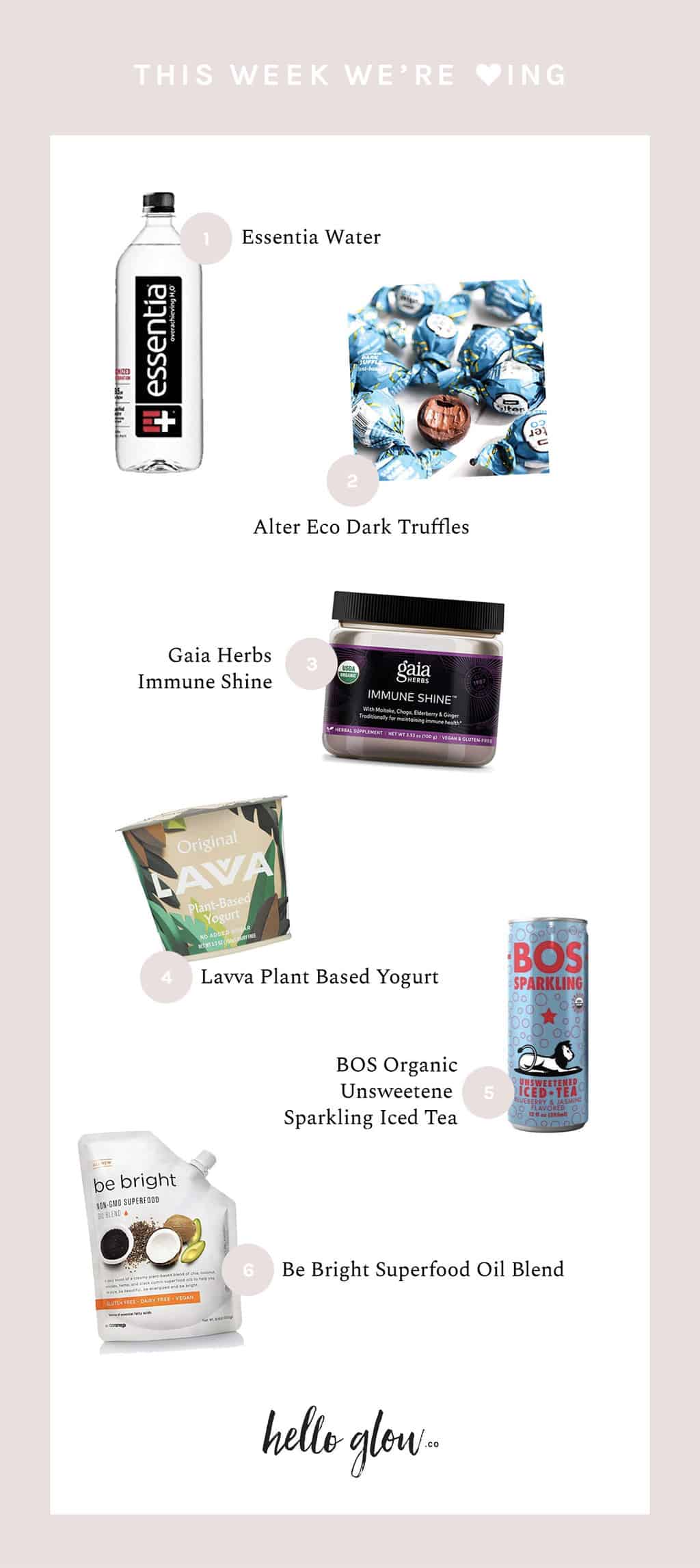 Essentia // My trainer has been preaching about drinking water with electrolytes for ages. Similar to making your own Gatorade, water with electrolytes improves rehydration by replenishing not just the water you're missing, but the minerals—sodium, chloride, potassium, calcium and magnesium—that are essential for nerve and muscle function. He turned me onto this electrolyte powder that you can add to your water, and I just discovered Essentia. The purified, alkaline water is infused with trace amounts of electrolytes and has a pH of 9.5 or higher. Alkaline water might be my new favorite thing – the smooth taste makes it so easy to drink.
Alter Eco Superdark Truffles // Guys, I love this chocolate. It's a little dangerous though because I ate an entire bag of chocolate truffles all by myself. BUT. In my defense, it was over the course of a week. Because they're so rich and satisfying that you can literally eat one (ok, maybe two) and feel satisfied. Made with 80% cocoa, the organic truffles conquer a chocolate craving with only 3 grams of sugar each. I might also be a little addicted to the 90% cocoa superdark crisp mint and and the 70% cocoa dark salted burnt caramel. Another bonus: my kids aren't super into dark chocolate yet so no one is stealing my sweets!
Gaia Herbs Immune Shine // Mixable powders have been on of the best wellness innovations to come along in ages. It's impossible for me to remember to take pills every day, but I never miss my coffee. And spooning in a little collagen or an immune-boosting herb is easy-peasy. This Immune Shine formula has a dose of good-for-you mushrooms, including maitake and chaga. Plus you get an immune-supporting herbal blend of elderberry, astragalus and ginger. Check out the 'shroom and herb blends for energy and mental health.

Lavva Plant-Based Yogurt // In my quest to find a good non-dairy yogurt I've tried close to a dozen different brands. Coconut, soy, or almond-based, I've tasted them all. We won't mention the ones that failed the taste test, but Lavva is a winner. Some non-dairy yogurts load up on sugar to hide the off-putting taste, but Lavva's no sugar added yogurt is tasty! It's a blend of Pili nuts, coconut and plaintains, which give it a hint of natural sweetness (7grams per container).
BOS Sparkling Unsweetened Iced Tea // Move over La Croix! BOS naturally has no sugar and no calories plus it's made with rooibos tea. Fizzy fun sparkling water and superfood tea is a brilliant combo for those of us who aren't big fans of hot tea when it's 100 degrees out. Grown only in South Africa, rooibos is naturally caffeine-free and full of antioxidants, those handy electrolytes, and anti-inflammatory phenylpyretic acid. You'll get the equivalent of 4 cups of brewed tea in one can of BOS.
Be Bright Superfood Oil Blend // Can anyone else not keep up with which oil is supposed to be the best? All I know is that essential fatty acids are good for us, and most of us need more of them (eat some salmon, folks). I take one of these coconut-flavored omega 3 fish oil packets almost every day, but this squeeze-able five oil blend might be even easier. The creamy blend of chia seed, coconut, avocado, hemp seed and black cumin seed oil tastes good enough to eat right off the spoon.
Disclosure: Some of these products were sent to Hello Glow to review, others are things we've bought ourselves, but everything here is something we totally love.
2