Sometimes we love a product so much, we can't keep it to ourselves. You know that feeling, right? Here are a few things that are so essential, we just need to share: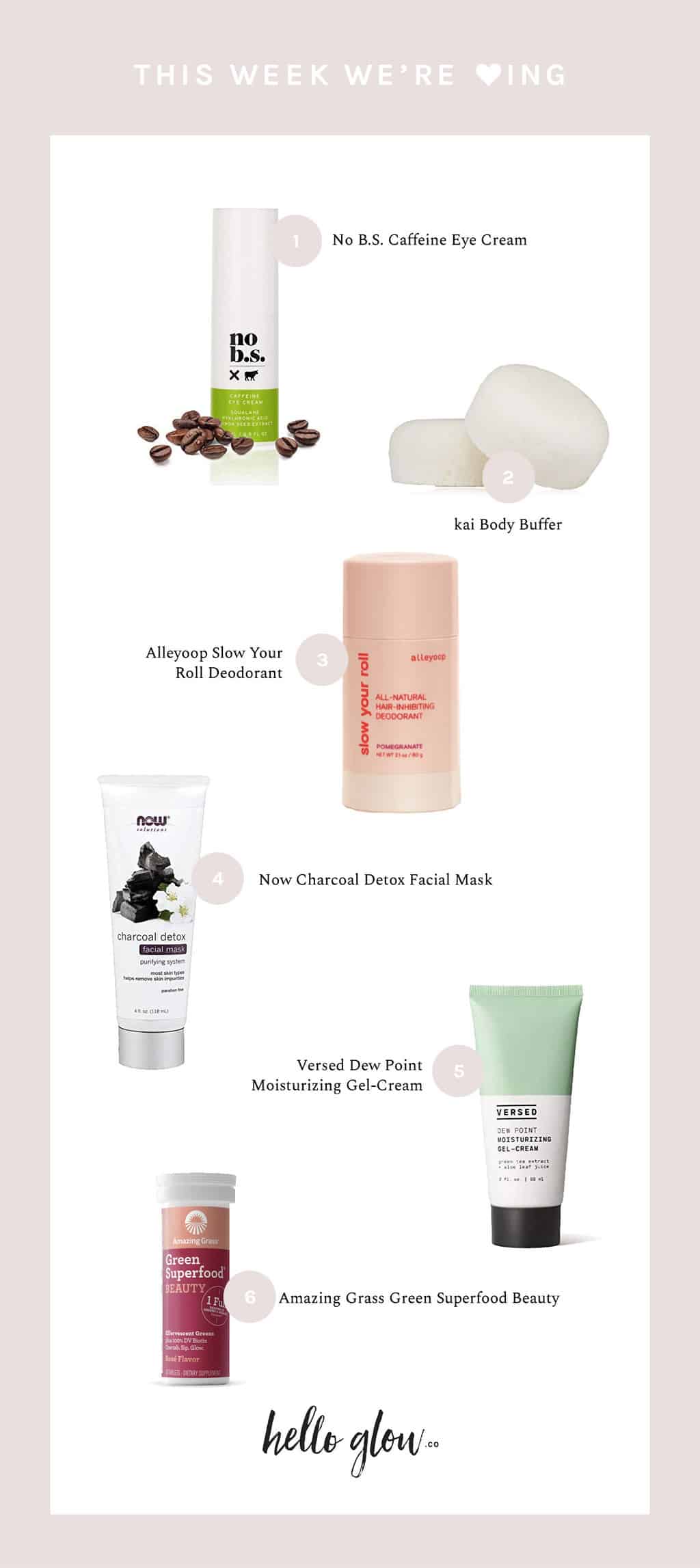 No B.S. Caffeine Eye Cream // Got puffy eyes or dark circles? Caffeine eye cream will be your BFF. You can DIY your own or try this No B.S. version that also has hyaluronic acid and squalane to plump fine lines. Caffeine wakes up the eyes by stimulating circulation than in turn reduces swelling and puffiness. This is the product I always turn to when I feel like I'm losing the battle against aging.
kai Body Buffer // It wasn't until I tried this soapy, bubbly sponge that I realized how much I needed a product like this in my life. It's a sponge and body wash in one! You can use it in the shower or turn your tub soak into a relaxing bubble bath – just wet the sponge and squeeze. Plus, it smells amazing; therefore, it leaves me smelling amazing. Don't worry, like all kai perfumes, it's free of all the baddies, like parabens, sulfates, and phthalates.
Alleyoop Slow Your Roll Deodorant // Earlier this year I did laser hair removal on my underarms, and it was almost as life changing as getting Lasik on my near-blind eyes. I still have a few strays so I'm keeping them at bay with this aluminum-free deodorant that actually slows hair regrowth over time. Yes, please. The secret is the tea tree, grapefruit peel and lavender essential oils that are natural antibacterials. Oh, and the deodorant part works too!
NOW Charcoal Detox Facial Mask // If you've ever tried to DIY with activated charcoal, you know it's messy. No matter how careful I am, that powder gets everywhere, every time. This activated charcoal and bentonite mask lets you skip the powder and still get the pore-cleansing and oil-absorbing benefits. I find some 'purifying' masks over-dry my skin – which can send oil production into overdrive, no thanks! – but this mask has plenty of aloe to keep skin happy.
Versed Dew Point Moisturizing Gel-Cream // This light moisturizer was the perfect cooling treat to sunburns and red cheeks over Labor Day. The jelly-like consistency with green tea extract and aloe leaf juice is perfect for a daytime moisturizer or to layer over a clarifying face serum at night. My favorite part: all of Versed's products are under $20.
Amazing Grass Amazing Grass Beauty Effervescent // I love mix-ins and powders that not only flavor my water but also up my intake of nutrients. These fizzy tablets give you one full serving of greens and veggies AND a full daily dose of biotin, vitamin C, vitamin E, and vitamin B12. Plus there are a ton of alkalizing greens and antioxidants packed in there. Hey, we're all about beauty from the inside out! The tabs come in fruity flavors like pink lemonade and blueberry, but I'm a fan of the lightly sweet rosé.
Disclosure: Some of these products were sent to Hello Glow to review, others are things we've bought ourselves, but everything here is something we totally love.
11