Keeping hair hydrated, especially in the colder months, can be a real challenge. While I don't consider my hair to be especially unruly, dry air can make it do things I never thought possible. But restoring your locks isn't just about adding much-needed moisture. It's also about replenishing vitamins and minerals that often get stripped away during coloring or styling.
This overnight hair treatment is a total life saver. It hydrates like a dream (see what I did there?) and it's chock full of vitamins to help mend breakage and split ends while you sleep.
Oh, and if you're worried about it leaving stains on your pillowcase, simply opt for a colorless biotin supplement (my biotin is what gave it that brown color), wear a shower cap, drape an old towel over your pillow or use an old pillowcase. The shine-boosting effects are more than worth it.
Easy Overnight Hair Mask
When your hair is insanely dehydrated and damaged, you've only got a couple of options: deep condition or cut it all off. Since I've been growing my hair out for a while now, I'm firmly in the deep condition camp. But even though I know it will do wonders for my hair, I don't really want to spend 30 minutes in the shower twiddling my thumbs while my hair mask goes to work.
Instead, I opt for this overnight hair repair mask. It's a super-potent treatment that penetrates your hair follicles while you sleep, leaving you with smoother, softer, and shinier hair in the morning.
Unlike the kind you buy at the store, it doesn't have any of those scary ingredients like parabens and pthalates. And it rinses out clean without leaving your hair feeling greasy or heavy, even if you have fine hair like I do.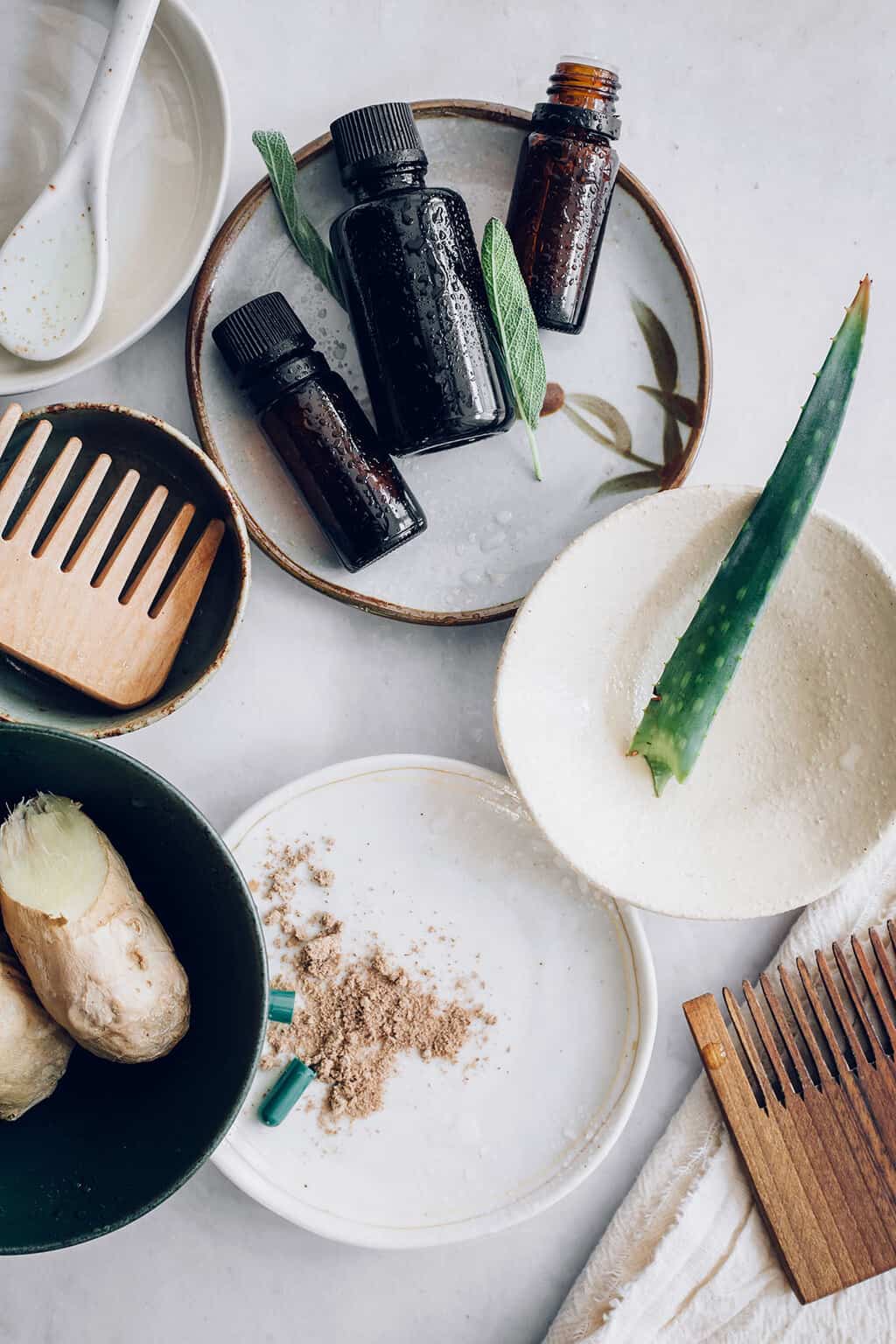 The mask relies on a blend of aloe vera, jojoba oil, glycerin and essential oils to coat even your driest bits and repair damaged tresses. And witch hazel improves scalp circulation and leaves your strands feeling clean and smooth. By adding in some biotin and you've got yourself a hair-fortifying mask that encourages growth and strengthens strands.
Just comb the mask through dry hair before bed, then slap on a shower cap and go to sleep. The mask soaks in overnight so you wake to brand new locks. Yeah, it's that easy, and you'll see a difference in just one night.
Ingredients
Instructions
1. Combine everything in a small bowl and whisk until smooth. Transfer the mixture to an airtight bottle.
2. Give the bottle a good shake, then apply to clean, dry hair using your hands. Comb through hair until strands are lightly coated but not soaking wet.
To protect your bed linens either wear a plastic hair cap, use an old pillowcase, or cover your pillowcase with a towel. Rinse out the next morning and style as usual.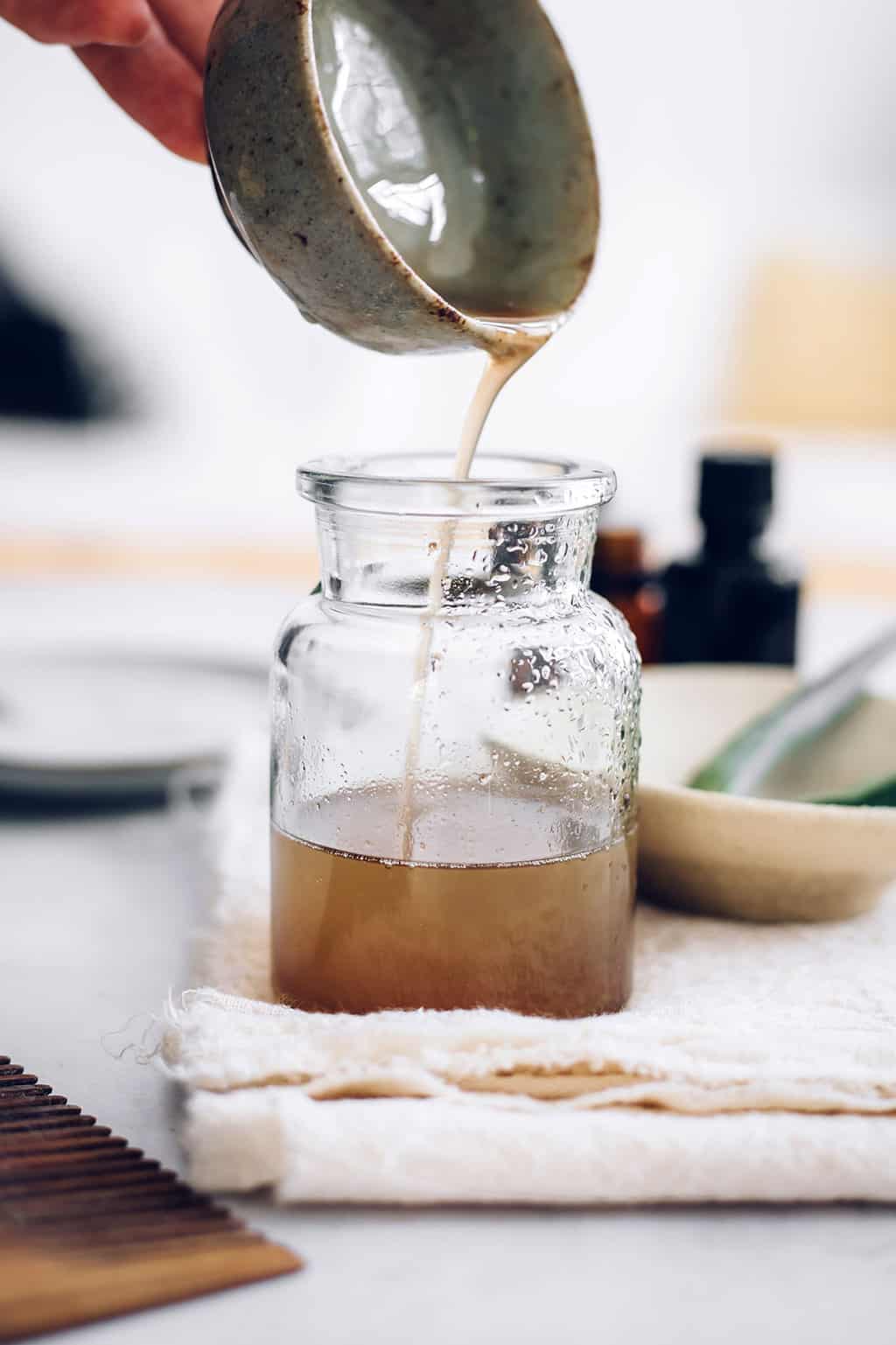 This post was medically reviewed by Dr. Jennifer Haley, a board-certified dermatologist with extensive experience in medical, cosmetic and surgical dermatology. Learn more about Hello Glow's medical reviewers here. As always, this is not personal medical advice and we recommend that you talk with your doctor.
148