Why hello, it's a new monthly feature! Sometimes we love a product so much, we can't keep it to ourselves. You know that feeling, right? Here are a few things that are so essential, we just need to share: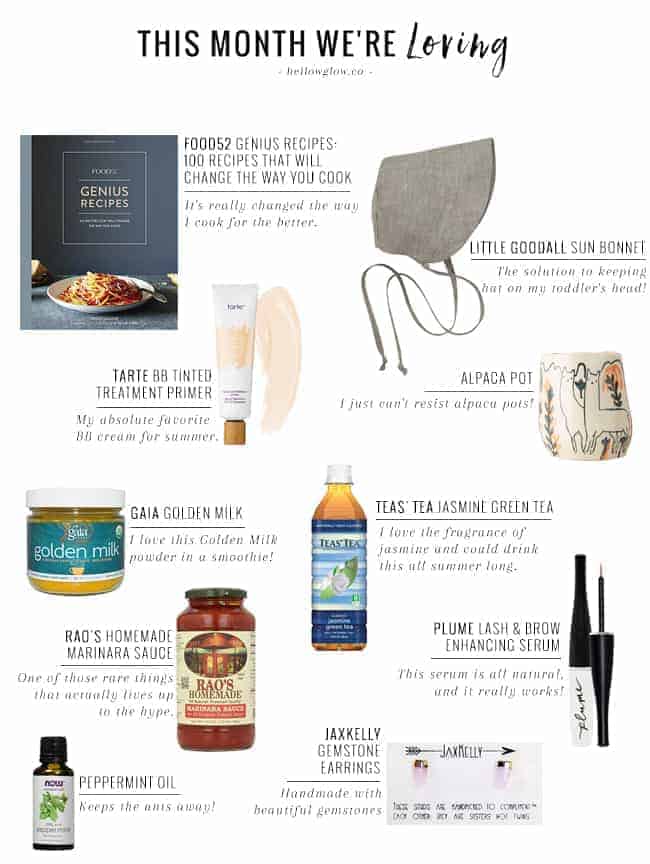 Food52 Genius Recipes: 100 Recipes That Will Change the Way You Cook // This isn't a new cookbook, but it's one that I've been coming back to a lot lately. It's really changed the way I cook for the better. And the recipe for tomato sauce with butter and onion? Amazing.
Little Goodall Sun Bonnet // It's impossible to keep a hat on my toddler's head on breezy days and with her light, thin hair, I worry about sunburn, so we're going old school this summer with a sun bonnet. (PS – If you're a Liberty of London fan, check out Little Goodall's Liberty collection too!)
tarte BB Tinted Treatment Primer // This is my absolute favorite BB cream for summer because it's SPF 30 and it offers buildable coverage for my imperfect skin. If your foundation doesn't have SPF, use this BB cream as a primer for sun protection.
Alpaca Pot // Oh, alpacas, I just can't resist you. I have way too many pots and planters in my house already, but I still had to have this one. No regrets.
Gaia Golden Milk // No matter how hard I try, I just cannot make the turmeric latte thing happen for myself–they're just undrinkable to me. But I love this Golden Milk powder in a smoothie—I do a cup of almond milk, a banana, a scoop of unsweetened whey protein powder, a tablespoon of almond butter, and a heaping teaspoon of the Golden Milk mix. It's perfection.
Teas' Tea Jasmine Green Tea // I don't eat or drink anything with added sweeteners, so beverages can get a wee bit boring, but this one is special. I love the fragrance of jasmine and could drink this all summer long. And probably will!
Rao's Homemade Marinara Sauce // I finally gave Rao's a try and it's one of those rare things that actually lives up to the hype. So good.
Plume Lash & Brow Enhancing Serum // Remember when lash growth serums first became a thing and it was like, oh, BTW, your blue eyes might turn brown but hey at least your lashes will be gorge! This serum is all natural, it really works, and it will not change your eye color. I'm not good at remembering to apply it and even with usage just a few times a week, I've noticed a difference in my lashes.
Peppermint Oil // We already knew peppermint oil was a miracle worker (ever tried it for tension headaches?!), but if you have an ant problem, try swabbing it on doorways, windowsills, and cracks where they're entering your house. It totally works, without dangerous chemicals.
JaxKelly Gemstone Earrings // I'm not a big earring person, so I love fun little studs like these. Handmade with beautiful gemstones, they make a great gift too.
Note that some of these are things we've bought, others are things we've been sent for review, but everything is something we love.
1