Be honest: When's the last time you went to the grocery store with the intention of stocking your fridge with healthy snacks, only to come home with a bag of not-so-healthy "treats"…and one token bag of baby carrots that still sits unopened in the crisper drawer?
Everyone knows that planning is key to eating healthy, but it doesn't have to be a full-time job. Keep these healthy foods in your fridge at all times, and you'll be prepared to make a good-for-you meal or snack at a moment's notice. Put these on your grocery list now!
1. Berries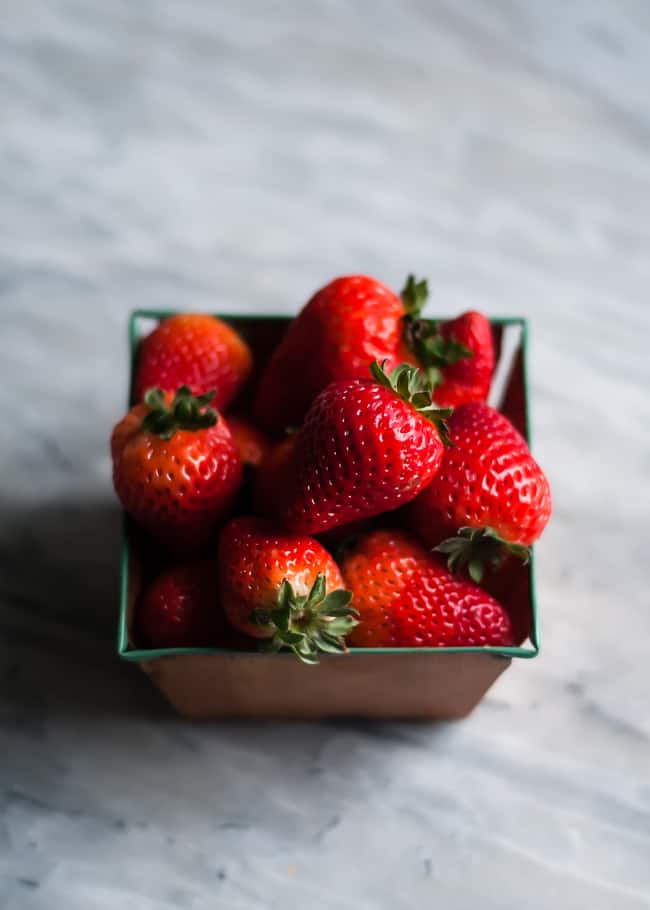 Not only are they packed with antioxidants and fiber—they're versatile, too: Use them in cereal, oatmeal, yogurt or smoothies. Or just snack on them when you get a sweet craving. If you're worried about them going bad, simply buy in bulk, wash, then freeze some to use later. Or portion them out into freezable smoothie packs.
2. Greens
You've heard it a million times before, but that's because it's true! Dark, leafy greens are one of the best ways to get essential nutrients with hardly any calories. Throw a couple bunches of spinach, kale, chard or other greens in your cart every time you shop. And they're not only for salads! I try to wash and prep them as soon as I get home, then simply grab a handful out of the fridge to use in smoothies, salads, egg dishes, casseroles, juices, curries. Sauté and wilt them in a little rice wine vinegar and top with sesame seeds for a quick side. Pre-washed and bagged or boxed varieties make it even easier!
3. Yogurt
Probiotics are one of the best ways to keep your skin, digestion and immune system in good shape, and yogurt is just about the easiest (and tastiest) way to do it. Luckily, those who are avoiding or minimizing dairy don't have to be left out of the yogurt scene, as there are more and more non-dairy options available. If you're worried about a large container going bad, or want a grab-and-go option, keep a stash of handy single-serving containers in the fridge at home and/or at work. Just open the container and grab a spoon; it couldn't be easier! Add some of your berries for extra flavor and fiber!
4. Pea Shoots
I had never even heard of pea shoots until I started seeing them in the produce section at Trader Joe's. But now I can't live without them. They're a cross between peas and greens—the crunchy, leafy, shoots of the pea plant that get harvested when they're young. They have similar flavor and nutritional benefits (antioxidants, anti-inflammatory properties, low calories, high fiber) as peas, and can be used just like greens. Toss them into salad, pasta, sandwiches or wraps, smoothies, pretty much anything.
5. Hummus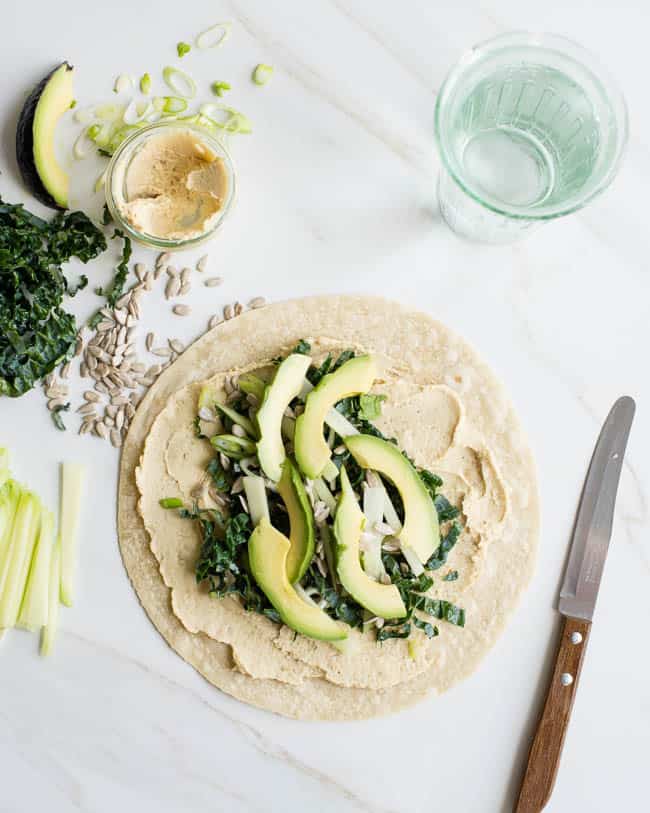 Pretty cool that everyone's favorite savory dip also happens to be pretty healthy, right? Make your own (mixing it up with avocado, different beans or added veggies) or look for a store-bought version that doesn't have a ton of additives. This protein-packed puree is super versatile; it can be used as a dip with veggies or rice crackers, a spread for wraps and sandwiches, a salad ingredient, pizza topping or salad dressing.
6. Apples
True, simply eating an apple a day probably won't keep the doctor away, but it can ensure you get enough fiber and antioxidants. They add a perfect sweet-tart crunch to salads and even quesadillas; apples can help you curb cravings for processed sweets. I swear by sliced apples with almond butter as a dessert. Or go with the Apple Dipper Bar idea from Lauren's Latest.
7. Infused Water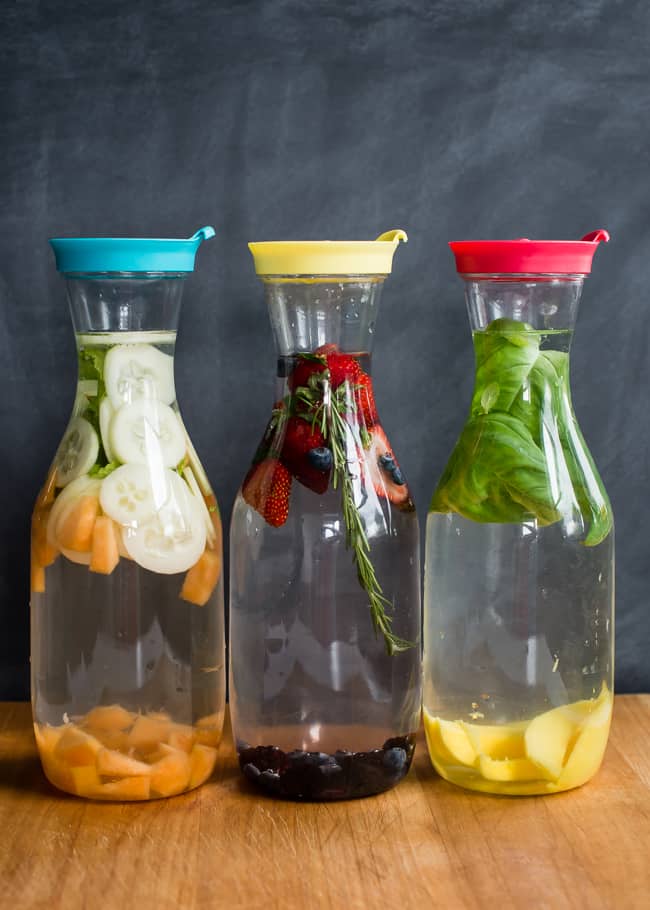 Okay, water's not food, per se, but keeping a carafe of veggie-, herb- and/or fruit-infused water in the fridge is one of the easiest ways to stay full, get vitamins and minerals, and stay hydrated—which means, yes, a lot of trips to the bathroom, but also healthier skin, more energy and better digestion. Plus, it's an easy way to avoid wasting extra produce! Here's our guide to making infused water, and 21 extra recipes to get you started!
8. Citrus
Lemons and limes aren't just great additions to infused water (see above); squeezing a little of their juice onto tacos, rice and beans, salads, steamed veggies (or using it to make homemade salad dressings) is an easy way to add flavor and vitamin C. When you consume grapefruits, tangerine and oranges whole, you get more health benefits and less sugar than just drinking the juice. Try them in salads or even as dessert!
9. Eggs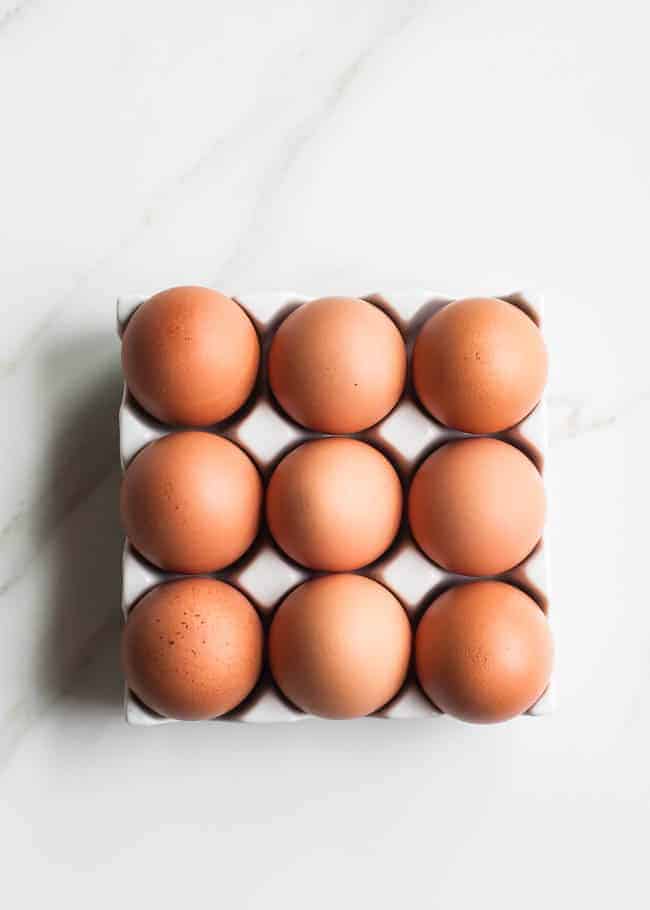 With eggs on your team, there's never an excuse for not making a healthy meal. Sure, they have cholesterol and they've gotten a bad rap over the years, but they've come back into favor because of their protein, as well as B vitamins and vitamin K2, which helps keep your skin healthy and elastic. Some eggs are even enriched with Omega-3s, which are great for heart health and skin. Try poached or scrambled eggs over greens or roasted veggies, hard-boiled eggs in a salad or sandwich, a veggie frittata or omelet, breakfast burritos, or branch out into international dishes like bibimbap.
10. Coconut Milk
Smoothies, curries, popsicles, whipped cream, soup, ice cream, pudding, splashed in coffee, mixed into oatmeal…so many ways to add B vitamins, minerals, antioxidants, healthy fats and lauric acid to every meal. Just keep an eye on the fat content, and consider buying a light version if you're going to be using it a lot.
What healthy foods do you stock your fridge with?
8