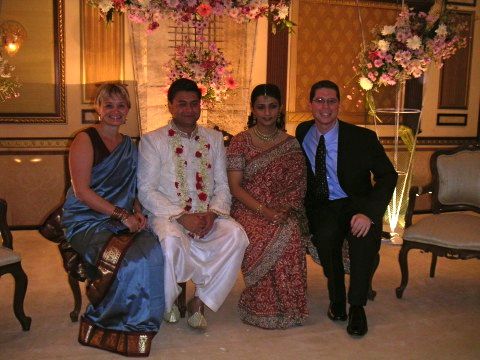 I've enjoyed reading Star's travelogue so much – she has gone to such unique places, you should check it out. It reminded me of some of our pre-kid travels to exotic locales. So while we head out today (nowhere too adventurous this time, unless you find Delaware exotic) I thought I would share one of our more memorable trips – when we went all.the.freakin.way to PAKISTAN for a wedding.
Yes, folks, my husband is a very loyal friend. One of his best friends from his years in New York is a native Pakistani (his father used to be the Secretary of State for Pakistan). He was marrying a local girl in a very traditional – and elaborate – wedding so, sure, we'll be there!
There were three parties but no actual wedding, which I thought was interesting. Our hosts were so gracious to the Americans and other Europeans who attended. They had two outfits made for each of us and we all had our hands painted with henna.
They made us feel very safe. We never left the hotel without someone from the family as our escort. And we ate meals either in the hotel or with our host's family. It was quite an experience.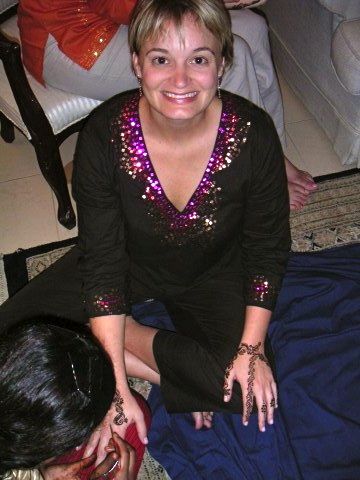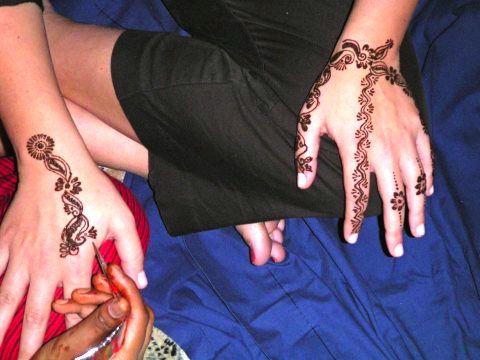 All decked out for the first party.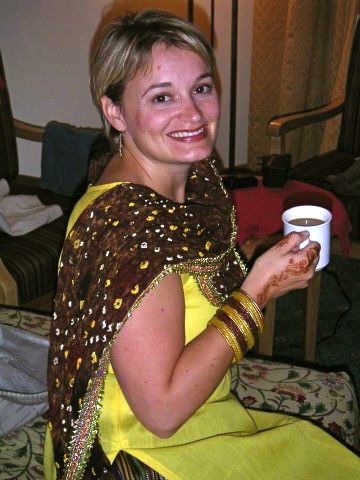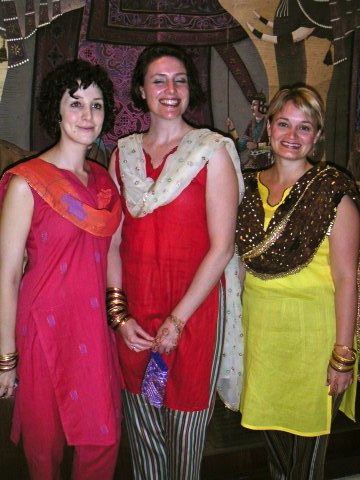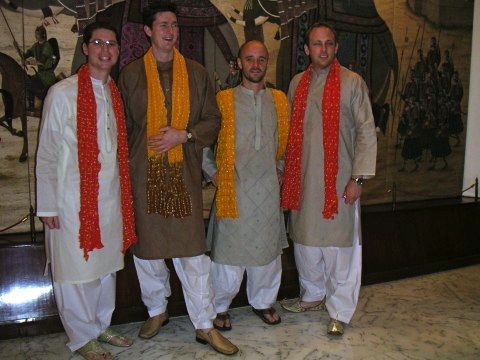 The first ceremony was definitely the most casual and laid back. The place was lit up with string lights and decorated with jasmine and marigolds so it smelled amazing. It was a gazillion degrees with all the layers, tons of dancing, and no AC. But the bride outdanced us all!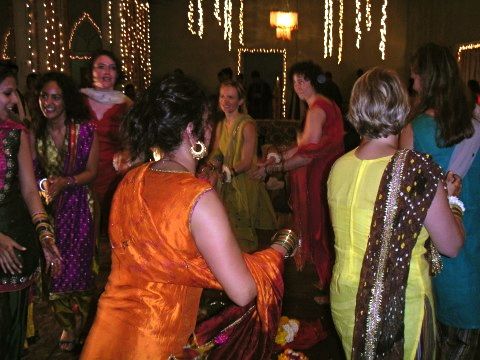 Here's the bride and groom.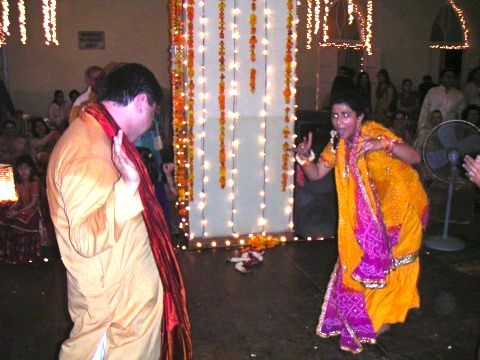 The next ceremony was much more formal. Much like a typical reception – just without having a wedding ceremony beforehand. It was one giant receiving line with the couple on stage. We had fancy outfits for this too. (I could not get mine to drape right.) But we paled in comparison to the stunning handmade sari worn by the bride.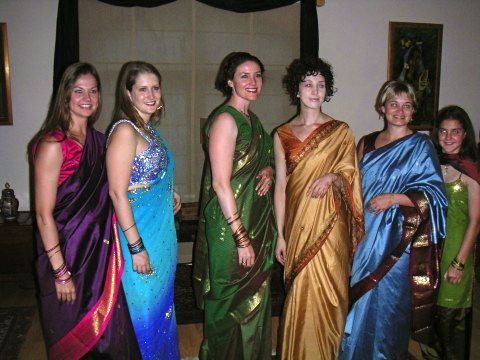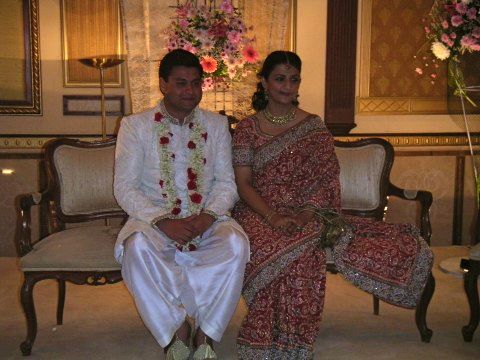 I don't remember much about the last party. More food, more dancing. The events were spread out over a week so by the third one, I was pooped. We did manage to get some shopping in. These bracelets were glass and would break so easily.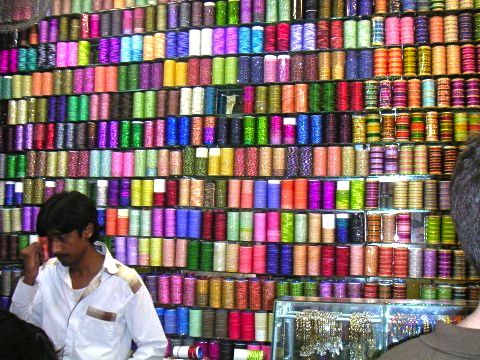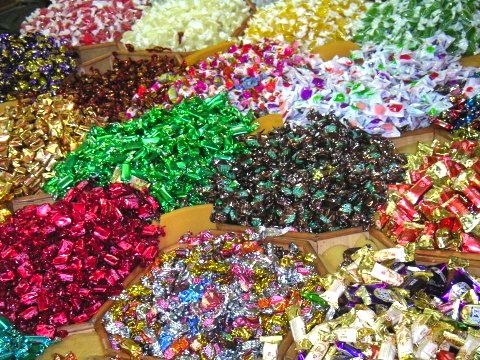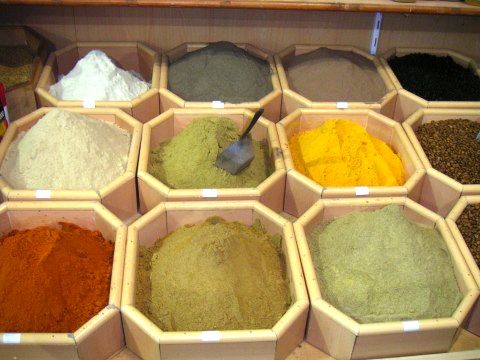 Randomly on the street you would see a snake charmer.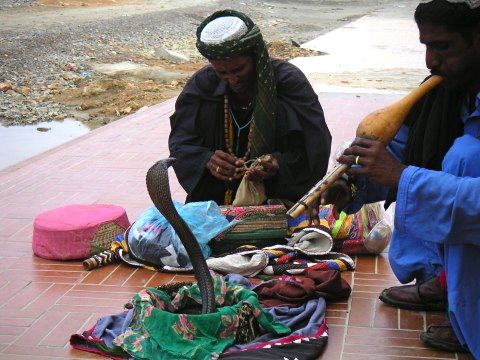 We missed our connection in Dubai and spent an extra day there. That city was amazing. I'd go back there in a heartbeat. Everywhere you looked the world's largest/tallest/most expensive something was being built.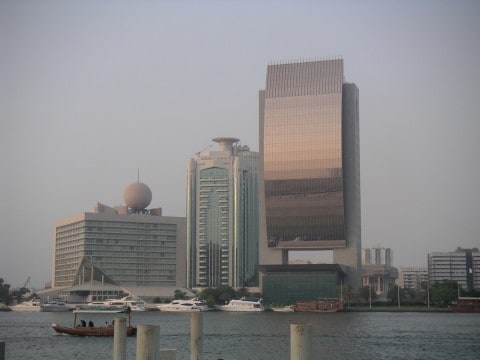 0