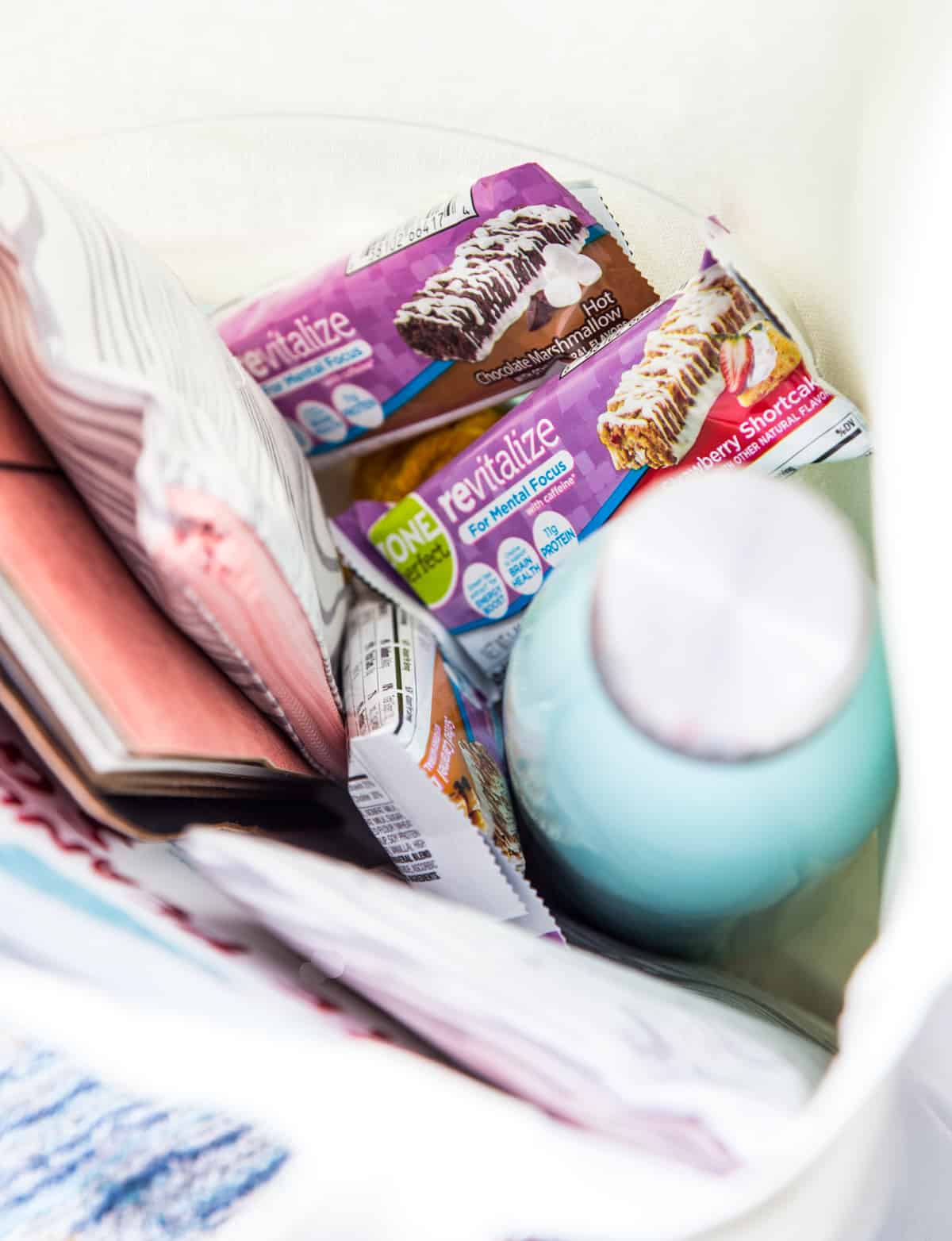 This post has been sponsored ZonePerfect. All thoughts and opinions are my own.
We are in the middle of summer which means travel is becoming a big part of our lives. Traveling for work or fun can be stressful at times, but with my simple travel tote bag packing tips, your journeys will be nothing but exciting adventures!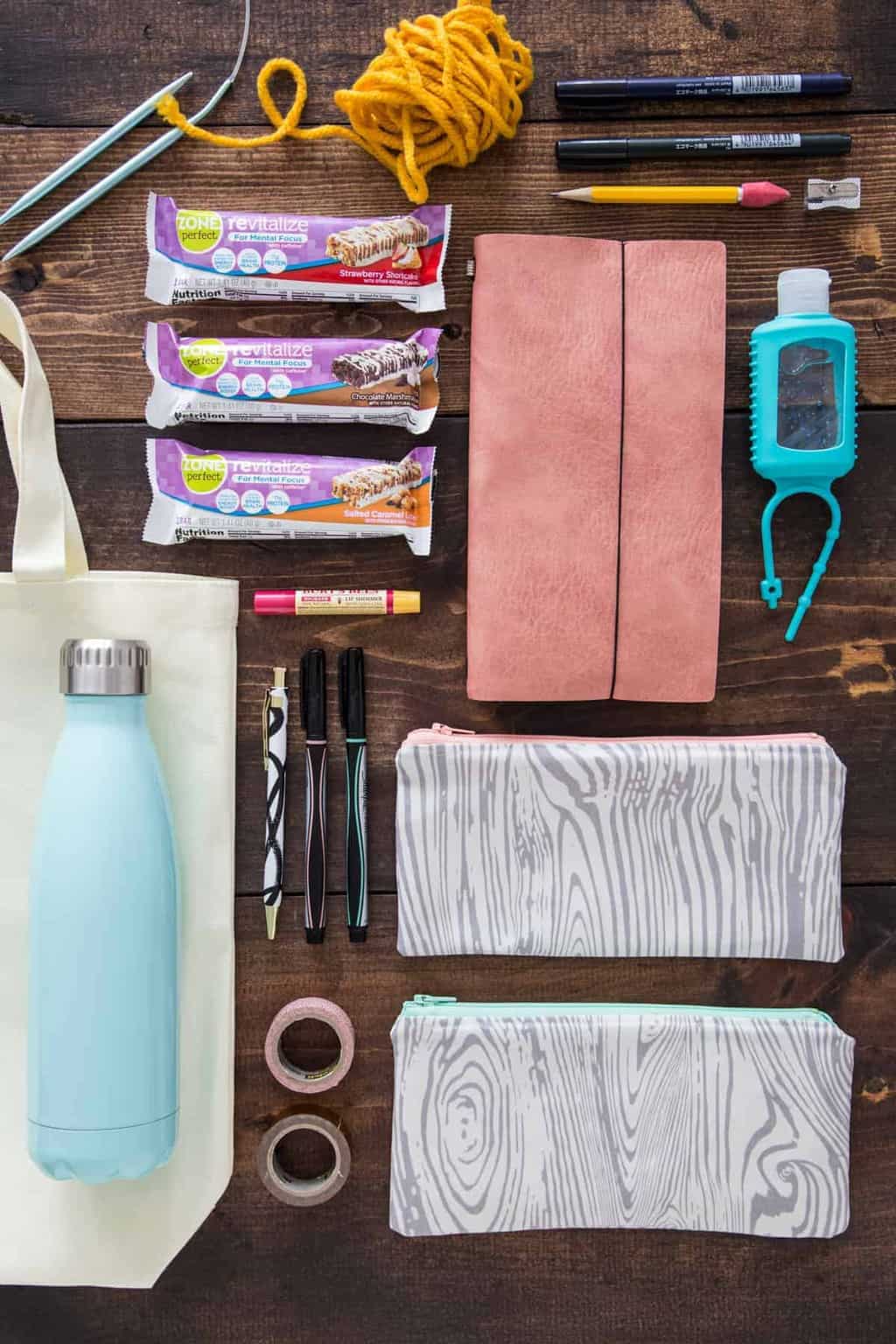 Pick the Right Tote Bag
There are tons of styles of tote bags and pretty much any type will work when you are on the go. When it comes to size, I like to choose a tote that isn't too large. A smaller sized tote will fit at your feet if you are riding in a car. If you are flying, a smaller size tote will tuck easily under the seat in front of you while still leaving a bit of foot space.
I love totes with pockets, but sometimes that's not always an option.  If your tote lacks pockets, simply tuck your items into a series of zippered pouches to help keep your tote organized. This helps with easy access to all of your items when you are on the road.
Simple canvas tote bags are available pretty much everywhere and can be decorated in so many creative ways. (We've got lots of ideas for that!)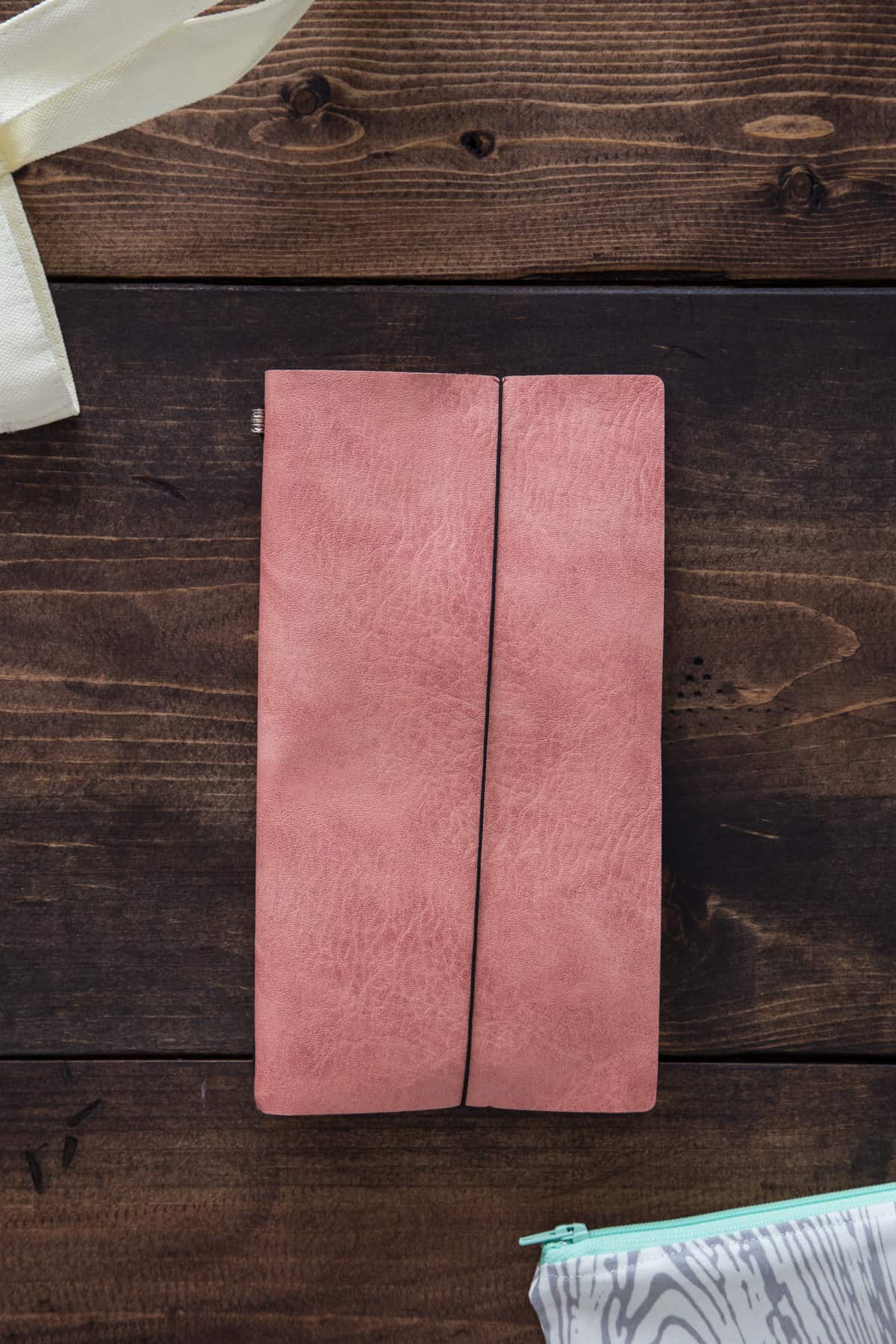 Always Bring a Travel Journal…
Whether you are traveling for work or pleasure it's great to keep a journal full of travel details to look back on. I can't tell you how many times I was convinced I would remember the name of a restaurant, shop, or park that I visited only to completely forget it after returning home. A travel journal is a great way to log these little bits of travel goodness. You don't need to be a prolific writer to keep a journal. Lists, quick notes, and even sketches are a great way to remember gems from your destination.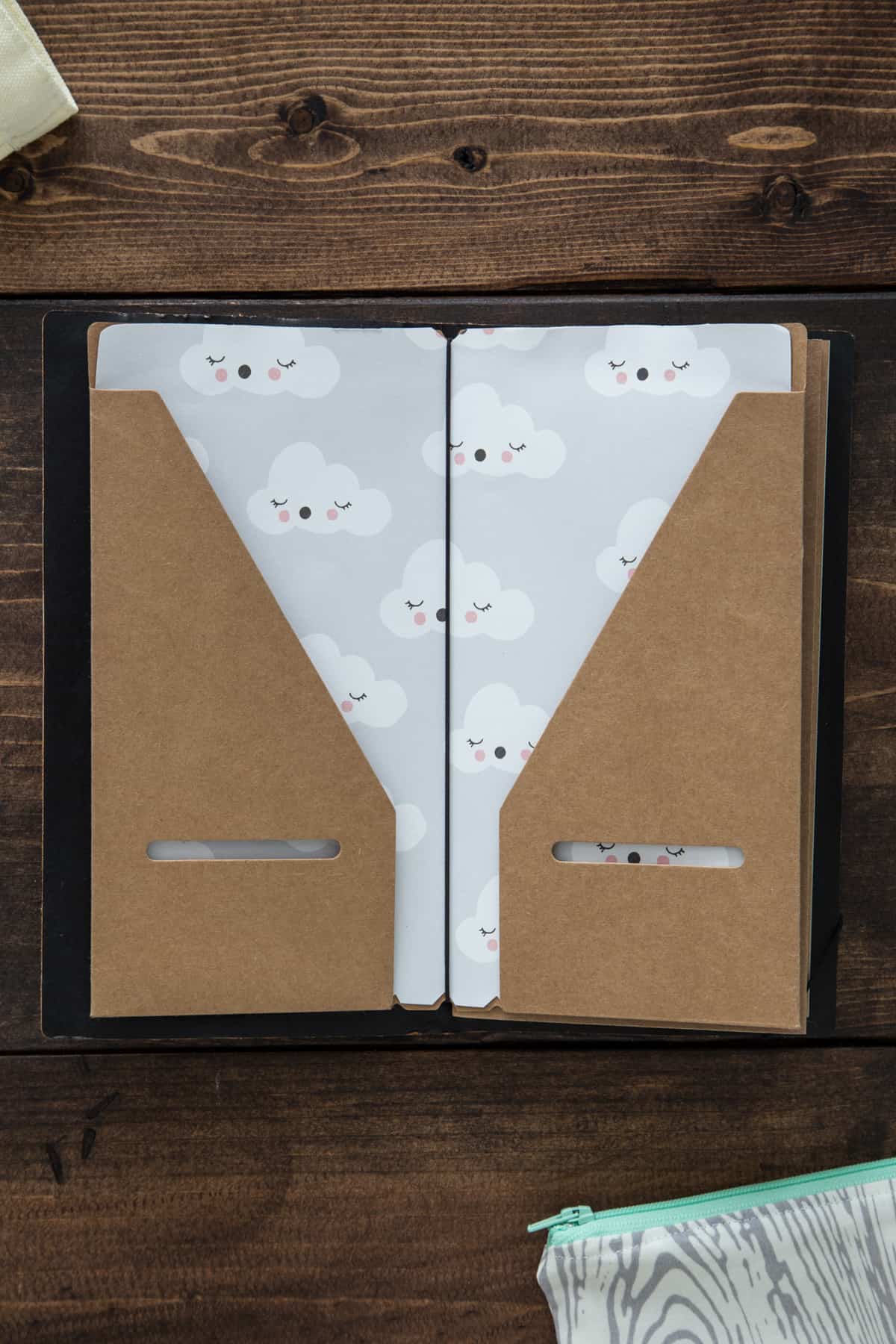 I love this pretty leather covered journal with an elastic closure. You can buy new inserts with plain paper and lined paper for sketching and writing depending on your journaling style. I added a few pops of color with patterned scrapbooking paper and even a few pockets to hold ticket stubs, receipts, and business cards.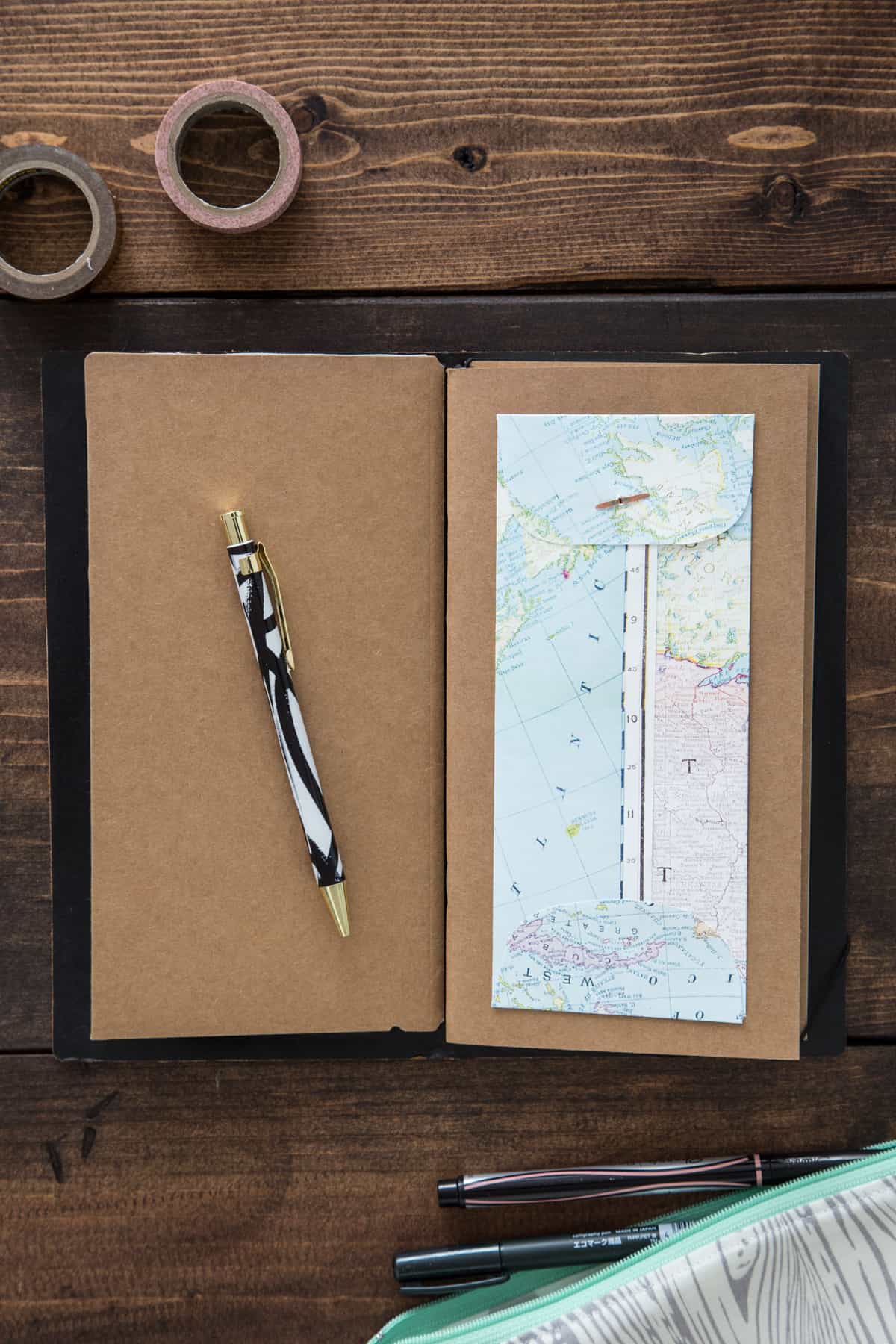 …and Pens & Pencils
In order to keep active in your journal you need to make sure you have a selection of pens, pencils, and markers with you. Place a few of your favorites into a zippered pouch before packing it into your tote.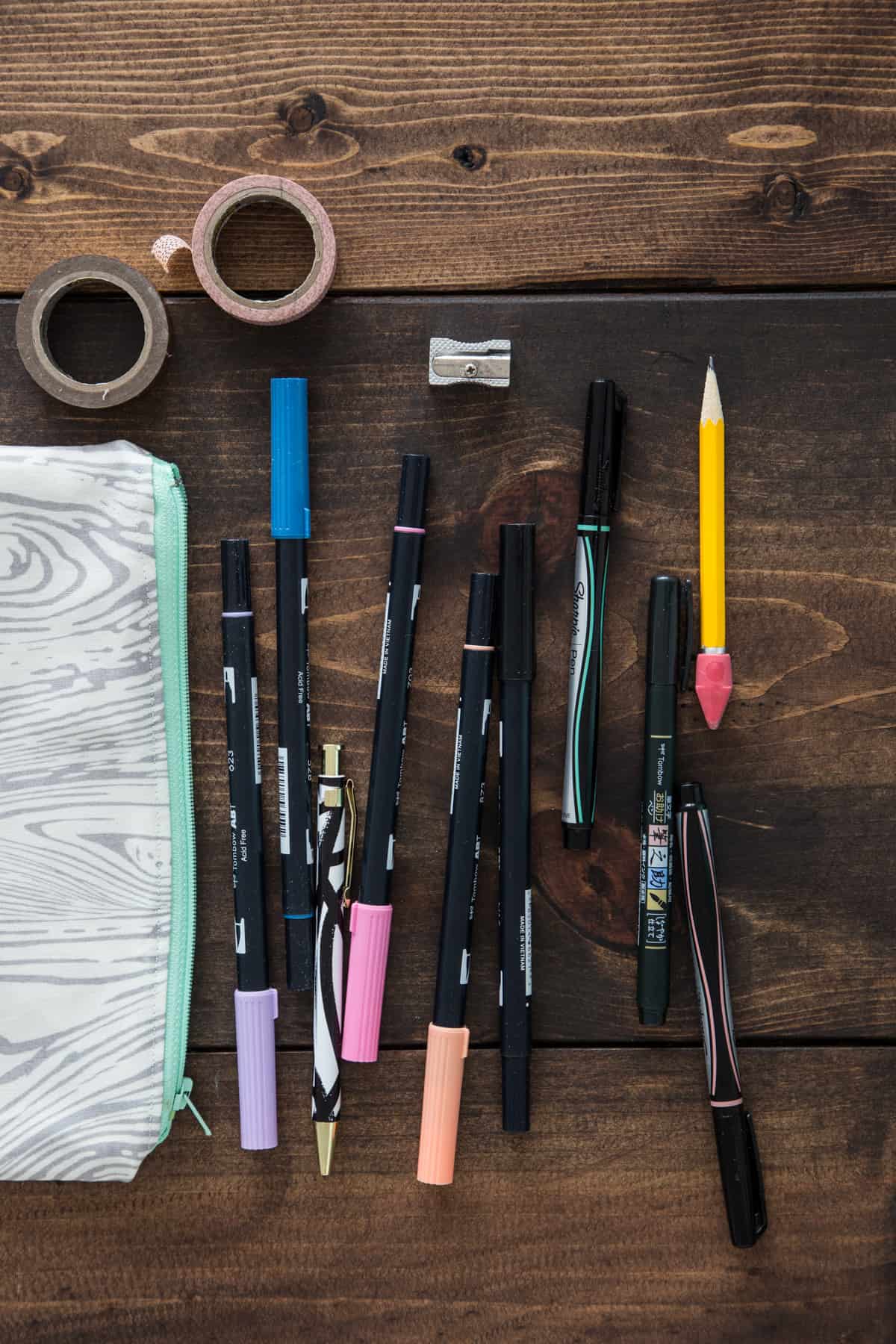 Easy Summer Reads
Reading is one of my favorite activities on any trip. Traveling is the perfect excuse to soak in a good book or finally tackle your stack of magazines that have gone unread for the last 3 months. Be sure to toss a couple of books, magazines or your eReader into your tote for the trip.
On-The-Go Activities
In addition to journaling and reading, it's nice to have another small activity with you to tackle boredom on a long trip. A small set of knitting needles or a crochet hook with a skein of yarn makes a great portable activity. Try knitting or crocheting a washcloth or face scrubbier.
Not into needle crafts? Pick up a small Sudoku book or cross word puzzle to take along with you.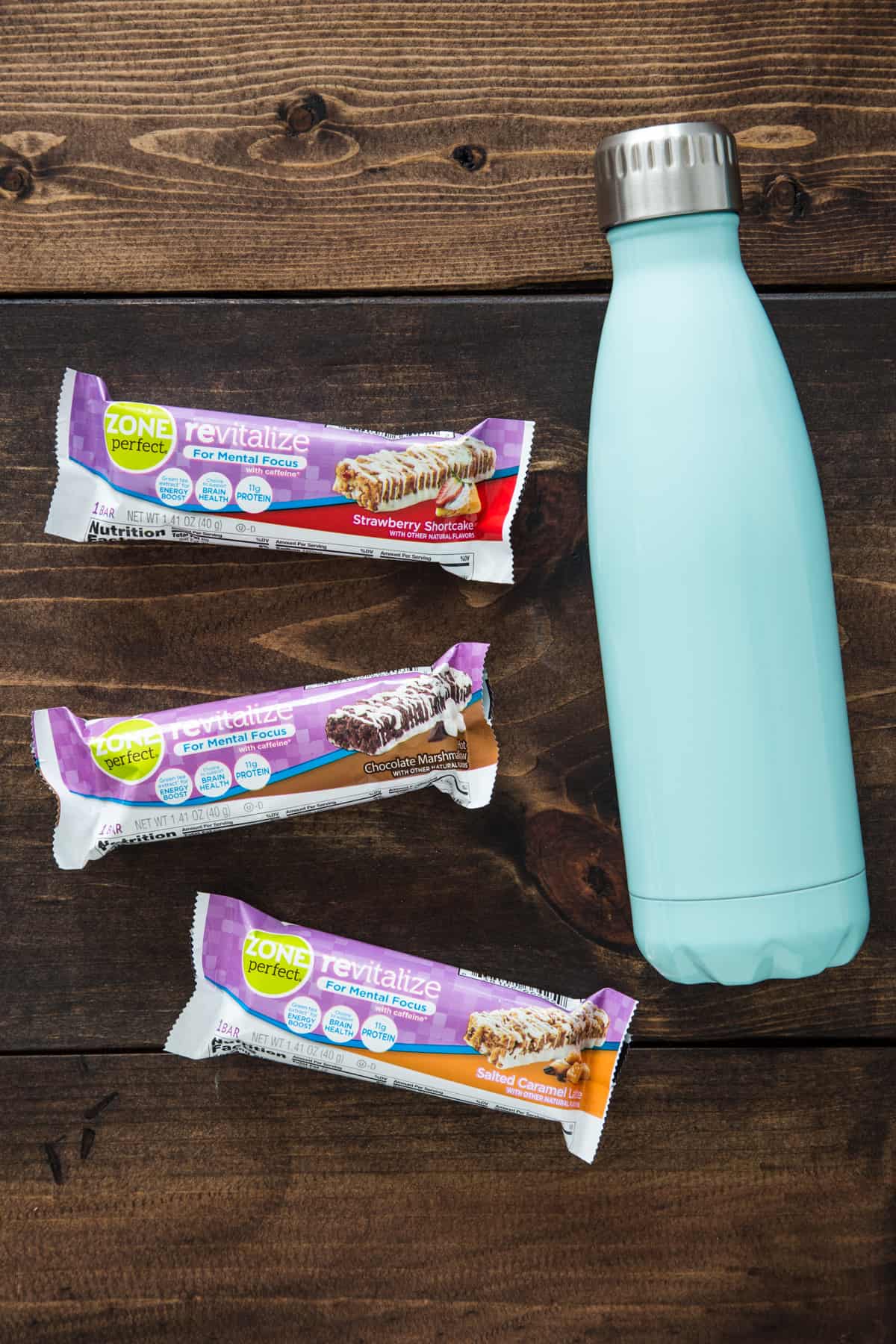 Snacks That Will Keep You Satisfied
Whenever I am traveling, I always make sure I pack a few snack options as well as a bottle of water. I like to be able to control what I eat when I'm away from home and sometimes great food options on the road are not easy to find.
I recently came across ZonePerfect® Revitalize Nutrition Bars at CVS when planning for our summer road trip. What first caught my eyes about these bars is their green tea extract. Each ZonePerfect Revitalize Nutrition Bar contains caffeine that is equivalent to a 1/2 cup of coffee plus 11g of protein to help keep me full. These bars are great in the morning or for a midday pick-me-up, which is always needed during a long day of travel.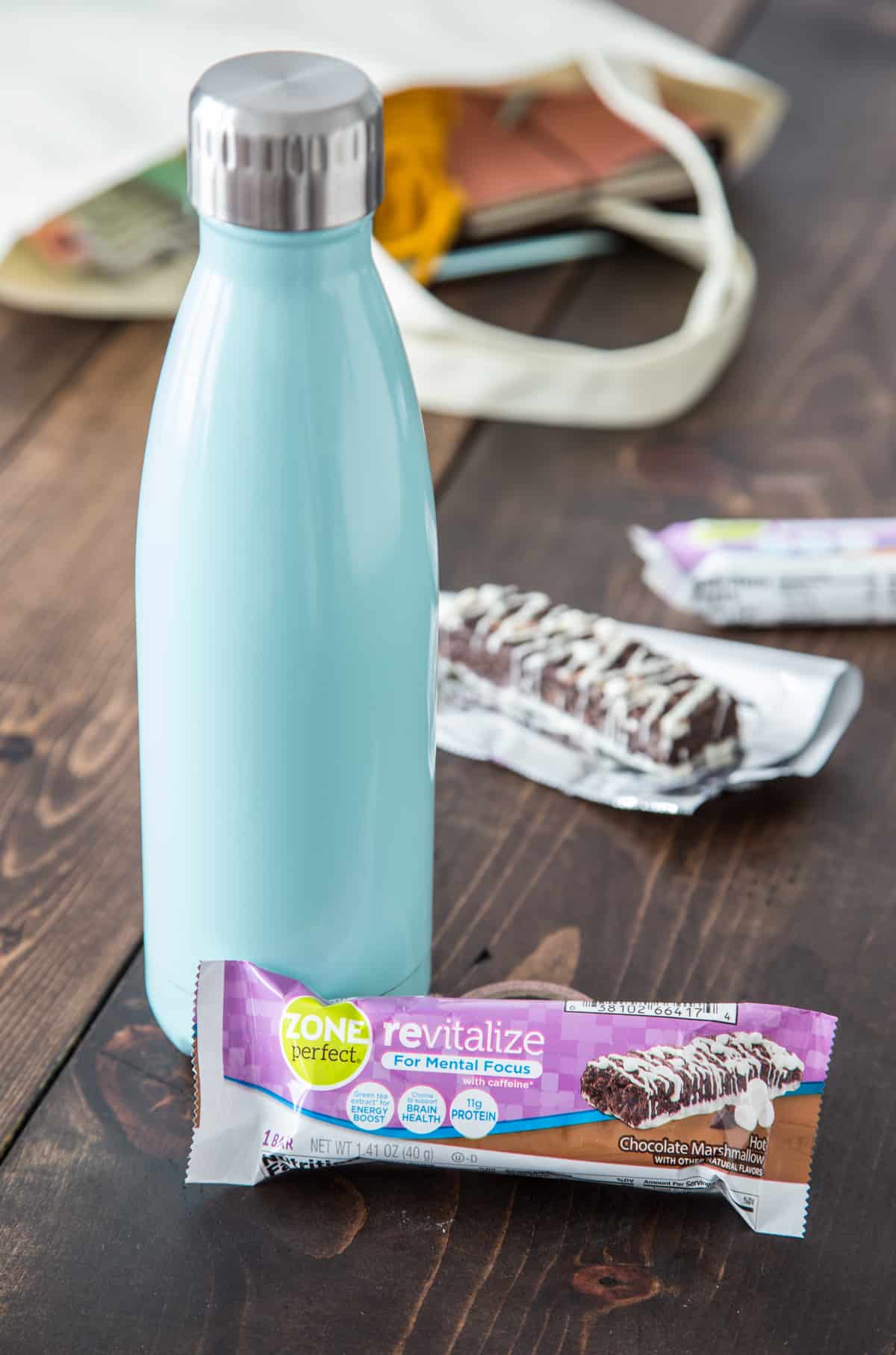 I am partial to the Hot Chocolate Marshmallow bar, but the Strawberry Shortcake and Salted Caramel are pretty amazing as well. Get a coupon so you can try them for yourself!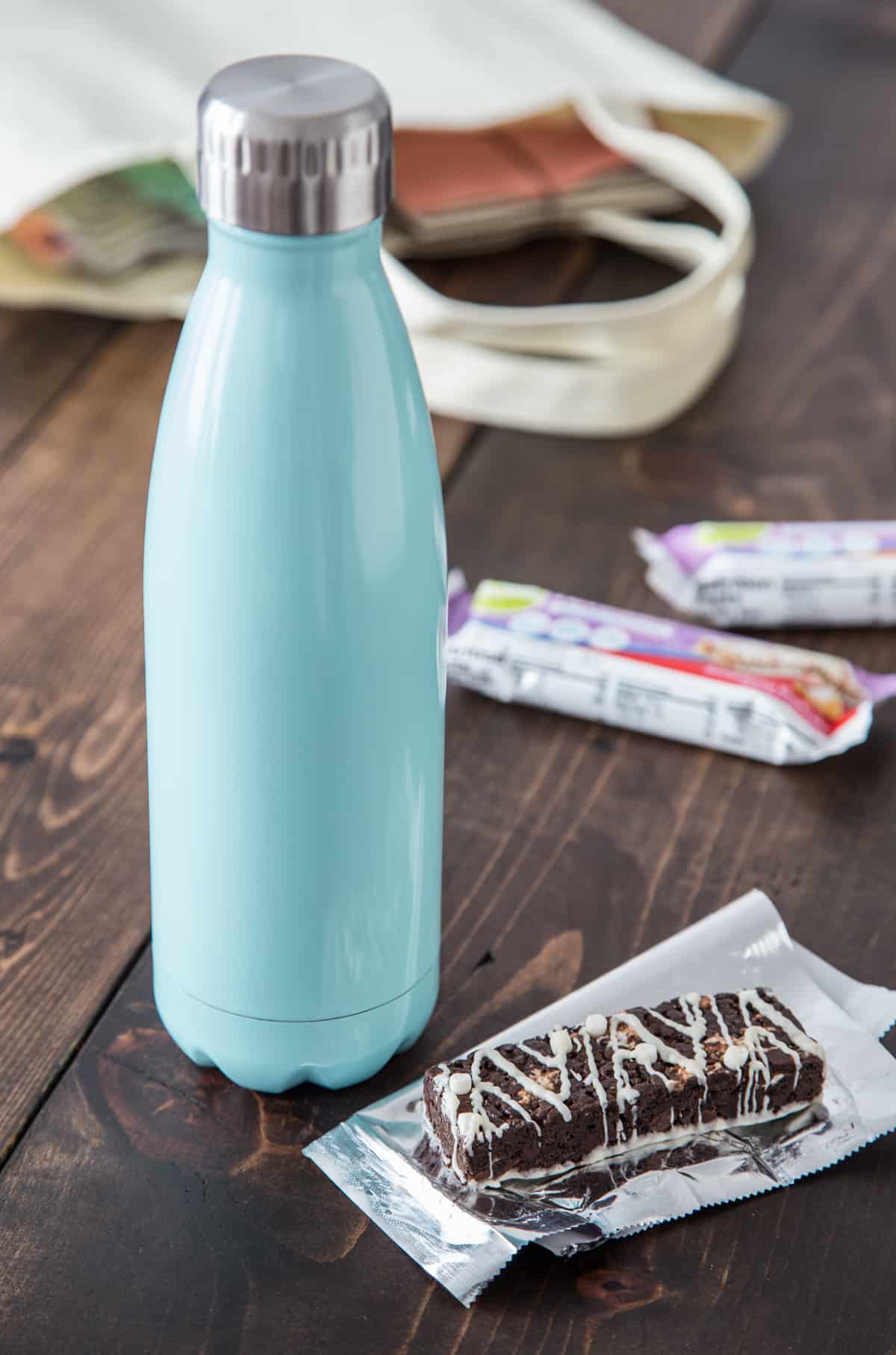 In addition to a well-rounded snack like the ZonePerfect Revitalize Nutrition Bars, I always bring along a refillable water bottle. I prefer an insulated bottle, but whatever style you like will give you the flexibility of not having to buy disposable bottles of water on your trip.
Don't Forget Those Personal Necessities
No matter what your destination, it's alway a good idea to have a few essentials on hand. Lip gloss, deodorant wipes, hand sanitizer, and feminine products can tuck away in a pocket or zippered pouch.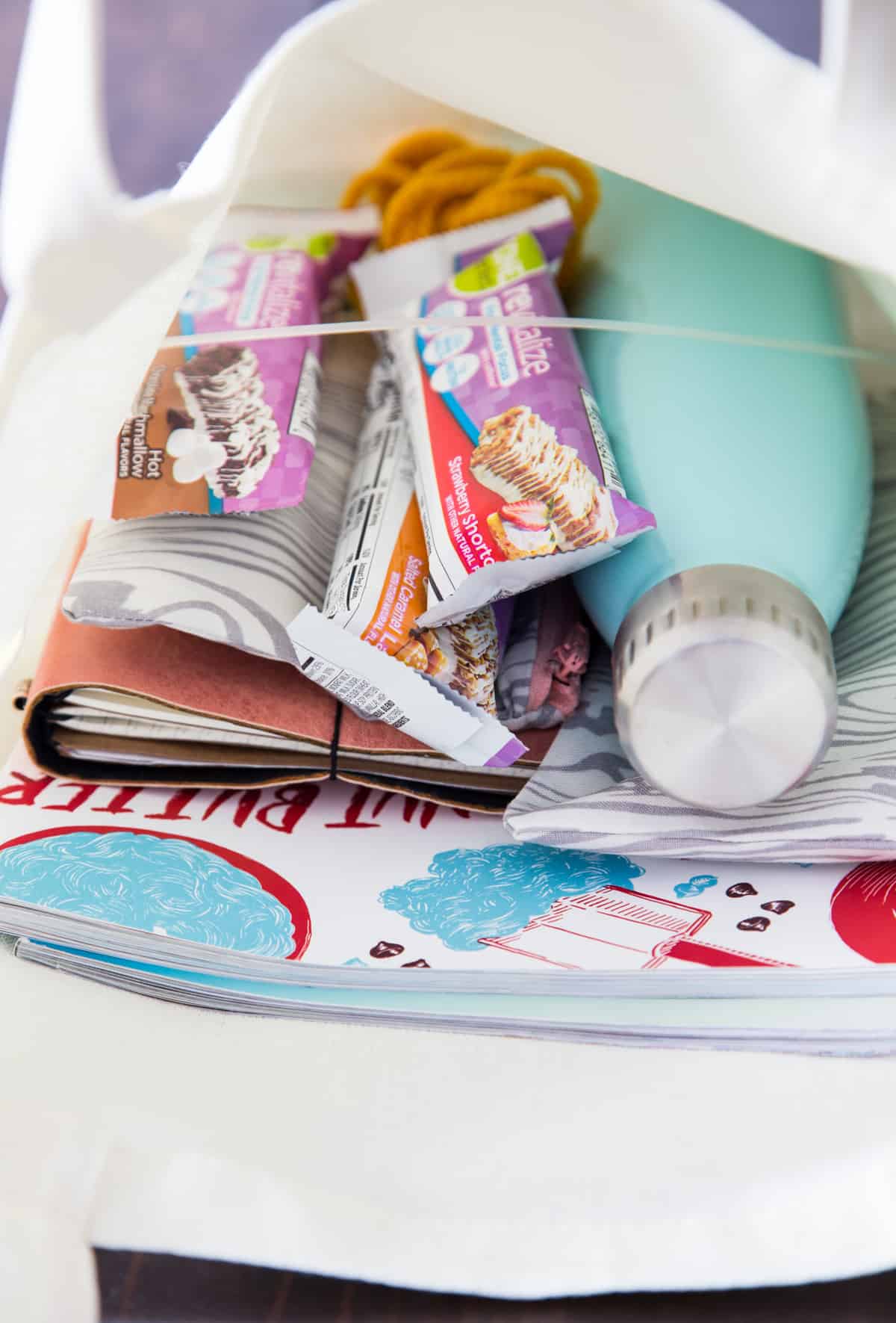 What are your favorite things to take with you when you travel?
4