If you're as obsessed with essential oils as we are, you probably want to take your favorites with you wherever you go, whether it's to help freshen up that musty hotel room (ugh) or to discretely inhale some calming lavender during a visit to the in-laws (serenity now!).
Below you'll find our tips, tricks, and shopping picks to make traveling with essential oil hassle-free: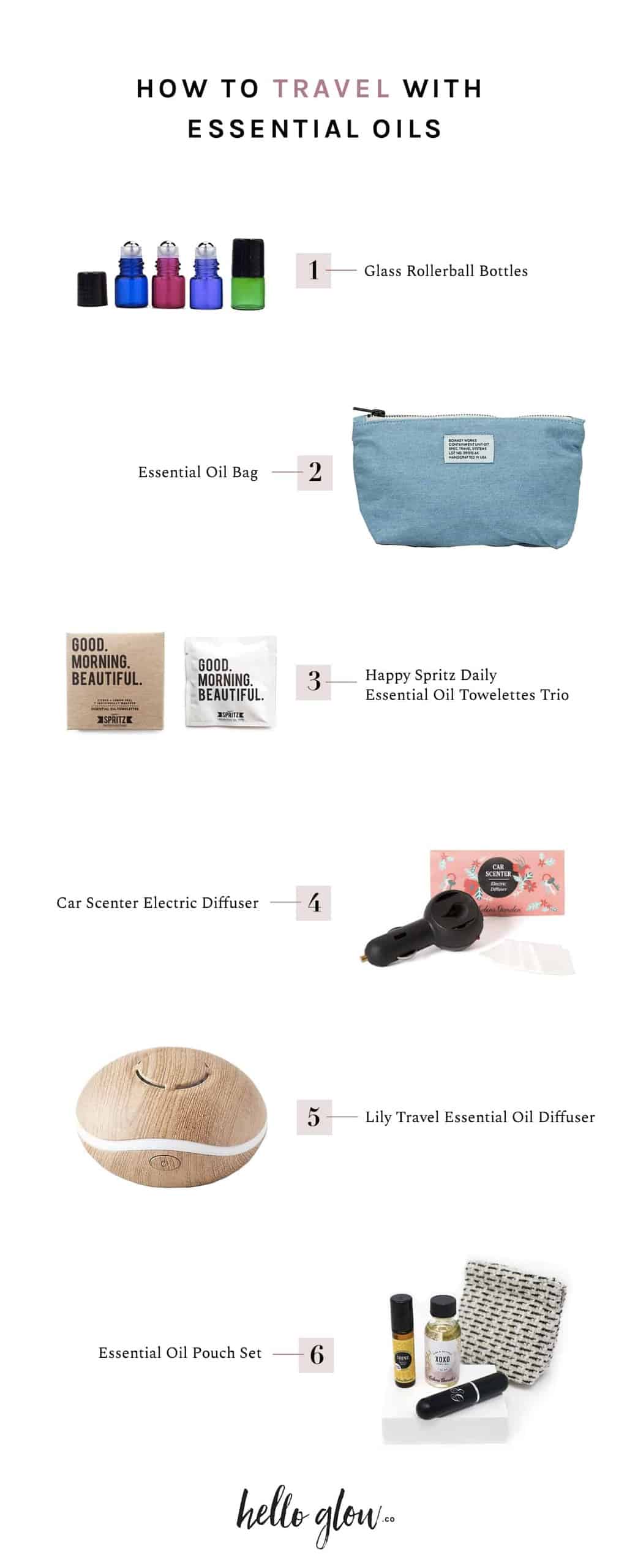 1. Glass Rollerball Bottles // When you travel with just your carry-on, choosing which liquids to bring along can be difficult – and the last thing you want is to have to toss out your expensive essential oils because the bottles are too big! Make sure you stay under the TSA liquids limit of 3.4 ounces per item by packing your essential oils in tiny bottles. They come in very small sizes and they feature a rollerball top for easy application on the go.
2. Essential Oil Bag // Throwing your essential oils into a regular cosmetics pouch just won't cut it – you don't want broken bottles and tea tree smell all over your belongings! Secure them in a specially-made essential oil bag, which features an array of pouches to keep each bottle in.
3. Essential Oils Towelettes Trio // When liquids are not an option, essential oil towelettes are a life saver! "Breathe Deeply", "Good Morning Beautiful", and "Sweet Dreams Darling" are an ideal combination for a weekend away.
4. Car Scenter Electric Diffuser // A car diffuser is ideal for long rides when you need a boost of freshness or to calm down the mood – or even the morning commute to work! Simply plug into the cigarette lighter outlet and add a few drops of oil to the oil pad.
5. Travel Essential Oil Diffuser // Refresh the air in your hotel room or diffuse some lavender essential oil to fall asleep when you have jet lag. Small, handy and stylish, this ambient light doubles as an essential oil diffuser which can run with batteries, plugged into a USB port or into a wall adapter.
6. Essential Oil Pouch Set // This all-in-one set is perfect as a gift for yourself or someone dear! Featuring a pretty essential oil pouch, body oil, roll on, and personal inhaler, it has everything you need for aromatherapy on the road.
20