A recent summer trip to the Hawaiian Islands left me inspired to create a few tropical DIY body scrubs for all skin types. Summer not only signifies warmer weather and longer days, but it also means the arrival of delicious tropical fruits to grocery stores such as mango, papaya, and pineapple.
Pair them with other easy-to-find ingredients, like oats and sea salt, and you've got a super inexpensive—but effective—body scrub. Let's get scrubbing with these delicious fruits!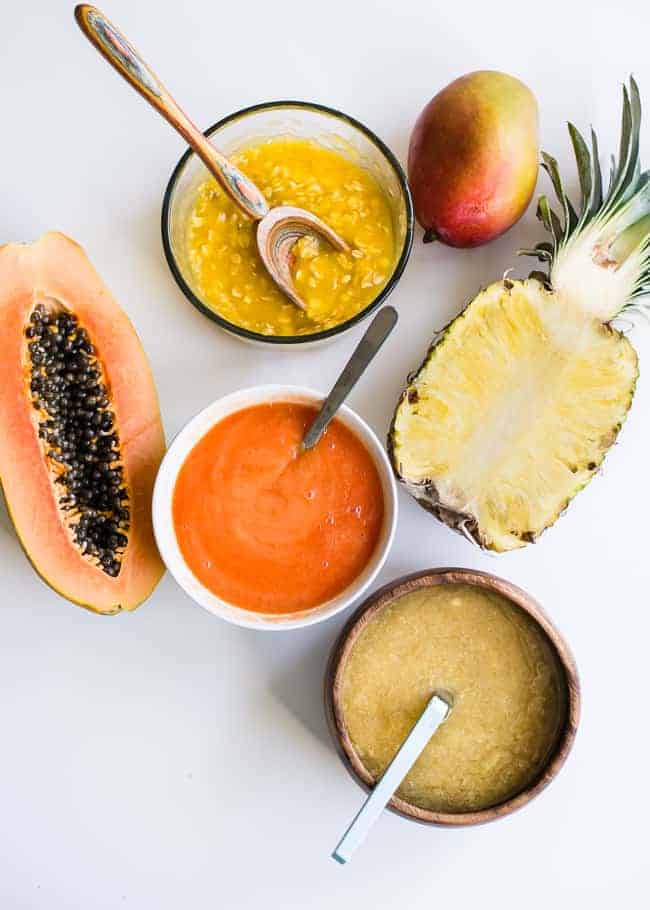 3 Benefits of Tropical Body Scrub
Just because you're DIY'ing your scrub doesn't mean you can't reap some serious benefits!
Glycolic acid gently exfoliates
Glycolic acid (an alpha-hydroxy acid) remains one of the best ways to rapidly exfoliate the skin [source]. You can find glycolic acid in all types of serums, masks, and scrubs for the face and body.
Maybe you've wondered where glycolic acid comes from? Sugar cane juice!
The Hawaiian Islands are filled with sugar cane fields everywhere you turn. And I can assure you that this tropical combination will leave your skin feeling more smooth and moisturized.
Antioxidants soothe sun damage
Pineapple is high in vitamin C, which is a wonderful antioxidant [source] and also needed by the body to produce collagen [source]. The combination of sugar cane and pineapple is only a fantastic exfoliating scrub, but it will also stimulate collagen production all over the body.
Enzymes calm inflammation
Citrus fruits contain enzymes called proteases, which create a chemical reaction in the body and support its biological processes. One of the most well-known fruit enzymes is bromelain, an enzyme found in pineapple that has been shown to reduce inflammation, encourage wound healing, and even prevent some cancers [source].
1. Pineapple Sugar Scrub
If you've hung around us long enough, you know that we have a thing for pineapple. It's amazing for your body, both inside and out, and can be used for everything from busting bloat and aiding digestion to lightening hyperpigmentation and clarifying the skin.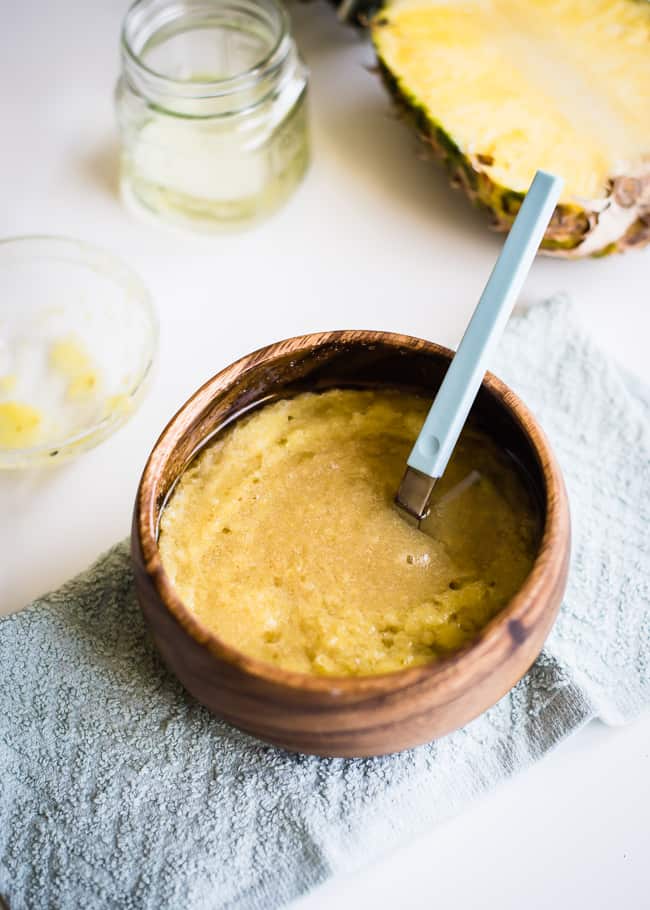 Depending on the size of your pineapple, you may need ¼ to ½ of the pineapple fruit to create ½ cup of puree. Take cut pieces of the pineapple, and place them in a blender or food processor. Puree until a smooth consistency and then place into a mixing bowl.
Add the cane sugar and walnut oil into the bowl. (If you have a nut allergy, feel free to swap out the walnut oil for coconut oil or extra virgin olive oil.)
Mix with a spoon thoroughly and for your next shower or bath, scrub the mixture onto your body, taking extra time at your knees and elbows. Rinse with warm water.
2. Cooling Coconut Kiwi Sea Salt Scrub
This cooling scrub is perfect on days when your skin is feeling irritated, itchy, or overheated. The kiwi's high vitamin E content moisturizes skin, while the peppermint essential oil is a refreshing addition to soothe irritation.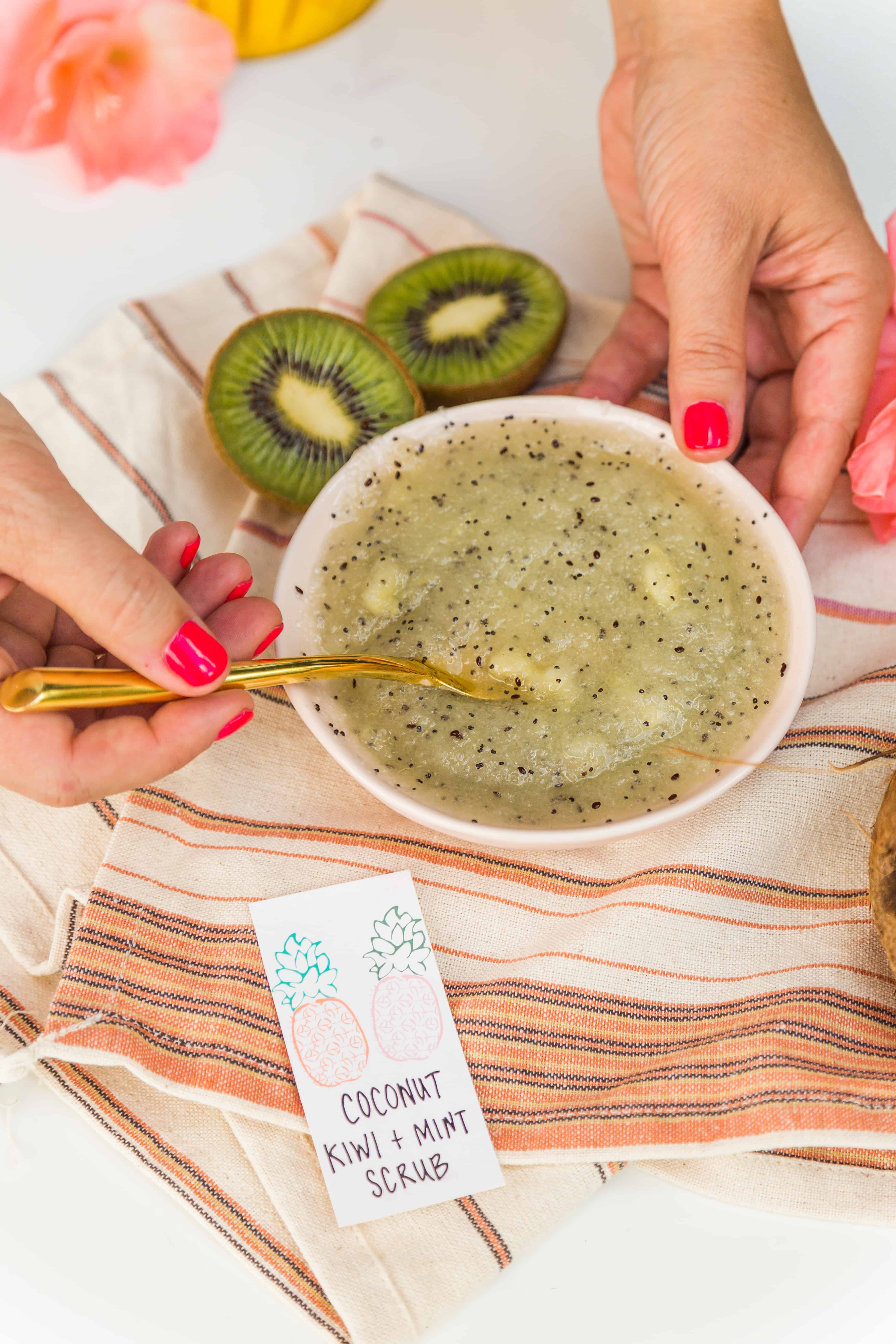 Plus, the vitamin C and antioxidants in kiwi help boost collagen production, maintain elasticity, and fight signs of aging. Combine that with the blissful addition of coconut oil, which increases hydration, reduces water loss, and speeds up wound healing, and you've discovered smooth skin nirvana.
Remove the skin from the kiwi and scoop out the flesh. Use a fork to crush and blend the kiwi flesh until smooth. Mix in the mineral sea salt, coconut oil, and peppermint essential oil. Blend well. Add more coconut oil, if needed, to get the desired texture. Sprinkle in a few poppy seeds for extra kiwi cuteness.
Use as an exfoliating scrub on your skin in the shower or bath and then rinse with water. To soothe extra-irritated skin and enhance cooling properties, leave the scrub on your skin for a few minutes before rinsing clean.
3. Mango Body Scrub for Sensitive Skin
Mangoes are a rich source of vitamin A, which helps slough off dead skin and helps fresh new cells beneath the skin appear. Oats are also a fantastic exfoliator for those rough patches that can appear during summertime.
Honey, the last ingredient in this tropical scrub, is wonderful for sensitive skin types because it is well known for its healing and soothing properties.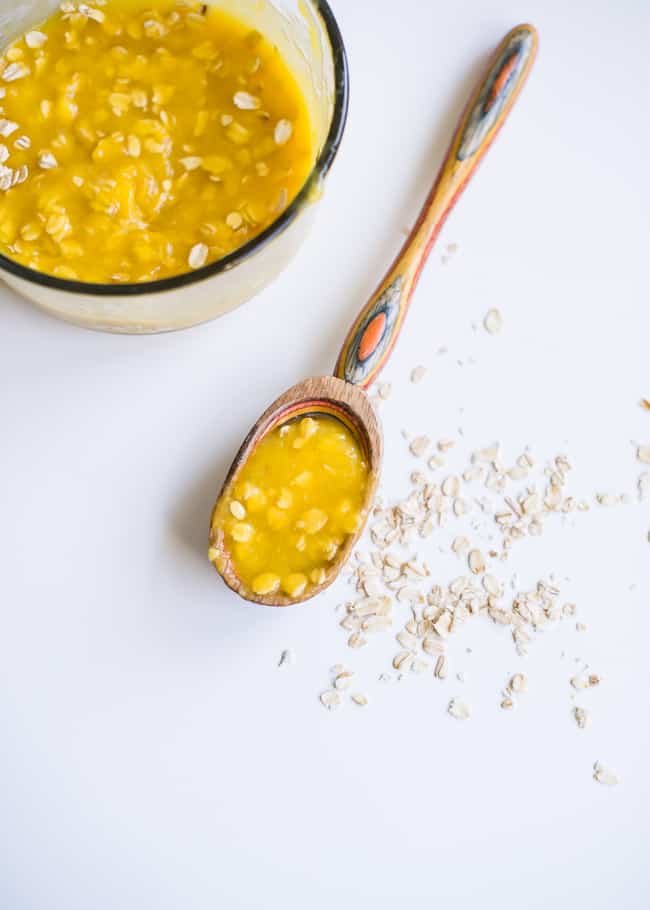 Cut up an entire mango into chunks, and puree it in a blender or food processor. Mix in the oats and honey, and stir well with a spoon.
While in the shower, you can use this as a scrub first and then a mask by leaving it on the skin for 5 to 10 minutes. Then rinse with warm water and follow up with your usual moisturizer.
4. Hibiscus + Grapefruit Energizing Salt Scrub
Consider this pretty pink scrub your magic elixir on early mornings or those days when you need an extra pick-me-up. Grapefruit boasts a ton of antioxidants to fight free radicals, not to mention that it's high in vitamin C and flavonoids to detox and help protect the skin.
The real magic in this formula comes from the hibiscus, which is known as the "Botox" plant because of its ability to increase skin elasticity—thanks to its high mucilage content that helps plants store water. That means it will help your skin's ability to retain moisture as well. With the additional anti-inflammatory and moisturizing effects of jojoba oil, you can expect this scrub to leave your skin hydrated, smooth, and supple.
Add the pink Himalayan salt, jojoba oil, and grapefruit essential oil into a bowl. Open the hibiscus tea bags and empty their contents into the bowl. Mix again with a spoon until all ingredients are combined. Add more oil, if needed, to get the desired consistency. Apply the mixture to your skin, scrub, and then rinse, or allow it to sit on the skin for several minutes before rinsing for its added benefits.
5. "Fruit of Angels" Papaya Sea Salt Body Scrub
Of all these DIY body scrubs, this papaya blend is my personal favorite. Papaya is often referred to as the "fruit of angels," and one reason for this nickname could be its angelic effect on your skin.
The papaya fruit applied topically is ideal for fighting blemishes and acne. This would be the right scrub for you if you struggle with acne and need an extra dose of gentle exfoliation.
The vitamin C found in papaya also has anti-inflammatory properties, another reason it's fantastic in the fight against chest or back pimples.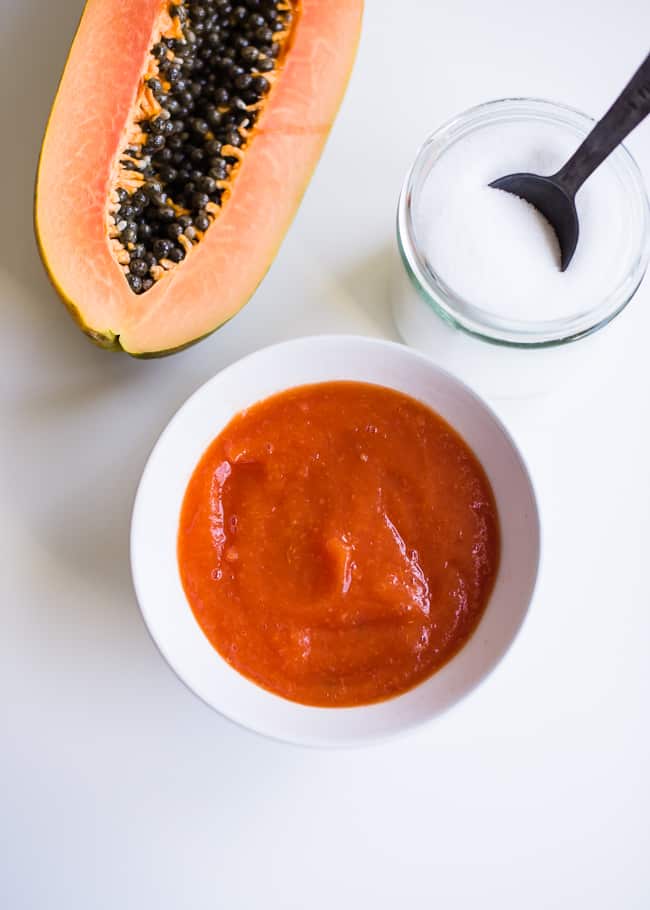 Cut the papaya fruit and blend it in a food processor or blender until reaching a smooth consistency. Mix in the sea salt to create a grainy paste, and then use the mixture as a scrub for your body.
I wouldn't recommend adding in any type of oil if you are battling blemishes since oil can sometimes clog the pores and contribute to more breakouts. But if you are just looking for an overall body scrub, go ahead and add in the olive oil, mix well with a spoon, and then use the mixture as a scrub.
Tropical Body Scrub FAQs
How long do these DIY body scrubs last?
Because they contain fresh fruit, they'll only last 2-3 days before they start to go bad. So if you can, use any leftovers before then or make fresh scrub if you notice an off scent or mold.
How should you store leftover body scrub?
Store any leftover scrub in the refrigerator between uses. For the mango scrub, wait to add the oats until right before you're ready to use it. Otherwise, they might get soggy.
Can these scrubs be used on the face?
Yes! All three of these scrubs are safe to use on the face as long as you choose finely-ground exfoliants, such as white table sugar or rolled oats.
Is it safe to use body scrub every day?
Too much scrubbing can weaken your skin's protective barrier, so it's best not to scrub every day. I would recommend sticking to 1-2 (maybe 3 if you have excessive flakes) days a week and cutting back if you start to notice any dryness or irritation.
Can I use different fruit in place of the pineapple/mango/papaya?
Most fruits have skin-nourishing vitamins and minerals, so feel free to swap in any fruit you have on hand.
169