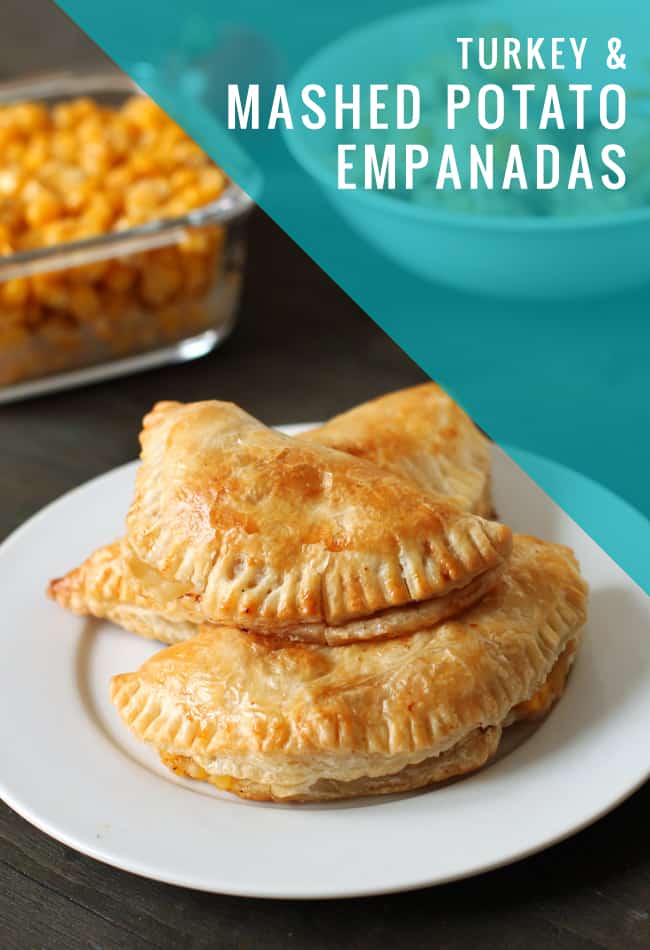 Are you ready for the big week? We're not doing a meal plan today; instead we're tackling another Thanksgiving dilemma – leftovers! Because, honestly, we're still trying to figure out the 'how do I fit into my pants after 3 servings of pie' question, too.
Do you groan at the thought of Thanksgiving leftovers or is the second (or third) meal your favorite part? Either way, that's what makes these empanadas so great – you can use up a lot of leftovers in a super quick and easy meal. I used turkey, mashed potatoes and corn but you can also use leftover gravy, stuffing or even cranberry sauce. And these don't actually taste like leftovers, which is a huge plus for those of us who aren't fans.
If you don't happen to have leftover turkey around, the filling in these chicken quesadillas also works wonderfully. Honestly, you can't go wrong unless you overfill the puff pastry dough. If you have picky eaters in your family, let them pick out what they want in their empanadas and have them "prepare" their own.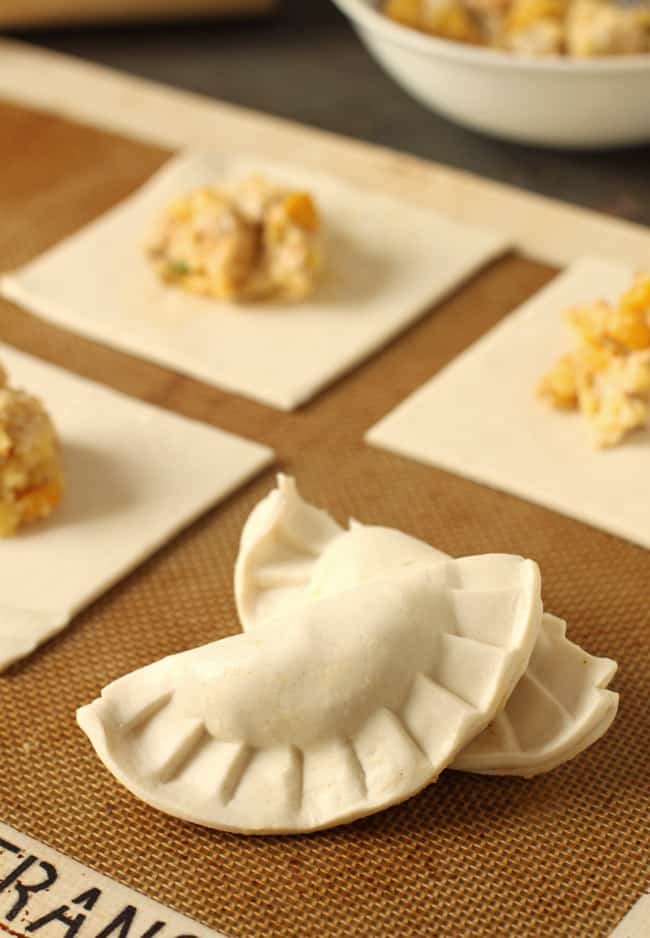 Don't feel guilty about using premade puff pastry dough that's already rolled out and cut into rectangles. Because who wants to bother with making puff pastry the day after a big holiday? After attempting to make triangular empanadas I quickly learned that half circles are the way to go.
If you don't already have a favorite brand of puff pastry, try the one from Trader Joe's. Unlike most easily found brands, theirs contains butter and not margarine or vegetable shortening. Hands down the best store bought puff pastry, in my opinion.
By the way, try stuffing one of the puff pastry circles with peanut butter and Nutella too. It's kind of the best thing ever.
Turkey and Mashed Potatoes Empanadas
Ingredients
1 sheet frozen puff pastry
3 1/2 cups cooked turkey, chopped
2 cups mashed potatoes
1/2 cup corn
1 1/2 teaspoons Cajun seasoning (I used Tony Chachere's)
1/4 teaspoon ground cumin
salt
pepper
1 egg white
Instructions
Let the puff pastry thaw according to the directions on the box.
Meanwhile, prepare the filling by mixing together the turkey, mashed potatoes, corn, Cajun seasoning, and cumin. Add salt and pepper to taste.
Preheat the oven to 450 degrees F and line a baking sheet with a Silpat or a piece of parchment paper.
Once the dough is properly thawed, roll it out to 1/8″ on a floured surface. I used a Silpat and didn't have to flour it at all but if you don't have a silicone baking mat, a piece of parchment paper would also work well.
Using a large biscuit or cookie cutter or a glass, cut out as many circles as you can.
Roll up the scraps of dough, roll out again, and cut out more circles until the dough is used up.
Place 1 – 2 tablespoons of filling on the center of each circle. How much filling exactly will depend on your circle's diameter. Fill one with 2 tablespoons of filling and if it's too full to properly close, reduce the amount going forward.
Fill all the empanadas with the filling, fold the empanadas together, and use a fork to crimp the edges together.
In a small bowl or ramekin, mix together the egg white with 1 teaspoon of water.
Place the empanadas on the baking sheet, brush with the egg mixture, and bake for 12 – 16 minutes or until golden brown.
Yield: 6 – 8 empanadas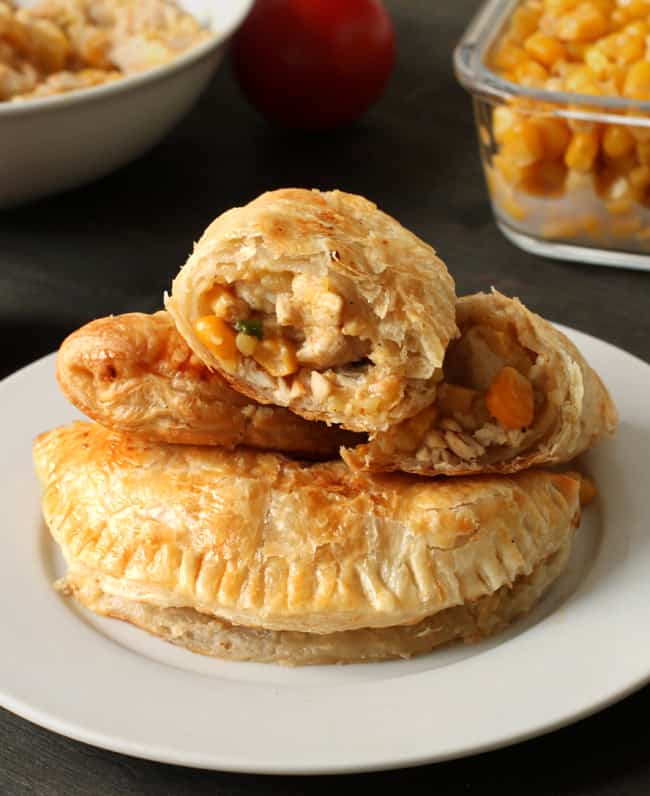 5