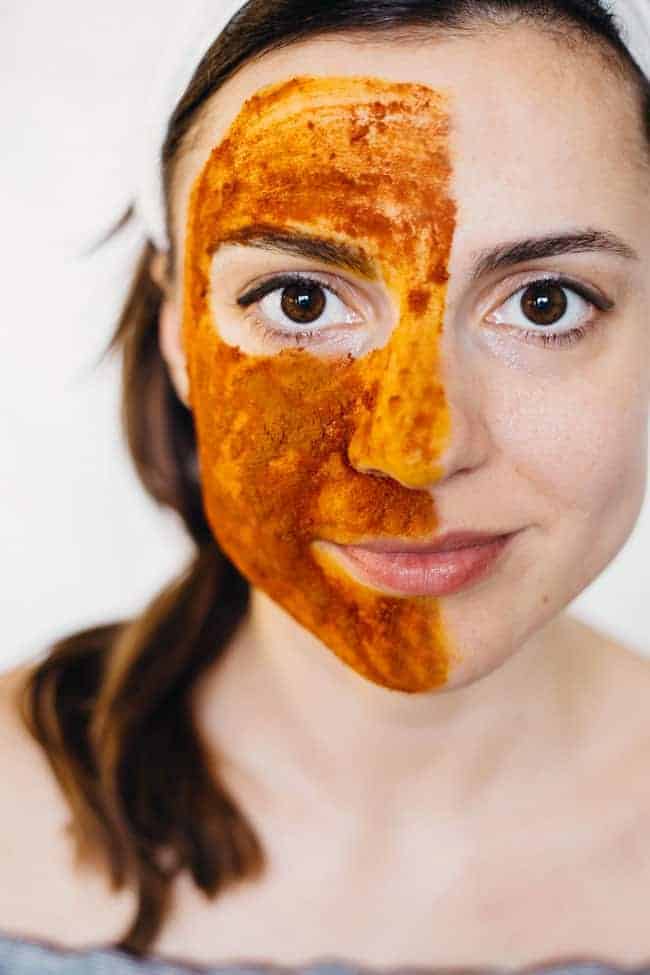 I made my first turmeric face mask back in 2012, and the turmeric trend is still going strong five years later. That's because the benefits of the richly colored orange root continue to add up. The common kitchen spice is now seen as having antiseptic, antioxidant, and anti-inflammatory benefits both inside and out.
While golden milk and turmeric lattes are popular ways to up your turmeric intake (you can also take capsules), ground turmeric and its oil have become miracle ingredients in beauty products. Turmeric improves your complexion by soothing irritation and eczema flare-ups, preventing and treating acne, and boosting your skin's glow.
The secret ingredient is turmeric's curcumin, which fights the bacteria that can cause blemishes along with neutralizing certain enzymes that cause inflammation. Widely used in Ayurvedic and Chinese medicine, turmeric is a powerful antioxidant that can fight free radicals.
Want to try turmeric? Try this turmeric acne mask or this gentle exfoliating scrub. But if you're not ready to DIY – or just don't want risk turning your hands orange – try adding one of these turmeric-infused products to your skin care regimen.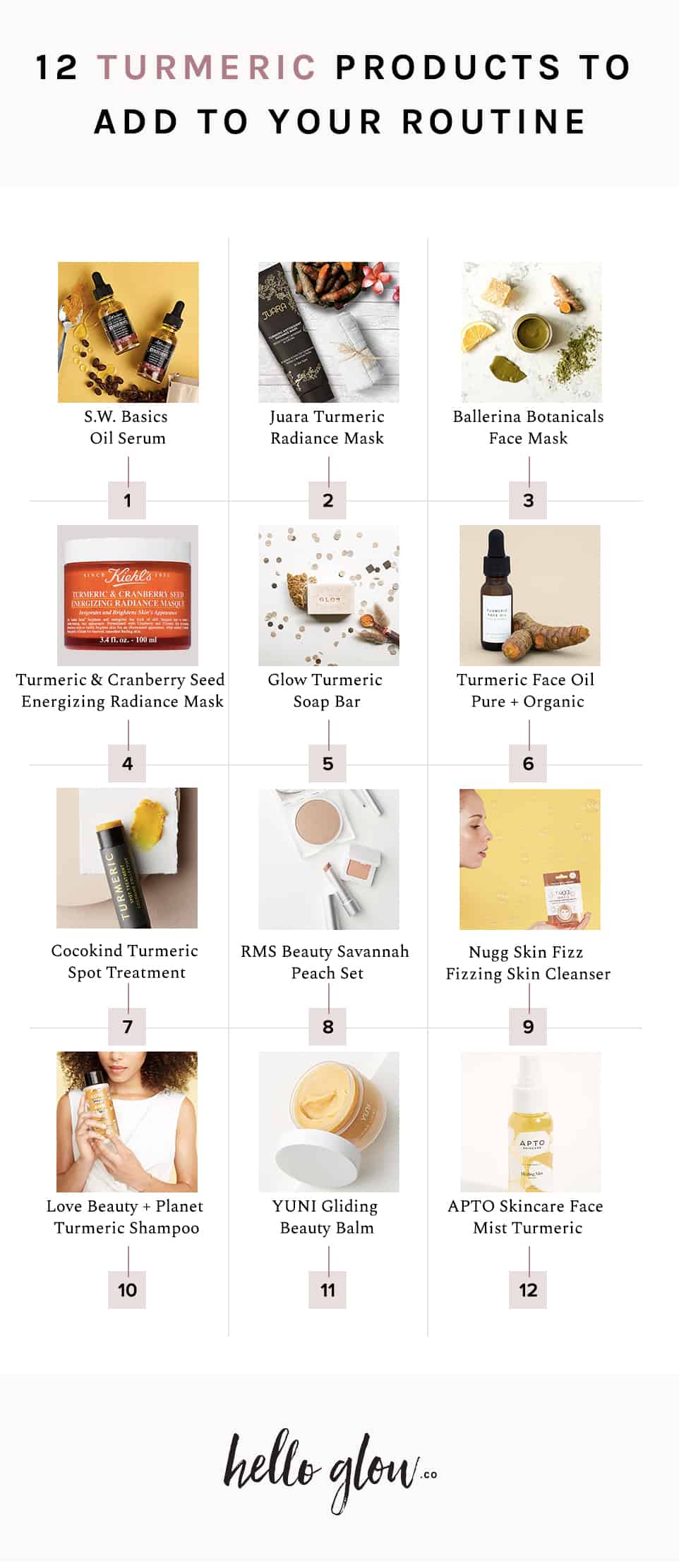 12 Turmeric Beauty Products We Love
1. S.W. Basics Oil Serum // This organic face serum and oil is created with organic oils that work together to provide hydrating, healing, and soothing benefits.
2. Juara Turmeric Antioxidant Radiance Mask // This unique no strip facial treatment is a non hardening, non drying clay mask filled with powerful antioxidants to brighten, protect, smooth, purify, refine, strengthen, and even out your skin.
3. Ballerina Botanicals Face Mask // Anti-inflammatory turmeric and antioxidant rich matcha green tea help fight against aging skin in this all natural face mask.
4.Turmeric & Cranberry Seed Energizing Radiance Mask // Energize and invigorate skin with this brightening face mask formulated with turmeric and cranberry.
5. Glow Turmeric Soap Bar // Get your glow on with this sulphate free turmeric bar! Infused with turmeric root and turmeric essential oil for a double kick of anti inflammatory glowy goodness!
6. Turmeric Face Oil Pure + Organic // Rich in powerful antioxidants, turmeric oil slows down the effect of aging on the skin by tightening sagging and loose skin, thus making it firmer and more elastic.
7. Cocokind Turmeric Spot Treatment // It easily applies to affected areas and leaves skin feeling gentle and calm thanks to a soothing blend of sunflower seeds and tea tree oil.
8. RMS Beauty Savannah Peach Set // Inspired by the beautiful Savannah sunsets, this limited-edition set helps you achieve a peachy, sun-kissed glow, with natural ingredients such as shea butter, turmeric, and shea butter.
9. Nugg Skin Fizz Fizzing Skin Cleanse // This turmeric-powered 3-in-1 fizzing facial combines the benefits of a cleanser, exfoliator and mask all in one product to help boost skin radiance and smooth skin while uplifting your mood with a natural aromatherapy scent.
10. Love Beauty & Planet Turmeric Shampoo // Infused with natural turmeric, this shampoo is your remedy to help prevent split ends. Resilient strands and the spicy scents of tonka will leave your hair strong.
11. YUNI Gliding Light Illuminating Multipurpose Beauty Balm // Brimming with ethically sourced mica minerals and curcuma, it gives your shoulders, legs, or cheekbones a subtle wash of shimmer.
12. APTO Skincare Face Mist Turmeric // This staple face mist features a soothing turmeric blend that keeps skin looking soft, dewy and refreshed.
40