Over the last few years, turmeric has skyrocketed in popularity—it's like the cool kid in class! It seems most people I know are either taking or have taken turmeric in some form or another. And if I'm being honest, half my family is using it right now, too!
Although it has only been thrust into the spotlight fairly recently, turmeric has been around for centuries. In fact, it's a pretty commonly used spice, and it's an important one in Ayurvedic healing. This golden yellow root has a long history of use for cooking and medicinal purposes, and it even works well as a coloring agent!
Actually, I find that using this colorful spice can be kinda stressful. Anyone else get heart palpitations thinking about its bright yellow color staining your clothes and everything in your kitchen? Yes, and the essential oil can also stain. Just make sure you dilute it well and be careful when using it near clothing.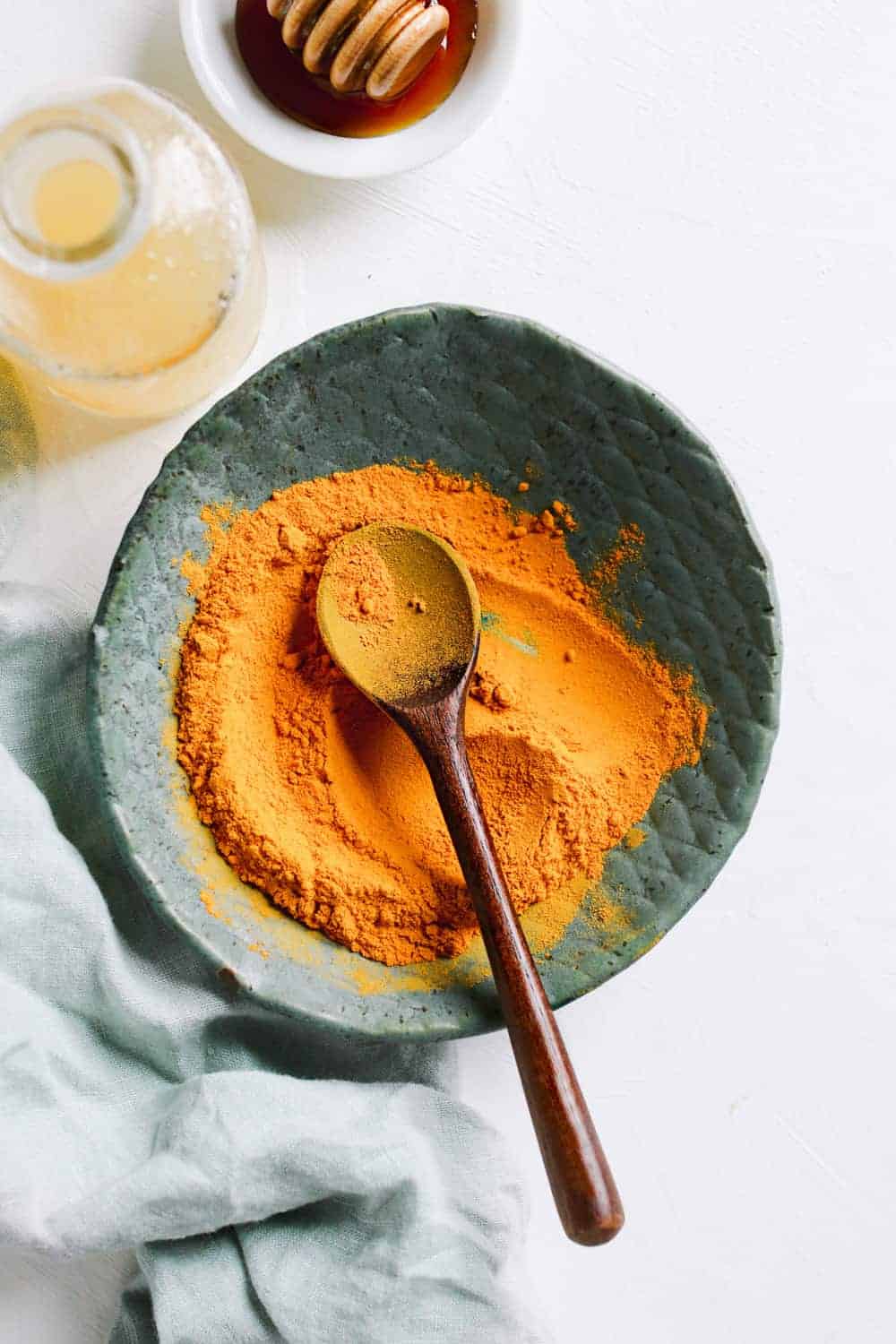 Turmeric Essential Oil (Curcuma longa)
Turmeric essential oil has a light, earthy aroma that is slightly milder than that of the spice. And just as in cooking, it blends well with several other spice oils like black pepper, ginger, cinnamon, and cardamom, as well as many citrus oils.
Like most essential oils, turmeric shares many of the characteristics of the whole herb. Another bonus is that turmeric isn't a super expensive oil. While it can be just a little more pricey than some, it's significantly cheaper than many of the more exotic essential oils, like jasmine.

4 Turmeric Essential Oil Benefits
Most essential oils have numerous benefits for your health and well-being, and turmeric is no exception. Here are just a few:
1
.
Anti-inflammatory
Turmeric is probably most well-known as an anti-inflammatory powerhouse—inside and out. In fact, the reasons most people use turmeric supplements are to help with inflammation and pain. The good news is that the essential oil possesses anti-inflammatory properties as well!
Although human studies are lacking, one animal study found that turmeric essential oil showed significant antioxidant and anti-inflammatory activity [source]. In fact, turmeric essential oil is frequently used in blends formulated for aches and pains caused by inflammatory conditions.
So next time you're whipping up an essential oil blend to help with inflammation and/or pain, consider boosting its anti-inflammatory properties by adding some turmeric to the mix!
2
.
Grounding and balancing
The warm, earthy scent of turmeric essential oil is considered to be very grounding. Many individuals find earthy aromas such as vetiver and frankincense to be quite balancing and calming, and the same goes for turmeric. Interestingly, turmeric essential oil is even being studied for use as a treatment for brain disorders [source], anxiety [source], and depression [source].
Whenever things are hectic and you need a few moments to chill out and center yourself, try some turmeric along with your other grounding and balancing oils.
3
.
Antimicrobial
Research shows that turmeric exhibits strong antimicrobial [source] and antifungal [source] activity.
This makes it an excellent option to consider for homemade cleaning formulas or dealing with illness. When combined with other antimicrobial oils, it can easily be added to household cleaning sprays or even to diffuser blends formulated to ward off germs.
Quick tip: it's a good idea to premix your disinfectant/cleaning blends and store them in empty glass essential oil bottles to be ready for use at a moment's notice, especially during cold and flu season.
4
.
Antioxidant
Turmeric essential oil contains curcumin, which is widely known for its powerful antioxidant properties [source]. Antioxidants are critical to our general health and well-being for their ability to scavenge free radicals that contribute to illness and aging. Because of its many beneficial effects, it's no wonder that turmeric is frequently used in skin [source] and hair care formulations.
A simple way to add turmeric to your current skin and hair care regimen is to add a couple of drops of the essential oil to your favorite cleanser, moisturizer, or shampoo.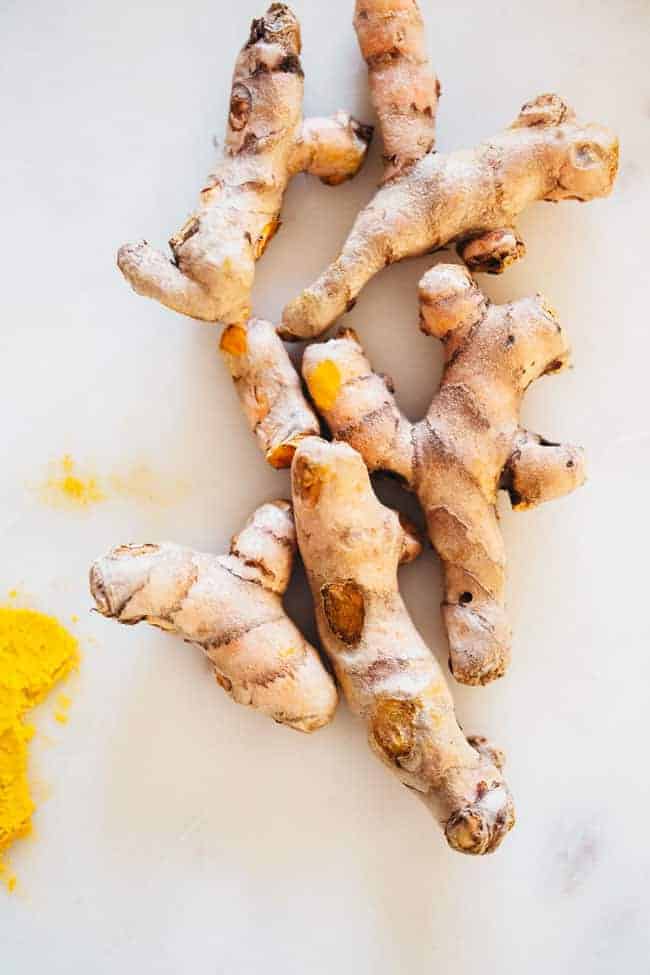 3 Ways to Use Turmeric Essential Oil
There are a number of ways that turmeric essential oil can be used. Really, the sky's the limit!
However, if you need some ideas to get started, I've included a few recipes below. Just remember, turmeric has the potential to leave a stain, so make sure to keep it away from your clothing.
1
.
Inflammation Massage Oil
Turmeric is a wonderful addition to a massage oil formulated for pain relief and detoxing. Plus, it provides a grounding aroma, so you can relax and get centered while getting some relief for your sore muscles and joints. This recipe is great for detox, inflammation, AND relaxation.
Ingredients:
—15 drops lavender essential oil
—10 drops turmeric essential oil
—10 drops juniper berry essential oil
—5 drops black pepper essential oil
—1 oz carrier oil, such as grapeseed, almond, or jojoba
Thoroughly mix all ingredients and pour into an essential oil-safe bottle. Shake before use and apply this blend directly to areas of concern, gently massaging the oil into the body. To get even more out of your massage blend, make sure to relax your mind and body and be intentional with your breathing during use.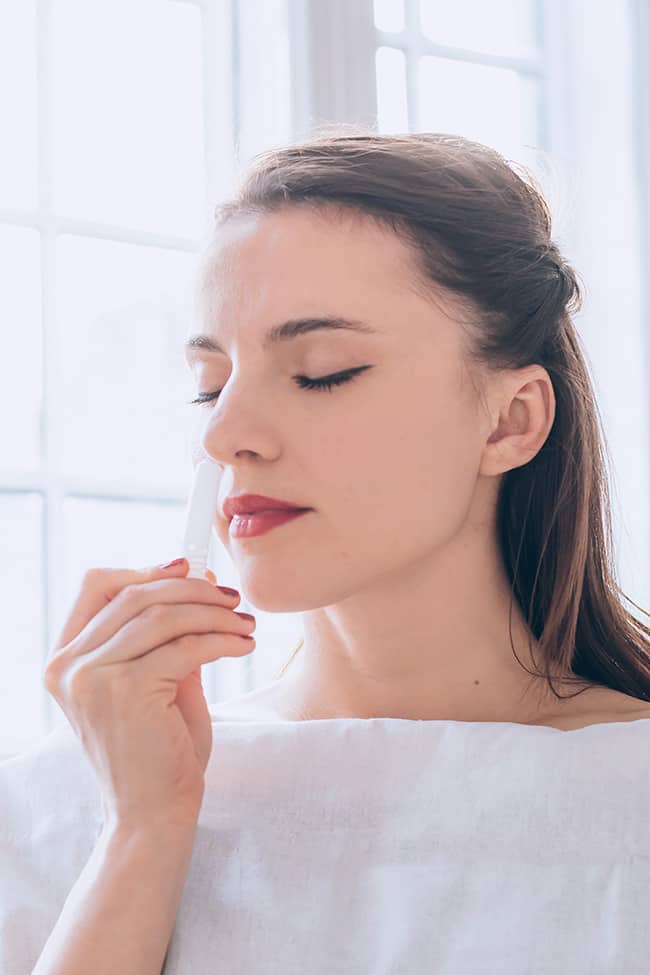 2
.
Grounding Inhaler Blend
Inhalation is one of the simplest ways to use essential oils. If you have a diffuser, this recipe can be modified to your diffuser's specifications, but if you don't have one, no worries! You can just as easily create a personal essential oil inhaler.
And if you're really in a pinch, a few drops on an organic cotton ball will do just as well—I like to keep mine in a sealed container when I'm not using it to help retain its scent all day.
Ingredients:
—2 drops lavender essential oil
—3 drops vetiver essential oil
—5 drops turmeric essential oil
—5 drops sweet orange essential oil
So if you need some help relaxing and getting centered, get your essential oil inhaler and sniff away for a few minutes several times a day as needed. It's as simple as that!
3
.
Antimicrobial Diffuser Blend
When cold and flu season rolls around, I like to diffuse several times a week. And I definitely diffuse when somebody is sick, but I also do it when we're healthy to help us stay that way!
Several antimicrobial oils are helpful for purifying the air, so feel free to swap out any oils to suit your preferences. Also, make sure to adjust the number of drops based on your diffuser's instructions.
Ingredients:
—1 drop oregano or tea tree essential oil
—2 drops cinnamon essential oil
—3 drops turmeric essential oil
—4 drops lemon essential oil
I've listed only a few of the ways you can use turmeric essential oil, but there are so many more! Truly, the list of uses for essential oils is endless; it all depends on personal preference.
Just because I've mentioned my favorite ways to use turmeric doesn't mean you have to be limited by my suggestions. Feel free to experiment with different blends and aromas and create your own signature formulations. Just make sure you enjoy the process along the way! Happy blending!
This article was medically reviewed by Dr. Gina Jansheski, a licensed, board-certified physician with more than 20 years of practice experience. Learn more about Hello Glow's medical reviewers here. As always, this is not personal medical advice, and we recommend that you talk with your doctor.
References:
1. Liju VB, et al. An evaluation of antioxidant, anti-inflammatory, and antinociceptive activities of essential oil from Curcuma longa L. Indian J Pharmacol. 2011.
2. Bhat A, et al. Benefits of curcumin in brain disorders. Biofactors. 2019.
3. Noorafshan A, et al. Efficacy of curcumin in the modulation of anxiety provoked by sulfite, a food preservative, in rats. Prev Nutr Food Sci. 2017.
4. Ramaholimihaso T, et al. Curcumin in depression: potential mechanisms of action and current evidence—a narrative review. Front Psychiatry. 2020.
5. Stanojević J, et al. Chemical composition, antioxidant and antimicrobial activity of the turmeric essential oil (Curcuma longa L.). Adv Technol. 2015.
6. Avanço GB, et al. Curcuma longa L. essential oil composition, antioxidant effect, and effect on Fusarium verticillioides and fumonisin production. Food Control. 2017.
7. He Y, et al. Curcumin, inflammation, and chronic diseases: how are they linked? Molecules. 2015.
8. Vollono L, et al. Potential of curcumin in skin disorders. Nutrients. 2019.
5