Rich, comforting turmeric golden milk has been part of Ayurvedic medicine for thousands of years. This soothing turmeric beverage not only aids digestion, it just might help you slim down. Anti-inflammatory, antioxidant, and antiseptic, turmeric is a handy spice that makes you glow on the outside while reducing inflammation and boosting feel-good chemicals on the inside.
Jump to:
Why Drink Golden Milk

?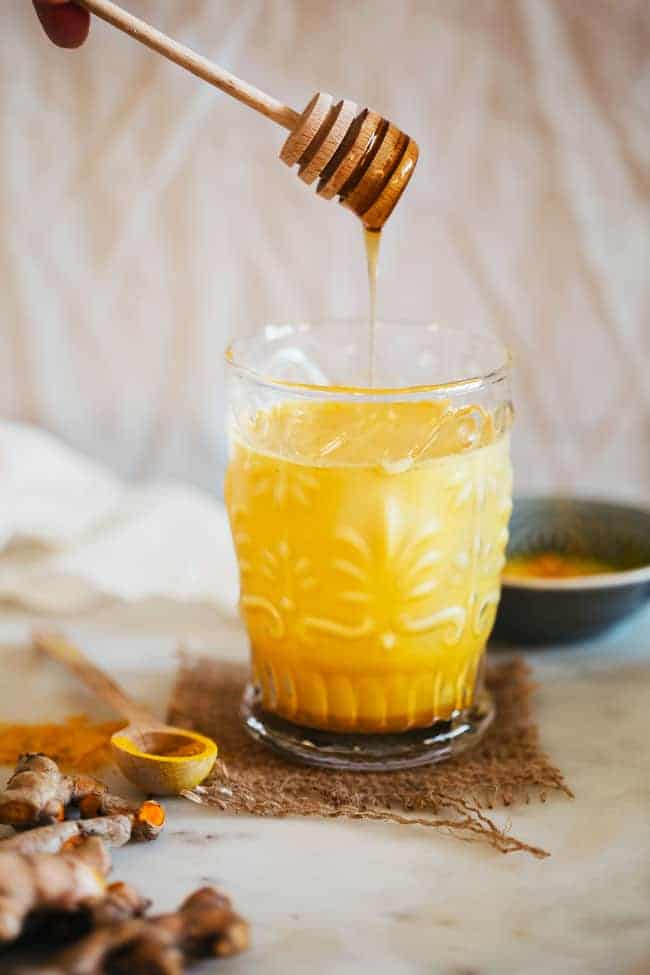 1

.

Turmeric helps burn fat
Curcumin, the compound that gives turmeric its bright color, helps spur the body to burn fat. Studies have shown that people with metabolic syndrome and other similar weight disorders had reduced BMI (body mass index) and waist size correlating with their curcumin intake [source].
2

.

Turmeric reduces inflammation
Turmeric's curcumin is a strong antioxidant that reduces the inflammatory response that leads to joint pain and stiffness in certain types of arthritis. The powerful anti-inflammatory effects also help the skin ward off toxins lurking in the environment and counteract the damage done by free radicals, molecules known to contribute to the body's failing health [source].
In fact, research has linked lower levels of inflammation [source] to a reduced risk for life-threatening and chronic conditions such as heart disease, Alzheimer's, diabetes, and even cancer [source].
3

.

Turmeric improves mood

&

memory
Curcumin has also been shown to improve both memory [source] and mood. One study published in the journal Phytotherapy Research found that curcumin supplements may be as effective as taking an antidepressant [source].
The spice also helps the brain produce more serotonin and dopamine [source], both of which are natural mood boosters. Even just adding a teaspoon of turmeric into your daily diet can reduce your tendency for getting the blues.
4. Turmeric helps you sleep
Curcumin has also been shown to counteract the effects of sleep deprivation [source]. So try using it for those times when you can't seem to catch up on your sleep, like during the busy holiday season when there just isn't enough time to get everything done.
For the best overall effect, try using the whole root, which is known to increase by seven or eight times your body's ability to use curcumin it provides [source]. You can chop it finely or grate it to steep in hot water or for use in your cooking.
How To Make Turmeric Milk - 3 Ways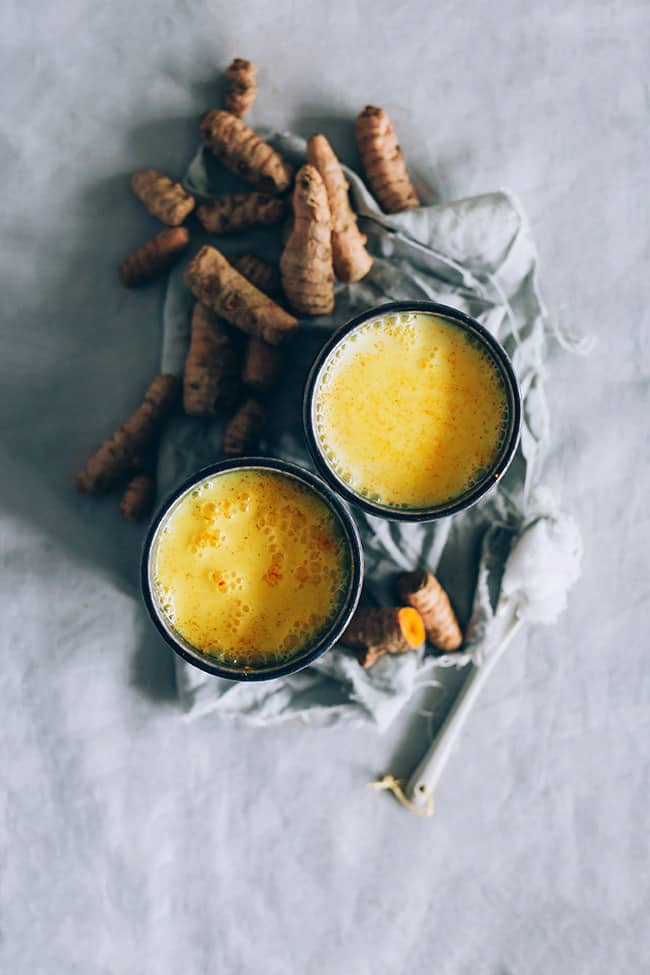 1

.

Save time with turmeric paste
Making a paste with turmeric and water (see recipe below) can make it easier to incorporate the spice into the milk. Plus, a larger batch is reusable, so you'll save time and stain fewer bowls/containers.
We recommend combining the paste with coconut milk and drinking 1 cup at night before bed. You can use any type of milk and add a bit of honey or stevia to sweeten. Don't skip the black pepper—it helps boost curcumin's absorption by 2,000% [source].
2

.

Stoke your metabolism with cinnamon

+

ginger
Add cinnamon and ginger to your golden milk, and drink it after meals to stoke your digestion and rev up the body's metabolism.
—1 heaping teaspoon organic turmeric powder
—Pinch of black pepper
—¼ teaspoon ginger powder
—¼ teaspoon cinnamon powder
—½ cup milk
3

.

Turn golden milk into a latte
Skip the jittery-inducing coffee and start your day with a golden milk latte. Adding a small amount of ghee gives it a creamier consistency.
If coffee is a must-have for you, just add a shot of espresso. We also love adding chai spice.
—2 cups almond milk
—1 tablespoon ghee
—1 teaspoon organic turmeric powder
—½ teaspoon cinnamon powder
—¼ teaspoon ginger powder
—1 teaspoon honey
—Pinch of black pepper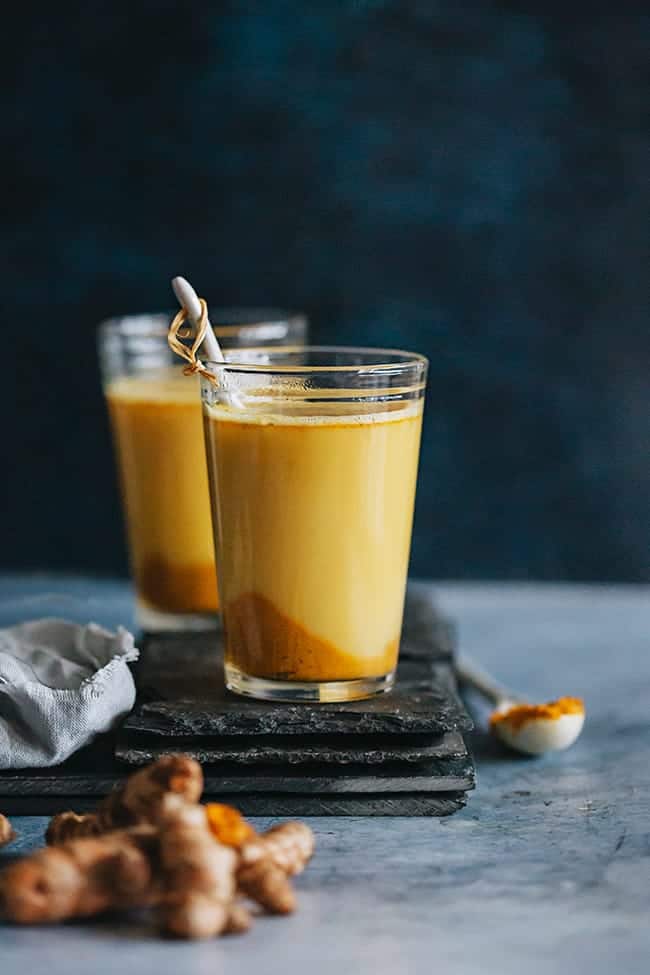 FAQ
Is it safe to consume turmeric every day?
When eaten in small amounts in food, yes, it's safe to eat turmeric every day.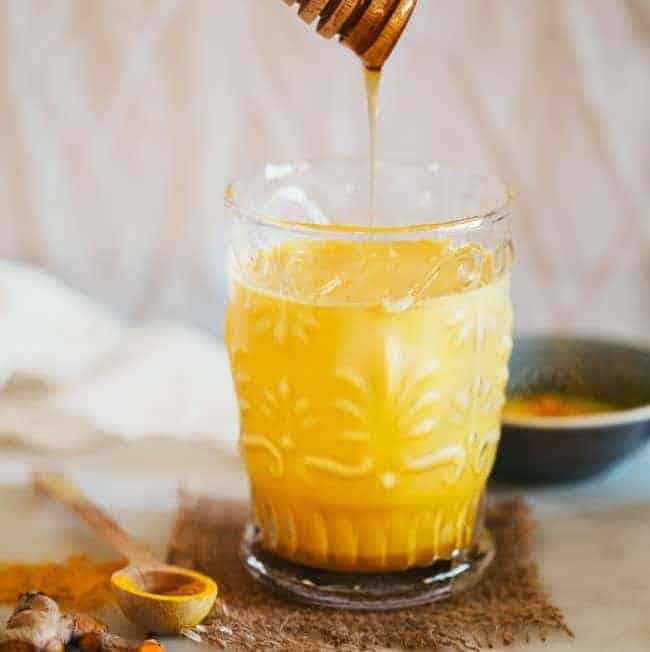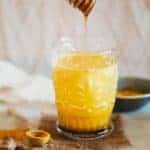 Print Recipe
How To Make Golden Milk with Turmeric
Anti-inflammatory, antioxidant, and antiseptic, turmeric golden milk helps reduce inflammation while boosting fat burn.
Ingredients
Turmeric Paste
½

cup

water

¼

cup

organic turmeric powder

pinch of black pepper
Golden Milk
2

teaspoons

turmeric paste

(from above)

4

cups

nondairy milk

2

teaspoons

liquid sweetener
Instructions
MAKE THE PASTE
Add the water and turmeric to a small pot over medium heat. Turmeric can easily stain your clothes, pots, and utensils, so be careful and wash any stains out right away.

Gently stir the water and turmeric into a paste of medium consistency. If the paste becomes too dry, add a little water.

Cook the paste for about 7–10 minutes. It should be a slightly darker brown color than when you started.

Store in a glass container in your refrigerator to avoid permanent staining.
MAKE THE MILK.
Add the paste and milk to a pot over medium heat.

Stir slowly until the milk is warm, not boiling. Serve with the sweetener of your choice.
Notes
We recommend combining the turmeric paste with coconut milk and drinking 1 cup at night before bed.
1. Akbari M, et al. The effects of curcumin on weight loss among patients with metabolic syndrome and related disorders: a systematic review and meta-analysis of randomized controlled trials. Front Pharmacol. 2019.
2. Aggarwal BB, et al. Potential therapeutic effects of curcumin, the anti-inflammatory agent, against neurodegenerative, cardiovascular, pulmonary, metabolic, autoimmune and neoplastic diseases. Int J Biochem Cell Biol. 2009.
3. Kunnumakkara AB, et al. Chronic diseases, inflammation, and spices: how are they linked? J Transl Med. 2018.
4. Kunnumakkara AB, et al. Curcumin, the golden nutraceutical: multitargeting for multiple chronic diseases. Br J Pharmacol. 2017.
5. Small GW, et al. Memory and brain amyloid and tau effects of a bioavailable form of curcumin in non-demented adults: a double-blind, placebo-controlled 18-month trial. Am J Geriatr Psychiatry. 2018.
6. Sanmukhani J, et al. Efficacy and safety of curcumin in major depressive disorder: a randomized controlled trial. Phytother Res. 2014.
7. Kulkarni SK, et al. An overview of curcumin in neurological disorders. Indian J Pharm Sci. 2010.
8. Shoba G, et al. Influence of piperine on the pharmacokinetics of curcumin in animals and human volunteers. Planta Med. 1998.
Photos by Ana Stanciu
108