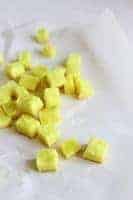 Mouthwash Drops
Yield 25 drops
Instructions
Line a small container (I used a plastic food container) with parchment paper.
In a small bowl combine all the ingredients and whisk together. (Note that you may experience a little fizzing if any of your ingredients or utensils had water on them. This is okay.)
Pour the coconut oil mixture into the container and freeze for 15 minutes or until solid.
Remove the coconut oil from the container and use a serrated knife to gently slice them into 1 inch squares. Store in the refrigerator until ready to use (up to one month).
To use, pop one or two drops into your mouth and chew them a little as they melt. Swish the melted coconut oil around your mouth for a few minutes, then spit in the trash.
Recipe by Hello Glow at https://helloglow.co/turmeric-mouthwash-drops/