This post is brought to you by Kroger.
Get the relaxing effects of a spa day, minus the price tag, with this easy DIY Spa Day Gift Basket. With a few simple DIY tricks you can create a spa night in with a soothing soak, a moisturizing face mask and a healing hair treatment.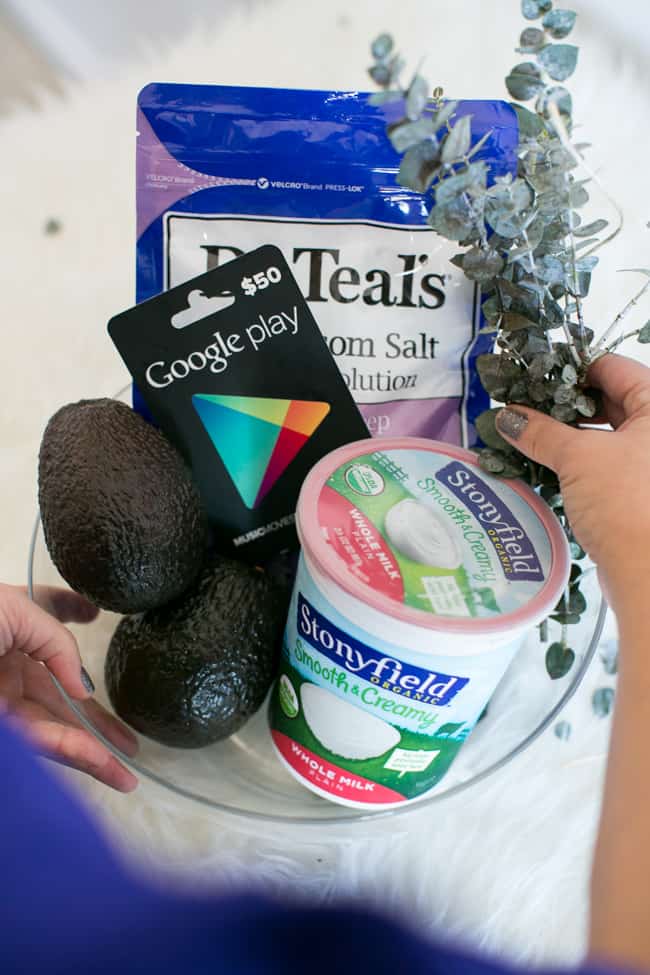 Here's what went into our DIY Spa Day Gift Basket – and how to use them. I picked up all of my supplies at Kroger because it's the perfect one-stop-shop for a personalized gift:
Epsom salts

Full-fat organic yogurt

Avocado

Eucalyptus leaves

Google Play gift card
Soothing Epsom soak
Draw a hot bath and add 1-2 cups of Epsom salts and toss in a couple of sprigs of eucalyptus. Epsom salts make a relaxing bath that not only leaves your skin radiant and glowing but can also boost magnesium levels, ease sore muscle pain and help with insomnia while eucalyptus provides a light scent that helps open stuffy noses.
Moisturizing Avocado Hair Mask
Mash ½ of an avocado and add 1 tablespoon of coconut oil if you have it on hand. Massage it into your scalp and hair, working your way down to the ends of your hair. Wrap your hair in a towel or put on a shower cap and let the mask sit on your hair for an hour (again, let it work while you soak!). Rinse and shampoo hair as normal to remove the oil.
Glowing yogurt mask
It may sound simple (just one ingredient?!) but you can't go wrong with applying a full-fat organic yogurt mask to your face for 30 minutes once a week. Got extra avocado? Mash in a bit for a moisturizing boost. Apply it before the bath and let the yogurt's lactic acid do its work on dead skin cells while you soak. Rinse to reveal brighter, glowing skin.
Gift card bonus!
Adding a gift card makes the gift basket complete. I love grabbing gift cards at Kroger because they have such a huge selection. I chose Google Play for this gift basket because you can access music, books and movies. You can suggest that the recipient download the new Adele album to enjoy while they're in the bath or relax with Christmas Vacation while their face and hair are covered with goo.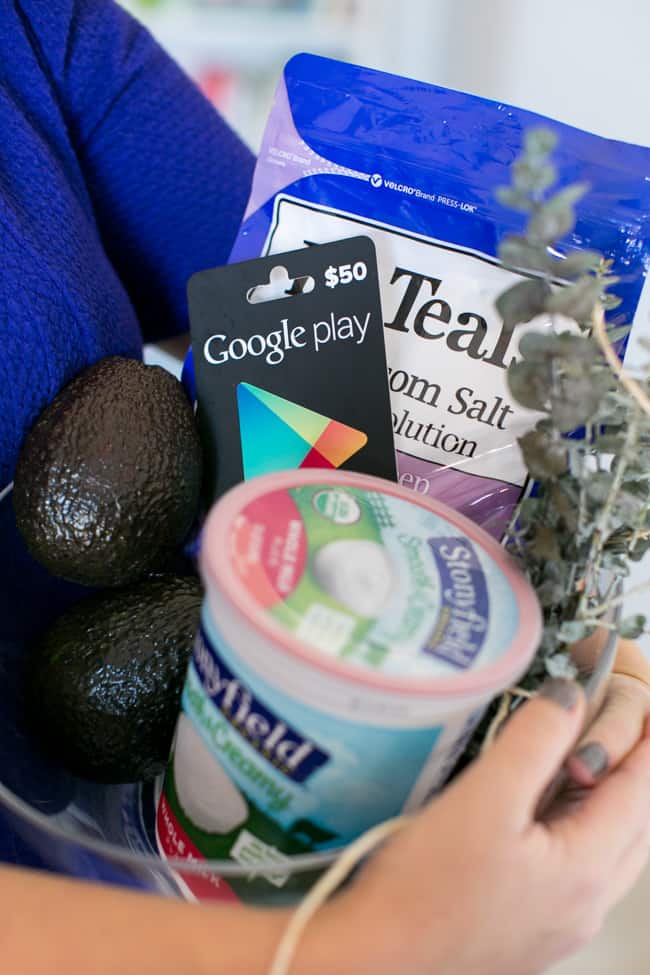 1