Oils have recently shed their bad rep, and once again, we can appreciate them for all of their beneficial properties. The oil-free ads once permeating the beauty shelves are being replaced with those touting the positive health effects of using natural oils—it's just a matter of finding the right oil for your skin.
Natural oils can treat, moisturize, protect, and improve your skin. They contain multiple beneficial compounds that have antioxidant, antimicrobial, and anti-inflammatory effects when applied to the skin [source].
The following guide to the best oils for skin is your go-to resource for getting a little more gorgeous every day.
Oils for Aging Skin
1. Argan Oil
Used in Northwest Africa as a moisturizer and a cosmetic oil for centuries [source], it has been increasingly popular in the skincare industry as a result of its wound healing [source] and anti-aging properties despite sparse evidence-based studies. It has been shown to restore some of the skin's natural hydration [source] and elasticity lost after menopause [source] and may even be used for its anti-melanin action to even out skin tones [source].
Often referred to as "liquid gold," argan oil contains high levels of vitamin E, fatty acids, and antioxidant compounds. It promotes healthy collagen, treats acne, and prevents the premature signs of aging. It's been used extensively on hair because of its high content of vitamin E and other antioxidants [source].
Product picks: The Ordinary 100% Organic Cold-Pressed Moroccan Argan Oil | Josie Maran Whipped Argan Oil Body Butter
2. Olive Oil
Olive oil is high in vitamins A and E, which have anti-aging benefits. Polyphenols, plant compounds that work as powerful antioxidants, anti-inflammatories, and immune enhancers, are found in very high quantities in olive oil [source].
Olive oil works as an intense skin moisturizer, cleanser, and protector. Plus, it helps fight inflammation and heal some of the effects of sun damage [source].
Caution with the use of olive oil if you have a history of eczema or allergic contact dermatitis as it has been associated as an allergen in those with a history of dermatitis [source].
Product picks: Kiehl's Since 1851 Olive Fruit Oil Deeply Repairative Hair Pak | Mario Badescu Super Rich Olive Body Lotion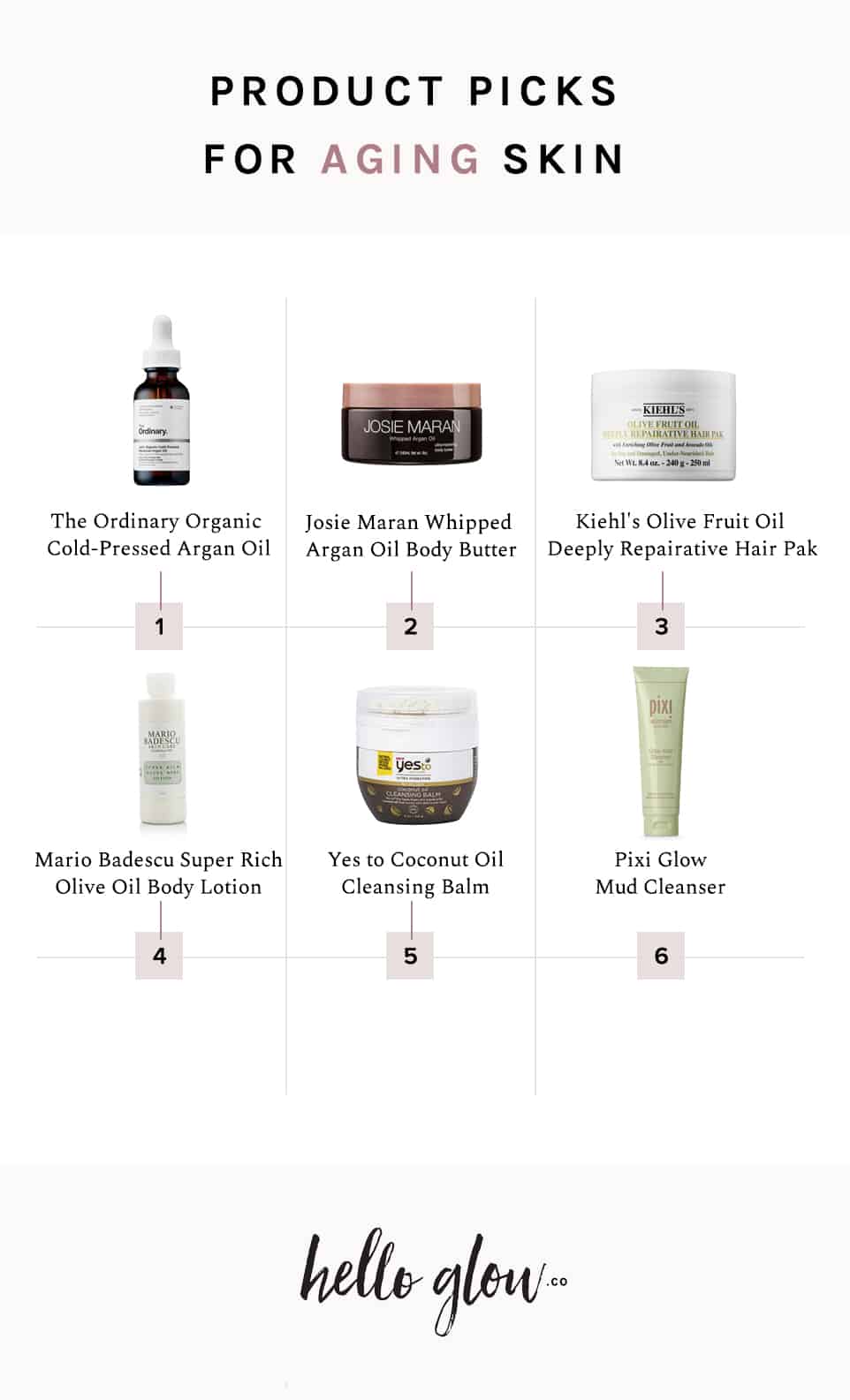 3. Coconut Oil
It's true—we love coconut oil. Why? Its various beneficial compounds repair cells, treat inflammation, repel bacteria, and smooth skin [source]. It promotes soft skin and hair, giving it a healthy glow, and it can remove makeup. Coconut oil is an excellent body moisturizer and has been recommended to those suffering from dry skin and eczema [source]. Basically, it's your skin's best friend.
Product picks: Yes to Coconut Oil Cleansing Balm | Too Cool For School Coconut Oil Serum Mask
4. Avocado Oil
Avocado oil increases collagen production [source] and is rich in beta-carotene, lecithin, and vitamins A, D, and E [source]. Among its many other beneficial effects, it moisturizes and fights free radicals that age your skin.
Product picks: Antipodes Daily Ultra Care Divine Face Oil Avocado Oil and Rosehip | Pixi Glow Mud Cleanser
Oils for Acne-Prone or Sensitive Skin
5. Jojoba Oil
Jojoba oil mimics our body's natural oils and is a great multi-use oil for moisturizing skin. It's non-greasy, anti-inflammatory, and a natural emollient, helping to maintain a protective skin barrier [source].
Product picks: BeautyBio The Radiance Nourishing Body Oil with Jojoba + Apricot + Olive Oil | Hourglass No. 28 Lip Treatment Oil
6. Hemp Seed Oil
Hemp seed oil is noncomedogenic, which means it won't clog pores, and it has anti-inflammatory properties. It is also rich in omega-3 fatty acids [source], which help it function as a powerful humectant (quenching our "thirsty" skin!) and soothe inflamed skin. Hemp seed oil helps to regulate skin oil production and has been helpful in the prevention and treatment of mild acne.
Product picks: Herbivore Emerald Hemp Seed Deep Moisture Glow Oil | Dr. Botanicals Hemp Natural Super Enzyme Mask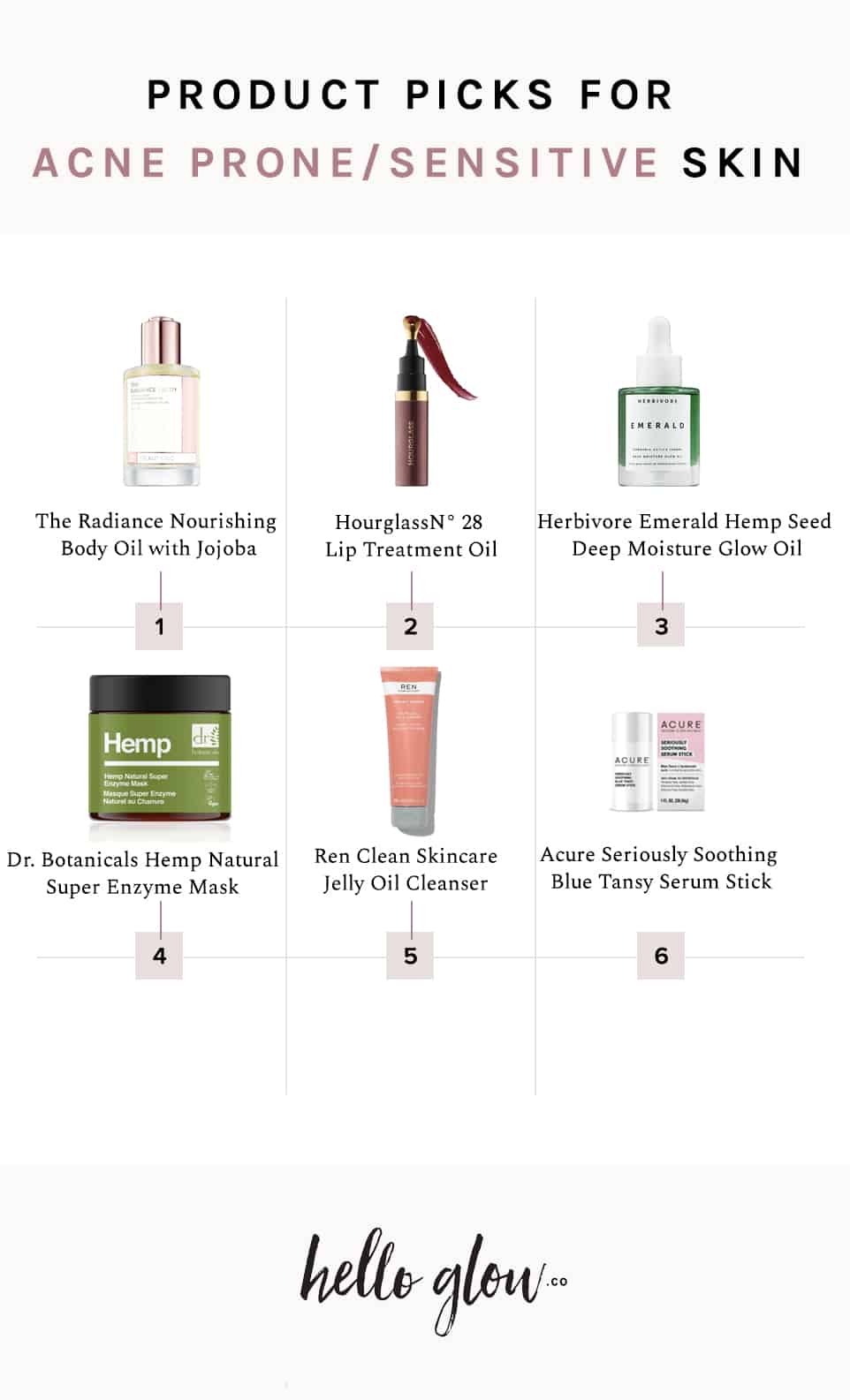 7. Grape Seed Oil
Grape seed oil has been shown in studies to have both therapeutic effects against many diseases of the skin and chemopreventive (anti-aging) effects.
UV radiation places oxidative stress on the skin cells. Grape seed extract acts as a powerful antioxidant, shielding our cells from this UV-mediated stress [source] and reduces the risk of skin cancer and skin aging [source].
Product picks: Ren Clean Skincare Perfect Canvas Clean Jelly Oil Cleanser | Acure Seriously Soothing Blue Tansy Serum Stick
Oils for Dry Skin
8. Sunflower Oil
Rich in linoleic acid, sunflower oil promotes skin hydration, minimizing water loss and maintaining the protective skin barrier [source]. This oil can be used alone, or a few drops can be added to your moisturizer. Rich in vitamin E, A, and C, it has been incorporated into various anti-aging topical products.
Studies have supported its anti-inflammatory properties as it regulates the activity of a primary inflammatory modulator and may be helpful for those with inflammatory skin diseases.
Product picks: Kiehl's Since 1851 Sunflower Oil Color Preserving Shampoo | Supergoop! Mini PLAY Everyday Lotion SPF 50
9. Safflower Oil
Rich in essential omega-6 fatty acids, vitamin A, and linoleic acid, safflower oil has been shown to help prevent skin moisture loss and promote cell turnover and renewal. People in parts of Asia have used it for its anti-aging and protective benefits for both skin and hair [source].
Product Picks: Suki Skincare Nourishing Facial Oil | Palmer's Cocoa Butter Moisturizing Body Oil with Vitamin E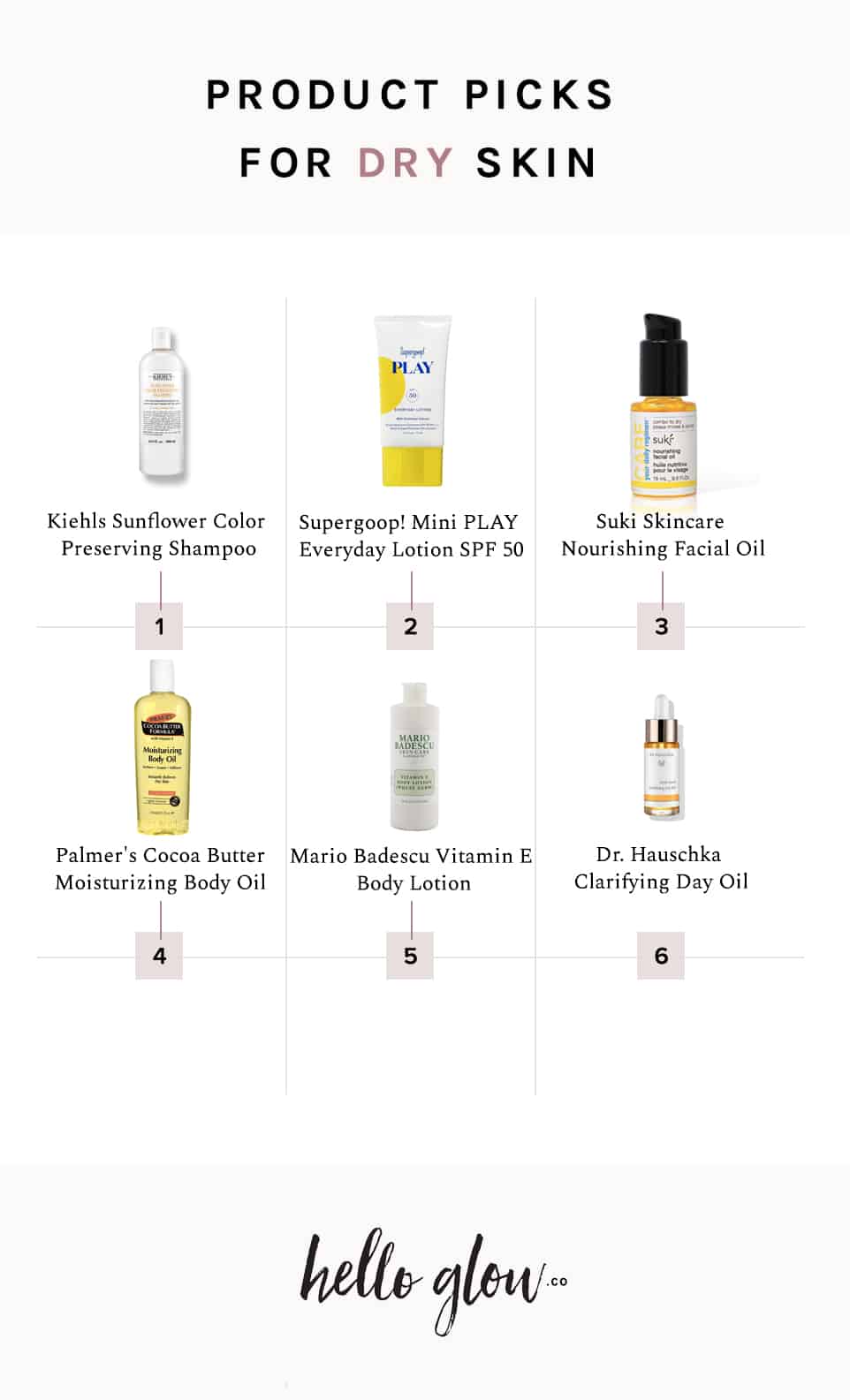 10. Wheat Germ Oil
Wheat germ oil is a nutrient-rich oil containing vitamins A, B, C, D, and E. This means it contains antioxidant and anti-inflammatory power, as well as a generous amount of fatty acids and proteins.
Wheat germ oil was used in traditional Iranian medicine for the treatment of psoriasis. A few studies have shown that wheat germ oil may be helpful for increasing skin moisture.
Product picks: Mario Badescu Vitamin E Body Lotion | Dr. Hauschka Clarifying Day Oil
No matter what your skin needs may be or what type of skin you have, there's an oil that can help you achieve amazing skin using a bit of nature and very little effort!
This post was medically reviewed by Dr. Rina Mary Allawh, M.D., a dermatologist who practices adult and pediatric medical dermatology, skin cancer treatment, and cosmetic dermatology. Learn more about Hello Glow's medical reviewers here. As always, this is not personal medical advice, and we recommend that you talk with your doctor.
211